Posted on March 15, 2020. Filed under: 2020 Democrat Candidates, 2020 President Candidates, 2020 Republican Candidates, Addiction, Addiction, American History, Anthropology, Banking System, Bernie Sanders, Biological and Chemical, Biology, Blogroll, Breaking News, Budgetary Policy, Business, Cartoons, China, Coal, College, Congress, Consitutional Law, Corruption, Countries, COVID-19 or Coronavirus, Culture, Deep State, Defense Spending, Diet, Disasters, Diseases, Donald J. Trump, Donald J. Trump, Donald J. Trump, Donald Trump, Drugs, Eating, Economics, Economics, Education, Elections, Empires, Employment, Energy, Environment, Eugenics, European History, European Union, Exercise, Fifth Amendment, First Amendment, Fiscal Policy, Flu, Food, Fourth Amendment, France, Freedom of Religion, Freedom of Speech, Genocide, Germany, Government, Government Dependency, Government Spending, Great Britain, Health, Health Care, Health Care Insurance, History, House of Representatives, Human, Human Behavior, Illegal Immigration, Immigration, Independence, Investments, Italy, Japan, Joe Biden, Killing, Labor Economics, Language, Law, Legal Drugs, Legal Immigration, Life, Lying, Media, Medicare, Medicine, Mental Illness, Mike Pence, Monetary Policy, National Interest, Natural Gas, News, North Korea, Novel Coronavirus or COVID-19, Obesity, Oil, Oil, Overweight, People, Philosophy, Photos, Politics, Polls, President Trump, Progressives, Psychology, Radio, Raymond Thomas Pronk, Regulation, Resources, Rule of Law, Scandals, Science, Second Amendment, Senate, Social Sciences, Social Security, South Korea, Spying, Spying on American People, Success, Surveillance and Spying On American People, Tax Policy, Taxation, Taxes, Terror, Terrorism, Trade Policy, Trump Surveillance/Spying, Uncategorized, Unemployment, United Kingdom, United States Constitution, United States of America, Videos, Violence, War, Water, Wealth, Weapons, Welfare Spending | Tags: $50 Billion in New Funding To Deal With COVID-19 Pandemic, 13 March 2020, America, American People Want No Politics With Response to COVID-19, Articles, Audio, Breaking News, Broadcasting, Capitalism, Cartoons, Charity, Chinese Communist Coughing Crisis, Citizenship, Clarity, Classical Liberalism, Collectivism, Commentary, Commitment, Communicate, Communication, Concise, Consumer Sentiment Beating Expectations At 95.9, Convincing, Courage, Culture, Current Affairs, Current Events, Economic Growth, Economic Policy, Economics, Education, Evil, Experience, Faith, Family, First, Fiscal Policy, Free Enterprise, Freedom, Freedom of Speech, Friends, Give It A Listen!, God, Good, Goodwill, Growth, Hope, House Expected To Pass Family First Coronavirus Response Bill Supported By President Trump, Individualism, Knowledge, Liberty, Life, Love, Lovers of Liberty, Monetary Policy, MPEG3, News, Opinions, Peace, Photos, Podcasts, Political Philosophy, Politics, President Trump Declares National Emergency, Progressive Pandemic Panic Pusher, Prosperity, Radio, Raymond Thomas Pronk, Representative Republic, Republic, Resources, Respect, Rule of Law, Rule of Men, Show Notes, Talk Radio, The Pronk Pops Show, The Pronk Pops Show 1413, Truth, Tyranny, U.S. Constitution, United State Stock Market Rallies -- Best Day Since 2008, United States of America, Unity, Unleashes Full Power of United States Government, Videos, Virtue, War, Wisdom |
Pronk Pops Show 1413 March 13, 2020 posted as soon as possible
Pronk Pops Show 1412 March 12, 2020
Pronk Pops Show 1411 March 11, 2020
Pronk Pops Show 1410 March 10, 2020
Pronk Pops Show 1409 March 9, 2020
Pronk Pops Show 1408 March 6, 2020
Pronk Pops Show 1409 March 5, 20
Pronk Pops Show 1408 March 6, 2020
Pronk Pops Show 1407 March 5, 2020
Pronk Pops Show 1406 March 4, 2020
Pronk Pops Show 1405 February 28, 2020
Pronk Pops Show 1404 February 27, 2020
Pronk Pops Show 1403 February 26, 2020
Pronk Pops Show 1402 February 25, 2020
Pronk Pops Show 1401 February 24, 2020
Pronk Pops Show 1400 February 21, 2020
Pronk Pops Show 1399 February 14, 2020
Pronk Pops Show 1398 February 13, 2020
Pronk Pops Show 1397 February 12, 2020
Pronk Pops Show 1396 February 11, 2020
Pronk Pops Show 1395 February 10, 2020
Pronk Pops Show 1394 February 7, 2020
Pronk Pops Show 1393 February 6, 2020
Pronk Pops Show 1392 February 5, 2020
Pronk Pops Show 1391 February 4, 2020
Pronk Pops Show 1390 February 3, 2020
Pronk Pops Show 1389 January 31, 2020
Pronk Pops Show 1388 January 30, 2020
Pronk Pops Show 1387 January 29, 2020
Pronk Pops Show 1386 January 28, 2020
Pronk Pops Show 1385 January 27, 2020
Pronk Pops Show 1384 January 24, 2020
Pronk Pops Show 1383 January 23, 2020
Pronk Pops Show 1382 January 22, 2020
Pronk Pops Show 1381 January 21, 2020
Pronk Pops Show 1380 January 17, 2020
Pronk Pops Show 1379 January 16, 2020
Pronk Pops Show 1378 January 15, 2020
Pronk Pops Show 1377 January 14, 2020
Pronk Pops Show 1376 January 13, 2020
Pronk Pops Show 1375 December 13, 2019
Pronk Pops Show 1374 December 12, 2019
Pronk Pops Show 1373 December 11, 2019
Pronk Pops Show 1372 December 10, 2019
Pronk Pops Show 1371 December 9, 2019
Pronk Pops Show 1370 December 6, 2019
Pronk Pops Show 1369 December 5, 2019
Pronk Pops Show 1368 December 4, 2019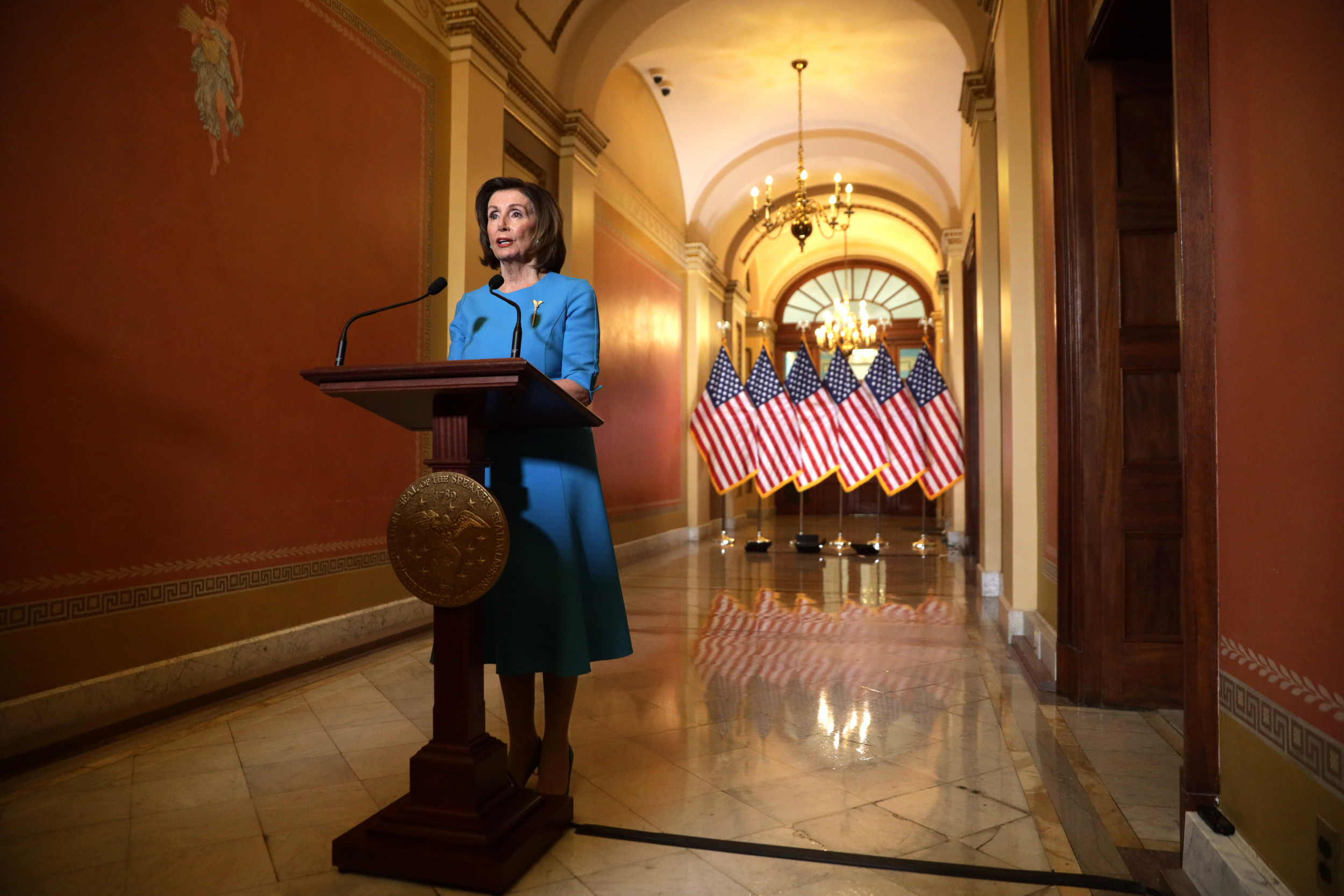 Story 1: President Trumps Declares A National Emergency — Unleashes Full Power of United States Government — $50 Billion in New Funding To Deal With COVID-19 Pandemic — Videos
BREAKING: Donald Trump declares a national emergency
Trump declares National Emergency over coronavirus
Trump declares national emergency over coronavirus pandemic
Tucker: Regular life is all but suspended
Hannity: Major businesses working with Trump on coronavirus
Trump declares virus emergency; Pelosi announces aid deal
By LISA MASCARO, ZEKE MILLER, ANDREW TAYLOR and JILL COLVIN
President Donald Trump on Friday declared the coronavirus pandemic a national emergency in order to free up more money and resources. But he denied any responsibility for delays in making testing available for the new virus, whose spread has roiled markets and disrupted the lives of everyday Americans.
Speaking from the Rose Garden, Trump said, "I am officially declaring a national emergency," unleashing as much as $50 billion for state and local governments to respond to the outbreak.
Trump also announced a range of executive actions, including a new public-private partnership to expand coronavirus testing capabilities with drive-through locations, as his administration has come under fire for being too slow in making the test available.
Trump said, "I don't take responsibility at all" for the slow rollout of testing.
Late Friday, House Speaker Nancy Pelosi announced a deal with the Trump administration for an aid package from Congress that aims at direct relief to Americans — free testing, two weeks of sick pay for workers, enhanced unemployment benefits and bolstered food programs.
"We are proud to have reached an agreement with the Administration to resolve outstanding challenges, and now will soon pass the Families First Coronavirus Response Act," Pelosi announced in a letter to colleagues. The House was poised to vote.
The crush of late-day activity capped a tumultuous week in Washington as the fast-moving virus shuttered the capital's power centers, roiled financial markets and left ordinary Americans suddenly navigating through self-quarantines, school closures and a changed way of life.
The White House was under enormous pressure, dealing with the crisis on multiple fronts as it encroached ever closer on the president.
Trump has been known to flout public health advice — eagerly shaking hands during the more than hour-long afternoon event — but acknowledged he "most likely" will be tested now after having been in contact with several officials who have tested positive for the virus. "Fairly soon," he said.
Still, Trump said officials don't want people taking the test unless they have certain symptoms. "We don't want people without symptoms to go and do that test," Trump said, adding, "It's totally unnecessary."
Additionally, Trump took a number of other actions to bolster energy markets, ease the financial burden for Americans with student loans and give medical professionals additional "flexibility" in treating patients during the public health crisis.
"Through a very collective action and shared sacrifice, national determination, we will overcome the threat of the virus," Trump said.
Central to the aid package from Congress, which builds on an emergency $8.3 billion measure approved last week, is the free testing and sick pay provisions.
Providing sick pay for workers is a crucial element of federal efforts to stop the rapid spread of the infection. Officials warn that the nation's healthcare system could quickly become overwhelmed with gravely sick patients, as suddenly happened in Italy, one of the countries hardest hit by the virus.
The ability to ensure paychecks will keep flowing — for people who stay home as a preventative measure or because they're feeling ill or caring for others — can help assure Americans they will not fall into financial hardship.
Hopes for swiftly passing the package seemed to be fading throughout the day as talks dragged on and Trump dismissed it during as "not doing enough."
Ahead of Trump's new conference, Pelosi delivered a statement from the speaker's balcony at the Capitol imploring the Trump administration and congressional Republicans to "put families first" by backing the effort to provide Americans with relief.
"Our great nation has faced crisis before," Pelosi said. "And every time, thanks to the courage and optimism of the American people, we have prevailed. Now, working together, we will once again prevail."
Pelosi and Mnuchin engaged in days of around-the-clock negotiations with cross-town phone calls that continued even as Trump was speaking, both indicating earlier they were close to a deal.
They both promised a third coronavirus package will follow soon, with more aggressive steps to boost the U.S. economy, which economists fear has already slipped into recession.
The financial markets closed on an upswing after one of the worst nosedives since the 1987 downturn.
For most people, the new coronavirus causes only mild or moderate symptoms, such as fever and cough. For some, especially older adults and people with existing health problems, it can cause more severe illness, including pneumonia.
The vast majority of people recover. According to the World Health Organization, people with mild illness recover in about two weeks, while those with more severe illness may take three to six weeks to be over it.
Trump said he was gratified that Brazilian President Jair Bolsonaro tested negative for the virus, after the pair sat next to each other for an extended period of time last weekend at Trump's Mar-a-Lago club. A senior aide to Bolsonaro tested positive.
Trump's daugher, Ivanka Trump, worked from home Friday after meeting with Australian Home Affairs Minister Peter Dutton, now in isolation at a hospital after testing positive for the coronavirus. White House spokesman Judd Deere said she was evaluated by the White House Medical Unit and it was determined that because she was exhibiting no symptoms she does not need to self-quarantine.
Attorney General William Barr, who also met with the Australian official, was staying home Friday, though he "felt great and wasn't showing any symptoms," according to his spokeswoman Kerri Kupec.
Several lawmakers, including some close to Trump, have also been exposed to people who tested positive for the virus, and are self-isolating.
Among them are Republican Sens. Lindsey Graham and Rick Scott, who were at Trump's club on the weekend. Graham announced Friday that he also met with the Australian official who has now tested positive. And GOP Sen. Ted Cruz of Texas, who had previously isolated himself after a potential exposure at a conservative conference in Washington, said Friday he met with a Spanish official and is now self-quarantining.
Hospitals welcomed Trump's emergency declaration, which they and lawmakers in Congress had been requesting. It allows the Health and Human Services Department to temporarily waive certain federal rules that can make it harder for hospitals and other health care facilities to respond to an emergency.
The American Medical Association said the emergency declaration would help ensure America's health care system has sufficient resources to properly respond to the ongoing outbreak.
Trump has struggled to show he's on top of the crisis, after giving conflicting descriptions of what the U.S. is doing to combat the virus. On Wednesday he announced he would ban travel to the U.S. from Europe, and on Friday he suggested extending that to the U.K. because of a recent rise in cases.
Dr. Anthony Fauci, infectious disease chief at the National Institutes of Health, said more tests would be available over the next week, but warned, "We still have a long way to go."
Fauci said Friday, "There will be many more cases. But we'll take care of that, and ultimately, as the president said, this will end."
___
Associated Press writers Aamer Madhani, Alan Fram, Lauran Neergaard, Martin Crutsinger, Laurie Kellman, Michael Balsamo and Kevin Freking in Washington and Bill Barrow in Atlanta contributed to this report.
Story 2: House Expected Passes Family First Coronavirus Response Bill Supported By President Trump — Videos
House Passes Coronavirus Relief Bill
House approves coronavirus response bill supported by Trump
House Speaker Nancy Pelosi says the House will pass coronavirus legislation
Mnuchin: Trump is very interested in putting money into the economy
PBS NewsHour West live episode, March 13, 2020
Story 3: United State Stock Market Rallies — Best Day Since 2008 — Consumer Sentiment Beating Expectations At 95.9 — Videos
The Dow Is Soaring – Here's Why the Stock Market Is Cheering Trump
Barry Sternlicht: Stock market will make a comeback from coronavirus
El-Erian on markets: 'It's getting less scary than it has been for a while'
Cramer's game plan for the trading week of March 16
Jim Cramer: Not sure this stock market sell-off can be stopped
T

he Pronk Pops Show Podcasts Portfolio Read Full Post

|

Make a Comment

(

None so far

)
Posted on November 10, 2016. Filed under: 2016 Presidential Campaign, 2016 Presidential Candidates, American History, Banking System, Benghazi, Blogroll, Breaking News, Budgetary Policy, Communications, Computers, Congress, Constitutional Law, Defense Spending, Donald J. Trump, Donald Trump, Economics, Education, Elections, Empires, Employment, Fast and Furious, Federal Government, Fiscal Policy, Food, Fourth Amendment, Government, Government Dependency, Government Spending, Hardware, Health, Hillary Clinton, History, House of Representatives, Human Behavior, Illegal Immigration, Illegal Immigration, Immigration, Impeachment, Independence, Iran Nuclear Weapons Deal, IRS, Language, Law, Legal Immigration, Life, Media, Medicare, News, Obama, Philosophy, Photos, Politics, Polls, President Barack Obama, Progressives, Radio, Raymond Thomas Pronk, Scandals, Second Amendment, Security, Senate, Servers, Social Security, Tax Policy, Unemployment, United States Constitution, Videos, Violence, Wall Street Journal, Wealth, Wisdom | Tags: 9 November 2016, America, Arrogance, Articles, Audio, Breaking News, Broadcasting, Capitalism, Cartoons, Charity, Citizenship, Clarity, Classical Liberalism, Collectivism, Commentary, Commitment, Communicate, Communication, Concise, Convincing, Courage, Culture, Current Affairs, Current Events, Divided We Fall, Economic Growth, Economic Policy, Economics, Education, Evil, Experience, Faith, Family, First, Fiscal Policy, Free Enterprise, Freedom, Freedom of Speech, Friends, Give It A Listen!, God, Good, Goodwill, Growth, Hope, Individualism, Knowledge, Law and Order, Liberty, Life, Live With It, Love, Lovers of Liberty, Monetary Policy, MPEG3, News, No Open Borders, No Private Servers, Obama On The Wrong Side of History, Opinions, Peace, Photos, Podcasts, Political Philosophy, Politics, President Barack Obama, Prosperity, Radio, Raymond Thomas Pronk, Representative Republic, Republic, Resources, Respect, Rule of Law, Rule of Men, Show Notes, Talk Radio, The Pronk Pops Show, The Pronk Pops Show 793, Truth, Tyranny, U.S. Constitution, United States Constitution, United States of America, United We Stand, Unity, Videos, Virtue, War, Wisdom |
The Pronk Pops Show Podcasts
Story 1 : American People Are United Beyond The Rule of Law and United States Constitution and Demand Enforcement of All Laws Including Immigration, National Security and Public Corruption — No Open Borders, No Classified Documents On Private Servers, No Selling of Access To Foreign Governments, No Pardons For Law Breakers Until Tried, Convicted and Completed Prison Time! — United We Stand — Divided We Fall — Obama On The Wrong Side of History — Live With It — Videos
The people revolt, Trump wins
Laura Ingraham: Forgotten people found a champion in Trump
Analyzing media reaction to Trump victory
Donald Trump Touts Unity, Pledges To 'Bind Wounds Of Division' | NBC News
Donald Trump Details five actions to restore security and the constitutional rule of law!
Donald Trump details 6 step plan how he will #DRAINTHESWAMP in Washington D.C.
Donald Trump Victory Speech
Obama congratulates Trump, calls for unity, saying "we are Americans first"
Donald Trump on GOP unity, VP search, Democratic race
Rush Limbaugh: "I hope Obama fails"
"I Want OBAMA to FAIL !" : RUSH LIMBAUGH | CPAC Convention 2009
Rush Limbaugh Podcast 11/10/16 | Axelrod and Obama Have Decided to Use Limbaugh Again
Barack Obama – Enforcing Immigration Law Equals Terrorism
Immigrants! Don't Vote for What You Fled
Can You Trust The Press?
Are You on the Wrong Side of History?
America on Edge: MoveOn Organizes Anti-Trump Protests Around Country
MoveOn.org released the following press release Wednesday afternoon:
Americans to Come Together in Hundreds Peaceful Gatherings of Solidarity, Resistance, and Resolve Following Election Results

Hundreds of Americans, dozens of organizations to gather peacefully outside the White House and in cities and towns nationwide to take a continued stand against misogyny, racism, Islamophobia, and xenophobia.

Tonight, thousands of Americans will come together at hundreds of peaceful gatherings in cities and towns across the nation, including outside the White House, following the results of Tuesday's presidential election.

The gatherings – organized by MoveOn.organd allies – will affirm a continued rejection of Donald Trump's bigotry, xenophobia, Islamophobia, and misogyny and demonstrate our resolve to fight together for the America we still believe is possible.

Within two hours of the call-to-action, MoveOn members had created more than 200 gatherings nationwide, with the number continuing to grow on Wednesday afternoon.

WHAT: Hundreds of peaceful gatherings of solidarity, resistance, and resolve nationwide

WHEN / WHERE: Find local gatherings here. Major gatherings include in New York City's Columbus Circle and outside the White House in Washington, DC.

RSVP: Please email press@moveon.org to confirm attendance.

"This is a disaster. We fought our hearts out to avert this reality. But now it's here,"MoveOn.org staff wrote to members on Wednesday. "The new president-elect and many of his most prominent supporters have targeted, demeaned, and threatened millions of us—and millions of our friends, family, and loved ones. Both chambers of Congress remain in Republican hands. We are entering an era of profound and unprecedented challenge, a time of danger for our communities and our country. In this moment, we have to take care of ourselves, our families, and our friends—especially those of us who are on the front lines facing hate, including Latinos, women, immigrants, refugees, Black people, Muslims, LGBT Americans, and so many others. And we need to make it clear that we will continue to stand together."

http://www.breitbart.com/live/2016-election-world-reacts-donald-trumps-stunning-upset-victory/moveon-protests-white-house/
Story 2: Anti-Trump Protests Underway In Several Cities – Lying Lunatic Left Losers —  Videos
Anti Trump Protests Continue
Anti-Trump protesters take the streets blocking traffic in Austin
Anti-Trump protests form at UCLA, UC Irvine, Oakland after election
Anti-Trump Protests Underway In Several Cities – Hannity
#NotMyPresident Anti Trump protests are happening now in the streets of United States
NYC Braces For Anti-Free Speech Protests
We Want The Truth
How To Insult A "Progressive"
A Word To Left-Wing Students
Politically-Challenged: Texas Tech Edition
Dumbing Down University
Charlotte Iserbyt – Deliberate Dumbing Down of the World
Who Controls The Children (schools dumb down kids deliberately)
Dumbed Down American College Kids
The Deliberate Dumbing Down of America
In this video Luke Rudkowski speaks with Department of Education whistleblower Charlette Iserbyt about the deliberate dumbing down of America. The former US Department of Education Senior Policy Advisor suggests that the our educational system is not based upon children learning. Is the Carnegie foundation instrumental in developing a socialist-collectivist style educational system that is detrimental to our youth?
Janis Joplin – Cry Baby lyrics
Janis Joplin – Cry Baby (Live)
The Pronk Pops Show Podcasts Portfolio
Read Full Post
|
Make a Comment
(
None so far
)