Posted on September 15, 2016. Filed under: 2016 Presidential Campaign, 2016 Presidential Candidates, American History, Books, Breaking News, Budgetary Policy, Communications, Congress, Constitutional Law, Corruption, Culture, Donald J. Trump, Donald J. Trump, Donald Trump, Donald Trump, Economics, Elections, Employment, Federal Government, Fiscal Policy, Foreign Policy, Government Dependency, Government Spending, Health, Health Care Insurance, Hillary Clinton, Hillary Clinton, Hillary Clinton, History, House of Representatives, Illegal Immigration, Immigration, Impeachment, Labor Economics, Law, Legal Immigration, Media, Monetary Policy, Obama, Philosophy, Photos, Politics, President Barack Obama, Progressives, Radio, Raymond Thomas Pronk, Scandals, Senate, Social Security, Tax Policy, Taxation, Taxes, Trade Policy, Unemployment, United States Constitution, United States of America, Videos, War, Wealth, Welfare Spending, Wisdom | Tags: America, American Empire, American Republic, Articles, Audio, Balanced Budgets, Breaking News, Broadcasting, Business Creation, Capitalism, Cartoons, Charity, Citizenship, Clarity, Classical Liberalism, Collectivism, Commentary, Commitment, Communicate, Communication, Concise, Convincing, Courage, Culture, Current Affairs, Current Events, Donald J. Trump, Economic Growth, Economic Plan, Economic Policy, Economics, Education, Evil, Experience, Faith, Family, First, Fiscal Policy, Free Enterprise, Freedom, Freedom of Speech, Friends, Give It A Listen!, God, Good, Goodwill, Growth, Hillary Clinton, Hope, Income, Individualism, Investment, Jobs, Knowledge, Liberty, Life, Love, Lovers of Liberty, Monetary Policy, MPEG3, News, Opinions, Paying Down The National Debt, Peace, Photos, Podcasts, Political Philosophy, Politics, President Barack Obama, Prosperity, Radio, Raymond Thomas Pronk, Representative Republic, Republic, Resources, Respect, Road To Serfdom, Rule of Law, Rule of Men, Savings, Show Notes, Talk Radio, Tax Policy, The Pronk Pops Show, The Pronk Pops Show 756, Trade Policy, Truth, Tyranny, U.S. Constitution, United States of America, Videos, Virtue, War, Wealth, Wealth Creation, Wisdom |
The Pronk Pops Show Podcasts
Story 1: Trump Rolls Out Economic Plan To Make America Great Again — Timid Not Bold — Mediocre Not Great —  Huge Government Not Limited Government — American Empire Not American Republic — Rolling Down The Road To Serfdom — The American Empire of The Warfare and Welfare State — Verdict: Trump's Economic Plan Better Than Clinton and Obama Socialist State — Trump Will Be Next President —  Videos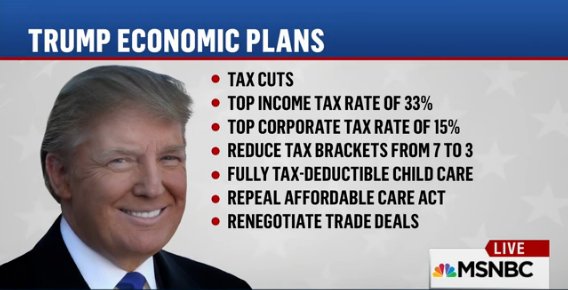 Fiscal Year 2015
What are the Federal Budget Actuals for FY 2015?
From US Treasury Monthly Report for September 2015.
Total Federal Outlays: $3.69 trillion
Total Federal Receipts: $3.25 trillion
Federal Deficit: $438 billion
Total Federal Debt: $18.1 trillion
Details of Budgeted vs. Actual Outlays for FY 2015
The bar chart comes directly from the Monthly Treasury Statement published by the U. S. Treasury Department.<—- Click on the chart for more info.
The "Debt Total" bar chart is generated from the Treasury Department's "Debt Report" found on the Treasury Direct web site. It has links to search the debt for any given date range, and access to debt interest information. It is a direct source to government provided budget information.
— "Deficit" vs. "Debt"—
Suppose you spend more money this month than your income. This situation is called a "budget deficit". So you borrow (ie; use your credit card). The amount you borrowed (and now owe) is called your debt. You have to pay interest on your debt. If next month you spend more than your income, another deficit, you must borrow some more, and you'll still have to pay the interest on your debt (now larger). If you have a deficit every month, you keep borrowing and your debt grows. Soon the interest payment on your loan is bigger than any other item in your budget. Eventually, all you can do is pay the interest payment, and you don't have any money left over for anything else. This situation is known as bankruptcy.
"Reducing the deficit" is a meaningless soundbite. If theDEFICIT is any amount more than ZERO, we have to borrow more and the DEBT grows.
Each year since 1969, Congress has spent more money than its income. The Treasury Department has to borrow money to meet Congress's appropriations. Here is a direct link to the Congressional Budget Office web site. Check out the CBO's assessment of the Debt. We have to pay interest* on that huge, growing debt; and it dramatically cuts into our budget.
http://federalbudgetinpictures.com/unsustainable-budget-deficits/

http://federalbudgetinpictures.com/where-does-all-the-money-go/
http://federalbudgetinpictures.com/revenue-sources/
http://federalbudgetinpictures.com/how-the-budget-has-changed/
http://federalbudgetinpictures.com/entitlements-to-consume-all-taxes/
ttp://federalbudgetinpictures.com/social-security-recipient-worker-ratio/
Donald Trump & Mike Pence Speech at Economic Club of New York. Sep 15, 2016.
Full Speech: Donald Trump Economic Speech at the Economic Club of New York (9/15/2016)
How Donald Trump reacted when his teleprompter broke
Q and A with Donald Trump at Economic Club of New York (9-15-16)
Donald Trump's Economic Plan – Cashin' In
EAT THE RICH!
Do the Rich Pay Their Fair Share?
Bill Gates: Don't tax my income, tax my consumption
Bill Gates: A conversation on poverty and prosperity
The Rich Are Taxed Enough- Debate -Intelligence Squared U.S.
FairTax: Fire Up Our Economic Engine (Official HD)
Rep. Woodall Discusses FairTax with Colleagues on House Floor
Rep. Woodall Discusses Nation's Fiscal Issues on House Floor
FAIRtax-What is It? Replaces income tax and payroll tax with sales tax
Q&A on the FAIRTAX pt.1
Q&A on the FAIRTAX pt.2
FairTax Prebate Explained
The FairTax: It's Time
Pence on the Fair Tax
Freedom from the IRS! – FairTax Explained in Detail
The FairTax: It's Time
John Stossel Inconvenient Taxes Part 1 of 5
John Stossel Inconvenient Taxes Part 2 of 5
John Stossel Inconvenient Taxes Part 3 of 5
John Stossel Inconvenient Taxes Part 4 of 5
John Stossel Inconvenient Taxes Part 5 of 5
– SEPTEMBER 15, 2016 –
TRUMP DELIVERS SPEECH ON JOBS AT NEW YORK ECONOMIC CLUB
Thank you for the opportunity to speak with you.
Today, I'm going to outline a plan for American economic revival – it is a bold, ambitious, forward-looking plan to massively increase jobs, wages, incomes and opportunities for the people of our country.
My plan will embrace the truth that people flourish under a minimum government burden, and it will tap into the incredible unrealized potential of our workers and their dreams.
Right now, 92 million Americans are on the sidelines, outside the workforce, and not part of our economy. It's a silent nation of jobless Americans.
Look no further than the city of Flint, where I just visited. The jobs have stripped from this community, and its infrastructure has collapsed. In 1970, there were more than 80,000 people in Flint working for GM – today it is less than 8,000. Now Ford has announced it is moving all small car production to Mexico.
It used to be cars were made in Flint and you couldn't drink the water in Mexico. Now, the cars are made in Mexico and you can't drink the water in Flint.
We are going to turn this around.
My economic plan rejects the cynicism that says our labor force will keep declining, that our jobs will keep leaving, and that our economy can never grow as it did once before.
We reject the pessimism that says our standard of living can no longer rise, and that all that's left to do is divide up and redistribute our shrinking resources.
Everything that is broken today can be fixed, and every failure can be turned into a great success.
Jobs can stop leaving our country, and start pouring in. Failing schools can become flourishing schools. Crumbling roads and bridges can become gleaming new infrastructure. Inner cities can experience a flood of new jobs and investment. And rising crime can give way to safe and prosperous communities.
All of these things, and so much more, are possible. But to accomplish them, we must replace the present policy of globalism – which has moved so many jobs and so much wealth out of our country – and replace it with a new policy of Americanism.
Under this American System, every policy decision we make must pass a simple test: does it create more jobs and better wages for Americans?
If we lower our taxes, remove destructive regulations, unleash the vast treasure of American energy, and negotiate trade deals that put America First, then there is no limit to the number of jobs we can create and the amount of prosperity we can unleash.
America will truly be the greatest place in the world to invest, hire, grow and to create new jobs, new technologies, and entire new industries.
Instead of driving jobs and wealth away, America will become the world's great magnet for innovation and job creation.
My opponent's plan rejects this optimism. She offers only more taxing, regulating, more spending and more wealth redistribution – a future of slow growth, declining incomes, and dwindling prosperity.
The only people who get rich under Hillary Clinton's scheme are the donors and the special interests.
In Hillary Clinton's America, we have surrendered our status as the world's great economy, and we have surrendered our middle class to the whims of foreign countries.
Not one single idea she has will create one net American job, or create one new dollar of American wealth for our workers. The only thing she can ever offer is a welfare check. Our plan will produce paychecks, and they're going to be great paychecks for millions of people now unemployed.
In the course of this campaign, I have travelled all across this country and I've met the most amazing people. Every day, I've seen the goodness and character of our country, and brave citizens proudly fighting through hard times and difficult circumstances.
In many parts of our country, the hard times never seem to end. I've visited cities and towns in upstate New York where half the jobs have left and moved to other countries.
Politicians have abandoned these places all over our country and the people who live there.
Worse still, politicians have heaped scorn and disdain on these wonderful Americans. My opponent described tens of millions of American citizens as deplorable and irredeemable – how can Hillary Clinton seek to lead this country when she considers its citizens beyond redemption?
The hardworking people she calls deplorable are the most admirable people I know: they are cops and soldiers, teachers and firefighters, young and old, moms and dads, blacks, whites and Latinos – but above everything else, they are all American. They love their families, they love their country, and they want a better future.
These are the forgotten men and women of America. People who work hard but don't have a voice.
I am running to be their voice, and to fight to bring prosperity to every part of this country.
Too many of our leaders have forgotten that it's their duty to protect the jobs, wages and well-being of American workers before any other consideration.
I'm not running to be President of the world. I'm running to be President of the United States – and as your President, I will fight for every last American job.
We are the nation that tamed the West, dug out the Panama Canal, won two World Wars, and put a man on the moon.
It's time to start thinking big once again.
That's why I believe it is time to establish a national goal of reaching 4% economic growth.
In working with my economic team, we've put together a plan that puts us on track to achieve that goal. Over the next ten years, our economic team estimates that under our plan the economy will average 3.5% growth and create a total of 25 million new jobs. You can visit our website to see the math.
This growth means that our jobs plan, including our childcare reforms, will be completely paid-for in combination with proposed budget savings.
It will be deficit neutral. If we reach 4% growth, it will reduce the deficit.
It will be accomplished through a complete overhaul of our tax, regulatory, energy and trade policies.
Right now, under Obama-Clinton policies, the economy grew only 1.1 percent last quarter – that translates to millions of lost jobs.
This is the weakest so-called recovery since the Great Depression.
Over the last 7 years, the economy grew only 2.1 percent, the slowest period in seventy years. Had the economy grown under Obama at the same rate as Reagan, it would have meant 10 million more jobs.
Perhaps most shockingly, 1 in 6 men aged 18-34 are either in jail or out of work.
Meanwhile, another 2 million Hispanic-Americans have been added to the ranks of those in poverty.
On top of it all, the Obama-Clinton policies have doubled the national debt. It took more than 230 years for the United States to accumulate it's first $10 trillion dollars in debt – it took President Obama only eight years to add another $10 trillion.
Now, it would be one thing if that money had been used to completely rebuild our nation, our military, and our infrastructure.
Instead, the opposite happened. We doubled our debt and, in return, we have dilapidated infrastructure, failing schools, a badly depleted military, and another 14 million people who have left the workforce.
Never has so much money been spent so poorly.
But we're going to turn that all around. Here's how.
It begins with bold new tax reform.
As outlined in Detroit, our tax plan will greatly simplify the code and reduce the number of brackets from 7 to 3. The 3 new brackets will be 12, 25 and 33, but low-income Americans will pay no income tax at all – in fact, our plan will remove millions and millions of workers from the income tax rolls entirely.
By lowering rates, streamlining deductions, and simplifying the process, we will add millions of new jobs.
In addition, because we have strongly capped deductions for the wealthy and closed special interest loopholes, the tax relief will be concentrated on the working and middle class taxpayer. They will receive the biggest benefit – it won't even be close.
This is a working and middle class tax relief proposal.
The tax relief for these workers will be expanded by my childcare proposals that I have worked on with my daughter, Ivanka.
These proposals are a central element of our comprehensive tax reform and economic growth plan.
Families will be able to fully deduct the average cost of childcare from their taxes, including stay-at-home parents. Because this deduction is capped, it will disproportionately benefit working and middle class families. The less you make, the larger a share of your income you can exclude from taxation.
Parents will also be able to enroll in tax-free dependent care savings accounts for their children or elderly relatives. Low-income households will benefit from both an Expanded Earned Income Tax Credit – in the form a Childcare rebate – and a matching $500 contribution for their savings accounts.
A married couple earning $50,000 per year with two children and $8,000 in child care expenses will save 35% from their current tax bill.
A married couple earning $75,000 per year with two children and $10,000 in child care expenses will receive a 30% reduction in their tax bill.
One of our greatest job creation measures is going to be our 15% business tax rate – down from the current 35% rate, a reduction of more than 40 percent. An explosion of new business and new jobs will be created. It will be amazing to watch.
We will also allow U.S.-based manufacturers to fully expense the cost of new plants and equipment.
On top of that, we will bring back trillions in business wealth parked overseas and tax it at a 10% rate. Some people say there are $2 trillion dollars overseas, I think it's $5 trillion. By taxing it at 10% instead of 35%, all of this money will come back into our country.
We will turn America into a magnet for new jobs – and that means jobs in our poorest communities.
Next, comes regulations.
One of the keys to unlocking growth is scaling-back years of disastrous regulations unilaterally imposed by our out-of-control bureaucracy.
Regulations have grown into a massive, job-killing industry – and the regulation industry is one business I will put an end to.
In 2015 alone, federal agencies issued over 3,300 final rules and regulations, up from 2,400 the prior year. Every year, overregulation costs our economy $2 trillion dollars a year and reduces household wealth by almost $15,000 dollars.
I've proposed a moratorium on new federal regulations that are not compelled by Congress or public safety, and I will eliminate all needless and job-killing regulations now on the books.
This includes eliminating some of our most intrusive regulations, like the Waters of The U.S. Rule. It also means scrapping the EPA's so-called Clean Power Plan which the government itself estimates will cost $7.2 billion a year. This Obama-Clinton directive will shut down most, if not all, coal-powered electricity plans in America. Remember what Hillary Clinton said? She wants to shut down the miners, just like she wants to shut down the steel mills.
We're going to put our great miners and steel workers back to work.
Energy reform is central to our plan as well
According to the Heritage Foundation, by 2030, President Obama's energy restrictions will eliminate another half a million manufacturing jobs, reduce economic output by $2.5 trillion dollars, and reduce incomes by $7,000 dollars per person.
Hillary Clinton wants to go even further, and her plan could cost the economy $5 trillion dollars.
A Trump Administration will lift restrictions on all sources of American energy production. According to the Institute for American Energy Resources this will:
increase GDP by more than $100 billion annually
add over 500,000 new jobs annually
increase annual wages by more than $30 billion over the next 7 years
increase federal, state, and local tax revenues by almost $6 trillion over 4 decades
increase total economic activity by more than $20 trillion over the next 40 years.
In addition, we will streamline the permitting process for all energy infrastructure projects, including the billions of dollars in projects held up by President Obama – creating countless more jobs in the process.
Finally, comes trade – the foundation for everything
America's annual trade deficit with the world is now nearly $800 a billion a year – an enormous drag on growth.
Between World War II and the year 2000, the United States averaged a 3.5% growth rate. But, after China joined the World Trade Organization, our average growth rate has been reduced to only 2 percent.
Predatory trade practices, product dumping, currency manipulation and intellectual property theft have taken millions of jobs and trillions in wealth from our country.
It is no great secret that many of the special interests funding my opponent's campaign are the same people profiting from these terrible trade deals. The same so-called experts advising Hillary Clinton are the same people who gave us NAFTA, China's entry into the World Trade Organization, the job-killing trade deal with South Korea, and now the Trans-Pacific Partnership.
The verdict is in. All of the special interests that the media race to for comment have been proven wrong about every single deal they've promoted – every lie and every prediction has crashed upon the rocks of reality.
Our manufacturing base has crumbled, communities have been hollowed out, wages have declined, and households are making less today than they were in the year 2000.
I have proposed a detailed plan to reform our trade policies and bring vast new jobs and wealth to America. This includes the following steps:
I'm going to direct the Secretary of Commerce to identify every violation of trade agreements a foreign country is currently using to harm our workers. I will use every tool under American and international law to end these abuses, and I will use our greatest business leaders and finest negotiators – and I know who you are, many of you are in the room.
We are going to start with NAFTA, which is causing so much damage to our country. We will entirely renegotiate NAFTA into a deal that will either be good for us or will be terminated until a brand new and productive deal can be signed.
We are also going to keep America out of the Trans-Pacific Partnership.
Next, I am going to instruct my Treasury Secretary to label China a currency manipulator, and to apply tariffs to any country that devalues its currency to gain an unfair advantage over the United States.
I am going to instruct the U.S. Trade Representative to bring trade cases against China. China's unfair subsidy behavior is prohibited by the terms of its entrance to the WTO, and I intend to enforce those rules.
If China does not stop its illegal activities, including its theft of American trade secrets and intellectual property, I will apply countervailing duties until China ceases and desists.
Just the single action of enforcing intellectual property rules alone would add millions of new American jobs. According to the U.S. International Trade Commission, improved protection of America's intellectual property in China would add 2 million jobs a year to the United States every single year.
We are going to stop the outflow of jobs from our country, and open a new highway of jobs back into our country.
Here is how the plan adds up
We are proposing a $4.4 trillion tax cut that will score as $2.6 trillion under a dynamic growth model, which is how taxes should be scored. This includes the childcare plan.
Our economic team has further modeled that the growth-induced savings from trade, energy and regulation reform will shave at least another $1.8 trillion off of the remaining cost.
That leaves around $800 billion dollars. This money can all be saved through simple, common sense reforms. If we save just one penny of each federal dollar spent on non-defense, and non-entitlement programs, we can save almost $1 trillion over the next decade – again this is spending that does not touch defense, and that does not touch entitlements.
If our plan exceeds the 3.5% ten-year growth average, then our jobs proposal will actually reduce the deficit. Savings will be compounded by the fact that people who are currently receiving unemployment or welfare will finally be able to find jobs.
This is the most pro-growth, pro-jobs, pro-family plan put forth perhaps in the history of our country.
This is what our new future will look like
I am going to lower you taxes; I am going to get rid of massive amounts of unnecessary regulations, on business and in your life; I'm going to unleash American energy; I'm going to repeal and replace Obamacare; I'm going to appoint Justices to the Supreme Court who will follow the Constitution; I'm going rebuild our depleted military and take care of our vets; I'm going to save your 2ndamendment; I'm going to stop illegal immigration and drugs coming into our country, and yes, we will build the wall [Mexico will pay]; and I'm going to renegotiate our disastrous trade deals, especially NAFTA – and we will only make great trade deals that put the American worker first.
And we are going to put our miners and our steelworkers back to work.
We will rebuild our roads, bridges, tunnels, highways, airports, schools and hospitals.
American cars will travel the roads, American planes will soar in the skies, and American ships will patrol the seas.
American steel will send new skyscrapers into the clouds.
American hands will rebuild this nation – and American energy, harvested from American sources, will power this nation. American workers will be hired to do the job.
We will put new American metal into the spine of this country.
Jobs will return, incomes will rise, and new factories will come rushing back to our shores.
We Will Make America Wealthy Again.
We Will Make America Strong Again.
And Will Make America Great Again.
Thank you, and God Bless!
https://www.donaldjtrump.com/press-releases/trump-delivers-speech-on-jobs-at-new-york-economic-club
ECONOMIC VISION: WINNING THE GLOBAL COMPETITION

Last week's GDP report showed that the economy grew a mere 1.2% in the second quarter and 1.2% over the last year. It's the weakest recovery since the Great Depression – the predictable consequence of massive taxation, regulation, one-side trade deals and onerous energy restrictions.

This slow-growth low-jobs future doesn't have to be. While Hillary Clinton promises more of the same failed economy agenda that have pushed another 14 million out of the workforce in the last 7 years – and that has placed forty percent of Detroit in poverty – Donald Trump is outlining a new economic vision based on a simple premise: all economic policy must be geared towards making it easier to hire, invest, build, grow and produce in America – creating a level playing field for our workers and businesses in global competition, and creating jobs here, not overseas.

High taxes and excessive regulation push jobs overseas, reduce wages, and create a smaller economy for everyone. Obama-Clinton have created a built-in advantage for our foreign competitors.

Reducing the burdens on the American economy, and creating fair trade deals, will lead to an explosion of new jobs, wealth and opportunity. That's what America First economics is all about – making America the best place in the world to do business, and the best place in the world to get a job, raise and rising standard of living.

Here is how we can accomplish that goal, and win the global competition for America:

1. Tax reform—

Simplify taxes for everyone and streamline deductions. Biggest tax reform since Reagan.
Lower taxes for everyone, making raising a family more affordable for working families.
Reduce dramatically the income tax.
We will simplify the income tax from 7 brackets to 3 brackets.
Exclude childcare expenses from taxation.
Limit taxation of business income to 15% for every business.
Make our corporate tax globally competitive and the United States the most attractive place to invest in the world.
End the death tax.

For every one percentage point of slower growth in a given year, that's one million fewer jobs for American workers. Reducing taxes on our workers and businesses, means that our workers can sell their products more cheaply here and around the world – meaning more factories, more hiring, and higher wages. It's time to stop punishing people for doing business in America.

President Obama has already increased taxes by $1.7 trillion during his administration. Hillary Clinton would raise taxes by an additional $1.3 trillion over the next 10 years. According to the Tax Policy Center's analysis of Hillary Clinton's tax plan: "Marginal tax rates would increase, reducing incentives to work, save, and invest, and the tax code would become more complex." In addition, Hillary would tax some small businesses by as much as nearly fifty percent; the Trump plan would limit taxes on all businesses to 15 percent of business income.

The child care exclusion will be an above-the-line deduction. Capped at the amount of average care costs in state of residence for age of child. Low-income taxpayers able to take deduction against payroll tax. The plan is structured to benefit working and middle class families, and more detail will be rolled out soon after the plans other elements.

2. Regulatory reform—

A temporary pause on new regulations and a review of previous regulations to see which need to be scrapped.
Require each federal agency to prepare a list of all of the regulations they impose on American business, and rank them from most critical to health and safety to least critical. Least critical regulations will receive priority consideration for repeal.
Remove bureaucrats who only know how to kill jobs; replace them with experts who know how to create jobs.
Targeted review for regulations that inhibit hiring. These include:
The Environmental Protection Agency's Clean Power Plan, which forces investment in renewable energy at the expense of coal and natural gas, raising electricity rates;
The EPA's Waters of the United States rule, which gives the EPA the ability to regulate the smallest streams on private land, limiting land use; and
The Department of Interior's moratorium on coal mining permits, which put tens of thousands of coal miners out of work.
Excessive regulation is costing our country as much as 2 trillion dollars a year, and we will end it.

Regulations may have cost us 600,000 small businesses since the start of the recent recession—largely because of new regulations on financing—and some 6 million fewer jobs. The Heritage Foundation has found that the Obama administration has imposed 229 major regulations (those with a cost of $100 million or more) at a cost of $108 billion annually.

3. Trade reform—

Appoint trade negotiators whose goal will be to win for America: narrowing our trade deficit, increasing domestic production, and getting a fair deal for our workers.
Renegotiate NAFTA.
Withdraw from the TPP.
Bring trade relief cases to the world trade organization.
Label China a currency manipulator.
Apply tariffs and duties to countries that cheat.
Direct the Commerce Department to use all legal tools to respond to trade violations.

Our trade deficit in goods is almost $800 billion on an annual basis. The trade deficit subtracts from growth and costs the US jobs. This has hurt working Americans because good-paying manufacturing jobs are hard to find. Less than half of the population 25 and older without a high school diploma is in the workforce; the unemployment rate of those who are in the almost 30 percent higher than the overall unemployment rate. This leads to poverty and an increase in demands on the nation's social service network. Better trade policies can reverse this outcome dramatically.

Hillary Clinton has supported every major trade deal responsible for job losses in the United States, and will enact the TPP if given the chance.

TPP will hammer the car industry because it does not resolve, among other things, the substantial non-tariff barriers to U.S. cars being sold in Japan and other countries — including currency manipulation, excess supply and closed dealerships. According to the Peterson Institute, TPP would increase the automobile trading deficit by $23 billion by 2025.

4. Energy reform—

Rescind all the job-destroying Obama executive actions including the Climate Action Plan and the Waters of the U.S. rule.
Save the coal industry and other industries threatened by Hillary Clinton's extremist agenda.
Ask Trans Canada to renew its permit application for the Keystone Pipeline.
Make land in the Outer Continental Shelf available to produce oil and natural gas.
Cancel the Paris Climate Agreement (limit global warming to 2 degrees Celsius) and stop all payments of U.S. tax dollars to U.N. global warming programs.
Lift restrictions on American energy to increase:
Economic output by $700 billion annually over the next 30 years,
Wages by $30 billion annually over the next 7 years,
GDP by more than $20 trillion over the next four decades, and
Tax revenues by an additional $6 trillion over 40 years.

Energy costs the average American households $5,000 per year. As a percentage of income, the cost is greater for lower-income families. An America First Energy Plan will bring down residential and transportation energy costs, leaving more money in for American families as they pay less each month on power bills and gasoline for cars. This will also make electricity more affordable for U.S. manufacturers, which will help our companies create jobs and compete on the world stage.
President Obama sought to raise the price of energy for America's families and businesses. He's put much of Alaska's reserves off limits, decreased production on federal lands by 10 percent, put 87 percent of Outer Continental Shelf reserves out of service, and shut down Atlantic lease sales costing nearly 300,00 jobs. Hillary Clinton has pledged to protect and expand these job-killing policies.
Donald Trump is committed to clean air and water, without increasing the cost of electricity. Hillary Clinton will continue President Obama's goals of reducing methane emissions by 40-45 percent through standards for both new and existing sources, which will drastically increase the cost of natural gas; Donald Trump is committed to an "all of the above" energy plan that would encourage, not discourage, the use of natural gas and other American energy resources that will both reduce emissions but also reduce the price of energy and increase our economic output.

5. Other reforms, to be rolled out in the near future —

Obamacare repeal and replacement—Obamacare will cost the economy 2 million full time jobs over the next decade. Hillary Clinton would expand Obamacare and create fully government-run socialized medicine.
Infrastructure—28 percent of our roads are in substandard condition and 24 percent of bridges are structurally deficient or worse. Trump's plan will provide the growth to boost our infrastructure, Hillary Clinton's will not.
Childcare— Childcare is now the single greatest expense for most American families — even exceeding the cost of housing in much of the country. Trump will allow families to exclude childcare costs from income, benefitting every family. Hillary will not.
Crime— Homicides last year increased by 17 percent in America's fifty largest cities. That's the largest increase in 25 years. More than 2,000 have been shot in Chicago since January of this year alone. Donald Trump is the law and order candidate in this Presidential race.


Contrast with Hillary Clinton:

Hillary Clinton accepts the CBO and Fed projections that the U.S. will grow only 2 percent per year. She doesn't believe in a better future for America – only Venezuela-style redistribution of a stagnant economy.
Hillary Clinton will raise taxes by $1.3 trillion, leading to 300,000 lost jobs and lower wages.
Hillary Clinton will increase spending by a minimum of $3.5 trillion.
Hillary Clinton wants to increase regulations.
Hillary Clinton is a globalist, supporting almost every major job-killing trade deal.
Hillary Clinton wants to shut down American energy production, a tax on the poor.
https://www.donaldjtrump.com/positions/economic-vision
Trump outlines vision for economy, promising large tax cuts
BY JONATHAN LEMIRE AND JILL COLVIN, ASSOCIATED PRESS  September 15, 2016
Donald Trump outlined his vision for managing the nation's economy as president on Thursday, promising that his plans to lower taxes by $4.4 trillion over a decade and cut regulations would lead to booming growth, create millions of jobs and even cut into the nation's budget deficit.
"My plan will embrace the truth that people flourish under a minimum government burden and will tap into the incredible, unrealized potential of our workers and their dreams," Trump said in a speech to the Economic Club of New York.
The Republican nominee said his plans would raise the nation's economic growth rate to at least 3.5 percent, well above its current rate of about 2 percent, and create 25 million new jobs over the next 10 years.
For Trump's plans to succeed, they would have to overcome forces in the economy, such as rising automation, an aging population and low-wage competition overseas, that have led even conservative economists to say a 3.5 percent growth rate is an improbable goal.
The U.S. economy is already creating 2.5 million jobs a year, the same pace promised by Trump over the next decade.
The heart of Trump's plan is a revised tax code, which includes a pledge that no business should pay more than 15 percent of its income in taxes, down from the current 35 percent corporate tax rate. Few businesses now pay the full 35 percent rate, taking advantage instead of many deductions in the existing tax code.
He also proposed simplifying the U.S. tax code for individuals, reducing the current seven tax brackets to three: 12 percent, 25 percent and 33 percent of income after deductions.
Trump called for the elimination of what's known as the carried interest loophole, which is used by hedge funds and other investment funds to reduce their tax burden.
As president, Trump said he would cut the number of regulations imposed by the federal government, including some that are designed to combat climate change and protect the food Americans eat. The celebrity businessman said that "excessive regulation" costs Americans nearly $2 trillion a year.
Among those he plans to target: Environmental Protection Agency regulations for coal-fired power plants and standards for ground level ozone. His campaign also said he would target the Food and Drug Administration's "food police," and rules that govern "food production hygiene, food packaging, food temperatures."
Trump said he will lift restrictions on energy production, including offshore drilling, scrap trade deals like the North American Free Trade Agreement and the Trans-Pacific Partnership, and implement a child care plan, including six weeks of paid maternity leave, he outlined earlier this week.
While Trump said the economic growth and some limited spending cuts would fully pay for the cost of his tax cuts, and may even allow for a reduction in the nation's federal budget deficit, critics have said his economic proposals would add as much as $10 trillion to the nation's debt over the course of a decade.
The campaign disputes those estimates. To help offset the cost of the tax cuts, he said Thursday his administration would reduce non-defense, non-safety net spending by one percent of each previous year's total. Trump said that would reduce spending by $1 trillion over a decade.
He vowed to not cut defense spending and to exempt Social Security, Medicare, and Medicaid from any reductions. Yet if benefits to veterans are included as part of defense spending, the programs Trump places off limits for cuts make up nearly 70 percent of the federal budget, and it wasn't immediately clear how he would reach his spending cut goal with such programs off the table.
Such an approach also would conflict with House Speaker Paul Ryan plans for the federal budget, widely embraced by Republicans, that call for reining in the costs of programs such as Medicare and Social Security
http://www.pbs.org/newshour/rundown/trump-outlines-vision-economy-promising-large-tax-cuts/
Donald Trump Promises Tax Cuts, More Spending Offset by Robust Growth
Republican presidential candidate elaborates on his economic plans
By 
NICK TIMIRAOS

and RICHARD RUBIN

Updated Sept. 15, 2016 3:53 p.m. ET
NEW YORK— Donald Trump on Thursday put forward his most detailed economic blueprint, promising significantly stronger economic growth to offset the steep price tag of proposed tax cuts and new infrastructure and defense spending.
Mr. Trump, in a speech at the Economic Club of New York, went beyond past policy discussions by detailing a revamped tax-cut proposal that would cost $4.4 trillion before accounting for any growth boost, down from nearly $10 trillion last year. He also outlined, for the first time, plans to cut annual spending on nondefense programs outside of entitlements.
The newly detailed policies follow on a new package of tax breaks for child care together with a new federal entitlement for maternity leave that he outlined earlier this week.
Mr. Trump cast himself as the candidate whose policies would boost growth rather than settle for redistributing the gains from a less dynamic economy.
"My economic plan rejects the cynicism that says our labor force will keep declining, that our jobs will keep leaving and that our economy can never grow as it did once before," Mr. Trump said.
After the speech, in a question-and-answer session with John Paulson, the hedge fund executive and Trump adviser, the Republican presidential nominee reprised his attacks on the Federal Reserve, which he said was keeping interest rates interest low for political reasons.
The tax and spending proposals are designed to shore up support from some Republicans who have harbored doubts over his conservative bona fides while wooing independent voters. Polls show that Mr. Trump has a narrow advantage over Democratic nomineeHillary Clinton on the question of who could deliver stronger economic growth, but a larger margin of voters say Mrs. Clinton better understands the challenges facing the middle class.
Mr. Trump has in the past embraced a large infrastructure-spending push, a key piece of Mrs. Clinton's platform. On Thursday, he said that her economic plans would do little to create jobs.
The GOP nominee decried the announcement by Ford Motor Co. on Wednesday to move production of small cars to Mexico as a "disgrace" that he would move to block if elected in November.
Mr. Trump also called on the government to shrink nondefense spending, though he would exclude entitlement programs, which are projected to be the largest drivers of spending over the coming decades. To help achieve the planned cuts to spending, Mr. Trump plans to reduce the budgets of government agencies such as the Education Department, Transportation Department and Interior Department by 1% each year.
Advocates of balanced budgets have reacted cautiously to proposals, such as Mr. Trump's that would cut taxes and boost defense and infrastructure spending without specific measures to avoid higher deficits if growth doesn't materialize. "We need economic growth but what we don't need is wishful thinking," said Maya MacGuineas, president of the Committee for a Responsible Federal Budget, which advocates debt reduction.
The Clinton campaign dismissed Mr. Trump's latest tax-cut proposal. Jacob Leibenluft, a senior policy adviser to Mrs. Clinton called it a giveaway that would "benefit Trump at the expense of millions of hardworking folks across our country who deserve the opportunity at a better future."
Mr. Trump made a series of changes to his tax plan that would reduce the overall cost of the original plan, which had been pegged at $10 trillion over a decade. He said it would cost $4.4 trillion over a decade or $2.6 trillion after accounting for economic growth—larger than the cost of tax cuts enacted by President George W. Bush last decade.
He now wants to cap deductions at $100,000 for a single filer and $200,000 for a married couple. That would severely curb high-income households' ability to deduct their state and local taxes, mortgage interest and charitable contributions.
Mr. Trump also would set the standard deduction at $15,000 for individuals and $30,000 for married couples. That is higher than current law, pushing more families off the tax rolls, but it is lower than the $25,000 and $50,000 tax-free levels he proposed last year.
Families with children would be able to claim the child-care deduction Mr. Trump proposed earlier this week, avoiding tax up to the average cost of child care in their states. For those families, that is largely just a relabeling of the personal exemption, which Mr. Trump would repeal.
Mr. Trump also would restrict the ability of manufacturers to deduct interest costs while also writing off capital expenses in the first year. Economists in both parties had warned that the combination of those policies could create tax subsidies for debt-financed investments, including in real estate businesses such as Mr. Trump's.
He would collapse the seven individual tax brackets into three with a top individual tax rate of 33%, which would apply to income above $225,000 for a married couple and half that for a single filer. The top capital-gains rate would be 20%.
Mr. Trump's plan also appears to include an enormous change from his prior plan on taxing businesses. The new plan now calls for the corporate tax rate to be 15% but doesn't mention the 15% tax rate on business income reported on individual tax returns that had been a staple of Mr. Trump's plans before.
If he makes that change, it would mean that some small businesses, whose owners take home as little as $225,000 for a married couple, would face marginal tax rates nearly double what corporations would pay.
The small-business groups that back the Republican Party object to that kind of a gap between corporate and business tax rates reported on individual returns, though corporate income is subject to a second layer of tax on capital gains or dividends.
Mr. Trump said his plans could return growth to levels last seen in the late 1990s by boosting gross domestic product to 3.5% annually, from its recent levels of more than 2%. The economy faces stiffer headwinds than it did 20 years ago because of an aging workforce and slowing birthrates. Unlike other industrialized nations that face even steeper demographic headwinds, the U.S. has seen larger population growth from immigration, which Mr. Trump has said he would slow.
In the question and answer period with Mr. Paulson, Mr. Trump also ruled out any plan to default on the U.S. debt. "With the United States, you're talking about something beyond the gold standard. You can discount; you can do things," he said, but added: "The debt of this country is absolutely sacred."
http://www.wsj.com/articles/donald-trump-lays-out-more-details-of-economic-plans-1473955537
Election 2016 Presidential Polls
Race/Topic   

(Click to Sort)

Poll
Results
Spread
General Election: Trump vs. Clinton vs. Johnson vs. Stein
CBS News/NY Times
Clinton 42, Trump 42, Johnson 8, Stein 4

Tie

General Election: Trump vs. Clinton
CBS News/NY Times
Clinton 46, Trump 44

Clinton +2

General Election: Trump vs. Clinton vs. Johnson vs. Stein
Rasmussen Reports
Clinton 40, Trump 42, Johnson 7, Stein 2

Trump +2

General Election: Trump vs. Clinton
LA Times/USC Tracking
Clinton 41, Trump 47

Trump +6

Colorado: Trump vs. Clinton vs. Johnson vs. Stein
Emerson
Clinton 38, Trump 42, Johnson 13, Stein 3

Trump +4

Iowa: Trump vs. Clinton vs. Johnson vs. Stein
Monmouth
Trump 45, Clinton 37, Johnson 8, Stein 2

Trump +8

Michigan: Trump vs. Clinton vs. Johnson vs. Stein
Detroit Free Press
Clinton 38, Trump 35, Johnson 10, Stein 4

Clinton +3

Ohio: Trump vs. Clinton vs. Johnson vs. Stein
Suffolk
Trump 42, Clinton 39, Johnson 4, Stein 1

Trump +3

Missouri: Trump vs. Clinton vs. Johnson vs. Stein
Emerson
Trump 47, Clinton 34, Johnson 7, Stein 6

Trump +13

Virginia: Trump vs. Clinton vs. Johnson vs. Stein
Univ. of Mary Washington
Clinton 40, Trump 37, Johnson 8, Stein 1

Clinton +3

North Carolina: Trump vs. Clinton vs. Johnson
Civitas (R)
Clinton 42, Trump 42, Johnson 5

Tie

Georgia: Trump vs. Clinton vs. Johnson
FOX 5 Atlanta
Trump 46, Clinton 42, Johnson 10

Trump +4

Georgia: Trump vs. Clinton vs. Johnson
Emerson
Trump 45, Clinton 39, Johnson 6

Trump +6

Texas: Trump vs. Clinton vs. Johnson vs. Stein
Texas Lyceum
Trump 39, Clinton 32, Johnson 9, Stein 3

Trump +7

Arkansas: Trump vs. Clinton vs. Johnson vs. Stein
Emerson
Trump 57, Clinton 29, Johnson 5, Stein 3

Trump +28
The Pronk Pops Show Podcasts Portfolio
Read Full Post
|
Make a Comment
(
None so far
)