Posted on January 27, 2020. Filed under: 2020 Democrat Candidates, 2020 President Candidates, 2020 Republican Candidates, Abortion, Addiction, Addiction, Addiction, American History, Banking System, Blogroll, Breaking News, Bribery, Bribes, Budgetary Policy, Cartoons, Central Intelligence Agency, Clinton Obama Democrat Criminal Conspiracy, Communications, Congress, Constitutional Law, Corruption, Countries, Crime, Culture, Deep State, Defense Spending, Disasters, Donald J. Trump, Donald J. Trump, Donald Trump, Economics, Empires, Employment, Federal Bureau of Investigation (FBI), Federal Government, Fiscal Policy, Government, Government Dependency, Health, Health Care, High Crimes, History, House of Representatives, Human, Human Behavior, Illegal Immigration, Immigration, Impeachment, Independence, Investments, Joe Biden, Labor Economics, Language, Law, Legal Immigration, Life, Media, Medicare, Mental Illness, Military Spending, MIssiles, Monetary Policy, National Interest, National Security Agency, Natural Gas, News, People, Philosophy, Photos, Politics, President Trump, Progressives, Public Corruption, Radio, Raymond Thomas Pronk, Resources, Rule of Law, Scandals, Senate, Spying on American People, Surveillance/Spying, Trade Policy, Treason, Trump Surveillance/Spying, Ukraine, United States of America, Videos, Violence, War, Wealth, Weapons, Wisdom | Tags: "Voice for The Voiceless", 24 January 2020., America, Articles, Audio, Born and Unborn, Breaking News, Broadcasting, Capitalism, Cartoons, Charity, Citizenship, Clarity, Classical Liberalism, Collectivism, Commentary, Commitment, Communicate, Communication, Concise, Convincing, Courage, Culture, Current Affairs, Current Events, D.C., Economic Growth, Economic Policy, Economics, Education, Evil, Experience, Faith, Family, First, Fiscal Policy, Free Enterprise, Freedom, Freedom of Speech, Friends, Give It A Listen!, God, Good, Goodwill, Growth, Hope, Individualism, Knowledge, Liberty, Life, Love, Lovers of Liberty, Monetary Policy, MPEG3, News, Opinions, Peace, Photos, Podcasts, Political Philosophy, Politics, Pro Life Movement, Pro Life President Trump Speech To March of Life in Washington, Prosperity, Radical Extremist Democrat Socialists and Big Lie Media Mob  Fails To Convince The Majority of American People, Radio, Raymond Thomas Pronk, Representative Republic, Republic, resident "Defends The Right of Every Child, resident Should Be Found Not Guilty and Acquitted By A 55 to 45 Vote in Senate, Resources, Respect, Rule of Law, Rule of Men, Senate Impeachment Trump Trial, Show Notes, Talk Radio, The Progressive Propaganda Stunt, The Pronk Pops !384, The Pronk Pops Show, To Fulfill The God Given Potential", Truth, Tyranny, U.S. Constitution, United States of America, Videos, Virtue, War, Wisdom |
Pronk Pops Show 1384 January 24, 2020
Pronk Pops Show 1383 January 23, 2020
Pronk Pops Show 1382 January 22, 2020
Pronk Pops Show 1381 January 21, 2020
Pronk Pops Show 1380 January 17, 2020
Pronk Pops Show 1379 January 16, 2020
Pronk Pops Show 1378 January 15, 2020
Pronk Pops Show 1377 January 14, 2020
Pronk Pops Show 1376 January 13, 2020
Pronk Pops Show 1375 December 13, 2019
Pronk Pops Show 1374 December 12, 2019
Pronk Pops Show 1373 December 11, 2019
Pronk Pops Show 1372 December 10, 2019
Pronk Pops Show 1371 December 9, 2019
Pronk Pops Show 1370 December 6, 2019
Pronk Pops Show 1369 December 5, 2019
Pronk Pops Show 1368 December 4, 2019 
Pronk Pops Show 1367 December 3, 2019
Pronk Pops Show 1366 December 2, 2019
Pronk Pops Show 1365 November 22, 2019
Pronk Pops Show 1364 November 21, 2019
Pronk Pops Show 1363 November 20, 2019
Pronk Pops Show 1362 November 19, 2019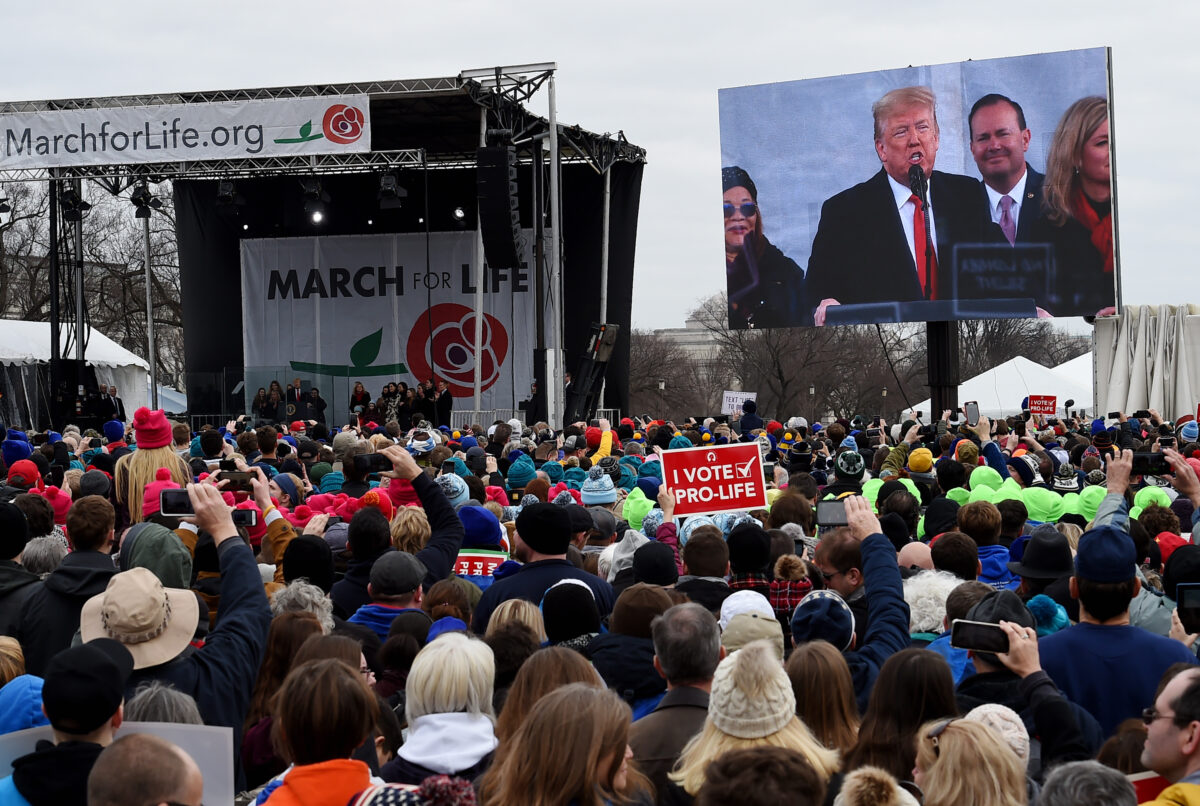 Story 1: Pro Life President Trump Speech To March of Life in Washington, D.C. — "Voice for The Voiceless" — President "Defends The Right of Every Child, Born and Unborn, To Fulfill Their God Given Potential" — Videos
President Trump March for Life 2020 full speech
President Donald Trump addressed the annual March for Life Friday, telling pro-life demonstrators that he is an advocate for the right to life of unborn children, and calling for a federal prohibition on late-term abortion. The president spoke about his administration's record on abortion policy and criticized Democrats at the state and federal level for their positions on human life. He is the first president to attend in person the March for Life, which began in 1974 and has become one of the largest annual political events in the country.
Trump speaks to Fox News on being first US president to attend March for Life
March For Life 2020 With The Examiner
What Trump's March for Life speech means for 2020
 | January 24, 2020 01:42 PM
When President Trump addressed the 47th annual March for Life on Friday afternoon, he presented himself as a "voice for the voiceless."
"Unborn children have never had a stronger defender in the White House," he announced.
Before the president spoke, Vice President Mike Pence greeted the crowd in a recorded video, saying, "I couldn't be more proud to serve as vice president to the most pro-life president in American history."
The line that Trump is the "most pro-life president in history" has been oft-repeated, particularly after he announced that he would be the first president ever to attend the march. But is he the most pro-life president ever? Does it matter?
Either way, Trump hopes to turn the pro-life cause into a winning issue with evangelicals. In Trump's speech, he relied heavily on religious language about the sanctity of life.
"All of us here today understand an eternal truth: Every child is a precious and sacred gift from God," he said. "When we see the image of a baby in the womb, we glimpse the majesty of God's creation."
Trump has been fishing for evangelical support, which helped send him to the White House in 2016. His words, as well as his actions, on pro-life issues will help.
During his time as president, Trump has expanded the Mexico City Policy, which prevents foreign aid from funding abortions, and has allowed Title X funds to be directed away from Planned Parenthood.
"From the first day in office," Trump said during his speech, "I've taken historic action to support America's families and protect the unborn."
While the assertion that "mothers are heroes" may ring hollow coming out of the mouth of a serial philanderer, Trump's pro-life record places him in stark contrast with the other 2020 candidates. Moments after Trump began speaking, Bernie Sanders tweeted, "Abortion is health care."
Anticipating backlash like this, Trump said during his speech, "Sadly, the far-Left is actively working to erase our God-given rights … and silence Americans who believe in the sanctity of life."
"They are coming after me," he claimed, "because I'm fighting for you."
Not every pro-life advocate is a fan of Trump, but when he addresses the issues of pro-life speech being squelched on campuses, late-term abortion — "What is going on in Virginia?" — and the sidelining of the pro-life cause in the public sphere, he strikes a nerve.
Trump may not be the pro-life champion that the movement needs. But when youlook at the alternatives, he may be the most powerful ally it has. He'll continue to use that.
Trump, a late convert to cause, attends anti-abortion rally
PUBLISHED: | UPDATED: 
President Donald Trump vowed to stand with anti-abortion activists Friday as he became the first sitting president to speak at the March for Life, an annual gathering that is one of the movement's highest profile and most symbolic events.
"Today as President of the United States, I am truly proud to stand with you," he told a crowd of thousands braving the cold on the National Mall. "Unborn children have never had a stronger defender in the White House."
It was just four years ago when a political committee supporting one of Trump's Republican rivals unveiled an ad slamming his views on abortion, complete with footage from a 1999 interview in which he declared, "I am pro-choice in every respect."
But on Friday, Trump was hailed in speeches and on signs as "the most pro-life" American president ever.
The reception was yet another sign of his remarkable political transformation and the fact that white evangelical and conservative Christians remain among Trump's most loyal backers. And the appearance made clear that, as he heads into the 2020 election, Trump is counting on those voters to help bring him across the finish line.
"I think it´s a brilliant move," said Ralph Reed, chair of the Faith and Freedom Coalition and one of Trump's most prominent evangelical supporters, of Trump's decision to become the first president to take the event's stage. Reed said the president's appearance would "energize and remind pro-life voters what a great friend this president and administration has been."
It also shows how much times have changed.
Past presidents who opposed abortion, including Ronald Reagan and George W. Bush, steered clear of personally attending the march to avoid being too closely associated with demonstrators eager to outlaw the procedure. They sent remarks for others to deliver, spoke via telephone hookup or invited organizers to the White House – but never appeared at the march.
Over the last 10 years, however, the Republican Party has undergone a "revolution," displaying a new willingness to "embrace the issue as not only being morally right but politically smart," said Mallory Quigley, a spokeswoman for the Susan B. Anthony List and Women Speak Out PAC, which is planning to spend $52 million this cycle to help elect candidates opposed to abortion rights.
While views of abortion have remained relatively stable over two decades of polling – with roughly 6 in 10 Americans saying abortion should be legal in all or most cases, according to Pew Research Center – both the Republican and Democratic parties have taken harder-line positions for and against abortion rights.
"There used to be a middle in this country and candidates would not want to alienate the middle," said Ari Fleischer, who served as White House press secretary under President George W. Bush. "And it just seems that that is over and that both parties play to their bases."
During his first three years in office, Trump has embraced socially conservative policies, particularly on abortion. He's appointed judges who oppose it, cut taxpayer funding and painted Democrats who support abortion rights as extreme in their views.
"President Trump has done more for the pro-life community than any other president, so it is fitting that he would be the first president in history to attend the March for Life on the National Mall," said White House spokesman Judd Deere.
On Friday, his administration took another step, threatening California with the potential loss of federal health care funding over the state's requirement that insurance plans cover abortions. Meanwhile, Trump's campaign announced the creation of a new campaign coalition, "Pro-life Voices for Trump."
Trump's thinking on the matter has been simple: If he supports the cause, "why wouldn´t he show up to their big event?" said Matt Schlapp, chair of the American Conservative Union and a close ally of the White House. He said the appearance would be deeply significant for participants and "cement even tighter the relationship" Trump has with conservative activists across the country.
"I've had people be moved to tears over the fact that he´s going," said Schlapp. "It's a big deal,"
March attendees began streaming onto the Mall early Friday morning, many holding signs with slogans like "MAKE UNBORN BABIES GREAT AGAIN!" and I VOTE PRO-LIFE FIRST." In some ways, it had the feel of a Trump campaign rally, with vendors selling pro-Trump buttons and hats.
"I am very impressed with him. It takes a lot of guts to do something that nobody else has done before," said Janet Peterson, who traveled from South Carolina for the event, and credited Trump's decision to appear on his New York roots.
"If you tell them, `This isn´t the status quo´ or `We don´t do it this way,´ they´re more likely to give you a double middle finger and do it," she said.
Trump used his speech, in part, to attack Democrats for embracing what he labeled "radical and extreme positions" on abortion, and praised attendees, saying they were motivated by "pure, unselfish love." Vice President Mike Pence, who was traveling in Italy Friday, also appeared via video recorded at the Vatican following a meeting with Pope Francis.
The full embrace underscored Trump's dramatic evolution on the issue of abortion from his days as a freewheeling New York deal-maker, when he described himself as "very pro-choice" in a 1999 interview on NBC´s "Meet the Press."
By 2016, however, Trump said his views had changed and that he was now opposed to abortion except in the case of rape, incest and when the life of the mother is at risk.
And to the surprise of many, he has been embrace by the movement.
"These voters who are pro-life love Donald Trump and they will crawl across broken glass to get him re-elected," said Reed, who credited Trump with having "masterfully capitalized on his pro-life position in a way I think no one could have envisioned four years ago,"
Critics, meanwhile, accused Trump of using the march to try to distract from his impeachment trial in the Senate, with Ilyse Hogue, the president of NARAL Pro-Choice America, calling it "an act of desperation, plain and simple."
___
Associated Press writer Hannah Fingerhut and Kevin Freking contributed to this report.
Twitter attaches 'sensitive material' warning to Trump campaign post about anti-abortion March for Life rally – then removes it, saying it was an 'error'
Team Trump's anti-abortion post had a warning attached to it on Twitter reading: 'This media may contain sensitive material' 
The president's reelection campaign account posted the anti-abortion video on Thursday in the run-up to the March for Life rally on Friday 
The video shows couples with newborn babies and the president saying 'life is the greatest miracle of all'  
An anti-abortion post from Republican Matt Gaetz also received a similar warning tag on social media
According to Twitter's policy, sensitive media includes content containing graphic violence, adult content, gratuitous gore or hateful imagery 

The Trump campaign accused Twitter of 'censorship' and 'the left stomping on any idea they don't like'

Twitter later claimed the warning had been put on the post 'in error' and had been removed

Donald Trump became the first president to attend the annual March for Life in Washington on Friday
By RACHEL SHARP FOR DAILYMAIL.COM
PUBLISHED: | UPDATED: 
Twitter attached the same 'sensitive material' warning to the Trump campaign's anti-abortion post as violent and adult online content ahead of the president's March for Life rally on Friday.
'This media may contain sensitive material' appeared on the pro-life post from Team Trump on Thursday, as the president prepared to become the first commander-in-chief to attend the annual March for Life in Washington.
The anti-abortion video showed couples with newborn babies and a pregnant woman viewing an ultrasound.
'Life is the greatest miracle of all. We see it in the eyes of every new mother who cradles that wonderful, innocent, and glorious newborn child in her loving arms,' Trump says in the video.
Twitter attached the same 'sensitive content' warning (above) to the Trump Campaign's pro-life post as violent and sexual online content ahead of the president's March for Life rally on Friday
The video shows couples with newborn babies and a pregnant woman viewing an ultrasound. 'Life is the greatest miracle of all. We see it in the eyes of every new mother who cradles that wonderful, innocent, and glorious newborn child in her loving arms,' Trump says in the video
'Let us work together to build a culture that cherishes innocent life.'
According to Twitter's policy, sensitive media includes content that contains graphic violence, adult content, gratuitous gore or hateful imagery.
Twitter later claimed the warning had been put on the post 'in error' and had been removed.
But this was not before the social media platform was accused of 'censorship' by the Trump campaign.
Spokeswoman Kayleigh McEnany said this is 'a perfect example of the left stomping on any idea they don't like.'
An anti-abortion post from Florida Republican Matt Gaetz (above) was also tagged with the Twitter warning
The 'error' came as an anti-abortion post from Florida Republican Matt Gaetz was also tagged with a Twitter warning saying: 'The following media includes potentially sensitive content'.
In the post, Gaetz spoke of his 'sincere hope' that the U.S. law allowing women the right to choose to have an abortion will be overturned.
The congressman posted the video on Wednesday – the 47th anniversary of the Supreme Court's landmark 1973 Roe v. Wade decision that recognized a woman's constitutional right to an abortion and legalized the procedure nationwide.
Gaetz blasted Twitter for attaching the warning to his post.
'First twitter 'accidentally' shadow-bans me along w @Jim_Jordan @RepMarkMeadows & @DebinNunes… Today they "erroneously" block my #ProLife video. Weird,' he wrote.
Donald Trump became the first president to attend the annual March for Life in Washington on Friday and used the event to unleash a fierce attack on his Democratic rivals in an election-year show of support for opponents of reproductive rights.
'Unborn children have never had a stronger defender in the White House,' the Republican president told thousands of cheering people at the rally, touting his anti-abortion policies and his appointments of conservatives to the federal judiciary including Supreme Court Justices Brett Kavanaugh and Neil Gorsuch.  
Among his most loyal political supporters are evangelical Christians, who strongly oppose abortion rights. The event took on aspects of a campaign rally, with Trump lashing out at his political opponents and some in the crowd chanting 'Four More Years!'
'Sadly, the far left is actively working to erase our God-given rights, shut down faith-based charities, ban religious believers from the public square and silence Americans who believe in the sanctity of life,' Trump said.
'They are coming after me because I am fighting for you. And we are fighting for those who have no voice, and we will win.'
Demonstrators from around the country converged on a cool, overcast day in the U.S. capital for the event held annually around the anniversary of the abortion law change. Many high school and college students joined in the rally.  
Annual show: The March for Life is a key date in the pro-life campaign's annual efforts to lobby politicians and see thousands march on the Capitol
MAGA country: Pro-life groups – many of them bussed in from across the nation – mixed anti-abortion messages with Trump political
Trump, seeking re-election on Nov. 3, addressed the event in the midst of his impeachment trial in the U.S. Senate on charges passed by the Democratic-led House of Representatives. While not mentioning impeachment, he assailed congressional Democrats on abortion policy. Trump drew loud applause from the crowd.
'Democrats have embraced the most radical and extreme positions taken and seen in this country for years and decades and you could even say for centuries. Nearly every top Democrat in Congress now supports taxpayer-funded abortion all the way up until the moment of birth,' Trump said, eliciting boos and jeers from the crowd.
Trump, who years earlier had supported abortion rights, cast himself as a committed abortion opponent on religious grounds.
'We know that every human soul is divine and ever human life, born and unborn, is made in the holy image of almighty God,' Trump said.
Trump vowed during the 2016 presidential campaign to appoint justices who would overturn Roe v. Wade.
Abortion remains one of the most divisive issues in the United States. About 58% of U.S. adults say abortion should be legal in most or all cases, according to a Reuters/Ipsos poll last year.
Past U.S. presidents have opted to stay away from the march, though Republicans Ronald Reagan and George W. Bush both previously delivered remarks to the rally remotely.
The Supreme Court on March 4 will hear arguments in a major case concerning the legality of abortion clinic regulations in Louisiana that could lead to new curbs on access to the procedure. The case will test the willingness of the court, which has a 5-4 conservative majority that includes Trump's two appointees, to uphold Republican-backed abortion restrictions being pursued in numerous conservative states.
Some at the rally held signs with slogans including 'Baby Holocaust,' 'Most Pro-Life President Ever,' 'Stop Killing Babies' and 'I Am The Pro-Life Generation.' Many were from religious groups and conservative nonprofit organizations.
Near the Capitol: One group brought a Vatican flag to the March for Life. At the Vatican Mike Pence met Pope Francis
On their way to court: Marchers near the Supreme Court – two of whose justices, Neil Gorsuch and Brett Kavanaugh, Trump praised as he spoke to the March for Life. Neither has been involved in a significant abortion ruling since their confirmation
Among them was Anne Fitzgerald, 44, who said that at age 21 she gave up her daughter for adoption so she could finish college. She now runs Days of Tears, a Virginia nonprofit that advocates against abortion, and said she was marching to help women recognize 'that in the moment of a decision between raising or aborting a child, adoption is a viable option.'
Fitzgerald said she was at first skeptical of Trump's stance on abortion, but is proud he turned out to be 'strong ally'.
Outside the Supreme Court, anti-abortion demonstrators in the march were met by abortion rights activists, some of whom held signs saying 'Keep abortion safe and legal' and 'Safe abortion is a human right.' There were also some activists backing Trump's removal from office.
Emily Goodman, 33, who stood with several fellow supporters of abortion rights during the march, said the event 'reeks of a form of religious fundamentalism.'
'What the pro-life advocates seem to be focused on is bussing in young people with signs to declare that their side of the argument is right and no other opinion matters,' said Goodman, who volunteers for a Washington-based nonprofit organization. 'I wish there was a conversation today, involving two sides, focused on a woman's ability to both hold her view on abortion yet not impose that view onto another.'
Trump delivered remarks by video at the 2019 march. Vice President Mike Pence attended the event in person last year.
https://www.dailymail.co.uk/news/article-7927459/Twitter-attaches-sensitive-content-warning-Trump-Campaigns-anti-abortion-post.html
March for Life (Washington, D.C.)
From Wikipedia, the free encyclopedia
Jump to navigationJump to search
This article is about the annual pro-life rally held in Washington, D.C.. For the rally against gun violence, see 
March For Our Lives
.
The March for Life is an annual rally and march protesting both the practice and legality of abortion, held in Washington, D.C. on or around the anniversary of Roe v. Wade, a landmark decision issued in 1973 by the United States Supreme Court legalizing abortion nationwide. The march, whose stated mission is to "End abortion by uniting, educating, and mobilizing pro-life people in the public square", advocates for overturning Roe v. Wade.[1][2] It is organized by the March for Life Education and Defense Fund.
History
The first March for Life, which was founded by Nellie Gray, was held on January 22, 1974, on the West Steps of the Capitol, with an estimated 20,000[3] supporters in attendance. The march was originally intended to be a one-time event, in hopes that the United States Supreme Court would reverse Roe v. Wade immediately a year after its ruling. However, after the first march in 1974, Gray took steps to institute the rally as a yearly event until Roe v. Wade was overturned by incorporating more grassroots pro-life activists into the march, which would be officially recognized as a nonprofit organization the same year.[4]
During the 33rd annual March for Life in 2006, the nomination of Judge Samuel Alito to the Supreme Court caused a major shift for the movement, because of the expectation that Alito would "win Senate approval and join a majority in overturning Roe."[5] Around the time of the 35th annual March for Life in 2008, a Guttmacher Institute report was released, which revealed that the number of abortions performed in the United States dropped to 1.2 million in 2005. This was the lowest level of abortions since 1976.
During the 2009 March for Life, the potential passage of the 110th United States Congress of the Freedom of Choice Act—a bill that would "codify Roe v. Wade" by declaring a fundamental right to abortion and lifting many restrictions on abortion—served as a key rallying point.[6]
Itinerary
The March for Life proceedings begin around noon.[6] They typically consist of a rally at the National Mall near Fourth Street (in 2018, this will be near 12th St. NW).[7] It is followed by a march which travels down Constitution Avenue NW, turns right at First Street NE, and then ends on the steps of the Supreme Court of the United States, where another rally is held. Many protesters start the day by delivering roses and lobbying members of Congress.[8]
Attendance
In 1987, it is estimated that 10,000 participated.[9]
It is estimated the 35,000 participated in 1994.
In 1995, which is the last year that the National Park Service made an official estimate of attendance, 45,000 attended.[10]
Between 2003 and 2012 the marches drew crowds estimated in the tens of thousands, while organizers claimed hundreds of thousands.[11][12][13] According to organizers, the 2011 event was attended by 400,000.[14][13][15][16] In 2013, Life advocates estimated the march drew 650,000.[17] As with all large crowd estimates, the generated number of attendees reported differ, with some sources indicating a figure in the tens of thousands to low six figures.[18][17][19]
In 2016, the march proceeded despite a blizzard that dropped 24 inches (610 mm) of snow in D.C., with thousands of attendees.[20][21]
Many teenagers and college students attend the march each year, typically traveling with church/youth groups. A columnist for The Washington Post estimated that about half of the marchers were under age 30 in 2010.[22]
Notable speakers
1987
In 1987, Ronald Reagan spoke remotely via telephone, and vowed to help "end this national tragedy". Jesse Helms, then Senator of North Carolina, attended and spoke. He called abortion an "American holocaust".[8]
2003–2009
In 2003, George W. Bush spoke remotely via telephone and thanked participants for their "devotion to such a noble cause". During his telephone addresses, he tended to speak broadly of opposing abortion as opposed to offering any specific efforts being made to overturn the Roe v. Wade decision.[23]
In 2003, speakers included Representative Chris Smith, Republican of New Jersey, and Randall Terry, the founder of Operation Rescue. In his speech, Terry encouraged the youth in the audience, calling them to "fight for all you're worth."[24]
In 2004, 15 lawmakers, all Republican, spoke. Among the lawmakers who spoke were Representatives Todd Tiahrt of Kansas, and Patrick J. Toomey of Pennsylvania. Tiahrt, who also spoke at the 30th annual march, urged marchers to "help pro-lifers in your state"; Toomey supported these remarks, saying to vote for pro-life candidates in order to reclaim the Senate and, in turn, the courts.[23]
In 2006, Representative Steve Chabot, an Ohio Republican and prominent pro-life advocate in the United States House of Representatives, spoke to the masses on overturning Roe v. Wade. Nellie Gray, the founder of March for Life, also spoke.[5]
In 2009, approximately 20 Congress members spoke, including Representative F. James Sensenbrenner, Jr., Wisconsin Republican and former chairman of the House Judiciary Committee, and Gray.[6]
2011–2019

In 2011, speakers included House Majority Leader Eric Cantor, House Majority Whip Kevin McCarthy, and several other members of Congress, including Mike Pence (see below).[25]
In 2013, presenters included Speaker of the United States House of Representatives John Boehner (via a pre-recorded video address), former United States Senator and candidate for the 2012 Republican Party presidential nomination Rick Santorum, as well as other members of Congress.[26]
In 2016, Republican Presidential candidate Carly Fiorina took part in the march.[27]
In 2017, the march included Vice President Mike Pence, Kellyanne Conway, the Counselor to President Donald Trump, the Archbishop of New York, Cardinal Timothy M. Dolan, pro-life activist Abby Johnson, and NFL player Benjamin Watson. Vice President Pence attended and spoke at the march, becoming the first vice president and the highest-ranking official to do so.[28][29] Pence was also one of the speakers at the 2010 march while serving as representative of Indiana's 6th congressional district.[30]
In 2018, President Donald Trump addressed the 45th march via satellite from the White House Rose Garden, becoming the first US President to address the rally using this technology.[31] The march, on the other hand, was attended by US House Speaker Paul Ryan, Democratic Illinois Representative Dan Lipinski, former NFL center Matt Birk,[32] and former NFL quarterback Tim Tebow's mother Pam.[33]
In 2019, Trump addressed the crowd via satellite and Pence spoke at the event in person. The President said, "I will always defend the first right in our Declaration of Independence: the right to life."[34] Political commentator Ben Shapiro also spoke at the event.[35] After the March, a widely discussed incident happened, when a group of March for Life participants and participants of the Indigenous Peoples March confronted each other.
2020
On January 24, 2020, President Trump was the first American president to attend and speak at the March for Life.[36][37]
Associated events
Various pro-life organizations hold events before and after the March. Such events include a Luau for Life at Georgetown University and a candlelight vigil at the Supreme Court.[38] Additionally, independent films with a pro-life message have premiered or have been promoted in association with the March, including the Vatican endorsed film Doonby, which was shown at Landmark E Street Cinema during the 2013 march, and 22 Weeks, which premiered at Union Station's Phoenix Theatre on the eve of the 2009 march.[39] Students for Life of America typically holds its national conference the day after the March.[40] The National Memorial for the Pre-Born and their Mother and Fathers (NationalPrayerService.com) is a Christian, interdenominational prayer service that takes place every year on the morning of the March at DAR Constitution Hall in Washington, D.C.. 2017 will be the 24th year for this prayer service which features inspirational speakers and musicians. Clergy from many Christian denominations participate each year and a pro-life recognition award is also given out. This prayer service is sponsored by The National Pro-Life Religious Council, Priests for Life and Gospel of Life Ministries. The event is free and open to the public.[41]
Anglican events
Anglicans for Life, the pro-life apostolate of the Anglican Church in North America, launched the "Mobilizing the Church for Life" conference on the day before the 2016 March for Life.[42] On the following day, the primate of the Anglican Church in North America, Foley Beach, led Anglicans in the March for Life.[42]
Catholic events
[
Preceding the March for Life, there are several Masses; two of which are celebrated at the Basilica of the National Shrine of the Immaculate Conception as well as the Capital One Arena in Chinatown. The Basilica also hosts an all night prayer vigil, the night before the March. The Catholic Archdiocese of Washington hosts a Youth Rally and Mass every year at the Verizon Center, attended by approximately 20,000 young people,[43] where a message from the Pope is relayed.
In 2009, the apostolic nuncio to the United States, Archbishop Pietro Sambri, read Pope Benedict XVI's message, which told attendants that he was "deeply grateful" for the youths' "outstanding annual witness for the gospel of life".[6] In 2008, the Pope's message thanked attendants for "promoting respect for the dignity and inalienable rights of every human being."[38] In 2011, an event parallel to the Verizon Center event was held at the D.C. Armory; a total of over 27,000 young people attended the events.[44]
In response to a growing number of pilgrims traveling to the area for the March for Life, in 2009 the Roman Catholic Diocese of Arlington began to host the "Life is VERY Good" Evening of Prayer, the night before the March.[45] In 2013, a Morning Mass and Rally (preceding the March for Life) was added and held at the Patriot Center on the campus of George Mason University, including Arlington Bishop Paul Loverde, Richmond Bishop Francis DiLorenzo and more than 100 other bishops and priests from across the nation.[46] Life is VERY Good, which began with 350 participants in 2009, gathered in excess of 12,000 between its two events, held before and after the March, in 2013.[47]
Since 2000, Catholic students at Georgetown University have hosted the annual Cardinal O'Connor Conference on Life the day after the march. It is the largest of the student-run pro-life conferences in the U.S., and it regularly hosts prominent pro-life speakers such as Cardinal O'Malley and feminist Helen Alvaré. Hundreds of laypeople and clergy attend each year to hear the speakers and to participate in break-out sessions on pro-life issues.[48]
Eastern Orthodox events
The Orthodox presence at the March for Life is a long one with representation from many jurisdictions every year. The evening before the March, there is often at least one Vespers service at a local D.C. church. During the March there is a Panakhida for the Unborn performed along the way. Seminarians from Christ the Saviour Seminary, Holy Cross Seminary, St. Tikhon's Orthodox Seminary, and St. Vladimir's Orthodox Seminary (represented by the St. Ambrose Society[49]) are invariably in attendance along with their families, hierarchs, clergy, and monastics from all over the country. Metropolitan Jonah of Washington (Orthodox Church in America) has been a speaker at the pre-March invocations in recent years. The Carpatho-Russian Diocese and Greek Archdiocese also have a strong connection to the March for Life and have been at the forefront of the pro-life movement. Metropolitan Nicholas of Amissos (American Carpatho-Russian Orthodox Diocese) was a constant presence during his episcopate dating back to 1987.
Evangelical events
At the 2016 March for Life rally, the Ethics & Religious Liberty Commission, the public policy arm of the Southern Baptist Convention, organized a conference "aimed at increasing the level of engagement in the pro-life cause".[50]
The Taskforce of United Methodists on Abortion and Sexuality, which is a part of the National Pro-Life Religious Council, holds its annual service of worship at the United Methodist Building, and the liturgy held for the 2016 March of Life featured "a sermon by Dr. Thomas C. Oden, General Editor of the Ancient Christian Commentary on Scripture, former Professor of Theology and Ethics at Drew University, and Lifewatch Advisory Board member."[51][42]
Lutheran events
Several Lutheran denominations, including the Lutheran Church–Missouri Synod, North American Lutheran Church and Wisconsin Evangelical Lutheran Synod, have held conferences in Washington, D.C. surrounding the March of Life and the Lutheran Church–Missouri Synod (LCMS) is planning the 2017 LCMS Life Conference to be held on January 27, 2017, on the day of the March for Life.[52] Students from schools affiliated with the Lutheran church bodies mentioned above have made pilgrimages to the capitol of the United States in order to march in the event.[53][54] Before the 2016 March for Life, a Divine Service was celebrated at Immanuel Lutheran Church in Alexandria, Virginia.[42]
Virtual March for Life
In 2010, Americans United for Life launched an online virtual March. Pro-lifers unable to attend the event in person could create avatars of themselves and take part in a virtual demonstration on a Google Maps version of the National Mall.[55] The online event attracted approximately 75,000 participants.[16]
See also
References …
Further reading
External links
https://en.wikipedia.org/wiki/March_for_Life_(Washington,_D.C.)
Story 2: 
Senate Impeachment Trump Trial — 
The Progressive Propaganda Stunt  of The Radical Extremist Democrat Socialists and Big Lie Media Mob  Fails To Convince The Majority of American People — President Should Be Found Not Guilty and Acquitted By A 55 to 45 Vote in Senate — Videos
GOP Reps blast Adam Schiff as Trump's team prepares to launch defense
Adam Schiff is 'dangerous' for telling Americans not to respect election outcomes
Schiff met with boos, angry constituents at town hall
The curious case of Adam Schiff
Rep. Adam Schiff (D-CA) Closing Arguments in Senate Impeachment Trial
Sen. Blackburn 'astounded' by Schiff's closing arguments: He should retract it
Watch Schiff's closing argument in impeachment trial of President Trump
Rep. Meadows: At best, Schiff was mischaracterizing the evidence he had
features and assessment of psychopathy
A Scientist's Journey Through Psychopathy | Google Zeitgeist
James Fallon, PhD: The Psychopath Inside
I,Psychopath – Documentary – [part 7] Extended Version
Narcissists – Full documentary
Narcissist's Pathological Space: His Kingdom
Trump: Narcissist in the White House?
Unmasking Narcissists, Psychopaths, and Their Abuse with RUTH JACOBS in CAMBRIDGE, UK (In the Booth)
Gas Lighting and Psychopaths ~ A Short Film
Psychopathy ….When The Mask Begins to Slip featuring Sandra L. Brown and host Jenna Stauffer
Rep. Schiff on PBS Firing Line: The Body of Evidence Against President Trump Continues to Grow
Dr Robert Hare discusses the diagnosis of psychopathy
Dr Robert Hare, the world's foremost expert on the condition, discusses the diagnosis of psychopathy using his PCL checklist. Robert Hare's Psychopathy Checklist (HQ) Robert Hare Psychopathy Checklist (HQ remix) glib and superficial charm grandiose sense of self-worth pathological lying callousness and lack of empathy. Radio Interview about the difference between Psychopaths/Sociopaths. Robert Hare. (Recorded In 2004)
Robert Hare – Psychopath/Sociopath – The Difference
What Makes a Psychopath?
Inside Cornell: Analyzing the words of psychopaths
Tommy Lynn Sells – The Mind of a Psychopath | Nightline | ABC News
Lies, Damned Lies and Adam Schiff's Moving Lips
COMMENTARY
You can take your pick for the most famous liars in history — people who are willing to say anything for the sake of gaining and keeping power — but surely Rep. Adam Schiff has earned a place on that list.
I won't call Schiff a "congenital liar" — as Fox News personality Sean Hannity does nightly — but only because the term excuses Schiff of personal responsibility for his behavior. I don't think it was his genes that made Schiff into a consummate liar but rather his narcissistic personality.
Watching Schiff spin his yarns as chief House manager for the impeachment trial of Donald J. Trump reminds me of the great dissemblers of Shakespeare, such as "Honest Iago," who is only comfortable in his own skin when he is making the skin of others crawl. The "motiveless malignity" that poet Samuel Taylor Coleridge ascribed to Iago is writ large in the perfunctory perfidy that Schiff practices with unassuming ease. He would destroy a king, but he assures us he takes no pleasure in it, wink-wink, nod-nod.
Perhaps I am giving Schiff too much credit. He might be more akin to Monsieur Parolles of "All's Well That Ends Well," the arrogant know-it-all whose own words come back to haunt him: "He will lie, sir, with such volubility, that you would think truth were a fool."
That, of course, is the problem, because the senators hearing the impeachment trial might also be giving Schiff too much credit. If they are not familiar with the facts of the case, then they might lend credibility to the pompous utterances emanating from the well of the Senate by Schiff and the other House managers. Since the rules of the Senate allowed Schiff to make his argument for 24 uninterrupted hours, it gave him the opportunity to frame the case against President Trump in fully partisan and factually deficient terms. The only word that accurately describes what Schiff did to Trump in his presentation of the case is to say that he "framed" him. To use a legal term of art, Schiff argued "facts not in evidence," and without anyone to object, the senators were left to assume that these facts were true when time and again they were false and misleading.
Start with Schiff opening his argument by quoting Alexander Hamilton on the dangers to the republic of unprincipled men, and you will begin to appreciate the Shakespearean scope of the irony at play last week. Schiff meant to castigate Trump, but the words are better directed at Schiff himself — for it is he who is "seen to mount the hobby horse of popularity." It is he who has joined in the "cry of danger to liberty." It is he who has taken "every opportunity of embarrassing the General Government & bringing it under suspicion." It is he who has fallen in with "all the non sense of the zealots of the day."
It is appropriate therefore to apply Hamilton's warning against unprincipled men of bold temper to the chief House manager himself: "It may justly be suspected that his object is to throw things into confusion that he may ride the storm and direct the whirlwind."
We got plenty of sturm und drang as Schiff began to lay out the case against the president to an audience of virginal senators who were hearing only one side of the story for three straight days. The danger was laid out accurately by Minority Leader Chuck Schumer, although as usual he missed the point:
"It may have been the first time that many of my Republican colleagues heard the full story, the complete narrative from start to finish, uninterrupted and not filtered through the kaleidoscope lens of Fox News where at best things are left out and at worst things are terribly distorted. It may have planted the first seed in their minds that, yes, perhaps the president did something very wrong here."
Do you spot the logical fallacy in this statement? It is the key to the entire impeachment hoax. Schumer believes that Schiff delivered "the full story, the complete narrative" when, in fact, he just delivered the same argument we have heard since September. It cannot be the "full story" because at that time last week we had still not heard "the rest of the story," as Paul Harvey used to say. Namely, we had not heard the president's defense team make any rebuttal of the unchallenged assumptions of Schiff and the Democratic coup crew. It was in the House managers' presentation, not Fox News, that we saw how "at best things [were] left out and at worst things [were] terribly distorted."
I cringed as I listened to Rep. Schiff make repeated assertions of fact that were nothing but opinion and wondered how the senators could possibly not recognize the trick. Forget about the Senate being the greatest deliberative body in the world — hadn't any of them at least been debaters in high school? How hard is it to spot a red herring when you are shooting fish in a barrel?
I started trying to catalog Schiff's lies as soon as he played the Hamilton card. As the House Intelligence Committee chairman explained, the Hamilton quote was from 1792 when George Washington was finishing up his first term of office. The quote comes from a document in which Hamilton was defending himself against politically motivated charges that he was operating against the public interest as secretary of the Treasury. It should thus be seen as a parallel of President Trump defending himself against the petty and scurrilous attacks of his political opponents, not as an indictment of Trump.
When Hamilton wrote elsewhere in the same document that, to his opponents, "every man of a different opinion from your own [seems] an ambitious despot or a corrupt knave," he might well have been talking of the hubristic approach of Monsieur Schiff as he defames the duly elected president of the United States. Consider for instance how Schiff conflates Hamilton's fear of "a man unprincipled in private life" with the framers' impeachment mechanism as a means to remove a president who has committed "Treason, Bribery, or other high Crimes and Misdemeanors." They, of course, have nothing in common. Hamilton was confronting a movement of agitators who, as he notes, were taking "every opportunity of embarrassing the General Government & bringing it under suspicion." Schiff is himself that enemy whom Hamilton confronted, yet to the innocent ears of the Senate, perhaps unfamiliar with Hamilton's text on "Objections and Answers Respecting the Administration," it may seem entirely reasonable to apply Hamilton's warning to Trump. Such is the devious nature of these distortions. We can only hope that the president's lawyers were taking careful notes and can remind the senators of the casual disregard for truth that Schiff exhibits almost every time he opens his mouth in public.
After months of dry runs, Schiff started to lay out his case in earnest on Wednesday last week — except he didn't. The facts that he presented (while damnable) were not impeachable; and the opinions that he presented (while impeachable) were not factual. For those of us who have been watching the Schiff Show since September, the legerdemain was easily spotted within the first five minutes.
According to Schiff, "President Trump solicited foreign interference in our democratic elections, abusing the power of his office to seek help from abroad to improve his reelection prospects at home."
This is the central argument of the first article of impeachment, and yet it is entirely without substantiation. Trump did ask President Zelensky of the Ukraine to look into allegations of corruption involving former Vice President Joe Biden and his son Hunter. He also did ask for Zelensky's help in investigating whether or not a computer server was located in the Ukraine that contained evidence of election interference in 2016. In other words he did not solicit interference in an election, but rather sought a commitment to assist in finding out whether interference had already illicitly taken place.
Neither Trump's phone call with the Ukrainian president, nor Rudy Giuliani's prior or subsequent investigations, were ever founded on a premise of soliciting foreign interference in an election. That is strictly the surmise of Democrats who do not like the idea of President Trump investigating corruption involving Joe Biden, the potential future standard-bearer for their party. Any claim that Trump's motive is known to be corrupt is strictly a guess, no matter how loudly Schiff and his colleagues proclaim it to be so. Same thing goes for the CrowdStrike server. Schiff opines that Trump was promoting the idea that Ukraine, to the exclusion of Russia, interfered in the 2016 election. That conjecture by Schiff in entirely without evidence. The reason why the missing server is important is because it might explain what really happened in 2016 and how Democratic emails were purloined to the detriment of Hillary Clinton. Ukrainian interference in the 2016 election had nothing to do with the server, but was an entirely separate issue related to official government opposition to Trump's election.
The second article of impeachment was neatly summed up in Schiff's next sentence about the president's response after the whistleblower's complaint was made public: "When he was caught, he used the powers of that office to obstruct the investigation into his own misconduct."
Not exactly. He wasn't "caught" doing anything other than being president, but since the whistleblower law was actively abused by both the intelligence community's inspector general and Schiff himself in his role as chairman of the House Intelligence Committee, it wasn't surprising that Trump used the powers of his office to push back against a coup attempt by members of Congress, intelligence agents and disgruntled bureaucrats who despise the outsider presidency foisted upon them by a rebellious electorate. Only in the minds of spurned "masters of the universe" does the lawful exercise of presidential power look like "obstruction of Congress."
I could go on, point by point, to demonstrate how Schiff's rhetoric masks his empty arsenal of facts, but why bother? If we learned anything last week from the wall-to-wall coverage of the impeachment trial, it is this — facts do not matter, nor does the truth. Adam Schiff has driven the country into a dark place where dissent is not allowed, where investigation of wrongdoing is abuse of power, and where self-defense is obstruction. I wish I could say that Alexander Hamilton would not recognize such a country, but in his genius he anticipated petty, deceitful minds such as that of Adam Schiff, who thought to hang his case against Trump on a quote by Hamilton, but instead is hung by him with this eloquent indictment:
"You bring everything to the standard of your narrow and depraved ideas, and you condemn without mercy or decency whatever does not accord with it. Every man who is too long or too short for your political couch must be stretched or lopped to suit it. … As to the love of liberty and Country you have given no stronger proofs of being actuated by it than I have done. Cease then to arrogate to yourself and to your party all the patriotism and virtue of the Country. Renounce if you can the intolerant spirit by which you are governed — and begin to reform yourself instead of reprobating others, by beginning to doubt of your own infallibility."
T

he Pronk Pops Show Podcasts Portfolio Read Full Post

|

Make a Comment

(

None so far

)