Posted on January 15, 2020. Filed under: 2020 Democrat Candidates, 2020 President Candidates, 2020 Republican Candidates, Addiction, Addiction, Amy Klobuchar, Banking System, Barack H. Obama, Bernie Sanders, Blogroll, Breaking News, Bribery, Bribes, Budgetary Policy, Cartoons, Clinton Obama Democrat Criminal Conspiracy, College, Communications, Congress, Constitutional Law, Corruption, Countries, Crime, Culture, Defense Spending, Disasters, Donald J. Trump, Donald J. Trump, Donald J. Trump, Donald Trump, Economics, Education, Elections, Elizabeth Warren, Empires, Employment, Fifth Amendment, First Amendment, Fiscal Policy, Foreign Policy, Former President Barack Obama, Fourth Amendment, Free Trade, Freedom of Religion, Freedom of Speech, Government, Government Dependency, Harvey Weinstein, Health, Hillary Clinton, House of Representatives, Human, Human Behavior, Illegal Immigration, Immigration, Impeachment, Independence, Investments, Joe Biden, Killing, Labor Economics, Language, Law, Legal Immigration, Life, Lying, Media, Medicare, Mental Illness, Monetary Policy, National Interest, News, Obama, People, Pete Buttigieg, Philosophy, Photos, Politics, Polls, President Trump, Progressives, Public Corruption, Public Relations, Radio, Raymond Thomas Pronk, Resources, Robert S. Mueller III, Rule of Law, Scandals, Second Amendment, Senate, Social Networking, Social Security, Subversion, Surveillance and Spying On American People, Tax Policy, Taxation, Taxes, Trade Policy, Treason, United States Constitution, United States of America, Videos, Wealth, Welfare Spending, Wisdom | Tags: 15 January 2020, America, Articles, Audio, Breaking News, Broadcasting, Capitalism, Cartoons, Charity, Citizenship, Clarity, Classical Liberalism, Collectivism, Commentary, Commitment, Communicate, Communication, Communist China and United States Sign Phase one of Trade Agreement, Concise, Convincing, Courage, Culture, Current Affairs, Current Events, Debate Of Lying Lunatic Leftist Losers, Democrat Presidential Candidates Debate, Economic Growth, Economic Policy, Economics, Education, Evil, Experience, Faith, Family, First, Fiscal Policy, Free Enterprise, Freedom, Freedom of Speech, Friends, Give It A Listen!, God, Good, Goodwill, Growth, Hope, House Votes 228-193 Along Party Lines To Submit Articles of Impeachment To Senate, Individualism, Knowledge, Liberty, Life, Love, Lovers of Liberty, Monetary Policy, MPEG3, News, No Contest Trump In A Landslide Victory In 2020, Opinions, Peace, Photos, Podcasts, Political Philosophy, Politics, President Trump Signs Phase One Trade Agreement With Communist China, Prosperity, Radical Extreme Democrats (REDs), Radical Extremist Democrat Socialist (REDS) Presidential Candidates, Radio, Raymond Thomas Pronk, REDS, Representative Republic, Republic, Resources, Respect, Rule of Law, Rule of Men, Show Notes, Talk Radio, The Pronk Pops Show, The Pronk Pops Show 1378, The Unconstitutional Impeachment, Time Will Tell, Trade, Truth, Tyranny, U.S. Constitution, United States of America, Videos, Virtue, War, Will It Be Fully Enforceable?, Wisdom |
Pronk Pops Show 1378 January 15, 2020
Pronk Pops Show 1377 January 14, 2020
Pronk Pops Show 1376 January 13, 2020
Pronk Pops Show 1375 December 13, 2019
Pronk Pops Show 1374 December 12, 2019
Pronk Pops Show 1373 December 11, 2019
Pronk Pops Show 1372 December 10, 2019
Pronk Pops Show 1371 December 9, 2019
Pronk Pops Show 1370 December 6, 2019
Pronk Pops Show 1369 December 5, 2019
Pronk Pops Show 1368 December 4, 2019 
Pronk Pops Show 1367 December 3, 2019
Pronk Pops Show 1366 December 2, 2019
Pronk Pops Show 1365 November 22, 2019
Pronk Pops Show 1364 November 21, 2019
Pronk Pops Show 1363 November 20, 2019
Pronk Pops Show 1362 November 19, 2019
Story 1: Radical Extremist Democrat Socialist (REDS) Presidential Candidates — Debate of Lying Lunatic Leftist Losers — No Contest — Trump in A Landslide — Videos
Biggest takeaways from the Iowa debate
Democratic Debate Recap In 4 Minutes | NBC News
The Iowa Democratic debate, in 5 minutes
Iran takes center stage at Democratic debate
Trump touts Soleimani strike and slams Democrats during Milwaukee rally
2020 Democrats Spar on Foreign Policy, Electability, Free College & More at 7th Democratic Debate
Trump reveals new details on imminent threat from Soleimani
Amy Klobuchar – and Donald Trump – are crowned the winners of the 2020 Democratic debate but one reviewer calls final clash before Iowa caucus 'night of the living dead'
Six candidates took the stage on Tuesday night in Des Moines to face off for the final time before the Iowa caucuses on February 3 
While none of the candidates pulled off a runaway win,

Minnesota Sen Amy Klobuchar was widely praised by analysts for her pragmatic performance

President Donald Trump was also branded a winner after escaping the debate largely unscathed compared to his would-be opponents

Viewers were disappointed by the lack of fireworks between Sens Bernie Sanders and Elizabeth Warren 
The pair were engaged in a heated row ahead of the debate over a report that Sanders told Warren a female candidate couldn't beat Trump
Warren confirmed that report while Sanders firmly denied it
The pair calmly addressed the issue on stage but failed to come to an agreement
There was little doubt among analysts over the night's biggest loser: Tom Steyer
By MEGAN SHEETS FOR DAILYMAIL.COM
PUBLISHED:| UPDATED:
Pundits say Amy Klobuchar and Donald Trump came out on top of the first Democratic debate of 2020 – an event one reviewer branded 'the night of the living dead'.
Six candidates took the stage on Tuesday night in Des Moines to face off for the final time before the Iowa caucuses on February 3.
Analysts are largely in agreement that none of the candidates pulled off a runaway win, although Klobuchar took a commanding lead in a Drudge poll with 25 percent of the vote.
The Minnesota senator was widely praised for her pragmatic presence on stage.
Her strongest moment came when she sounded off on Medicare-for-all, pointing to growing concern among voters the Democratic nominee will need a more widely-supported alternative.
'This debate isn't real,' Klobuchar said. 'I was in Vegas the other day, and someone said don't put your chips on a number on the wheel that isn't even on the wheel. That's the problem. Over two thirds of the Democrats in the U.S. Senate are not on the bill that [Sanders] and Senator Warren are on.'
She went on to reference her list of 137 things she will accomplish in her first 100 days in office without going through Congress.
CNN's Chris Cillizza listed Klobuchar among his winners for the night, writing that she accomplished her goal of casting herself as a 'pragmatic alternative to voters looking for someone other than Biden (or, to a lesser extent, Buttigieg) to vote for'.
Trump was also branded a winner after escaping the debate largely unscathed compared to his would-be opponents, despite early attacks over last week's assassination of a top Iranian general.
CNN's Van Jones remarked that he was dispirited by the debate because none of the candidates showed signs that they were strong enough to beat Trump.
2020 candidates speak with the media after Iowa debate
Perhaps one of the reasons the debate felt dull to some viewers was the lack of an anticipated clash between Bernie Sanders and Elizabeth Warren.
The pair had been engaged in a heated back-and-forth ahead of the debate over a report that Sanders told Warren in a private 2018 meeting at her Washington D.C. apartment that a female candidate couldn't beat Donald Trump.
Warren confirmed that report while Sanders insisted that he never said anything of the sort.
The pair calmly addressed the issue on stage but failed to come to an agreement over what Sanders said.
Vox analyst Anna North concluded that the discussion benefited both candidates as they used it to focus attention back on their on their strengths.
'Warren made the point that when it comes to winning elections, she and Sen Amy Klobuchar actually have a better record than some of their male opponents: "The only people on this stage who have won every single election that they've been in are the women: Amy and me,"' North wrote.
'Later, she noted the importance of female candidates and voters in delivering the House and state legislatures around the country for Democrats in 2018.
HOW LONG EACH CANDIDATE SPOKE
Elizabeth Warren – 19 minutes, 11 seconds
Bernie Sanders – 18 minutes, 26 seconds
Amy Klobuchar – 16 minutes, 59 seconds
Pete Buttigieg – 16 minutes, 48 seconds
Joe Biden – 16 minutes, 17 seconds
Tom Steyer – 12 minutes, 24 seconds
Source: NBC News
'And she offered a clear and concise argument for herself as the woman and person to beat Trump in 2020: "We need a candidate who will excite all parts of the Democratic Party, bring everyone in, and give everyone a Democrat to believe in. That's my plan, and that is why I'm going to win."'
North praised Sanders for how he handled the discussion, which put him in the difficult position of defending himself against sexism allegations while simultaneously arguing that he, a man, should be the nominee.
'Anybody who knows me knows it is incomprehensible that I would think that a woman could not be president of the United States,' the Vermont senator said.
'Hillary Clinton won the popular vote by three million votes. How could anybody in a million years think a woman could become president of the United States?
'And let me be very clear, if any of the women on this stage, or any of the men on this stage, win the nomination – I hope that's not the case, I hope it's me – but if they do, I will do everything in my power to ensure they are elected in order to defeat the most president in the history of our country,' he added to applause from the audience.
Some pundits disagreed over how successful Sanders and Warren were throughout the entirety of the debate.
Another Vox analyst, Dylan Matthews, chose Sanders as one of his winners, writing: 'He solidly owned discussions of health care and climate change, and he solidified his status, recently regained from Warren, as the leading voice of the party's left.'
Meanwhile, Cillizza put Sanders in his 'losers' column, writing: 'Sanders' dismissiveness about Warren's statement that he had told her a woman couldn't win the White House in 2020 — "I didn't say it," he claimed — bothered me.
'Sanders tried to portray the issue as immaterial — hatched by Republicans and the media to distract voters. But it's not. Warren herself said — on the record! — that when she told Sanders she thought a woman could win, "he disagreed," (Warren reiterated that stance in the debate.)
'Sanders did effectively contrast his record on the war in Iraq and on trade with Biden. But he was somehow on the outside looking in when the subject turned to 'Medicare for All' – it was mostly Warren vs. Buttigieg – and never had any sort of even decent answer to the question of the actual costs of his programs.'
Warren, however, made it into Cillizza's "winners" column.
'The Massachusetts senator delivered the line of the night, noting that the four men on the stage had lost 10 races while the two women on stage — she and Minnesota Sen. Amy Klobuchar — had never lost a race.
'And wasn't just a zinger that will be quickly forgotten, either; it's an effective pushback against the idea that she is too liberal to beat Trump.'
Pundits were also split over former South Bend mayor Pete Buttigieg's performance.
Cillizza and Matthews both ranked Buttigieg among the winners – noting that he is currently leading many polls in Iowa.
Cillizza wrote that Buttigieg 'proved Tuesday night that he is the best debater in this field. But he also did something more important than that, too: In the first 30 minutes of the debate, Buttigieg showed a competency, steadiness and depth of knowledge coupled with personal experience that should help him pass the commander-in-chief test in the eyes of voters.'
The analyst wrote: 'Buttigieg more than held his own, deftly reframing his lack of experience with a more forward-looking response: "The next president is going to be confronted with national security challenges different in scope and in kind from anything we've seen before. Not just conventional military challenges, not just stateless terrorism, but cybersecurity challenges, climate security challenges, foreign interference in our elections."
'Translation: Your experience is not relevant, or at least not more relevant than mine,' Matthews added.
Aaron Blake of the Washington Post, however, was unimpressed by Buttigieg's performance.
'For arguably the first time on one of these debate stages, the former mayor of South Bend, Ind., was something of a bystander who didn't really add much,' Blake wrote.
'He hit many of the same notes he has in previous debates, including by criticizing Medicare-for-all as being unrealistic and knocking a "Washington mentality." He at one point emphasized the national debt and deficit — one wonders whether these are huge priorities for Democratic voters right now.
'Iowa is so important for Buttigieg, because it's such a good constituency for him. He wasn't bad Tuesday, but it may not help him address some of his arrested momentum.'
Former Vice President Joe Biden didn't fare well with analysts, who placed him either in the middle or on the bottom
There was little doubt among analysts or Drudge poll voters over the night's biggest loser: billionaire Tom Steyer
Former Vice President Joe Biden didn't fare well with analysts, who placed him either in the middle or on the bottom.
Cillizza was in the latter category, writing: 'If Buttigieg is the best of the debaters among the top six, then the former vice president is the worst.
'On Tuesday night he consistently seemed to forget or misstate a point, forcing him to go back and restate it to make sure he got it right. It made for a halting performance, in which he came across as less forceful and sure of himself than others on the stage.'
Blake called Biden's performance 'just okay', emphasizing the fact that the front-runner wasn't in desperate need of a big night given his strong poll numbers in Iowa.
There was little doubt among analysts or Drudge poll voters over the night's biggest loser: billionaire Tom Steyer.
CNN's Cillizza summed up Steyer's performance by writing: 'Simply put, the billionaire businessman looked badly out of his depth.
'He struggled badly to make the case that he was better equipped than his rivals to manage the country's foreign policy – his answer amounted to the fact that he has traveled a lot internationally (and, no, I am not kidding) — and things didn't get much better for him from there.
Cillizza added: 'For most of the debate, it felt like the Top 5 were involved in one conversation and Steyer was just, well, there.'
Vox analyst German Lopez agreed, writing: 'There is one question surrounding Tom Steyer's presence at Tuesday's debate: Why?'
Lopez continued: 'Steyer isn't going to win the nomination. He's polling in the single digits nationally, and there isn't a single state, based on the RealClearPolitics polling average, where he breaks the top three.
'He only clinched the polls he needed to qualify for this debate in the past week. After multiple debates — most of them with Steyer participating — his poor support has shown few signs of changing.'
https://www.dailymail.co.uk/news/article-7889093/Amy-Klobuchar-Donald-Trump-crowned-winners-2020-Democratic-debate.html
Story 2: House Votes 228-193 Along Party Lines To Submit Articles of Impeachment To Senate — Videos —
House votes to send articles of impeachment to Senate for trial l ABC News
BREAKING NEWS: House votes 228-193 to send the articles of impeachment against Donald Trump to the Senate TODAY with just one Democrat voting against as Nancy Pelosi
The House of Representatives passed a resolution Wednesday that named House Speaker Nancy Pelosi's seven impeachment managers 
The vote kicked off the process of officially sending the articles of impeachment to the Senate
Pelosi and the impeachment managers will participate in an Engrossment Ceremony later Wednesday 
There will then be a procession through the U.S. Capitol as the two articles are delivered to the Senate side of the building 
Senate Majority Leader Mitch McConnell said he expects President Trump's Senate impeachment trial to begin Tuesday 
By NIKKI SCHWAB, SENIOR U.S. POLITICAL REPORTER and KATELYN CARALLE, U.S. POLITICAL REPORTER FOR DAILYMAIL.COM and WIRES
PUBLISHED:| UPDATED:
The House of Representatives passed a resolution 228 to 193 Wednesday that kicks off the process of sending the articles of impeachment to the Senate.
Only one Democrat defected from the party, with Rep. Collin Peterson from Minnesota voting with Republicans. Peterson has been against President Trump's impeachment from day one. Rep. Justin Amash, a Republican-turned-Democrat- voted alongside the Democrats.
At 5 p.m., House Speaker Nancy Pelosi will hold an Engrossment Ceremony with the newly announced impeachment managers and then there will be a procession through the Capitol as the articles are officially delivered to the Senate side of the buildilng.
Leading up to the vote, House Democrats encouraged the Senate to hold President Trump accountable.
'The Senate is on trial,' said House Judiciary Committee Chairman Jerry Nadler, who was picked by House Speaker Nancy Pelosi to serve as one of the seven impeachment managers. 'We will see whether they conduct a fair trial and allow the witnesses or conduct a cover-up. Today's resolution is the next step in this serious and solemn constitutional process.'
Pelosi also uttered the c-word – 'cover-up' – should Senate Majority Leader Mitch McConnell pursue a dismissal vote once the articles are in the Senate's hands. 'Dismissal is cover-up,' Pelosi stated on the House floor, minutes before the House voted on the resolution appointing the managers.
House Judiciary Committee Chairman Jerry Nadler, one of Democrats seven impeachment managers, said Wednesday on the House floor that the 'Senate is on trial' too – and needed to hold President Trump accountable
House Speaker Nancy Pelosi said if Republicans swiftly dismissed the two articles of impeachment against President Trump in the Senate, it would amount to a 'cover-up'
Pelosi announced the managers at a Wednesday morning press conference on Capitol Hill.
Pelosi made official that House Intelligence Chairman Adam Schiff would lead the effort, along with Nadler.
In the House, Schiff and Nadler's committees handled impeachment, which Pelosi called Wednesday 'an impeachment that would last forever.'
The speaker also named the No. 5 Democrat in the House, Rep. Hakeem Jeffries, as a manager. Jeffries is a member of the Judiciary Committee.  As are Reps. Zoe Lofgren, Val Demings and Sylvia Garcia, named Wednesday by the speaker. She also picked Rep. Jason Crow, a Colorado Democrat, who served in both Iraq and Afghanistan.
House Speaker Nancy Pelosi (center) names the following impeachment managers: (from left) Reps. Hakeem Jeffries, Sylvia Garcia, Jerry Nadler, Adam Schiff, Val Demings, Zoe Lofgren and Jason Crow
House Speaker Nancy Pelosi, arriving on Capitol Hill Wedneseday, will move the two articles of impeachment against President Trump over to the Senate in the coming hours
Both Intelligence Chairman Adam Schiff (left) and Judiciary Chairman Jerry Nadler (right) were named as impeachment managers Wednesday by House Speaker Nancy Pelosi
House Speaker Nancy Pelosi is photograhed as she arrived on Capitol Hill Wednesday morning. Pelosi announces that seven Democrats would serve as impeachment managers
President Trump objected to the Democrats' plea that the Senate include new evidence in the impeachment trial, sending out this tweet minutes after Nancy Pelosi announced the impeachment managers
House Speaker Nancy Pelosi (left) put House Intelligence Committee Chairman Adam Schiff (right) in charge
When House Speaker Nancy Pelosi (left) was asked about GOP threats to call Hunter Biden to testify during the Senate trial, she had House Judiciary Committee Chairman Jerry Nadler (right) answer the question instead
There was a push by some to have her also select Amash, who left the GOP to become an independent and supported Trump's impeachment.
She did not, choosing only Democrats to serve in the role.
McConnell says the Republican-led upper chamber will begin opening arguments in the impeachment hearing Tuesday next week. Members of Congress will observe Martin Luther King Jr. Day on Monday.
The House voted, almost entirely along party lines, last month to impeach Donald Trump.
Pelosi then held the impeachment articles in the House, breaking with precedent in sending them immediately to the Senate following the vote.
The California Democrat said she wanted to prove to the American people in that time that there was a need for witnesses in the Senate trial.
She repeated that stance Wednesday morning during the brief press conference.
'On December 18, the House of Representatives impeached the President of the United States. An impeachment that will last forever,' Pelosi began. 'Since December 18 there have been comments about when are we going to send the articles over.'
She said she had hoped the Senate would extend the 'courtesy' to tell the House 'what the process would be.'
 'Short of that, that time has revealed many things since then,' Pelosi continued. 'Time has been our friend in all of this because as we've yielded incriminating evidence, more truth into the public domain.'
President Trump and the White House disputed this.
'Here we go again, another Con Job by the Do Nothing Democrats. All of this work was supposed to be done by the House, not the Senate!' Trump tweeted, moments after Pelosi announced the roster of managers.
White House press secretary Stephanie Grisham also slapped Pelosi in a statement.
'The Speaker lied when she claimed this was urgent and vital to national security because when the articles passed, she held them for an entire month in an egregious effort to garner political support,' Grisham said Wednesday morning.
McConnell says there will be a vote after opening arguments to decide if the Senate should call witnesses to testify in the hearing that will decide if the president will be removed from office.
The weeks-long trial in the Senate is expected to ultimately end in the president's acquittal. But it will focus attention on Trump's efforts to pressure Ukraine to investigate a political rival, former Vice President Joe Biden, as the 2020 presidential campaign begins in earnest.
Biden is one of 12 candidates vying for the Democratic nomination, and the trial might still be under way when Iowa and New Hampshire hold their first nominating contests in early February.
None of the Senate's 53 Republicans have voiced support for ousting Trump, a step that would require a two-thirds majority in the 100-member chamber.
Though the ultimate outcome is not in doubt, the trial could deliver some moments of drama.
Senate Majority Leader Mitch McConnell arrives at the U.S. Capitol Wednesday. His chamber will take over President Trump's impeachment later in the day
Democrats are pressing to call Trump's former national security adviser John Bolton as a witness, which could prove damaging to Trump. Other witnesses in the impeachment inquiry said Bolton was a vocal critic of the effort to pressure Ukraine.
McConnell, however, has resisted the idea of calling witnesses at all. He claims his chamber should only consider evidence that has already been dug up by the House.
But other Republicans and Trump himself have said they would like to call witnesses of their own – including Biden and his son, Hunter Biden, who served on the board of the Ukrainian gas company Burisma from 2014-2019.
Asked Wednesday about GOP plans to call Hunter Biden to testify, Pelosi backed away from the podium, letting Nadler address the question instead.
'We are prepared. But the relevant question is relevance – is relevance,' Nadler said. 'In any trial, you call witnesses who have information about the allegations, about the charges.'
The New York Democrat reminded reporters that the charges involved whether Trump held up $391 million in military aid to Ukraine 'in order to get Ukraine to announce an investigation of a domestic political opponent,' Nadler said.
 'Any witness who has information about whether that is true or not true is a relevant witness. Anybody – like Hunter Biden – who has no information about any of that, is not a relevant witness,' Nadler explained.
The night before the House vote, some indication of just how explosive the next few weeks could be came with the House Intelligence Committee releasing a new trove of information from Lev Parnas, the Soviet-born sidekick of Rudy Giuliani who is now indicted on felony charges.
In more than 30 pages of messages and image retrieved from one of Parnas' devices, it revealed how Giuliani had written to Ukraine's newly-elected president, Voldomyr Zelensky, saying that with the president's 'consent and knowledge' he was requesting a meeting.
It also showed Parnas writing down the apparent details of a 'deal' to secure an investigation of 'Biden'; Parnas pressing Giuliani to get a visa for an allegedly corrupt Ukrainian prosecutor and the attorney saying he had 'No. 1 on it'; and Parnas and a fanatically pro-Trump  Republican congressional candidate exchanging messages calling Marie Yovanovitch, then the U.S. ambassador to Ukraine a 'b***h' and suggesting her movements were being monitored.
In one message the would-be Congressman, Robert Hyde, told Parnas he had men watching her and said: 'They are willing to help if we/you would like a price.'
Hyde, who has posed repeatedly with the president and given more than $50,000 to pro-Trump campaign groups at the same time as owning child support, said on twitter: 'How low can liddle Adam Bull Schiff go? I was never in Kiev. For them to take some texts my buddy's and I wrote back to some dweeb we were playing with that we met a few times while we had a few drinks is definitely laughable. Schiff is a desperate turd playing with this Lev guy.'
The Parnas files may be the tip of an iceberg; the House Intelligence Committee has three of his devices.
THE IMPEACHMENT MANAGERS: MEET THE SEVEN DEMOCRATS PROSECUTING DONALD TRUMP
Adam Schiff of California: The chairman of the House Intelligence Committee, 59, led the impeachment process against Donald Trump. He became a frequent target of Trump's fury: the president called him 'Liddle' Adam Schiff and made fun of his neck. But Schiff won praise for his leadership during witnesses hearings. Schiff served in the California State Assembly and was a federal prosecutor in the U.S. Attorney's Office in Los Angeles for six years. He oversaw the prosecution of Richard Miller, the first FBI agent ever to be indicted for espionage. Elected to Congress in 2012.
Jerry Nadler of New York: The Chairman of the House Judiciary Committee, 72, led the series of hearings that developed the two articles of impeachment against the president: abuse of power and obstruction of justice. He's in his 15th term in Congress and was a New York State Assembly man before joining Capitol Hill. He was in law school when he was first elected to state office and completed his J.D. while serving in Albany. He and Schiff were expected to be named. Elected to Congress in 1992.
Zoe Lofgren of California: A close Nancy Pelosi ally and a long time friend of the speaker, Lofgren, 72, has the unique experience of playing a role in three presidential impeachment proceedings: as a Judiciary Committee staffer during Richard Nixon's in 1974, as a Judiciary Committee Member during Bill Clinton's 1999 impeachment, and now in President Trump's. Additionally, she heads the Committee on House Administration, a position that has the moniker 'Mayor of Capitol Hill' given the panel's jurisdiction over the everyday running of the Capitol, including members' allowance, office space, and rules of the House. Elected to Congress in 1994.
Hakeem Jeffries of New York: Jeffries, 49, was a litigator in private practice before running for elected office. He worked in the litigation department of Paul, Weiss, Rifkind, Wharton & Garrison before becoming assistant litigator for Viacom and CBS, where he worked on litigation stemming from the Super Bowl XXXVIII halftime show controversy, when Janet Jackson's breast, adorned with a nipple shield, was exposed by Justin Timberlake for about half a second, in what was later referred to as a 'wardrobe malfunction'. The Federal Election Commission fined CBS $550,000 after a long legal case. The Chair of the House Democratic Caucus, Jeffries serves on the House Judiciary Committee. Before Congress, he was in the New York State Assembly for six years. Elected to Congress in 2012 and a member of the House Judiciary Committee.
Val Demings of Florida: Demings, 62, served in the Orlando Police Department for 27 years, including serving as the city's first female chief of police. She is one of seven children born in poverty – her father worked in Florida orange groves and her mother was a housekeeper. She was the first member of her family graduate from college. She worked as a social worker before joining the Orlando police department. A member of the House Intelligence panel and the Judiciary Committee, Demings won plaudits for her careful questioning of witnesses during the impeachment hearings. She wrote on Twitter in December, during the impeachment process: 'I am a descendant of slaves, who knew that they would not make it, but dreamed and prayed that one day I would make it. So despite America's complicated history, my faith is in the Constitution. I've enforced the laws, and now I write the laws. Nobody is above the law.' She spends her free time riding her Harley-Davidson Road King Classic motorcycle. Elected to Congress in 2016.
Jason Crow of Colorado: Crow, 40, was an Army Ranger in Iraq and Afghanistan, where he served three tours and was awarded a Bronze Star. He was a private litigator with the Holland and Hart Law Firm before running for Congress. He was elected to Congress in 2018 and serves on the House Armed Services Committee.
Sylvia Garcia of Texas: Garcia, 69, has a strong judicial background. She was the director and presiding judge of the Houston Municipal System and was elected city controller. She was also the first Hispanic and first woman to be elected in her own right to the Harris County Commissioner's Court. Elected to Congress in 2018, she serves on the House Judiciary Committee.
Dems add Trump associates under investigation to impeachment evidence
House votes 228-193 to send the articles of impeachment against Donald Trump to the Senate TODAY
House votes to send Trump impeachment to Senate for trial
By LISA MASCARO25 minutes ago
The U.S. House voted Wednesday to send two articles of impeachment against President Donald Trump to the Senate and approve House prosecutors for only the third impeachment trial in American history.
The nearly party-line vote moved Trump's impeachment from Speaker Nancy Pelosi's Democratic-run House to the Republican-majority Senate, where Trump expects quick acquittal, even as new evidence is raising fresh questions about his Ukraine dealings.
The vote was 228-193, coming at the start of a presidential election year and one month after the House impeached Trump alleging abuse of power over his pressure on Ukraine to investigate Democratic rival Joe Biden, using military aid to the country as leverage. Trump was also charged with obstructing Congress' ensuing probe..
"We are here today to cross a very important threshold in American history," Pelosi said, addressing the House before the vote.
"This is what an impeachment is about,″ she said earlier, announcing the prosecution team. "The president violated his oath of office, undermined our national security, jeopardized the integrity of our elections."
Trump, during an event at the White House, rejected the charges as a "hoax."
The president's team expects acquittal with a Senate trial lasting no more than two weeks, according to senior administration officials unauthorized to discuss the matter and granted anonymity.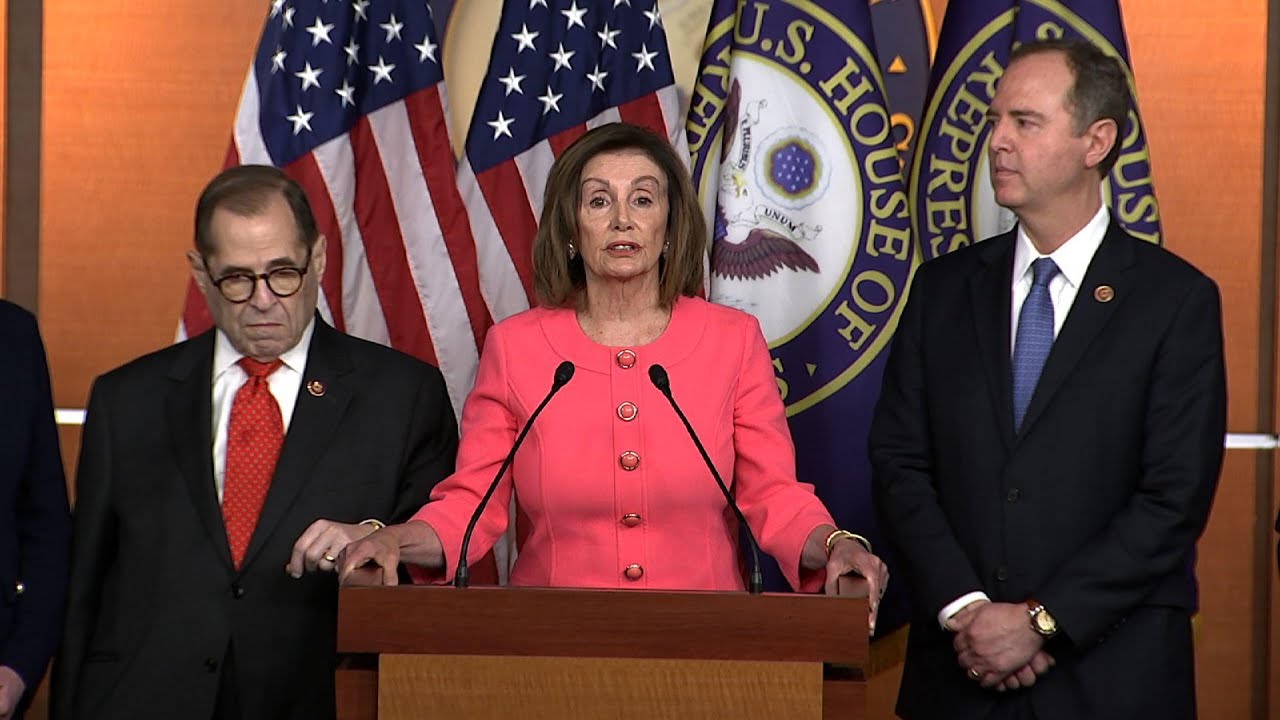 Trump opposes the calling of additional witnesses, and the officials said they expect the trial to conclude before Trump delivers his State of the Union address Feb. 4.
All but one Democrat, Rep. Collin Peterson of Minnesota, voted to transmit the articles. All Republicans voted against. One former Republican-turned-independent, Rep. Justin Amash of Michigan, joined Democrats.
The top Republican in the House, Kevin McCarthy of California, said Americans will look back on this "sad saga" that tried to remove the president with the "weakest case."
Later Wednesday, the House managers were to walk the articles across the Capitol to the Senate in a dramatic procession. The Senate trial is set to start Thursday.
The seven-member prosecution team will be led by the chairmen of the House impeachment proceedings, Reps. Adam Schiff of the Intelligence Committee and Jerry Nadler of the Judiciary Committee, two of Pelosi's top lieutenants for only the third presidential impeachment in the nation's history.
Ahead of Wednesday's session, Schiff released new records from Lev Parnas, an associate of Trump lawyer Rudy Giuliani, about the Ukraine strategy. including an exchange with another man about surveilling later-fired Ambassador Maria Yovanovitch.
Schiff said the new evidence should bring more pressure on Senate Majority Leader Mitch McConnell, who is reluctant to allow witnesses to testify.
"If McConnell makes this the first trial in history without witnesses, it will be exposed for what it is and that is an effort to cover up for the president," Schiff said.
McConnell opened the Senate dismissing what he called a rushed impeachment that is more about the politics of Democrats who don't like Trump than the charges against him.
"This isn't really about Ukraine policy or military money," McConnell said. "This has been naked partisanship all along."
During Pelosi's press conference announcing managers, Trump tweeted that impeachment was "another Con Job by the Do Nothing Democrats. All of this work was supposed to be done by the House, not the Senate!"
Trump's trial will be only the third presidential impeachment trial in U.S. history, and it comes against the backdrop of a politically divided nation in an election year.
The Senate is expected to transform into an impeachment court as early as Thursday, although significant proceedings wouldn't begin until next Tuesday after the Martin Luther King Jr. holiday. The Constitution calls for the chief justice to preside over senators, who serve as jurors and swear an oath to deliver "impartial justice.″
The managers are a diverse group with legal, law enforcement and military experience, including Hakeem Jeffries of New York, Sylvia Garcia of Texas, Val Demings of Florida, Jason Crow of Colorado and Zoe Lofgren of California.
McConnell, who is negotiating rules for the trial proceedings, is under competing pressure from his party for more witnesses, from centrists who are siding with Democrats on the need to hear full testimony and conservatives mounting Trump's defense.
Senate Republicans signaled they would reject the idea of simply voting to dismiss the articles of impeachment against Trump, as Trump himself has suggested. McConnell agreed he does not have the votes to do that.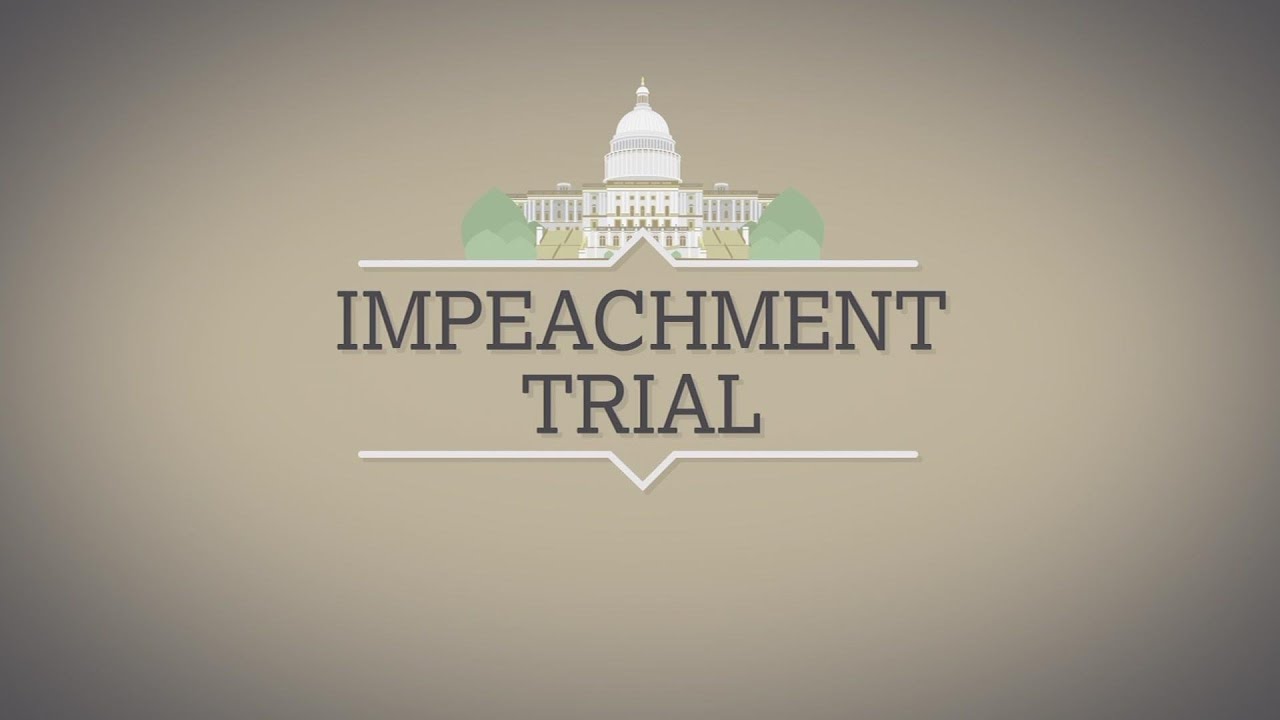 McConnell said Tuesday. ''Our members feel we have an obligation to listen to the arguments."
A mounting number of senators say they want to ensure the ground rules include the possibility of calling new witnesses.
Sen. Susan Collins of Maine is leading an effort among some Republicans, including Mitt Romney of Utah and Lisa Murkowski of Alaska for votes on witnesses.
Romney said he wants to hear from John Bolton, the former national security adviser at the White House, who others have said raised alarms about the alternative foreign policy toward Ukraine being run by Giuliani.
Democrats have been pushing Republicans to consider new testimony, arguing that fresh information has emerged during Pelosi's monthlong delay in transmitting the charges.
Republicans control the chamber, 53-47, and are all but certain to acquit Trump. But it takes just 51 votes during the trial to approve rules or call witnesses. Just four GOP senators could form a majority with Democrats to insist on new testimony. It also would take only 51 senators to vote to dismiss the charges against Trump.
At Tuesday's private GOP lunch, Sen. Rand Paul of Kentucky warned that if witnesses are allowed, defense witnesses could also be called. He and other Republicans want to subpoena Biden and his son, Hunter, who served on the board of a gas company in Ukraine, Burisma, while his father was vice president.
McConnell prefers to model Trump's trial partly on the process used for President Bill Clinton's impeachment trial in 1999. It, too, contained motions for dismissal or calling new witnesses.
McConnell is hesitant to call new witnesses who would prolong the trial and put vulnerable senators who are up for reelection in 2020 in a bind with tough choices. At the same time, he wants to give those same senators ample room to show voters they are listening.
—-
Associated Press writers Zeke Miller, Matthew Daly, Andrew Taylor, Mary Clare Jalonick, Laurie Kellman, and Padmananda Rama contributed to this report.
Story 3: Record Fiscal Year 2020 First Quarter Spending Record of $1,163,090,000,000 with Deficit of $357 Billion — Videos
$1,163,090,000,000: Federal Spending Sets Record Through December
The federal government spent a record $1,163,090,000,000 in the first three months of fiscal 2020 (October through December), according to the Monthly Treasury Statement released Monday afternoon.
That was up $48,008,200,000 from the $1,115,081,800,000 (in constant December 2019 dollars) that the federal government spent in the first three months of fiscal 2019.
While spending a record amount of money in the first quarter of fiscal 2020, total federal tax collections were only the third highest in the nation's history.
Although the $806,512,000,000 that the Treasury collected in total taxes in October through December was $17,651,230,000 more than $788,860,770,000 in total taxes (in constant December 2019 dollars) that the Treasury collected in October through December of fiscal 2019, it was $25,327,590,000 less than the all-time record $831,839,590,000 (in December 2019 dollars) that the Treasury collected in the first quarter of fiscal 2015.
Fiscal 2014 ranks second for total tax collections with $809,275,710,000 (in constant December 2019 dollars).
With the record spending in the October-through-December period exceeding the third-highest tax collections in history, the federal government ran a deficit of $356,578,000,000 during the period.
The Department of Health and Human Services led all federal agencies by spending $309,340,000,000 in October through December. The Social Security Administration was second with $285,056,000,000. The Defense Department was third with $187,348,000,000. Interest on Treasury securities was the fourth highest spending category with $160,187,000,000 in the October through December period.
(Numbers in this story were converted into constant December 2019 dollars using the Bureau of Labor Statistics inflation calculator.)
https://www.cnsnews.com/article/washington/terence-p-jeffrey/1163090000000-federal-spending-sets-record-through-december
Part 1 of 2 Story 4: President Trump Signs Phase One Trade Agreement With Communist China — Will It Be Fully Enforceable? — Time Will Tell — Videos
Trump speaks before signing "Phase One" of China trade deal
Larry Kudlow breaks down the implications of the US-China trade deal
Trump signs phase one of US-China trade deal
Trump signs partial trade deal with China l ABC News
Mnuchin: US won't lift China tariffs until phase two of trade deal
Jamie Dimon praises Trump economy, China trade deal in exclusive interview
US Trade Rep. Lighthizer on historic 'phase-one' China trade deal
Donald Trump signs 'phase one' of trade deal with China which ends escalation of his trade war—and complains about the 'impeachment hoax' at White House ceremony with Xi Jinping's deputy looking on
Donald Trump took a victory lap as he signed a trade deal with China at the White House – as his impeachment sped ahead at the other end of Pennsylvania Avenue
He touted his economy and launched attack after attack on his enemies at packed East Room ceremony, railing against the 'impeachment hoax'
Trump has vowed that he would ink a trade deal with China for more than two years and imposed steep tariffs to bring Beijing to the table
Signing is for 'phase one' and the White House promises more segments in the future
Xi Jinping didn't come for the signing but sent a lower-level official, vice-premier Liu He and Trump said he will go back to China soon to 'reciprocate'
It's unclear what he's reciprocating for, since Xi didn't come 
East Room press credentials didn't have a date printed on them, suggesting the White House wasn't confident the event would happen on schedule
President urged House members in the audience to leave early if they needed to cast a vote on sending impeachment articles to the Senate 
By DAVID MARTOSKO, U.S. POLITICAL EDITOR FOR DAILYMAIL.COM and WIRES
PUBLISHED: | UPDATED: 
Donald Trump took a victory lap on Wednesday as he signed a trade deal with China at the White House as his impeachment sped towards the Senate on Capitol Hill.
He boasted to an audience of dignitaries that a new trade deal with China will bring 'a future of fair and reciprocal trade,' then complained about the 'impeachment hoax,' and praised a string of Republican senators who he needs to vote for his acquittal.
The president has long complained about a massive trade deficit between Washington and Beijing. He pledged during the 2016 campaign to come down hard on China.
'We are righting the wrongs of the past,' he said Wednesday, observing that 'our negotiations were tough, honest, open and respectful.'
'This is the biggest deal anyone's ever seen,' he said, because 'China has 1.5 billion people.'
The president spent nearly a half-hour acknowledging business leaders and lawmakers who crowded into the East Room to watch. And he noted that some House members might have to leave early in order to vote on a motion to send articles of impeachment to the U.S. Senate.
Some of the congressmen may have a vote—it's on the impeachment hoax—so if you want, you go out and vote. … It's not going to matter becausae it's gone very well. But I'd rather have you voting than sitting here listening to me introduce you, okay?' he said with a grin.
'They have a hoax going on over there. Let's take care of it.'
Trump was not accompanied by Chinese President Xi Jinping, who sent Vice Premier Liu He in his place. Xi's absence left some with the impression that Washington wants the deal more than Beijing does.
Done deal: Donald Trump and Liu He sign the phase one trade deal which calls a halt to escalations in the U.S.-China trade deal and is claimed to mean up to $50 billion in agricultural sales to China
Signed, sealed, delivered: China's vice-premier Liu He and Donald Trump show their signatures in the completed phase one trade deal
East room ceremony: Donald Trump hosted the Chinese vice-premier Liu He in the East Wing in front of an audience of Republican senators and Congressmen and figures from the American business world – almost all of whom he named
President Donald Trump stood alongside China's vice premier Liu He, not its president Xi Jinping, when he signed a landmark trade deal on Wednesday
Awkward exchange: Donald Trump moved to shake hands with China's vice-premier Liu He, who extended his left hand instead
Unusual handshake: After Liu He extended his left hand, Donald Trump grasped two of his fingers in an attempt to shake his hand
The president announced that he will 'be going back to China in the not-too-distant future to reciprocate,' but it's unclear what he would be reciprocating for.
Vice President Mike Pence said the deal would guarantee $40-50 billion in Chinese purchases of American agriculture products.
And Trump said China will stop forcing American companies to share proprietary technologies with Chinese partners. 'You don't have to give up anything anymore. Just be strong,' he said to business leaders in the room.
The White House's guests included top executives from UPS, Boeing, AIG, JP Morgan Chase, Mastercard, VISA, Citibank, Honeywell, Dow Chemical, eBay and Ford Motor Company; casino magnate Sheldon Adelson, who aims to see markets opened to him in China; television commentator Lou Dobbs; and Trump's ambassador in Beijing, Terry Branstad.
Second time lucky: After Liu He spoke through a translator, the two succeeded in shaking hands
Trump acknowledged lawmakers and businessmen in the East Room including casino tycoon Sheldon Adelson
Chinese representative: President Xi Jinping sent vice-premier Liu He, who spoke through a translator (left)
Packed: The East Room was fool for the invited audience of business leaders, White House aides and congressional Republicans
Branstad, a longtime Iowa governor before coming to Washington, got the job because of his deep ties to global agriculture.
While Wall Street will carefully examine the fine print, the trade deal will allow businesses around the globe to breathe a sigh of relief.
After a nearly two-year battle, the signing could give Trump an election-year boost as well. Still, tariffs on hundreds of billions of dollars in imports remain in place, leaving many Americans to foot the bill.
Reporters covering the East Room event on Wednesday wore White House credentials with no date printed on them. That unusual feature suggests Trump's trade negotiators weren't certain whether the event would happen as scheduled.
Journalists shoot shoulder-to-shoulder, including a contingent of dozens from Chinese media outlets.
The 'phase one' agreement—which includes pledges from China to beef up purchases of American crops and other exports—also comes just as Trump faces an impeachment trial in the U.S. Senate, giving him a victory to trumpet at least in the short term.
It's unclear which country will get the better end of the deal, but Trump has trumpeted every development that is favorable to the United States
The easing of US-China trade frictions has boosted stock markets worldwide in recent weeks, as it takes the threat of new tariffs off the table for now.
And Treasury Secretary Steven Mnuchin said Trump's negotiating stance led to a 'fully enforceable deal' which could bring additional tariffs.
If China fails to abide by the agreement, 'the president has the ability to put on additional tariffs,' Mnuchin said on CNBC Wednesday as part of a media blitz promoting the new pact.
However, the most difficult issues remain to be dealt with in 'phase two' negotiations, including massive subsidies for state industry and forced technology transfer.
But Mnuchin said the deal puts pressure on Beijing to stay at the negotiating table and make further commitments, including on cyber-security and other services to win relief from the tariffs that remain in place.
'In phase two there will be additional roll backs,' Mnuchin said. 'This gives China a big incentive to get back to the table and agree to the additional issues that are still unresolved.'
Still, elements of the deal the administration has touted as achievements effectively take the relationship between the two powers back to where it was before Trump took office.
'The US-China phase-one deal is essentially a trade truce, with large state-directed purchases attached,' economist Mary Lovely said in an analysis.
Even so, 'The truce is good news for the U.S. and the world economy.'
Still, the trade expert with the Peterson Institute for International Economics, cautioned that 'we will continue to see the impact of this in slower investment and higher business costs.'
U.S. officials have said they will release details of the agreement set to be signed at a White House ceremony at 11:30 a.m. Wednesday.
After announcing the deal December 13, the U.S. canceled a damaging round of new tariffs that were due to kick in two days later and promised to slash in half the 15 percent tariffs on $120 billion imposed September 1 on consumer goods like clothing.
'The tariffs will stay in place until there is a phase two. If the president gets phase two quickly, he will consider releasing tariffs. If not, there won't be any tariff relief,' Mnuchin said Tuesday on Bloomberg TV.
'It has nothing to do with the election or anything else.'
Washington said Beijing agreed to import, over two years, $200 billion of U.S. products above the levels in 2017, before Trump launched his offensive.
Trump has repeatedly touted the trade pact as a boon for American farmers, saying China will buy $40 to $50 billion in agricultural goods.
U.S. farmers were hit hard by the tariff war—notably on soybeans which saw exports to China plunge to just $3 billion from more than $12 billion in 2017. The Trump administration paid out $28 billion in aid to farmers in the last two years.
But many economists question whether they have the capacity to meet that demand.
And Lovely raised a question about the wisdom on relying so heavily on the Chinese market.
'It also means Chinese retaliation could be reinstated, dampening farmers' willingness to invest to meet the very hard export targets in the deal.'
U.S. and Chinese officials say the agreement includes protections for intellectual property and addresses financial services and foreign exchange while including a pr.ovision for dispute resolution, which Mnuchin said will be binding for the first time.
Trump in August formally accused China of manipulating its currency to gain an advantage in trade and offset the impact of the tariffs.
The label, which had no real practical impact, was removed earlier this week.
The deal also restores a twice-yearly dialogue process that previous administrations conducted regularly but that Trump scrapped.
https://www.dailymail.co.uk/news/article-7889301/US-China-set-sign-vital-trade-truce.html
The Pronk Pops Show Podcasts Portfolio
Read Full Post
|
Make a Comment
(
None so far
)