Posted on February 13, 2020. Filed under: 2020 Democrat Candidates, 2020 Republican Candidates, Addiction, American History, Amy Klobuchar, Banking System, Bernie Sanders, Blogroll, Breaking News, Budgetary Policy, Cartoons, China, Congress, Corruption, Countries, Crime, Culture, Deep State, Defense Spending, Donald J. Trump, Donald J. Trump, Donald Trump, Drugs, Economics, Education, Elections, Elizabeth Warren, Empires, Employment, Federal Government, First Amendment, Fiscal Policy, Foreign Policy, Former President Barack Obama, Free Trade, Freedom of Religion, Freedom of Speech, Government, Government Dependency, Government Spending, Health, Health Care Insurance, Hillary Clinton, History, House of Representatives, Human, Human Behavior, Illegal Drugs, Illegal Immigration, Illegal Immigration, Immigration, Independence, Investments, Labor Economics, Law, Legal Immigration, Life, Lying, Media, Medicare, Military Spending, Monetary Policy, Movies, National Interest, News, Pete Buttigieg, Philosophy, Photos, Politics, Polls, Progressives, Public Corruption, Radio, Raymond Thomas Pronk, Rule of Law, Scandals, Second Amendment, Social Security, Spying on American People, Subornation of perjury, Surveillance/Spying, Tax Fraud, Tax Policy, Taxation, Taxes, Trade Policy, Treason, Trump Surveillance/Spying, Unemployment, United States Constitution, United States of America, Videos, Violence, War, Wealth, Welfare Spending, Wisdom | Tags: 12 February 2020, 13 February 2020, America, AMERICA'S RULING CLASS, Amy Klobuchar, Angelo Codevilla – Does America Have A Ruling Class?, Articles, Audio, 'Red Diaper Babies' - Children of Communists, Basket of Deplorables, Bernie Sanders, Breaking News, Broadcasting, Capitalism, Cartoons, Charity, Citizenship, Clarity, Classical Liberalism, Collectivism, Commentary, Commitment, Communicate, Communication, Concise, Consumer Debt, Convincing, Courage, Culture, Current Affairs, Current Events, Deplorables, Economic Growth, Economic Policy, Economics, Education, Elizabeth Warren, Evil, Experience, Faith, Family, Fed Chair Powell, Fed Keeps Rates Unchanged, Federal Reserve System, First, Fiscal Policy, Free Enterprise, Freedom, Freedom of Speech, Friends, Give It A Listen!, God, Good, Goodwill, Growth, Hillary Clinton Gone and Forgottin, Hope, Individualism, Joe Biden Done, Knowledge, Liberty, Life, Love, Lovers of Liberty, Lying Lunatic Leftist Losers, Lying Lunatic Leftist Losers vs. American Winners, Mayor Pete's Dad Was A Marxist, Monetary Policy, MPEG3, New crop of Dem candidates are 'Communists', News, Open Border, Opinions, Peace, Pete Buttigieg, Pete Buttigieg Leads in Total Delegates by 1, Photos, Podcasts, Political Elitist Establishment (PEEs), Political Philosophy, Politics, President Donald J. Trump, Prosperity, Radio, Raymond Thomas Pronk, Red Diaper Babie, Red Diaper Babies, REDS (Radical Extremist Democratic Socialists, REDS Won In Iowa And New Hampshire, REDS Won Iowa and New Hampshire, Representative Republic, Republic, Resources, Respect, Richard Connell, Rule of Law, Rule of Men, Show Notes, Talk Radio, The Credit Card Crisis, The Deplorables, The Hunt, The Most Dangerous Game, The Pronk Pops Show, The Pronk Pops Show 1397, The Wreck called Hillary Clinton, Truth, Tyranny, U.S. Constitution, U.S. Household Debt Exceeds $14 Trillion For The First Time, United States of America, Videos, Virtue, War, Wisdom |
Pronk Pops Show 1397 February 12, 2020
Pronk Pops Show 1396 February 11, 2020
Pronk Pops Show 1395 February 10, 2020
Pronk Pops Show 1394 February 7, 2020
Pronk Pops Show 1393 February 6, 2020
Pronk Pops Show 1392 February 5, 2020
Pronk Pops Show 1391 February 4, 2020
Pronk Pops Show 1390 February 3, 2020
Pronk Pops Show 1389 January 31, 2020
Pronk Pops Show 1388 January 30, 2020
Pronk Pops Show 1387 January 29, 2020
Pronk Pops Show 1386 January 28, 2020
Pronk Pops Show 1385 January 27, 2020
Pronk Pops Show 1384 January 24, 2020
Pronk Pops Show 1383 January 23, 2020
Pronk Pops Show 1382 January 22, 2020
Pronk Pops Show 1381 January 21, 2020
Pronk Pops Show 1380 January 17, 2020
Pronk Pops Show 1379 January 16, 2020
Pronk Pops Show 1378 January 15, 2020
Pronk Pops Show 1377 January 14, 2020
Pronk Pops Show 1376 January 13, 2020
Pronk Pops Show 1375 December 13, 2019
Pronk Pops Show 1374 December 12, 2019
Pronk Pops Show 1373 December 11, 2019
Pronk Pops Show 1372 December 10, 2019
Pronk Pops Show 1371 December 9, 2019
Pronk Pops Show 1370 December 6, 2019
Pronk Pops Show 1369 December 5, 2019
Pronk Pops Show 1368 December 4, 2019 
Pronk Pops Show 1367 December 3, 2019
Pronk Pops Show 1366 December 2, 2019
Pronk Pops Show 1365 November 22, 2019
Pronk Pops Show 1364 November 21, 2019
Pronk Pops Show 1363 November 20, 2019
Pronk Pops Show 1362 November 19, 2019

Story 1: The Red Diaper Babies Grew Up To Be REDS (Radical Extremist Democratic Socialists) and Won In Iowa and New Hampshire —  Videos
Hurt: New crop of Dem candidates are 'Communists'
Mayor Pete's Dad Was A Marxist, What Happened? ft. Richard Wolff
Author David Maraniss on his parents, who were members of the Communist Party
Red Diaper Babies
[EUA] Seeing Red: Stories of American Communists (1983) | INGLÊS
RayStevens – The Global Warming Song
2020 Delegate Count and Primary Calendar
Democratic delegates
1,990 to win nomination
Pete Buttigieg
Bernie Sanders
Elizabeth Warren
Amy Klobuchar
Joseph R. Biden Jr.
Pete Buttigieg and Bernie Sanders lead the delegate race after the first two contests of the primary season, according to the Associated Press. The vast majority of delegates are awarded after February. Super Tuesday, when a third of all delegates are allocated in a single day, looms large with 16 contests at the beginning of March. Here is a look at when every state goes to the polls and where the largest troves of delegates are at stake.
Results

Feb. 3

13
12
8
1
6

Feb. 11

9
9
0
6
0
February 2020

DEMOCRATIC DELEGATES

2016 PRIMARY WINNER

22

 

Sat.

Nevada caucus

Another key early state with a high-turnout caucus, and the first one with a significant Hispanic population.

36
Clinton

29

 

Sat.

South Carolina primary

This state will offer the first real indication of the candidates' strengths with black voters.

54
Clinton
March 2020

DEMOCRATIC DELEGATES

2016 PRIMARY WINNER

3

 

Tue.

Alabama primary

Alabama is one of 16 contests on Super Tuesday, when a third of delegates are allocated.

52
Clinton

American Samoa caucus

6
Clinton

Arkansas primary

31
Clinton

California primary

Because it has the largest delegate trove in the country, California is key to Super Tuesday.

415
Clinton

Colorado primary

67
Sanders

Democrats abroad primary

13
Sanders

Maine primary

24
Sanders

Massachusetts primary

91
Clinton

Minnesota primary

75
Sanders

North Carolina primary

110
Clinton

Oklahoma primary

37
Sanders

Tennessee primary

64
Clinton

Texas primary

The second-largest delegate trove of Super Tuesday.

228
Clinton

Utah primary

29
Sanders

Vermont primary

16
Sanders

Virginia primary

99
Clinton

10

 

Tue.

Idaho primary

20
Sanders

Michigan primary

Midwestern powerhouses like Michigan will test the candidates' appeal among suburbanites, African-Americans and working-class white voters. If the race is not decided on Super Tuesday, this could be a line of demarcation.

125
Sanders

Mississippi primary

36
Clinton

Missouri primary

68
Clinton

North Dakota primary

14
Sanders

Washington primary

89
Sanders

14

 

Sat.

Northern Marianas convention

6
Clinton

17

 

Tue.

Arizona primary

67
Clinton

Florida primary

219
Clinton

Illinois primary

155
Clinton

Ohio primary

136
Clinton

24

 

Tue.

Georgia primary

105
Clinton

29

 

Sun.

Puerto Rico primary

51
Clinton
April 2020

DEMOCRATIC DELEGATES

2016 PRIMARY WINNER

4

 

Sat.

Alaska primary

15
Sanders

Hawaii primary

24
Sanders

Louisiana primary

54
Clinton

Wyoming caucus

14
Sanders

7

 

Tue.

Wisconsin primary

84
Sanders

28

 

Tue.

Connecticut primary

60
Clinton

Delaware primary

21
Clinton

Maryland primary

96
Clinton

New York primary

This may be the last big delegate day of the race. If one candidate dominates every state this late in the primary, party leaders will most likely move to get behind that person and seek to bring the race to an end.

274
Clinton

Pennsylvania primary

186
Clinton

Rhode Island primary

26
Sanders
May 2020

DEMOCRATIC DELEGATES

2016 PRIMARY WINNER

2

 

Sat.

Guam caucus

7
Clinton

Kansas primary

39
Sanders

5

 

Tue.

Indiana primary

82
Sanders

12

 

Tue.

Nebraska primary

29
Sanders

West Virginia primary

28
Sanders

19

 

Tue.

Kentucky primary

54
Clinton

Oregon primary

61
Sanders
June 2020

DEMOCRATIC DELEGATES

2016 PRIMARY WINNER

2

 

Tue.

District of Columbia primary

20
Clinton

Montana primary

19
Sanders

New Jersey primary

126
Clinton

New Mexico primary

34
Clinton

South Dakota primary

16
Clinton

6

 

Sat.

Virgin Islands caucus

7
Clinton
https://www.nytimes.com/interactive/2020/us/elections/delegate-count-primary-results.html
2020 United States presidential primary election results
Updated at 2:53 PM CST
Delegates

 · 

64 delegates declared

1,990 delegates needed to win the nomination

Candidate

Delegates

22

21

8

7

6

0

0

0

0

0

0

0
0
0
Sanders edges Buttigieg in NH, giving Dems 2 front-runners
By STEVE PEOPLES, KATHLEEN RONAYNE and HUNTER WOODALL
Bernie Sanders won New Hampshire's presidential primary, edging moderate rival Pete Buttigieg and scoring the first clear victory in the Democratic Party's chaotic 2020 nomination fight.
In his Tuesday night win, the 78-year-old Sanders, a self-described democratic socialist, beat back a strong challenge from the 38-year-old former mayor of South Bend, Indiana. The dueling Democrats represent different generations, see divergent paths to the nomination and embrace conflicting visions of America's future.
As Sanders and Buttigieg celebrated, Amy Klobuchar scored an unexpected third-place finish that gives her a road out of New Hampshire as the primary season moves on to the string of state-by-state contests that lie ahead.
Elizabeth Warren and Joe Biden posted disappointing fourth and fifth place finishes respectively and were on track to finish with zero delegates from the state.
MORE ON THE NEW HAMPSHIRE PRIMARY
The New Hampshire vote gives new clarity to a Democratic contest shaping up to be a battle between two men separated by four decades in age and clashing political ideologies. Sanders is a leading progressive voice, having spent decades demanding substantial government intervention in health care and other sectors of the economy. Buttigieg has pressed for more incremental change, preferring to give Americans the option of retaining their private health insurance while appealing to Republicans and independents who may be dissatisfied with Trump.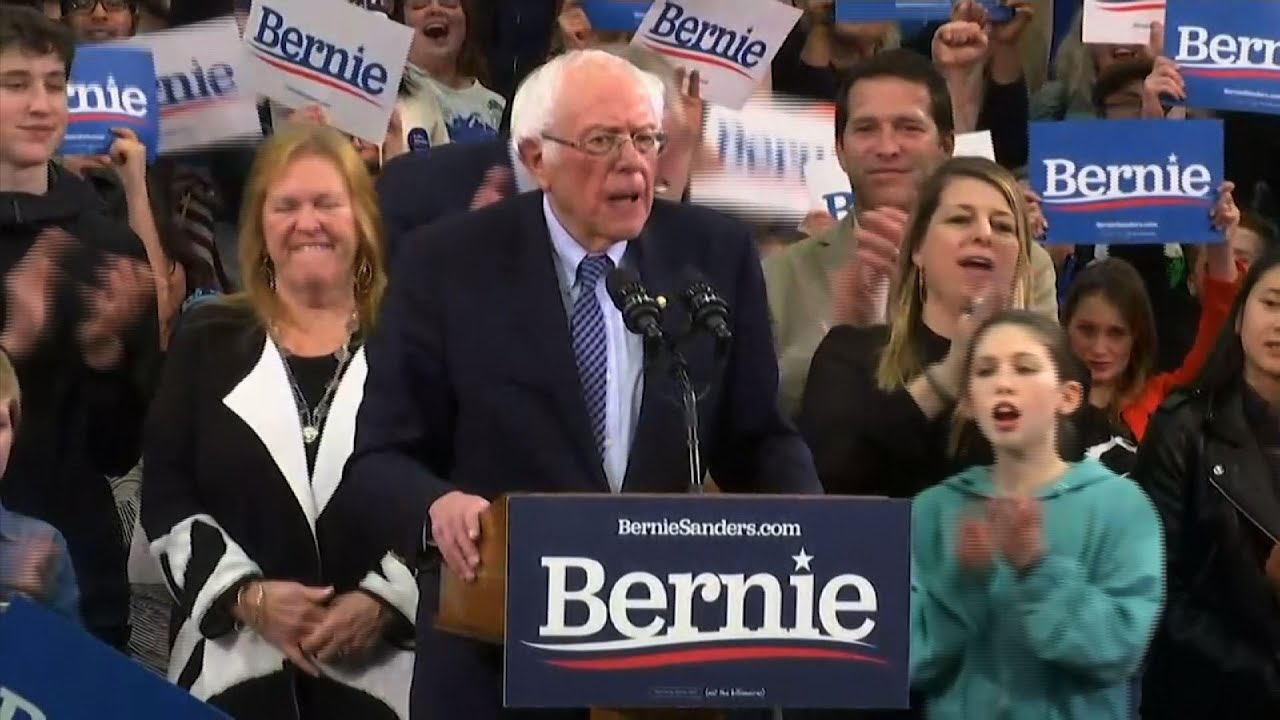 Their disparate temperaments were on display Tuesday as they spoke before cheering supporters.
"We are gonna win because we have the agenda that speaks to the needs of working people across this country," Sanders declared. "This victory here is the beginning of the end for Donald Trump."
Buttigieg struck an optimistic tone: "Thanks to you, a campaign that some said shouldn't be here at all has shown that we are here to stay."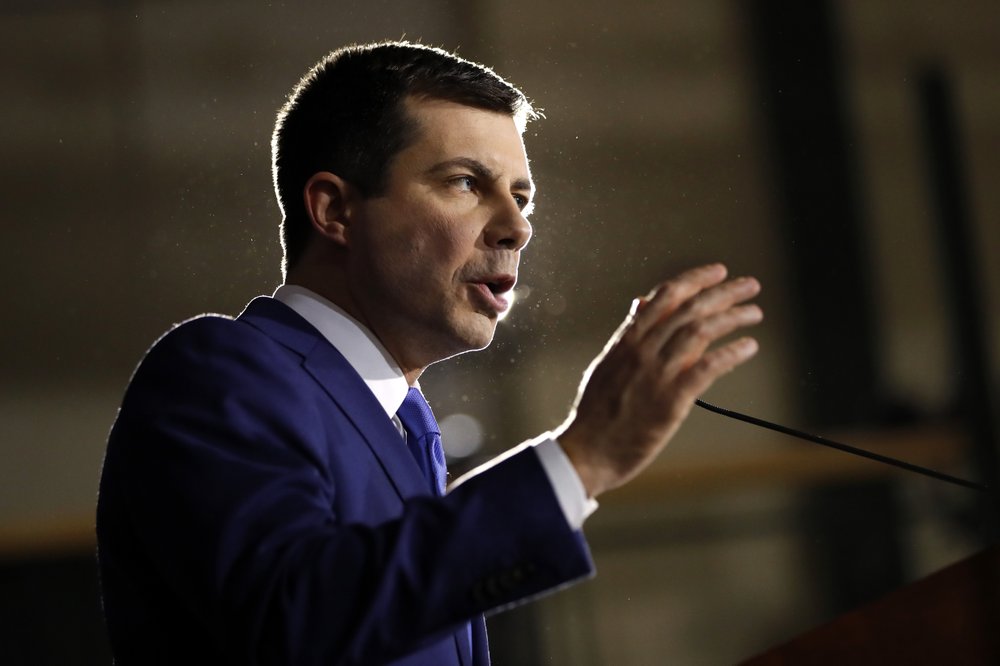 Both men have strength heading into the next phase of the campaign, yet they face very different political challenges.
While Warren made clear she will remain in the race, Sanders, well-financed and with an ardent army of supporters, has cemented his status as the clear leader of the progressive wing of the party.
Meanwhile, Buttigieg must prove he can attract support from voters of color who are critical to winning the nomination. And unlike Sanders, he still has multiple rivals in his own ideological wing of the party to contend with. They include Klobuchar, whose standout debate performance led to a late surge in New Hampshire and a growing national following. While deeply wounded, Biden promises strength in upcoming South Carolina. And though former New York Mayor Mike Bloomberg was not on Tuesday's ballot, he looms next month when the contest reaches states offering hundreds of delegates.
After a chaotic beginning to primary voting last week in Iowa, Democrats hoped New Hampshire would help give shape to their urgent quest to pick someone to take on Trump in November. At least two candidates dropped out in the wake of weak finishes Tuesday night: moderate Colorado Sen. Michael Bennet and political newcomer Andrew Yang, who attracted a small but loyal following over the past year and was one of just three candidates of color left in the race.
The struggling candidates still in the race sought to minimize the latest results.
Warren, who spent months as a Democratic front-runner, offered an optimistic outlook as she faced cheering supporters: "Our campaign is built for the long haul, and we are just getting started."
Having already predicted he would "take a hit" in New Hampshire after a distant fourth-place finish in Iowa, Biden essentially ceded the state. He traveled to South Carolina Tuesday as he bet his candidacy on a strong showing there later this month boosted by support from black voters.
Still, history suggests that the first-in-the-nation primary will have enormous influence shaping the 2020 race. In the modern era, no Democrat has ever become the party's general election nominee without finishing first or second in New Hampshire.
Sanders and Buttigieg were on track to win the same number of New Hampshire delegates with most of the vote tallied, with Klobuchar a few behind. Warren, Biden and the rest of the field were shut out, failing to reach the 15% threshold needed for delegates.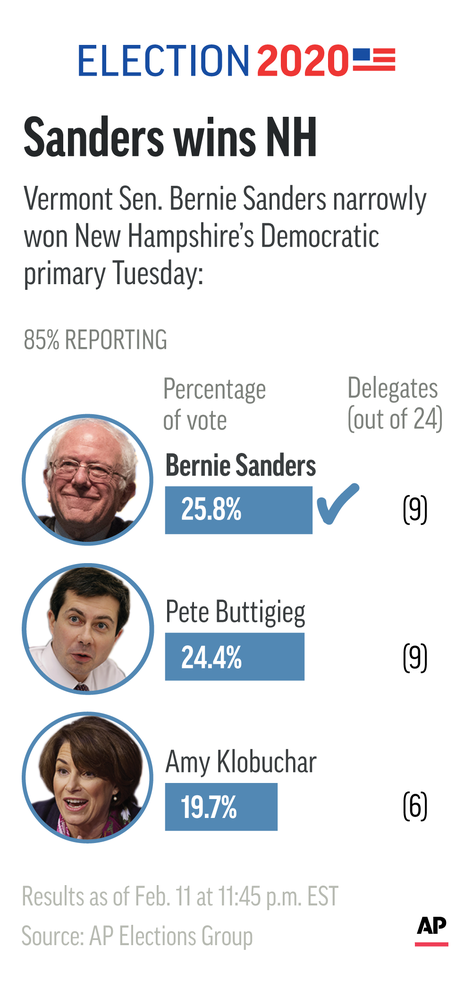 The AP allocated nine delegates each to Sanders and Buttigieg and six to Klobuchar.
The action was on the Democratic side, but Trump easily won New Hampshire's Republican primary. He was facing token opposition from former Massachusetts Gov. Bill Weld.
With most of the vote in, Trump already had amassed more votes in the New Hampshire primary than any incumbent president in history. His vote share was approaching the modern historical high for an incumbent president, 86.43% set by Ronald Reagan in 1984. Weld received about 9% of the vote of New Hampshire Republicans.
The political spotlight quickly shifts to Nevada, where Democrats will hold caucuses on Feb. 22. But several candidates, including Warren and Sanders, plan to visit other states in the coming days that vote on Super Tuesday, signaling they are in the race for the long haul.
___
Peoples reported from Washington. Associated Press writers Seth Borenstein and Zeke Miller in Washington, Will Weissert, Holly Ramer and Thomas Beaumont contributed from New Hampshire.
'Red Diaper Babies' – Children of Communists
DANA KENNEDY 
May 23, 1989
Country Joe McDonald, whose rock band Country Joe and the Fish appeared at the Woodstock festival, remembers how strained his life was growing up in a communist family.
Joan Sokoloff, a 48-year-old therapist, grew up in Boston in the 1950s. But she might as well have spent her childhood on another planet. While other children were watching ″Father Knows Best,″ Sokoloff, the daughter of communists, was contemplating world change.
″I couldn't care less if they were investigated as communists or not,″ said McDonald, who grew up in Southern California. ″All I cared about was when I went to a Cub Scout meeting or went to play baseball. … I didn't feel comfortable anymore.″
Said Sokoloff: ″They (my parents) always used to say that the revolution is just around the corner. So there was always a sense that we were working toward something imminent.″
McDonald and Sokoloff are two of five so-called ″red diaper babies,″ the children of communists, who appear in ″Children of the Left,″ a new documentary by filmmaker Eric Stange. The 60-minute film traces the evolution of children raised as communists who are now adults in a conservative America.
The topic is a hot one. ″Loyalties – a Son's Memoir,″ a new book by former Washington Post investigative reporter Carl Bernstein, is the story of Bernstein's childhood in a communist family.
Bernstein writes about the conflicting legacy left by communist parents. His story is woven out of what he says are the torn loyalties and lasting repercussions of a communist childhood.
Stange found that communist parents left a mixed legacy. Some of their children remained communists. One became a Reagan conservative. But almost all remain political and most vote.
Stange, 35, a former reporter and editor for the Boston Herald, had made one previous documentary, ″The Pitch of Grief,″ when he decided to make a film about the children of communists. He knew several as friends and found out about others through them. A network exists among them as adults, he said, formed from childhood when communist families often sent their children to the same progressive summer camps and schools.
But Stange said that even now, many who grew up in communist households were still hesitant going public about the experience.
″The penalties were too great in the '50s,″ he said.
Stange spoke to 50 former ″red diaper babies,″ interviewed 15 on tape and culled five for his film. The term ″red diaper babies″ has several rumored origins. One is that communist parents in the '20s were so poor that they used the red flags they received in return for their party dues to diaper their babies.
″I found an incredible mixture of pride and anger,″ he said. ″It was a way of looking at the world that was much more open and diverse and worldly than what most American kids were getting.″
The film, which premiered last month in Cambridge and was co-produced with the Newton Television Foundation, also will be shown at New York's Public Theater this month and in Los Angeles in June.
The stories that unfold on camera are generally happy ones. Though they participated in one of the most tumultuous periods in American history, Stange's subjects recall their childhoods with more pleasure than pain.
Eugene Dennis Jr., son of the former general secretary in the American Communist Party, was a longshoreman for many years and is now a historian. In the film, tears come to his eyes as he recalls how ″safe″ he felt, held in the arms of singer-actor-writer Paul Robeson at one point during the worst of the communist witch hunts in the '50s.
David Horowitz, the son of public schoolteachers in New York, edited the leftist magazine Ramparts in the '60s. He has since become a best-selling author of biographies with David Collier and a conservative Republican. Richard Healey, whose mother was a high-ranking communist leader in Southern California, edits an anti-nuclear magazine.
The film uses archival footage to trace the relatively swift downfall of the Communist Party in the United States, which had formed in 1919 and enjoyed peak years in the '30s and early '40s.
″Children of the Left″ also outlines the turmoil that marked the party's rapid decline, beginning with the Red Scare initiated in the '50s by the House Committee on Un-American Activities, chaired by Sen. Joseph McCarthy, the execution of Julius and Ethel Rosenberg in 1953 and revelations in 1956 that Soviet leader Josef Stalin was a murderous dictator.
Several subjects of the film recall their parents were jailed regularly. Joan Sokoloff remembers the day one of her mother's arrests made the front page of The Boston Globe, her struggle to overcome her own embarrassment and her eventual pride in her parents' work.
Healey recalls his childhood years at Communist Party meetings and picnics as ″the happiest moments of my life.″
″Growing up with ideals like that, with a world view of wanting a better life for people, it was still a very rich way of life,″ said Sokoloff.
Story 2: The  Political Elitist Establishment (PEEs) Hunt Down Deplorables — Socialist Satire — Coming To A Theater Nearest You March 13, 2020 — Friday The 13th –Lying Lunatic Leftist Losers vs. American Winners — Videos
The Wreck called Hillary Clinton
How voters are responding to Clinton's 'deplorables' remark
Clinton: Trump supporters in 'basket of deplorables…
Deplorables: Trump, Brexit and the Demonised Masses
Tucker: American elites more comfortable with attacking US
1. America's Ruling Class
Angelo Codevilla – Does America Have a Ruling Class?
Universal cancels release of film where elites hunt 'deplorables'
The Hunt – Official Trailer [HD]
Why The Hunt Is Finally Being Released with a New Marketing Campaign
The Hunt – Trailer Reaction – New Release Date of March 13th
The Most Dangerous Game colourized
The deplorable choir- a song to Hillary Clinton
The Hunt (2020 film)
From Wikipedia, the free encyclopedia
Jump to navigationJump to search
The Hunt

Theatrical release poster

Directed by
Craig Zobel
Produced by
Written by
Based on
The Most Dangerous Game
by Richard Connell
Starring
Music by
Nathan Barr
Cinematography
Darran Tiernan
Edited by
Jane Rizzo

Production
company

Distributed by
Universal Pictures

Release date

March 13, 2020 (United States)

Country
United States
Language
English
Budget
$15 million[1]
The Hunt is an upcoming American action horror–thriller film directed by Craig Zobel and written by Nick Cuse and Damon Lindelof, based on the 1924 short story, The Most Dangerous Game, by Richard Connell. It stars Betty Gilpin, Ike Barinholtz, Emma Roberts and Hilary Swank. Jason Blum is serving as a producer under his Blumhouse Productions banner.[2]
The film was originally scheduled for release on September 27, 2019. However, following the Dayton and El Paso mass shootings in early August 2019, Universal Pictures decided to shelve the release of the film.[2] The decision came a day after criticism regarding the film came from United States President Donald Trump.[3] It has since been rescheduled for a theatrical release on March 13, 2020.[4][5]
Premise
Loosely based on the 1924 short story The Most Dangerous Game, by Richard Connell,[6] the film follows 12 strangers who mysteriously wake up in a clearing.[2][7][8] They do not know where they are or how they got there. They discover that they have been chosen to be hunted in a game devised by a group of people from the rich elite.[2][9] The hunters gather in a remote facility called the Manor House, but their sport gets derailed when one of the hunted, Crystal (Betty Gilpin), fights back and starts killing them one by one.[10]
Cast
Production
Development
In March 2018, Universal Pictures acquired the rights to the film, which would be directed by Craig Zobel with a script from Nick Cuse and Damon Lindelof.[11][12]
The elite hunters' reference to their quarry as "deplorables" is an allusion to a phrase ("basket of deplorables") used by Hillary Clinton during the 2016 United States presidential election campaign to refer to supporters of then-presidential candidate, Donald Trump.[3] An early draft of the script depicted working-class conservatives as the film's heroes.[13]
Though some reports indicated the original title of the film was Red State vs. Blue State (after the U.S. political term red states and blue states), Universal issued a statement denying that the film had ever had that as its working title.[13]
Casting
In March 2019, Emma Roberts, Justin Hartley, Glenn Howerton, Ike Barinholtz and Betty Gilpin were announced as being cast in the film.[14][15][16] In April 2019, Amy Madigan, Jim Klock, Charli Slaughter, Steve Mokate and Dean West joined the cast of the film.[17][18] Hilary Swank was announced as being cast in July.[19]
Filming
Filming began on February 20, 2019, in New Orleans and was due to finish on April 5.[20]
Release
The film was scheduled for release on September 27, 2019. It was, for a time, moved back to October 18 before shifting back to its original release date of September 27.[21]
On August 7, 2019, Universal announced that in the wake of the Dayton and El Paso mass shootings, they would be suspending the film's promotional campaign.[22][23] Several days later, the film was pulled from the studio's release schedule.[24][25] An international release is still a possibility.[26]
On February 11, 2020, it was announced the film would receive a theatrical release on March 13, 2020.[4]
Reception
The Hollywood Reporter wrote that there were a pair of test screenings for the film which had "negative reactions". The second screening was held on August 6, 2019, in Los Angeles, in which "audience members were again expressing discomfort with the politics" of it, an issue Universal had not foreseen (although other studios had initially passed on the script for that very reason). In a statement to Variety, Universal pushed back on a report that test audiences had been uncomfortable with the film's political slant, and also countered claims that the script had originally had a politically explosive title.[26] "While some outlets have indicated that test screenings for The Hunt resulted in negative audience feedback; in fact, the film was very well-received and tallied one of the highest test scores for an original Blumhouse film," a Universal spokesperson said. "Additionally, no audience members in attendance at the test screening expressed discomfort with any political discussion in the film. While reports also say The Hunt was formerly titled Red State vs. Blue State, that was never the working title for the film at any point throughout the development process, nor appeared on any status reports under that name."[26]
Prior to the film's shelving, the film attracted criticism from some of the media as an alleged portrayal of liberal elitists hunting supporters of Donald Trump.[23][27] Trump issued a tweet on August 9, 2019, calling "Liberal Hollywood" "[r]acist at the highest level" and writing: "The movie coming out is made in order to inflame and cause chaos", adding "They create their own violence, and then try to blame others". Although Trump did not specify the name of the film, news vehicles believed that was most likely a reference to The Hunt.[27][28][29]
See also
References …
The Most Dangerous Game
From Wikipedia, the free encyclopedia
Jump to navigationJump to search
"The Most Dangerous Game", also published as "The Hounds of Zaroff", is a short story by Richard Connell,[1] first published in Collier's on January 19, 1924.[2] The story features a big-game hunter from New York City who falls off a yacht and swims to what seems to be an abandoned and isolated island in the Caribbean, where he is hunted by a Russian aristocrat.[3] The story is inspired by the big-game hunting safaris in Africa and South America that were particularly fashionable among wealthy Americans in the 1920s.[4]
The story has been adapted numerous times, most notably as the 1932 RKO Pictures film The Most Dangerous Game, starring Joel McCrea and Leslie Banks,[5] and for a 1943 episode of the CBS Radio series Suspense, starring Orson Welles.[6] It has been called the "most popular short story ever written in English." Upon its publication, it won the O. Henry Award.[3]
The Most Dangerous Game is one of many works that entered the public domain in the United States in 2020.[7]
Plot
Sanger Rainsford and his friend, Whitney, are traveling to the Amazon rainforest to hunt the region's big cat: the jaguar. After a discussion about how they are "the hunters" instead of "the hunted", Whitney goes to bed and Rainsford hears gunshots. He climbs onto the yacht's rail and accidentally falls overboard, swimming to Ship-Trap Island, which is notorious for shipwrecks. On the island, he finds a palatial chateau inhabited by two Cossacks: the owner, General Zaroff, and his gigantic deaf-mute servant, Ivan.
Zaroff, another big-game hunter, knows of Rainsford from his published account of hunting snow leopards in Tibet. After inviting him to dinner, General Zaroff tells Rainsford he is bored of hunting because it no longer challenges him; he has moved to Ship-Trap in order to capture shipwrecked sailors. Any captives who can elude Zaroff, Ivan, and a pack of hunting dogs for three days are set free. Zaroff reveals that no one has lasted that long, although a couple of sailors had come close. Zaroff also says that he offers sailors a "choice"; should they decline to be hunted they will be handed over to Ivan, who had once been official knouter for The Great White Czar. Rainsford denounces this as barbarism. Zaroff reacts in a cosmopolitan manner that "life is for the strong". Realizing he has no way out, Rainsford reluctantly agrees to be hunted.
During his three-hour head start, Rainsford lays an intricate trail in the forest and then climbs a tree. Zaroff finds him easily, but decides to play with him like a cat would a mouse, standing underneath the tree Rainsford is hiding in, smoking a cigarette, and then abruptly departing. After the failed attempt at eluding Zaroff, Rainsford builds a Malay man-catcher, a weighted log attached to a trigger. This contraption injures Zaroff's shoulder, causing him to return home for the night, but before doing so shouts that if Rainsford is within earshot, his trap was commendable as few could pull it off. The next day Rainsford creates a Burmese tiger pit, which kills one of Zaroff's hounds. He sacrifices his knife and ties it to a sapling to make a Ugandan knife trap; Ivan is killed when he stumbles into this trap and the knife plunges into his heart. To escape Zaroff and his approaching hounds, Rainsford dives off a cliff into the sea; Zaroff, disappointed at Rainsford's apparent suicide, returns home. Zaroff smokes a pipe by his fireplace, but two issues keep him from peace of mind: first, the difficulty of replacing Ivan; and second, the uncertainty of whether Rainsford did indeed perish.
Zaroff locks himself in his bedroom and turns on the lights, only to find Rainsford waiting for him; he had swum around the island in order to sneak into the chateau without the dogs finding him. Zaroff congratulates him on winning the "game", but Rainsford decides to fight him, saying he is still a beast-at-bay and that the original hunt is not over. Accepting the challenge, Zaroff says that the loser will be fed to the dogs, while the winner will sleep in his bed. The story ends with Rainsford enjoying the comfort of Zaroff's bed.
Analysis
"The Most Dangerous Game" is a popular read within middle and high school curricula due to the strength of the themes within the story. The first and foremost question that the story bears is that of justifiable murder. Rainsford justifies his hunting of animals because he believes that man is superior to animals because animals do not feel. To contradict, General Zaroff believes that men are superior because they are able to reason. Zaroff uses his reasoning to explain why men are the most interesting game to hunt; men can reason, and thus provide a challenge that no animal can contend with. The story simultaneously highlights through the experience of Rainsford, as he is hunted, the fears that animals must experience while being hunted.
Zaroff himself is a contradiction because his exquisite manners are juxtaposed with his heartless brutality in killing men. The idea of a man who is proper in all aspects, but still contains a desire to kill, is a suggestion by Connell that men possess murderous instincts that can only be subdued by the presence of society and law. Zaroff is only able to partake in his "hobby" because he does not live within a civilization.
The ending of the story bears questions about the true nature of Rainsford, who is implied to have killed Zaroff in order to secure his own safety. By killing Zaroff, he thus took part in the "game" that Zaroff wanted him to play.[8]
Adaptations and in popular culture
Film
The first major film adaption was RKO Pictures' film released in 1932, The Most Dangerous Game. Joel McCrea stars as Rainsford; Leslie Banks portrays Zaroff. The adaptation by James Ashmore Creelman adds two other principal characters, brother-and-sister pair Eve Trowbridge (Fay Wray) and Martin Trowbridge (Robert Armstrong), who are castaways from a shipwreck. The Most Dangerous Game was co-directed by Ernest B. Schoedsack and Irving Pichel; also with a score by Max Steiner, the film was a favorite project of producer Merian C. Cooper. The production shared several sets with King Kong (1933), a simultaneous RKO project that also involved Schoedsack, Cooper, Wray, Armstrong, Creelman, and Steiner. The Most Dangerous Game was a modest success.[9][10][11]:51
RKO produced a remake titled A Game of Death (1945), directed by Robert Wise, from a screenplay Norman Houston wrote. This film stars John Loder and Audrey Long, with Edgar Barrier as the mad hunter.[11]:206 In order to keep with events of that time, A Game of Death changed Zaroff into "Erich Kreiger", a Nazi, and was set in the aftermath of the Second World War.[12]
In 1956, United Artists released another film adaptation, Run for the Sun, starring Richard Widmark, Trevor Howard and Jane Greer.[11]:206[13] In 1961, the film Bloodlust! was released, directed by Ralph Brooke and starring Wilton Graff as the Zaroff-type character, and Robert Reed as the leader of a band of youths who become stranded on the island.[14] 1972's The Woman Hunt starring John Ashley and Sid Haig made for Roger Corman's New World Pictures is an unofficial remake of the story.[15]
Also in 1972, The Suckers, tells a sexploitation version of the story, with the hunter using models as his prey.[16] In 1973, The Perverse Countess was released.[17] The 1982 Australian film Turkey Shoot has similar elements.[18]
The 1987 film, Slave Girls from Beyond Infinity, transports the story to an alien world using scantily clad women as the hunted and a mad scientist, Zed as the Zaroff character.[17][19]
John Woo's first Hollywood directorial effort, the Jean-Claude Van Damme thriller Hard Target (1993), was loosely based on the same story. The locale was shifted to 1990s New Orleans, with homeless Vietnam war veterans voluntarily serving (in return for potential payment from a shady businessman) as human prey. It was followed by Hard Target 2, a direct-to-video sequel released in 2016.
In Surviving the Game (1994), a homeless man is hired as a survival guide for a group of wealthy businessmen on a hunting trip in the mountains. He is unaware that they are killers who hunt humans for sport, and that he is their new prey. Directed by Ernest R. Dickerson, the film stars Rutger Hauer, Ice-T, and Charles S. Dutton.
The Pest (1997) is a comedic parody of the story, with German huntsman Gustav Shank accidentally bringing Puerto Rican teenage hustler Pestario "Pest" Vargas to his island instead of the skilled man he had intended to hunt, only to decide to hunt the Pest anyway due to his sheer obnoxiousness. Shank's ambition is to have a head of a warrior of every ethnicity in his Trophy Room. He also rigs the "game" by having his prey unknowingly drink a slow-acting poison before the hunt, making sure that they die even if they escape him.
In The Eliminator (2004), seven captured people are hunted at night for sport on an island as a betting game for the wealthy.
The 2019-produced film The Hunt follows a similar premise. It will release in March 13, 2020 and was originally going to be released in September 27, 2019. It was originally cancelled due to Daytona and El Paso mass shootings in early August 2019.
Radio
"The Most Dangerous Game" was presented four times as a radio play.
Television
In Have Gun Will Travel episode "The Black Bull" Paladin is forced to play the part of a black bull against an insane matador (Ned Romero)
In The Wild Wild West episode, 1/4 "The Night of Sudden Death", Jim West and a circus girl are trapped inside an Africa Reserve wild animal Park in Colorado and are hunted by an insane big-game hunter Warren (Robert Loggia).
In the Get Smart episode, "Island of the Darned", Agents 86 and 99 are trapped on an island with a mad KAOS killer, Hans Hunter (Harold Gould).
This trope was used in the season 3 (1968), episode 22 of I Spy, "The Name of the Game".
In the Gilligan's Island episode "The Hunter", big-game hunter Jonathan Kincaid (Rory Calhoun) turned his sights on Gilligan when he realized there were no wild animals on the island.
In season 1, episode 18 of Star Trek: The Original Series, "The Squire of Gothos", a childlike, seemingly all-powerful being named Trelane kidnaps and hunts Captain Kirk.
In the series finale of Bonanza, entitled "The Hunter", a deranged killer, Corporal Bill Tanner (Tom Skerritt), who was formerly a tracker for the United States Army, hunts Little Joe (Michael Landon).
In the 1974 TV movie "Savages" after a young man accidentally witnesses a murder, he must survive both the desert and being hunted by the killer (Andy Griffith).[23]
In the 1977 pilot episode of Fantasy Island, a big-game hunter comes to the island to be hunted by a man, an interesting twist on the usual version in which the hunted participates against his will.
The Canadian series Relic Hunter had an episode called "Run Sydney Run" that was very closely based on "The Most Dangerous Game", with Peter Stebbings acting as General Tsarlov.[citation needed]
The Simpsons Halloween special "Treehouse of Horror XVI" contained a segment titled "Survival of the Fattest" which parodied the story closely. In this segment Mr. Burns invited much of the cast to his hunting lodge on a private island, only to reveal that he intended to hunt them all for sport. Another episode makes a reference to "The Most Dangerous Game" when Rainier Wolfcastle says that he bought a YMCA to demolish it and install a hunting ground dedicated to "hunt the most dangerous animal of all… Man".
In an episode of the animated sitcom American Dad!, the Smith family and a young woman become stranded on an island after Francine jumps off a cruise. Stan goes up to the mansion on this island to ask for help, but the inhabitants say that they are going to hunt the family. The Smiths and the young woman become trapped in a cave, where the young woman dies and they eat her to survive. The hunters then break into the cave and shoot the family. Stan sits up, realizing it is paint. At a party later, the hunters reveal that nobody really dies on The Most Dangerous Game Island.
The Incredible Hulk episode "The Snare" has Banner trapped on a private island owned by an insane hunter who not only craves the challenge of hunting humans, but considers the discovery of Banner's powerful Hulk form as a sign of a particularly appealing quarry.
In Season 2, Episode 21 of Criminal Minds, "Open Season", two brothers capture people stranded in a remote region of the wilderness outside Challis, Idaho, release them into the hills, and hunt them with compound bows for sport, referring the men as "bucks" and the women as "does".
In Season 13, Episode 15 of Law and Order: SVU, "Hunting Ground", a serial rapist and killer lures female escorts after their date to a remote area where he sets them free while he hunts them down to recapture them again.
In the Disney animated series The Mighty Ducks "The Most Dangerous Duck Hunt" episode, the heroes are trapped on an island and hunted.
In a "Dial M for Monkey" segment of the animated series Dexter's Laboratory, the hero Monkey is trapped by an alien big-game hunter named "Huntor", who also makes a cameo among a league of Hunters of "Sumarai Jack" in the Cartoon Network cartoon series Samurai Jack.
In Season 1, Episode 15 of Supernatural, "The Benders", a family has been behind disappearances in a city. The family snatches victims to hunt and kill. Sam and a police officer are taken, but Dean finds them and helps them subdue the family before it can cause them any harm.
In Season 7, Episode 12 of Futurama, "31st Century Fox", Bender becomes the target of a fox hunting club and is referred to as 'the most dangerous game.'
In Season 2 Episode 6 of The Blacklist, Elizabeth Keen and her FBI task force encounter a family in Idaho who trained the mother's youngest son to hunt and kill humans kidnapped by the eldest son.
The Outer Limits 1998 episode "The Hunt" is a story in which the hunting of animals has been banned by environmentalists, and black market hunting of obsolete androids takes its place.
In the Season 3, Episode 5 episode of Archer, "El Contador", Lana and Archer are hunted by a drug lord.
In Season 3, Episode 22 episode of Riverdale, "Chapter Fifty-Seven: Survive the Night"
In Season 4, Episode 2 of Game of Thrones, there is a scene in which Ramsay Bolton hunts a woman (one of his former lovers). She is cornered by the hunting party and eaten alive by Ramsay's dogs. It is implied that this was not the only time Ramsay indulged in human hunting "for sport."
In Season 3, Episodes 21 and 22 of Star Wars: The Clone Wars, Ahsoka Tano and Chewbacca are hunted on an island.
An episode of the animated series Johnny Bravo entitled "Hunted!" is an obvious parody of the story. The titular Johnny is forced to go through the same ordeal, but his stupidity and foolishness greatly frustrates the hunter, who eventually allows him to leave.
Season 6 episode 11 of Xena: Warrior Princess, "Dangerous Prey", is also inspired by The Most Dangerous Game. In this episode, Prince Morloch is a hunter who has grown bored of hunting animals, saying he's "killed one of every creature that walks this earth". He started hunting Amazons which grabbed the attention of Xena.
In season 3 of Wrecked, the plane crash survivors land on another island, where four wealthy men make them hunt each other, then hunting the survivor.
Other adaptations
The story has also served as an inspiration for books and films like Seventh Victim, Battle Royale, Predator, Predators,The Running Man and The Hunger Games. In the film Westworld, humans are allowed to hunt and kill androids until one, played by Yul Brynner, starts hunting them.
In the anime series Psycho-Pass, episodes 10 and 11 feature a wealthy cyborg tycoon who dons gentleman's hunting gear and hunts people in an underground maze with his robotic hounds.
In the video game Hitman: Contracts, the mission "Beldingford Manor" takes inspiration from this story.
In the video game Rayman 3: Hoodlum Havoc, the character Razoff takes inspiration from General Zaroff, even sharing similar names.
In the video game The Elder Scrolls IV: Oblivion, the quest "Caught in the Hunt" is inspired by this story.
In the comic-book story "The Second Most Dangerous Game" (serialized in Martian Comics #8–10), Martians possess humans to continue their tradition of hunting other humans, after the practice has been outlawed. Richard Connell is a character.
In the comic book issue Daredevil #4 Daredevil fights a mad manhunter on a remote island.
The well-known Spider-Man villain, Kraven the Hunter, is based on the character of General Zaroff.
In Clive Cussler's book DRAGON Dirk Pitt is chased by "Kamatori" on Soseki Island.
In the online game Poptropica, the five-part Survival Island features the player in a situation much like the one in the original story. At the end of the third episode, the player is rescued by a hunter known as Myron van Buren. The fourth episode revolves around the player in van Buren's cabin, finding out that van Buren plans to hunt them. In the fifth episode, the player teams up with another victim of van Buren to defeat him by trapping him in a waterwheel.
In the video game Psychonauts, Vernon, one of the campers, references to hunting the most dangerous game while playing hide and seek.
In 2006, The Onion parodied the premise, positing that humans would actually make rather pitiful prey.[24]
In Don Pendleton's The Executioner series, book #441, called Murder Island has a similar plot to the book. The protagonist, Mack "The Executioner" Bolan (a vigilante/government agent) encounters a rich businessman hunter on an island while on a mission and ends up in a similar position as the Rainsford character, while the rich hunter takes a similar role as Zaroff.
In a song called "Fly on the Wall" by Joey Pecoraro, the opening interaction between Rainsford and General Zaroff is used as a prelude to the actual song.
In 1987, American Metal band Laaz Rockit retold the story in their song "Most Dangerous Game" on their album Know Your Enemy. [25]
The Rooster Teeth series "Let's Play Minecraft" featured an adaptation of the story into a game played by the show's cast members in the video game Minecraft, where one player was given a map and hunted by the other five in and around the in-game world created by the Achievement Hunter cast members.
A translated version was published in Malayalam as an audio book by Kathacafe in 2017.[26]
In the video game West of Loathing a hunter's ghost challenges the player to play "the most dangerous game". After the player character shows disgust at hunting people the ghost says that wasn't what he meant.
Real-life parallels
Robert Hansen, a serial killer who was active in the early 1980s, would kidnap women and release them in Alaska's Knik River Valley. He would then hunt them, armed with a knife and a Ruger Mini-14 rifle.[27][28] A 2003 American crime drama film The Frozen Ground starring John Cusack and Nicolas Cage is based on this case.[29] Hanson was arrested and imprisoned for life where he died of an undisclosed illness.
In 1976, Hayes Noel, Bob Gurnsey, and Charles Gaines discussed Gaines's recent trip to Africa and his experiences hunting African buffalo. Inspired in part by "The Most Dangerous Game", they created paintball in 1981—a game where they would stalk and hunt each other—to recreate the same adrenaline rush from hunting animals.[30]
There is a reference to "The Most Dangerous Game" in letters the Zodiac Killer wrote to San Francisco Bay Area newspapers in his three-part cipher: "Man is the most dangerous animal of all to kill".[31] The Most Dangerous Game film is also mentioned a number of times in the context of the Zodiac Killer in the 2007 film, Zodiac.[32]
Citations …
General sources
External links
| | |
| --- | --- |
| | Wikisource has original text related to this article: |
Story 3: U.S. Houshold Debt Rising To Over $14,000,000,000 While Federal Reserve Continues To Expand Liquidity By Over $1,000,000,000 in Repo Market — Videos
The Credit Card Crisis
Fed keeps rates unchanged
Powell hinting Federal Reserve will remain on sidelines in 2020
WATCH LIVE: Fed Chair Powell testifies on coronavirus, state of economy
Fed expects inflation to move closer to 2% in coming months: Fed chairman
Economic language was downgraded in Fed decision: Portfolio manager
Stocks close near session lows after the Fed keeps interest rates unchanged
More Investors are starting to assume the Fed may be cutting rates by the end of the year: Economist
What is ACTUALLY going on in the repo market and what do Hedge Funds have to do with it?
What Caused the Repo Blowup in 2019? | Explained in 3 Minutes
What is the Repo Market? | Explained in 3 Minutes
U.S. Household Debt Exceeds $14 Trillion for the First Time
(Bloomberg) — Americans increased their borrowing for the 22nd straight quarter as more households took out loans to buy homes or refinance existing mortgages, according to a report released today from the Federal Reserve Bank of New York.
Total U.S. household debt rose by $601 billion in the fourth quarter from a year earlier, or 1.4%, surpassing $14 trillion for the first time, the New York Fed's quarterly household credit and debt report showed. That's $1.5 trillion above the previous peak in the third quarter of 2008. Overall household debt is now 26.8% above the second-quarter 2013 trough.
Mortgage borrowing rose by $120 billion to $9.56 trillion. The rate for a 30-year mortgage has fallen by about 100 basis points over the past year, adding to home purchasers' buying power. For example, a $500,000, 30-year loan costs about $300 less per month.
"Mortgage originations, including refinances, increased significantly in the final quarter of 2019," Wilbert Van Der Klaauw, vice president at the New York Fed, said in a statement.
Mortgage loans for young adults age 18 to 29 rose to a the highest level since the third quarter of 2007. Originations for 30-year-olds rose to $210.1 billion last quarter — the highest level since the end of 2005.
Total debt for people ages 18 to 29 rose to a record $1.04 trillion.
Student debt increased to $1.51 trillion from $1.46 trillion at the end of 2018. More than $100 billion in student debt is held by those age 60 and over. Auto loans rose to $1.33 trillion, while credit card debt rose to a record $930 billion.
Auto debt, which has risen for 35 consecutive quarters, increased $16 billion from the previous quarter. Almost 5% of auto loans are 90 days of more delinquent. This is the highest percentage since the third quarter of 2011.
Credit card delinquencies rose to 8.36% an 18-month high.
Among student debt, one in nine borrowers were 90+ days delinquent or in default in 2019, and this figure may be understated. About half of student loans are currently in deferment, in grace periods or in forbearance and therefore temporarily not in the repayment cycle. Once these loans enter that cycle, delinquency rates are projected to be roughly twice as high, according to the Fed report.
To contact the reporter on this story: Alex Tanzi in Washington at atanzi@bloomberg.net
To contact the editors responsible for this story: Sarah McGregor at smcgregor5@bloomberg.net, Anita Sharpe
For more articles like this, please visit us at bloomberg.com
Subscribe now to stay ahead with the most trusted business news source.
T

he Pronk Pops Show Podcasts Portfolio Read Full Post

|

Make a Comment

(

None so far

)