The Pronk Pops Show Podcasts
 Story 1: Trump's Taiwan Telephone Transmissions or  New Trump Two China Policy? — The Arms Race For The South China Sea — China Buys Gold and Currency Wars Lead To Trade Wars To Real Wars —  Videos —
Donald Trump defends his call with Taiwan's president: She 'called me'
Trump Calls Taiwan President #Fail
Amb. Hill on Trump's call with Taiwan President
China protests Trump, Taiwan pres. phone call
Published on Dec 3, 2016
China says it has lodged a protest with the relevant side in the United States after President-elect Donald Trump spoke with the Taiwanese president in a rare phone conversation.
China's Foreign Ministry said that the one China principle is the political basis of the Beijing-Washington relationship. It urged the relevant side in the US to uphold this policy and carefully handle the Taiwan issue to avoid unnecessary disturbances in ties. During the conversation between Trump and Tsai Ing-wen, the two sides highlighted the importance of closer economic, political, and security ties. China recognizes Taiwan as part of its territory. The White House has also reacted to the phone conversation, saying there has been no change in the United States' longstanding "One-China" policy. The objection from the White House was followed by a series of tweets by Trump in which he defended the phone call.
BREAKING – TRUMP talks to TAIWAN – History of US/China Relations, Explains Media's Reaction to this
Trump and the China Issue
Donald Trump and China's Currency War!
Published on Sep 19, 2016
Donald Trump flayed China and called it a Currency Manipulator in his Speech. – On April 2016, a Treasury report targets five countries in particular: China, Japan, Korea, Taiwan and Germany. Each meets at least two of the three criteria that "determine whether an economy may be pursuing foreign exchange policies that could give it an unfair competitive advantage against the United States."
At a time when currency devaluation has become a major tool used by multiple countries to stimulate growth, the U.S. is looking to protect its own interests. The report is an outgrowth of the Trade Facilitation and Trade Enforcement Act of 2015, a bipartisan effort aimed at stemming the global race to the bottom.
The criteria to determine whether a country should be on the "Monitoring List" of countries using unfair currency practices are: a trade surplus of larger than $20 billion, or 0.1 percent of U.S. GDP; a trade surplus with the U.S. that is more than 3 percent of that country's GDP; "persistent one-sided intervention," defined as purchases of foreign currency amounting to more than 2 percent of the country's GDP in a one-year period
Currency war * full documentary
Death By China: How America Lost Its Manufacturing Base (Official Version)
China Lodges Representations to US over Trump's Phone Talk with Taiwan Leader
Geraldo: Trump's 'outrageous' Taiwan call may be brilliant
Trumps talks with Taiwan president: Tsai Ing-wen calls Donald, Western media flips out
US Military TURNS UP THE HEAT on China with more US Navy Ships
America's Greatest Weapon Against China
China Vs USA : Who Would Win – Latest News
China vs USA: Empires at War
China vs India – Race to the Top of the World – Documentary by BBC
U S Navy 7th Fleet
U.S. NAVY SEVENTH FLEET IN KOREAN WAR, FORMOSA CRISIS, COLD WAR 73492
US Aircraft Carrier In Action Operating In The South China Sea
Steve Bannon Lays Out His AMAZING Political Philosophy
White House rebuke for Trump over Taiwan phone call as Obama administration says it's baffled he would speak to its president
Trump bit into the forbidden fruit on Friday when he accepted a call from Taiwan's Tsai Ing-wen
'I think it's hard to determine exactly what the aim was of the president-elect,' White House Press Secretary Josh Earnest said today
Talk upended 40 years of U.S. foreign policy; last time an American president spoke to Taiwan leadership was in 1979
Officially Trump transition officials says it was a courtesy call; a report today says it was a long-planned act meant to provoke China
By Francesca Chambers, White House Correspondent For Dailymail.com
The White House said Monday that it didn't understand why Donald Trump upended nearly 40 years of U.S. foreign policy by speaking to Taiwan's president.
Trump bit into the forbidden fruit on Friday when he accepted a call from Taiwan's Tsai Ing-wen. His transition team is officially saying it was a 'courtesy'.
A Washington Post report says Trump was spoiling for a fight with China.
'I think it's hard to determine exactly what the aim was of the president-elect,' White House Press Secretary Josh Earnest said today.
White House press secretary Josh EArnest said Monday that the Obama administration doesn't understand why Donald Trump upended nearly 40 years of U.S. foreign policy by speaking to Taiwan's president
The Obama administration official warned Trump that he risked damaging U.S. interests and creating unrest in the Taiwan Straight, which separates the island from the mainland, with the gesture.
'Some of the progress that we have made in our relationship with China could be undermined by this issue flaring up,' Earnest said.
It is also 'unclear' how it helps the people of Taiwan, he stated. Already, it has provoked China to 'ratchet up' its rhetoric against Taiwan, which is also the United States' ninth-largest trading partner.
'These are significant issues,' he said, 'and worthy of careful consideration.'
The White House says two national security officials in the U.S. talked to their counterparts in Beijing and restated the Obama administration's commitment to its one-China policy.
'The Chinese government and senior officials in the Chinese government are sophisticated enough to understand the complexities in the U.S. political system,' he said. 'Our message…was intended to make clear that the policy position of the Obama admin had not changed.'
Trump said in a four-tweet statement that Tsai called him.
He used the occasion to whack China, saying the country devalues its currency and built 'a massive military complex in the middle of the South China Sea' without U.S. permission. 'I don't think so,' he added.
Vice president-elect Mike Pence said Sunday that the incident was overblown.
'She reached out to the president-elect and he took the call from the democratically elected leader of Taiwan,' he said on Meet The Press. 'I think most Americans, and frankly most leaders around the world, know this for what it was.'
Donald Trump, pictured, accepted a phone call of congratulations from Taiwan's President Tsai Ing-wen on Friday and it has caused diplomatic issues with the Beijing
Trump claimed on his Twitter feed that the Taiwanese government had called him. His vice president said he took the call as a 'courtesy'
Pence said it was a 'courtesy' call and Trump intends to 'engage the world on America's terms.'
'It's striking to me that President Obama would reach out to a murdering dictator in Cuba and be hailed as a hero,' he said. 'And President-elect Donald Trump takes a courtesy call from the democratically-elected president of Taiwan and it becomes something of a thing in the media.'
Earnest referred to Pence's statements today and the conflicting portrait presented in the Washington Post. The publication claimed Trump had been planning the move since before he became the Republican nominee for president.
'It's unclear exactly what this strategic effort is, what the aim of this strategic effort is,' the Obama spokesman said. 'And it's unclear exactly what potential benefit could be experienced by the United States, China or Taiwan. But I'll leave that to them to explain.'
Trump responded to criticism of the phone call with an attack on China
China rebuked Trump through the official publication of its Communist Party for taking the call – the first conversation between a U.S. leader and Taiwan since 1979.
The overseas edition of the People's Daily said 'creating troubles for the China-U.S. relationship is creating troubles for the U.S. itself' and Trump 'would greatly reduce the chance to achieve the goal of making America great again' if he continues down this path.
China's foreign ministry spokesman, Lu Kang, said Monday that his county had launched 'stern representations with the relevant side in the U.S.' but would not say who officials spoke to, Reuters said.
'I think it's easy to understand "the relevant side," ' Lu stated. 'In fact, China has maintained contacts and communication with the team of President-elect Trump.'
http://www.dailymail.co.uk/news/article-4002692/White-House-rebuke-Trump-Taiwan-phone-call-Obama-administration-says-s-baffled-speak-country-s-president.html#ixzz4S6b7Tpqs
Donald Trump's Message Sparks Anger in China
President-elect's Taiwan call, tweets signal his approach will be more adversarial
ENLARGE
The exchange signaled a new and potentially more adversarial relationship between the world's two largest economies, as Mr. Trump moves to follow through on his campaign-trail promises to challenge China's trade and currency policies.
Chinese officials late Friday and early Saturday played down Mr. Trump's precedent-breaking phone call with Taiwan President Tsai Ing-wen, which a transition official said had been arranged by Bob Dole, the former Republican senator and presidential nominee. The call went beyond pleasantries and included a discussion about China and stability in the Asia-Pacific, according to a person familiar with the call. The Chinese directed their ire at Taiwan and not at Mr. Trump.
But they signaled their displeasure with a series of Twitter posts Mr. Trump leveled at China over the weekend, as he criticized its currency policies and military presence in the South China Sea.
In a packed press briefing Monday, China's foreign ministry spokesman Lu Kang suggested that Beijing had made its unhappiness directly known to members of Mr. Trump's team.
The People's Daily, the Communist Party's leading newspaper, said in a front-page commentary in Monday's overseas editions that "Trump and his transition team ought to recognize that creating trouble for China-U.S. relations is just creating trouble for the U.S. itself." It criticized Mr. Trump's tweets for portraying the phone call "as not a big deal" and warned that if such "petty tricks" are allowed to go unanswered, Beijing could expect to see more of these provocations once he's in office.
Mr. Dole, in an interview, said the law firm he is affiliated with does work with the Taipei Economic and Cultural Representative Office in the U.S., and that the firm played a role in arranging the phone call. "It's fair to say that we may have had some influence," Mr. Dole said.
U.S.-China experts said both Mr. Trump and Beijing appear to be trying to establish boundaries for a new relationship between the countries, which is expected to be more adversarial than that favored by President Barack Obama since 2009.
At the White House, officials fielded multiple calls from Chinese officials over the weekend in which China complained about Mr. Trump's actions and said it needs stability and predictability in its relationship with the U.S., a senior Obama administration official said.
The Chinese also were seeking guidance on Mr. Trump's policy intentions, and White House officials said they didn't know what they are, the administration official said.
"What you have seen in the past eight years is possibly too much predictability" from the U.S. in its approach to China, said Christopher Johnson, a former senior China analyst at the Central Intelligence Agency. "A little unpredictability is a good thing, but too much is scary. There's a fine line there between good unpredictability and scary, and that's the balance that has to be found."
ENLARGE
After Mr. Trump becomes president on Jan. 20, his first real test with China could arise in mid-April. That's when the Treasury Department is required to make public a "currency" report that details the behavior of other nations. During the presidential campaign, Mr. Trump vowed to label China a "currency manipulator," a designation that would require negotiations between both countries and could be a step toward penalizing Beijing. Such talks could reset the way they engage with each other.
On Sunday, Vice President-elect Mike Pence declined to say during an interview on NBC whether Mr. Trump would label China as a currency manipulator. Jason Miller, a spokesman for Mr. Trump's transition operation, declined on Monday to expand on Mr. Pence's comments.
Mr. Trump hammered China during the campaign for its currency and trade policies, and threatened to impose tariffs of between 35% and 45% on Chinese exports to the U.S. It was unclear if he would soften those pledges once elected, but his Friday call with Ms. Tsai brought questions about his approach to China into sharper focus.
Messrs. Trump and Pence described the conversation between Mr. Trump and Ms. Tsai as a congratulatory call initiated by Taiwan. But during the discussion with Taiwan's leader, which lasted for about 12 minutes, Mr. Trump stressed to Ms. Tsai that his top priority is the U.S. economy, said the person familiar with the call.
"The conversation was about regional stability," said the person, adding the call was planned weeks in advance. It marked the first of its kind since at least 1979, when the U.S. established formal relations with Beijing.
The terse exchanges between an incoming U.S. president and the country with the world's second-largest economy have, over the course of 72 hours, broken from more than a decade of fragile diplomacy, experts said.
A rise in U.S.-China tensions before Mr. Trump takes office could shape any cooperation between the two countries on high-stakes issues. It comes amid growing alarm over the nuclear threat from North Korea, for which Mr. Trump will need China's help to resolve.
Mr. Trump's call with Ms. Tsai and subsequent tweets accusing China of currency manipulation, over-taxing U.S. imports and building "a massive military complex in the middle of the South China Sea" have generated a "tremendous amount of uncertainty" in Beijing, said David Dollar, the Treasury Department's economic and financial emissary to China during Mr. Obama's first term.
"Some of the issues with China are best settled quietly and confidentially," Mr. Dollar said. "If the whole policy is diplomacy-by-tweet, it's hard to think that's going to meet U.S. objectives."
A number of conservatives, including Sens. Ted Cruz of Texas and Tom Cotton of Arkansas, have cheered Mr. Trump's engagement with Taiwan. Mr. Cotton said it was a sign that the U.S. wasn't going to be complacent anymore over China's behavior. During the campaign, Mr. Trump complained about Beijing's ability to lure U.S. manufacturers to relocate to China, a message that resonated with voters in Rust Belt states that helped sweep Mr. Trump to victory. For some observers, his confrontation with China is a welcome change.
Last Friday morning, Mr. Trump's secretary received a call at Trump Tower from Ms. Tsai and patched her through to the president-elect, according to people familiar with the call. It was 10 a.m. in New York and 11 p.m. in Taipei. Ms. Tsai had a prepared set of talking points and was surrounded by Taiwan's foreign minister, David Lee, as well as two top National Security Council officials and her spokesman, Alex Huang.
Stephen Yates, a former national security adviser to Vice President Dick Cheney who worked as a Mormon missionary in Taiwan, said that for at least a week Ms. Tsai's name was on Mr. Trump's list of foreign leaders whom he would speak with by phone.
"To my knowledge, Taiwan was on that list early, and it took some time to arrange," said Mr. Yates, who is seen as a candidate for a post on Mr. Trump's national security team. "It was a message in the sense that Donald Trump is not necessarily going to be told what he can or can't do because a foreign leader says so. That's exactly the kind of thing that millions of Americans detest about Washington," said Mr. Yates, who currently is visiting Taiwan for meetings with senior officials.
"If it's going to cause some pain, then so be it," he said.
He said the call didn't necessarily signal a change in policy or strategy on Taiwan, which didn't rank among the top global challenges for the incoming administration.
"Definitely, there was preparation so the president-elect was not blindsided that there might be reaction from China, from China experts, from the State Department and the White House," he said. "I don't think any part of the Trump team is looking for a military conflict. But I also don't think you have to walk on eggshells to get anything out of Beijing."
Mr. Yates played a role in introducing the strongest-ever statement of support for Taiwan in the Republican Party's platform at its national convention this year. The platform incorporated for the first time the "six assurances" given by President Ronald Reagan to Taiwan in 1982. Those include a pledge not to set a date for ending arms sales.
Mr. Trump's complaints about China are often focused on its economy, which has for decades relied on the purchasing power of consumers in other countries, particularly the U.S.
Mr. Trump used Twitter on Sunday to complain that China "heavily" taxes U.S. products entering their country, but that the U.S. doesn't tax Chinese imports. China does impose a tariff, a sort of import tax, ranging between 5% and 9.7%, on many products.
The U.S. in many cases charges a tariff on imports from China and many other countries, ranging between 2.5% and 2.9%. Mr. Trump has in the past floated the idea of imposing a tariff against China more than ten times larger.
While Mr. Trump has appeared to soften some of his other campaign stances, on issues such as climate change and torture of terrorism suspects, he has not backed off his calls to more aggressively challenge Beijing.
His approach in recent days "could force the Chinese to feel they have to respond," saidMichael Auslin, a resident scholar in Asian Studies at the American Enterprise Institute. Mr. Auslin said China could decide to take any number of steps, including putting "another 1,000 missiles across the [Taiwan] strait." It also could signal that it will back away from recent United Nations sanctions against North Korea, or launch a round of cyberattacks against U.S. agencies.
—Jenny W. Hsu in Taipei contributed to this article.
http://www.wsj.com/articles/donald-trumps-message-sparks-anger-in-china-1480989202
Donald Trump Shuffles the Ideological Deck
The president-elect's moves so far don't adhere to strict conservative or outsider themes
If President Barack Obama sought to usher America into a postracial era, it is increasingly apparent that President-elect Donald Trump is opening the door to the postideological era.
In fact, it's nearly impossible to identify a clear ideological bent in the incoming president's early moves. It's probably a mistake to try, because the definitions of left and right, liberal and conservative, are being scrambled right before our eyes.
Some Trump moves so far track with his populist outsider campaign image. Others are moves a conventional conservative could make. Some on his team would have been comfortable picks by any standard-issue Republican; some could as easily have been made by a Democratic president-elect.
The emerging picture suggests only two safe predictions about the Trump presidency. The first is that there will be a continuing struggle between the populist Donald Trump, who battles the corporate world and its love of free markets above all else, and the more conventionally Republican Donald Trump, who is comfortable with the leaders of that same corporate, free-market-loving world.
The second safe prediction is that there are no safe predictions. At a Harvard University postelection conference last week, Trump campaign pollster Tony Fabrizio said the president-elect can't be viewed through traditional "ideological lenses."
"Donald Trump is postideological," he said. "His movement transcends ideology in a lot of respects."
This also shows why the 2016 presidential election was disruptive in ways that extend well beyond Mr. Trump's victory, momentous as that event was. We have just witnessed that rarest of things, a realigning election, in which the coalitions and prevailing ideological lines within both political parties have been shaken up and are going to be put back together in new patterns.
Mr. Trump won with the votes of blue-collar whites who once were reliably Democratic, and without the votes of many in the business world who once were reliably Republican. Democratic nominee Hillary Clinton won the popular vote by more than 2.5 million, but her attempt to bridge the Democrats' rising liberal wing of Bernie Sanders and the moderate wing still embodied by her husband, Bill Clinton, left everybody a bit dissatisfied. Both parties have to reconsider their ideological and geographical coalitions.
This discombobulated terrain is seen in the Trump transition. On the personnel front, it's easiest to see the populist side of the president-elect in his choice of the antiestablishment firebrand Stephen Bannon to continue serving as a senior counselor.
But there have been some other appointments of figures known more for challenging convention than for adhering to it. Rep. Mike Pompeo brings the unlikely background of tea-party favorite into his new role as director of central intelligence. Sen. Jeff Sessions, tapped to be attorney general, is a member of the insiders' club of the U.S. Senate, but on issues such as immigration, he has been more of an outside agitator. Retired Gen. Michael Flynn, the incoming national security adviser, broke with the intelligence mainstream with his outspoken views of Islam.
Other appointments are completely mainstream, and even bipartisan. Treasury Secretary-designate Steven Mnuchin brings the kind of Wall Street background that presidents of both parties have traditionally favored in that role, and he has a longer history of helping Democrats than of helping Republicans. South Carolina Gov. Nikki Haley, picked to be ambassador to the United Nations, and Trump chief of staff Reince Priebus could have fit comfortably into the administration of any of the mainstream Republicans Mr. Trump defeated.
Vice President-elect Mike Pence and incoming Health and Human Services Secretary Tom Price are traditional ideological conservatives, naturally wary of government power, but incoming Commerce Secretary Wilbur Ross has shown he knows how to take advantage of government power to protect industries in which he has invested.
After publicly shaming Carrier Corp. throughout the presidential campaign, Donald Trump announced a deal on Thursday with the company's parent to keep 1,000 jobs in Indiana in exchange for state tax breaks. Is this model repeatable with other companies? WSJ's Jason Bellini has #TheShortAnswer. Photo: Getty
It's equally hard to find a straight ideological line in early policy moves. The early emphasis on overturning the Affordable Care Act is entirely in keeping with putting a priority in overturning what conservatives call government overreach. But the move to save jobs in Indiana by convincing Carrier Corp. to stop plans to move an assembly line to Mexico was a classic use of government power—both through economic incentives and threats of reprisal made explicit in a Twitter shout-out Friday night—to try to dictate decisions in the marketplace.
On the foreign-policy front, some conservative national-security thinkers cheer Mr. Trump's decision to hold a conversation with the president of Taiwan and thereby shake up decades of American policy protocol and risk the ire of China. But those same conservatives are aghast at the prospect of a cozy Trump relationship with Russian President Vladimir Putin.
None of this is conventional, but, for Mr. Trump, that may be the point. If there is a discernible Trump ideology, it may be simply to display strength, whether in staring down a corporate chief executive or the Chinese government. That doesn't make Trump world very predictable—which also seems to be how the president-elect likes it.
http://www.wsj.com/articles/donald-trump-shuffles-the-ideological-deck-1480955194
Story 2: Ben Carson Selected By Trump For Secretary of Housing and Urban Development and Controversy Erupts — Videos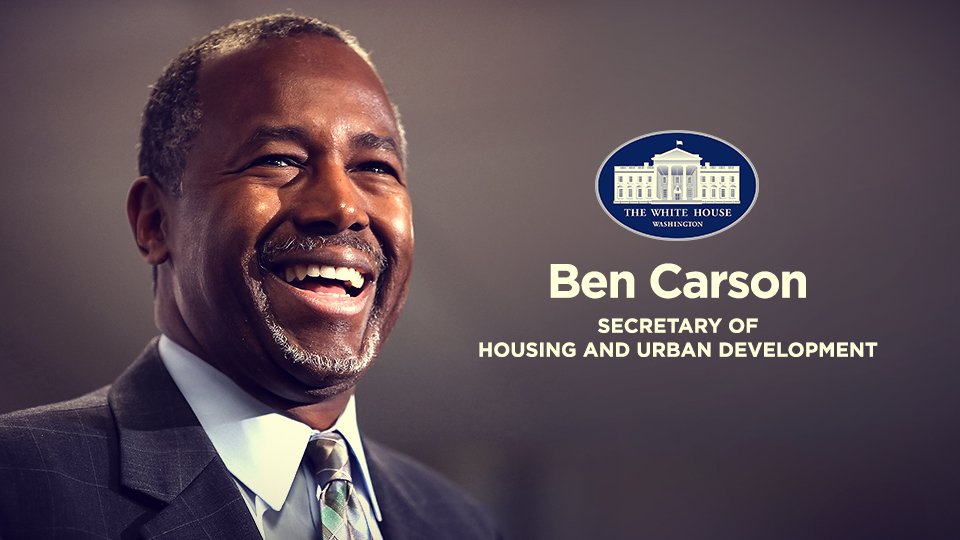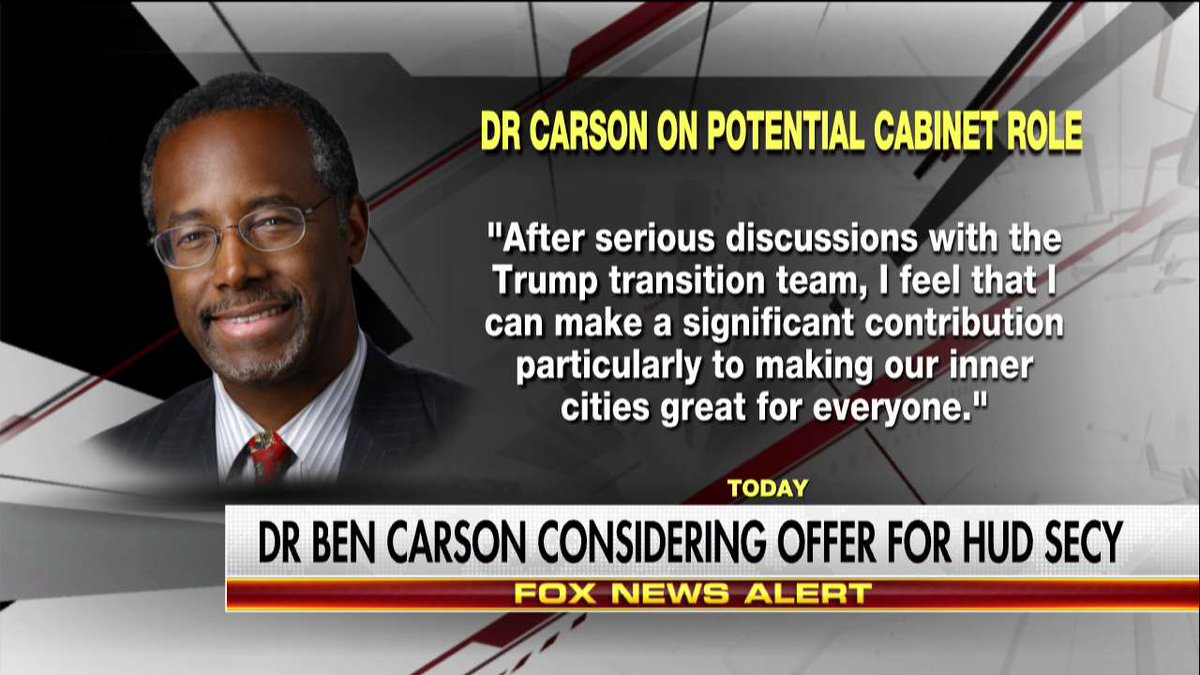 Trump taps Ben Carson for HUD secretary
Controversy erupts over Dr. Ben Carson pick as HUD secretary
The Pronk Pops Show Podcasts Portfolio
Read Full Post
|
Make a Comment
(
None so far
)