I wrote yesterday to praise the Better Way tax plan put forth by House Republicans, but I added a very important caveat: The "destination-based" nature of the revised corporate income tax could be a poison pill for reform.
I listed five concerns about a so-called destination-based cash flow tax (DBCFT), most notably my concerns that it would undermine tax competition (folks on the left think it creates a "race to the bottom" when governments have to compete with each other) and also that it could (because of international trade treaties) be an inadvertent stepping stone for a government-expanding value-added tax.
Brian Garst of the Center for Freedom and Prosperity has just authored a new study on the DBCFT. Here's his summary description of the tax.
The DBCFT would be a new type of corporate income tax that disallows any deductions for imports while also exempting export-related revenue from taxation. This mercantilist system is based on the same "destination" principle as European value-added taxes, which means that it is explicitly designed to preclude tax competition.
Since CF&P was created to protect and promote tax competition, you won't be surprised to learn that the DBCFT's anti-tax competition structure is a primary objection to this new tax.
First, the DBCFT is likely to grow government in the long-run due to its weakening of international tax competition and the loss of its disciplinary impact on political behavior. … Tax competition works because assets are mobile. This provides pressure on politicians to keep rates from climbing too high. When the tax base shifts heavily toward immobile economic activity, such competition is dramatically weakened. This is cited as a benefit of the tax by those seeking higher and more progressive rates. …Alan Auerbach, touts that the DBCFT "alleviates the pressure to reduce the corporate tax rate," and that it would "alter fundamentally the terms of international tax competition." This raises the obvious question—would those businesses and economists that favor the DBCFT at a 20% rate be so supportive at a higher rate?
Brian also shares my concern that the plan may morph into a VAT if the WTO ultimately decides that is violates trade rules.
Second, the DBCFT almost certainly violates World Trade Organization commitments. …Unfortunately, it is quite possible that lawmakers will try to "fix" the tax by making it into an actual value-added tax rather than something that is merely based on the same anti-tax competition principles as European-style VATs. …the close similarity of the VAT and the DBCFT is worrisome… Before VATs were widely adopted, European nations featured similar levels of government spending as the United States… Feeding at least in part off the easy revenue generate by their VATs, European nations grew much more drastically over the last half century than the United States and now feature higher burdens of government spending. The lack of a VAT-like revenue engine in the U.S. constrained efforts to put the United States on a similar trajectory as European nations.
And if you're wondering why a VAT would be a bad idea, here's a chart from Brian's paper showing how the burden of government spending in Europe increased once that tax was imposed.
In the new report, Brian elaborates on the downsides of a VAT.
If the DBCFT turns into a subtraction-method VAT, its costs would be further hidden from taxpayers. Workers would not easily understand that their employers were paying a big VAT withholding tax (in addition to withholding for income tax). This makes it easier for politicians to raise rates in the future. …Keep in mind that European nations have corporate income tax systems in addition to their onerous VAT regimes.
And he points out that those who support the DBCFT for protectionist reasons will be disappointed at the final outcome.
…if other nations were to follow suit and adopt a destination-based system as proponents suggest, it will mean more taxes on U.S. exports. Due to the resulting decline in competitive downward pressure on tax rates, the long-run result would be higher tax burdens across the board and a worse global economic environment.
Brian concludes with some advice for Republicans.
Lawmakers should always consider what is likely to happen once the other side eventually returns to power, especially when they embark upon politically risky endeavors… In this case, left-leaning politicians would see the DBCFT not as something to be undone, but as a jumping off point for new and higher taxes. A highly probable outcome is that the United States' corporate tax environment becomes more like that of Europe, consisting of both consumption and income taxes. The long-run consequences will thus be the opposite of what today's lawmakers hope to achieve. Instead of a less destructive tax code, the eventual result could be bigger government, higher taxes, and slower economic growth.
Amen.
My concern with the DBCFT is partly based on theoretical objections, but what really motivates me is that I don't want to accidentally or inadvertently help statists expand the size and scope of government. And that will happen if we undermine tax competition and/or set in motion events that could lead to a value-added tax.
Let's close with three hopefully helpful observations.
Helpful Reminder #1: Congressional supporters want a destination-based system as a "pay for" to help finance pro-growth tax reforms, but they should keep in mind that leftists want a destination-based system for bad reasons.
Based on dozens of conversations, I think it's fair to say that the supporters of the Better Way plan don't have strong feelings for destination-based taxation as an economic principle. Instead, they simply chose that approach because it is projected to generate $1.2 trillion of revenue and they want to use that money to "pay for" the good tax cuts in the overall plan.
That's a legitimate choice. But they also should keep in mind why other people prefer that approach. Folks on the left want a destination-based tax system because they don't like tax competition. They understand that tax competition restrains the ability of governments to over-tax and over-spend. Governments in Europe chose destination-based value-added taxes to prevent consumers from being able to buy goods and services where VAT rates are lower. In other words, to neuter tax competition. Some state governments with high sales taxes in the United States are pushing a destination-based system for sales taxes because they want to hinder consumers from buying goods and services from states with low (or no) sales taxes. Again, their goal is to cripple tax competition.
Something else to keep in mind is that leftist supporters of the DBCFT also presumably see the plan as being a big step toward achieving a value-added tax, which they support as the most effective way of enabling bigger government in the United States.
Helpful Reminder #2: Choosing the right tax base (i.e., taxing income only one time, otherwise known as a consumption-base system) does not require choosing a destination-based approach.
The proponents of the Better Way plan want a "consumption-base" tax. This is a worthy goal. After all, that principle means a system where economic activity is taxed only one time. But that choice is completely independent of the decision whether the tax system should be "origin-based" or "destination-based."
The gold standard of tax reform has always been the Hall-Rabushka flat tax, which is a consumption-base tax because there is no double taxation of income that is saved and invested. It also is an "origin-based" tax because economic activity is taxed (only one time!) where income is earned rather than where income is consumed.
The bottom line is that you can have the right tax base with either an origin-based system or a destination-based system.
Helpful Reminder #3: The good reforms of the Better Way plan can be achieved without the downside risks of a destination-based tax system.
The Tax Foundation, even in rare instances when I disagree with its conclusions, always does very good work. And they are the go-to place for estimates of how policy changes will affect tax receipts and the economy. Here is a chart with their estimates of the revenue impact of various changes to business taxation in the Better Way plan. As you can see, the switch to a destination-based system ("border adjustment") pulls in about $1.2 trillion over 10 years. And you can also see all the good reforms (expensing, rate reduction, etc) that are being financed with the various "pay fors" in the plan.
I am constantly asked how the numbers can work if "border adjustment" is removed from the plan. That's a very fair question.
But there are lots of potential answers, including:
Make a virtue out of necessity by reducing government revenue by $1.2 trillion.
Reduce the growth of government spending to generate offsetting savings.
Find other "pay fors" in the tax code (my first choice would be the healthcare exclusion).
Reduce the size of the tax cuts in the Better Way plan by $1.2 trillion.
I'm not pretending that any of these options are politically easy. If they were, the drafters of the Better Way plan probably would have picked them already. But I am suggesting that any of those options would be better than adopting a destination-based system for business taxation.
Ultimately, the debate over the DBCFT is about how different people assess political risks. House Republicans advocating the plan want good things, and they obviously think the downside risks in the future are outweighed by the ability to finance a larger level of good tax reforms today. Skeptics appreciate that those proponents want good policy, but we worry about the long-run consequences of changes that may (especially when the left sooner or late regains control) enable bigger government.
P.S. This is not the first time that advocates of good policy have bickered with each other. During the 2016 nomination battle, Rand Paul and Ted Cruz proposed tax reform plans that fixed many of the bad problems in the tax code. But they financed some of those changes by including value-added taxes in their plans. In the short run, either plan would have been much better than the current system. But I was critical because I worried that the inclusion of VATs would eventually give statists a tool to further increase the burden of government.
https://www.cato.org/blog/concerns-about-theborder-adjustable-tax-plan-house-gop-part-ii
THE CORNER THE ONE AND ONLY. Speaker Ryan's Use of Reporters' Recorders to Explain His Border Tax Was Cute — But Misleading
Faced with growing opposition to their border-adjustment tax, congressional Republicans are nonetheless on the offensive trying to sell it. I have expressed my many reasons for opposing the tax, including my disbelief that Republicans would support a massive tax increase alongside what is otherwise a pro-growth tax reform. While they oppose tax increases to pay for spending increases in other contexts and usually make the case that spending increases should be paid for by spending cuts, Republicans continue to push for this massive new source of revenue, in spite of the distortions it would introduce.
Until now, supporters of the tax have used many questionable arguments. For instance, they claim we shouldn't worry about the protectionist aspect of a tax that imposes a 20 percent rate to imports but exempts exports under the hope that the U.S. dollar will adjust fully and quickly. However, there are reasons to believe that while the U.S. currency will adjust, it won't adjust fully (Federal Reserve Board chairwoman Janet Yellen is only the latest one to stress that point), it won't adjust as quickly as they claim (especially if the tax is challenged under the World Trade Organization as the Europeans have warned is going to be the case), and it won't result in unicorns and rainbows.
But the latest misguided statements about the border-adjustment tax comes from House speaker Paul Ryan — who ought to know better. During a press conference last week, he repeated the claim that United States was at a disadvantage because other countries' exports are exempted from taxes while U.S. goods aren't. [Ryan] noted that most other countries already border-adjust their taxes and tax goods based on whether they were consumed in their jurisdiction.
That comment is bound to confuse reporters because, as Mr. Ryan must know, no other country border-adjusts their corporate income tax. They border-adjust their Value Added Tax. Conflating the two is misleading, to say the least.
Ryan continued:
The Speaker picked up two reporters' recorders to give an example of how goods are taxed currently. He suggested one was American-made and the other was Japanese-made. Early on, he dropped one of the recorders, saying "oops" and receiving laughter from the reporters. "Here's what Japan does when they make this tape recorder: When they send it for export they take the tax off of it, and then it comes to America and it's not taxed, and it comes through to compete against our good, which was taxed. Theirs was untaxed twice," Ryan said. "When America makes something, like a tape recorder, we tax it, and then we send it to Japan. As it enters Japan it's taxed again, to compete against their tape recorder," he continued. "So we are doing it to ourselves. We are hurting our manufacturing and jobs. We are putting a bias against making things in America in the tax code. . . . That is why we think this is very important. This is good manufacturing policy."
Oh boy, where do I begin? First, it is true that U.S. companies are at a disadvantage but it is not because of other countries' tax codes. It is because our corporate-income-tax system has the highest rate of all OECD countries and because, unlike most of our competitors, it taxes U.S. companies' profits no matter where they are earned in the world. The solution to this disadvantage is to reduce the rates and move to a territorial system. Oh, and by the way, unlike what Ryan and other proponents of a border-adjustment tax would like you to believe, you do not need to move to an expansive destination-based-cash-flow tax to have a territorial tax.
Now let me address the cute tape-recorder example used by the speaker. It is totally misleading because it conflates foreign countries corporate tax and VAT taxes and it paints a picture that is incorrect. For instance, he claims that Japanese exports are exempt from taxes. No, Japanese products exported to the U.S. are exempt from the Japanese VAT but the Japanese company is still paying U.S. corporate tax on its U.S. profits. And you know what? In that sense, the Japanese export is treated exactly like the U.S. goods sold in the U.S. In other words, the playing field is even! I repeat: Japanese goods in the U.S. are taxed like U.S. goods in the U.S.
How about U.S. exports in Japan? Well, it gets hit by the Japanese VAT in Japan and by the Japanese corporate tax but so are Japanese goods sold in Japan. Again, the only disadvantage faced by U.S. companies selling tape recorders abroad comes from the U.S. tax system, which requires that income earned in Japan be taxed by Uncle Sam at 35 percent after benefiting from a tax credit for tax paid in Japan. If the U.S. company decides to keep its Japanese income outside the U.S., the U.S. rate won't apply.
Dan Mitchell explains why the VAT doesn't change the terms of trade in this video.
Finally, economists have debunked the idea implied by the speaker that foreign VATs give an advantage to foreign exports — and therefor boost foreign exports. It is simply not true. It follows that imposing a border-adjustment tax in the U.S. will not boost U.S. exports either. Period.
Let me summarize this for you:
No, other countries do not border-adjust their corporate income tax.
Comparing other countries' VATs and our corporate tax is problematic to say the least.
No, foreign exports sold in the U.S. do not have an advantage over U.S. goods sold in the U.S. Foreign VATs do not boost foreign exports.
A border tax in the U.S. will not boost our exports but it will hurt consumers and many U.S. retailers.
The disadvantage faced by U.S. companies exporting goods abroad comes from the terrible worldwide tax and high rates of the U.S. tax regime, not from other countries' tax system.
The way to fix the U.S. disadvantage is not to create a new expansive tax that would penalize imports in the U.S. — including imports for the benefit of U.S. domestic companies — and would penalize U.S. consumers.
The solution is to reform our corporate-tax rate by lowering the rate and moving to an origin-based territorial-tax regime. http://www.nationalreview.com/corner/445034/paul-ryan-border-adjustment-tax-mistake
Who's Afraid of a Big BAT Tax?
The Border Adjustment Tax, a proposal favored by House Speaker Paul Ryan, has aroused serious opposition from Republican senators.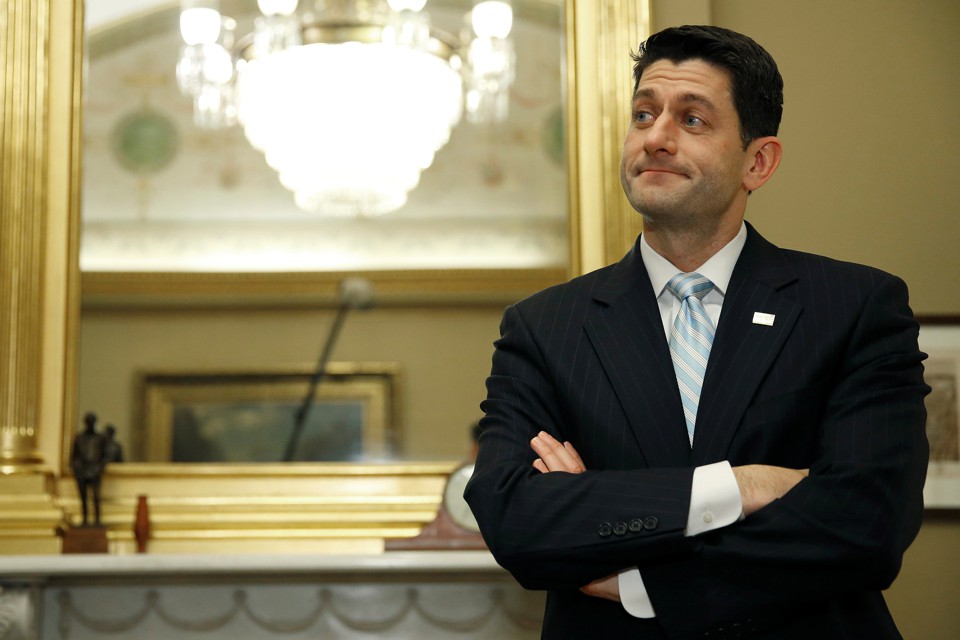 MICHELLE COTTLE
FEB 21, 2017
Donald Trump is feeling good about taxes. In his gonzo press conference last Thursday, he assured Americans that "very historic tax reform" is absolutely on track and is going to be—wait for it!—"big league." The week before, he told a bunch of airline CEOs that "big league" reform was "way head of schedule" and that his people would be announcing something "phenomenal" in "two or three weeks." And at his Orlando pep rally this past weekend, he gushed about his idea for a punitive 35 percent border tax on products manufactured overseas. The magic is happening, people. And soon America's tax code will be the best, most beautiful in the world.
But here's the thing. What Trump doesn't know about the legislative process could overflow the pool at Mar-a Lago. And when it comes to tax reform, even minor changes make Congress lose its mind. Weird fault lines appear, and the next thing you know, warring factions have painted their faces blue and vowed to die on the blood-soaked battlefield before allowing this marginal rate to change or that loophole to close.
Such drama has, in fact, already begun over the proposal percolating in the House. At issue: a provision known as the border adjustment tax—let's call it BAT—which, shrunk to its essence, incentivizes domestic manufacturing by slapping a 20 percent levy on imports, while making U.S. companies' export-revenues tax deductible.
BAT fans—most notably House Speaker Paul Ryan and Ways and Means Chairman Kevin Brady—pitch the provision as an economically elegant twofer: an America-First measure that discourages companies from moving operations overseas while creating a revenue stream ($1 trillion every decade or so) that allows the overall corporate tax rate to be slashed.
Opponents—most vocally Senators David Perdue and Tom Cotton—argue that a BAT is another grubby government cash grab that will ultimately hurt consumers when, say, Walmart has to jack up the prices of underwear, bananas, and Playstations. In a February 8 letter to colleagues, Perdue, who spent four decades in the business world, charged that the BAT is "regressive, hammers consumers, and shuts down economic growth."Thus the battle lines are drawn. And, make no mistake, this will not be some bush-league, penny-ante skirmish. Behind the legislative factions are amassing some of the heaviest hitters in corporate America, ready to spend millions to sway debate on behalf of their team.Roughly speaking, companies that do a lot of exporting dig the BAT (think: Boeing, Merck, and Dow Chemical) while import-dependent retailers (including Target, Nike, and, yes, Walmart) fear it will destroy their bottom lines. The oil industry isn't feeling much BAT love either. The Koch brothers want it dead, like, yesterday.At this point, anti-BATers have an edge. Why? Partly, because the provision is super complicated and almost impossible to explain in terms that don't sound like something a coven of economists vomited up. Ask BAT fans why the provision won't, in fact, hurt retailers or consumers, and you're instantly hip-deep in talk of currency revaluation, purchasing power, and territorial taxation. Last Wednesday, one day after Paul Ryan tried to educate Senate Republicans on the wonders of BAT at their weekly policy lunch, Tom Cotton (who represents Walmart's home state of Arkansas) snarked on the Senate floor, "Some ideas are so stupid only an intellectual could believe them."
This is in no way to suggest that the pro-BAT arguments are wrong. They simply don't push the same buttons as anti-BAT warnings that Congress is poised to screw consumers in order to fund big tax cuts for corporations.For the past few weeks, in fact, an anti-BAT coalition called Americans for Affordable Products has been busy hawking this exact message. "This is a consumer tax—a means by which House Republicans are paying for other tax deductions," asserted AAP member Brian Dodge. "It's not about America First. It's not a trade-deficit reduction tool. It is a pay-for."AAP is lobbying lawmakers and staffers and doing public outreach. Last Wednesday, it dispatched eight CEOs to chat with Trump and Vice President Pence. "We view our job as leading a large education campaign," said Dodge. "We believe the more that lawmakers understand about this proposal, the less inclined they'll be to support it."Of course, BAT fans are gearing up as well and promise to be equally aggressive. The day after the AAP roll out, the American Made Coalition launched, with an eye toward helping Ryan's office spread the good word. "It takes time to educate both policy makers and businesses on what's on the table," said Brian Reardon, an adviser to the group.There is no place for subtlety in this war. Part of BAT supporters' argument is that, without the provision, tax overhaul will implode altogether. Message: Get on board or kiss your once-in-a-lifetime reform opportunity good-bye.It's a question of Senate math. To pass with a simple majority (and avoid a filibuster by Democrats), the GOP's plan must go through under the procedure known as reconciliation. But to qualify for reconciliation, the package–which slashes both corporate and upper-bracket taxes–cannot blow a hole in the long-term budget. Without the $1 trillion in revenues from BAT, say advocates, there's no way that hole can be plugged."This is the only way at these rates and keeping things revenue neutral," insisted a senior Republican aide. There is no other viable option. Period. End of story.But anti-BATers are eyeing a different Senate equation. To amass even a simple majority of votes, the BAT can lose only two of the 52 Republican members. (Unless Democrats cross the aisle, of course.) In addition to Cotton's and Perdue's open hostility, Senators John Boozman, Mike Rounds, John Cornyn, Tim Scott, and Mike Lee have all expressed reservations. "I have real concerns that this piece of the House blueprint will cause more disruption than necessary," Lee said. "Will the dollar suddenly shoot up by 20 percent? Will U.S. manufacturers have to redo their international supply chains? These are all open questions."