Posted on August 24, 2018. Filed under: Banking System, Blogroll, Books, Breaking News, British Pound, Budgetary Policy, Cartoons, China, Communications, Congress, Corruption, Countries, Crime, Culture, Currencies, Donald J. Trump, Donald Trump, Economics, Education, Empires, Employment, Energy, Euro, European Union, Fiscal Policy, Foreign Policy, House of Representatives, Labor Economics, Monetary Policy, Natural Gas, Nuclear, Oil, Public Corruption, Senate, Social Networking, Tax Fraud, Tax Policy, Trade Policy, Treason, U.S. Dollar, United States of America | Tags: 22 August 2018, America, American People, Articles, Audio, Breaking News, Broadcasting, Capitalism, Cartoons, Charity, Citizenship, Clarity, Classical Liberalism, Collectivism, Commentary, Commitment, Communicate, Communication, Communist China, Concise, Convincing, Courage, Culture, Current Affairs, Current Events, Economic Growth, Economic Policy, Economics, Education, Evil, Experience, Faith, Family, First, Fiscal Policy, Free Enterprise, Freedom, Freedom of Speech, Friends, Give It A Listen!, God, Good, Goodwill, Growth, Hope, Individualism, Knowledge, Liberty, Life, Longest Bull Market, Love, Lovers of Liberty, Michael Pillbury, Monetary Policy, MPEG3, News, Opinions, Peace, Photos, Podcasts, Political Philosophy, Politics, Prosperity, Radio, Raymond Thomas Pronk, Representative Republic, Republic, Resources, Respect, Rule of Law, Rule of Men, Show Notes, Talk Radio, Tax Policy, The Hundred-Year Marathon, The Pronk Pops Show, The Pronk Pops Show 1130, Third Strongest Stock Market, Truth, Tyranny, U.S. Constitution, United States of America, Videos, Virtue, War, Wisdom |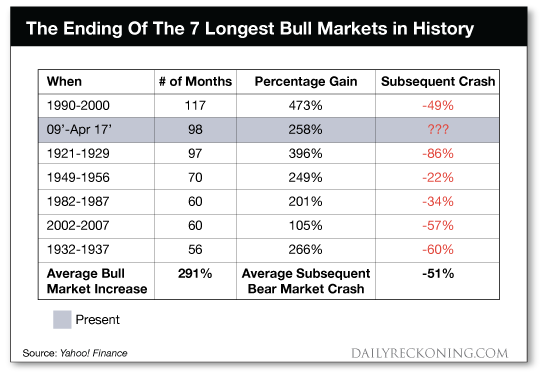 Story 1: Stock Market Hits New All Time Record For Longest Bull Market and Third Strongest — Videos
Current bull market sets record for longest ever
Historic Bull Market: Recapping Ups And Downs Of The Last 10 Years | CNBC
Major averages end mixed as bull market becomes longest in history
Stock market on the verge of breaking the record for longest bull market in history
Record number of 401(K) millionaires
Record bull run signals it's time to sell, says Yale economist Shiller
It's official: We're in the longest bull market ever
At the close of trading in New York today, the stock market will make an impressive milestone. It will set the record for the longest bull market in history.
A bull market generally begins when the market rises 20% from the low set at the end of a bear market, which itself is measured by a 20% fall from a previous peak. (There are other ways to measure all this, and other records that can be argued over.) The last low set by the benchmark S&P 500 index was on March 9, 2009. It's been 3,453 days of fairly steady growth since then, with the S&P 500 climbing by more than 320% over that period. The previous record bull run was set between Oct. 1990 and March 2000.
This is another sign that the current economic recovery is getting long in the tooth. And though it's said recoveries don't die of old age, many people are convinced the end of the cycle is rapidly approaching. A long run of loose central bank policies following the financial crisis has helped stretch out this bull market, making stocks more attractive than low-yielding bonds and giving companies leeway to borrow freely. Recently, corporate tax cuts have added another boost to corporate balance sheets.
The single biggest contributor to the current bull run has been Apple, which recently hit its own milestone of becoming the first US public company valued at more than $1 trillion. Meanwhile, the company whose share price gained the most during this bull market has been Abiomed, which makes medical implant devices. Its stock has climbed a heady 6,900% since March 2009.
This bull run has struggled to survive at times. In August 2015, global stocks suffered a rout that threatened to end the bull market. A selloff that started in Chinese stocks ultimately wiped off more than $5 trillion in global stock value in just a few days. In February of this year, the S&P 500 dropped by more than 10% and stocks had their most volatile quarter since 2011.
Given these setbacks, this bull run hasn't been the strongest in history, even if it is now the longest. It has recorded the third-largest total return of bull markets going back to the 1930s, according to data from S&P Dow Jones Indices. On an annualized basis, the returns have been particularly weak, at only 16.5% per year, making it 10th out of 13 bull markets. By comparison, the 1990-2000 market produced an annualized return of 19%. The strongest on that measure ran from June 1932 to March 1937, which returned just under 36% on an annual basis.
What does today's record-setting milestone mean to most people? Probably not a lot. Research published earlier this year by an economist at New York University found that more than 80% of all stocks owned by Americans are held by the wealthiest 10% of households. Almost half of US households have absolutely nothing invested in stocks, not even through their retirement savings.
https://qz.com/1364993/its-official-were-in-the-longest-bull-market-ever/
Story 2: American People and Investors Ignore News About President — No Evidence of Trump Russian Collusion — Just The Fundamentals Please — It Is The Economy Stupid — Videos
Market has ability to ignore news around president, says pro
Story 3: President Trump Critical of Fed's Monetary Policy — Fiscal Policy Is The Real Problem Mr. President — No Balanced Budgets and Rising Deficits, National Debt and Unfunded Liabilities and Obligation Exceeding $200 Trillion — Videos —
Trump lays into the Federal Reserve for raising rates
Trump: I disagree with the Fed raising interest rates
Trump isn't 'thrilled' with Fed Chairman Jerome Powell for raising rates: report
Trump Is Said to Complain Powell Has Not Been Cheap-Money Fed Chair
David Stockman Blame the Fed. for USA Trade Deficit
[youtube3=https://www.youtube.com/watch?v=eYPCiNNOr8k]
Story 4: When will the nest recession happen? — 2019, 2020, 2021? Look For An Inverted Yield Curve — Videos
Ten Experts On When The Next Recession May Hit | CNBC
Corporate debt could cause the next recession: Expert
The Rapid Growth of Global Corporate Debt
PETER SCHIFF In Next Recession Investors Are Going To Real Suffer
Latest Warning!! Global Markets a panic – Bubble in a panic – Marc Faber
U.S. Acting Like a Bully With China, Says Cumberland's Kotok
Is War With China Inevitable?
What China Thinks Of Trump – Tucker Carlson
China accuses the US of having a "mobster" mentality
China thinks it's ahead of schedule in replacing US as top economy: Michael Pillsbury
Does China have a secret plan to take America's place?
Has China been duping the US for nearly half a century?
Bannon: We're at an economic war with China | In The News
Trump unplugging Chinese banks will end China's economy: Gordon Chang
 wouldn't gamble on China folding in the trade war anytime soon, says pro
We need to narrow our list of China trade demands: Expert
US-China trade talks resume, amid third day of hearings on tariffs
China Vows Again Not to 'Weaponize' the Yuan
How China Wins the Trade War? | Jim Rogers
[youtubbe=https://www.youtube.com/watch?v=0GR7Fes1KJ4]
Trade Wars: Who can stand the pain longest, China or the United States?
Nile Gardiner: China's Goal Is "To Challenge the United States As A Global Superpower"
Book Review: The Hundred-Year Marathon
Michael Pillsbury
From Wikipedia, the free encyclopedia
Jump to navigationJump to search
Michael Pillsbury (Chinese: 白邦瑞; pinyin: Bái Bāngruì; born February 8, 1945) is the Director of the Center on Chinese Strategy, Hudson Institute, 1201 Pennsylvania Ave, Washington DC, 2014–present. He is the author of three books on China, the most recent one is an international bestseller, The Hundred-Year Marathon, also published in Korean, Japanese, Taiwan-Chinese and a PRC-Chinese edition published by Chinese National Defense University, and published in Hindi and Mongolian. The Hundred-Year Marathon was selected "one of the 10 best books of the year" by the Christian Science Monitor; selected by the Commander, US Special Operations Command for Commanders Reading List, 2017. The book was number one on the Washington Post best seller list on February 15, 2015.
Career
During the Reagan administration, Pillsbury was the Assistant Under Secretary of Defense for Policy Planning and responsible for implementation of the program of covert aid known as the Reagan Doctrine. In 1975–76, while an analyst at the RAND Corporation, Pillsbury published articles in Foreign Policy and International Security recommending that the United States establish intelligence and military ties with China. The proposal, publicly commended by Ronald Reagan, Henry Kissinger, and James Schlesinger, later became US policy during the Carter and Reagan administrations.
Pillsbury served on the staff of four US Senate Committees from 1978–1984 and 1986–1991. As a staff member, Pillsbury drafted the Senate Labor Committee version of the legislation that enacted the US Institute of Peace in 1984.[1] He also assisted in drafting the legislation to create the National Endowment for Democracy and the annual requirement for a DOD report on Chinese military power.
In 1992, under President George H. W. Bush, Pillsbury was Special Assistant for Asian Affairs in the Office of the Secretary of Defense, reporting to Andrew W. Marshall, Director of Net Assessment. Pillsbury is a member of the Council on Foreign Relations and the International Institute for Strategic Studies.
In 2015, a former CIA Director revealed that a book called The Hundred-Year Marathon "is based on work Michael Pillsbury did that landed him the CIA Director's Exceptional Performance Award." The official website, www.100yearmarathon.com, has declassified documents and photos that illustrate the book.
Pillsbury played a role in three Presidential actions:
US–China military and intelligence ties
Pillsbury participated in President Jimmy Carter's decision in 1979–80, as modified by President Reagan in 1981, to initiate military and intelligence ties with China.[2][3]
According to Raymond L. Garthoff, "Michael Pillsbury first floated the idea of arms sales and broad range of American military security relationships with China in a much-discussed article in Foreign Policy in the fall of 1975. Not known then was that Pillsbury had been conducting secret talks with Chinese officials … his reports were circulated to a dozen or so top officials of the NSC, Department of Defense and Department of State as secret documents."[4]:696 According to the book US–China Cold War Collaboration, 1971–1989, "The man spearheading the effort was not a public official, and enjoyed deniability. Michael Pillsbury, a China analyst at the RAND Corporation… spent the summer of 1973 secretly meeting PLA officers stationed under diplomatic cover at China's UN mission… The DoD managed Pillsbury. Pillsbury filed a report, L-32, in March 1974… L-32 was a seminal paper on which subsequent US-PRC military cooperation blossomed."[5]:81 James Mann wrote, "Outward appearances indicate that Pillsbury may have been working with American intelligence agencies from the very start of his relationship with General Zhang… In the fall of 1973, Pillsbury submitted a classified memo suggesting the novel idea tha the United States might establish a military relationship with China… This was the genesis of the ideas of a 'China card,' the notion that the United States might use China to gain Cold War advantage over the Soviet Union. The idea would eventually come to dominate American thinking about the new relationship with China."[2]:58–59
Stingers for Afghanistan decision
Pillsbury participated in President Reagan's decision in 1986 to order the CIA to arm the Afghan resistance with Stinger missiles. According to the UN Undersecretary General who negotiated the Soviet withdrawal from Afghanistan, "Initially, the Stinger campaign was spearheaded by Undersecretary of Defense for Policy Fred Ikle and his aggressive Coordinator for Afghan Affairs, Michael Pillsbury… The Stinger proponents won their victory in the face of overwhelming bureaucratic resistance that persisted until the very end of the struggle."[6]:195 Mann wrote, "For Michael Pillsbury, the covert operations in Afghanistan represented the fulfillment of the decade-old dream of American military cooperation with China… To help him win the argument, Pillsbury made use of his China connections."[2]:137–139 George Crile stated in Charlie Wilson's War that, "Ironically, neither [Gust] Avrakotos nor [Charlie] Wilson was directly involved in the decision and claims any credit."[7]:419[8][9][10][11][12][13]
Harvard University's JFK School of Government published what it called the first case study of how covert action policy is made and describes the role of Michael Pillsbury.[12]:24 According to Charlie Wilson's War, "The moving force in this group was an engaging, well-born conservative intellectual named Mike Pillsbury, then serving as the Pentagon's deputy undersecretary in charge of overseeing covert programs. Pillsbury, a former Senate staffer and China expert, had been an early believer in the program…"[7]:415–416 According to Philip Heymann in his 2008 book Living the Policy Process, "A policy player such as Michael Pillsbury may have absorbed many of the critical rules of the game of shared policy choice without even thinking of them as rules."[8]
Heymann wrote that "providing Stinger missiles was obviously of such importance or political prominence that the President would want to decide. This decision is obviously of that character for several reasons. If approved, we may be furnishing a terrifying weapon to a present or future enemy. There is a small chance that we will encourage dangerous forms of retaliation by the Soviet Union. Even the shift from a "plausibly deniable" covert action to the open support of a guerrilla force fighting the Soviet Union would raise issues in Congress that the President would want to consider in light of his staff's advice."[8]
Pillsbury worked through the secret Planning and Coordination Group. Heymann wrote, "This committee was secret, and public details about it are sketchy… The covert action committee met every three to four weeks. Its existence was not officially acknowledged, although such a committee had operated in every administration since Eisenhower. In the Kennedy administration, for example, it was known as the Forty Committee. Any information on covert actions was protected under a compartmentalized security system given the name VEIL."[8]
According to Steve Coll, in 1985–1986 Osama Bin Laden also wanted US weapons including the Stinger missiles. Coll wrote, "Michael Pillsbury flies to the Afghan frontier to review training facilities used by two Afghan warlords, Gulbuddin Hekmatyar and Abdul Rasul Sayyaf… Bin Laden family head Salem bin Laden asks the Pentagon to supply anti-aircraft missiles to Arab volunteers fighting in the Soviet-Afghan War. The request is made on behalf of Salem's brother Osama [Bin Laden], who is establishing a semi-autonomous group of Arab volunteers outside the direct control of local Afghan commanders and will set up a camp just for Arabs later this year… Later research will indicate that there is no formal decision by the Reagan administration not to supply the missiles or other equipment to the Arab volunteers. Pentagon official Michael Pillsbury will later say he was not aware of any such decision, but if such a decision had been taken, he would have been aware of it."[10]:287
Studies of China and the Pentagon's annual report
In 1997–2007, Pillsbury published research reports and two books on China's view of future warfare. According to the Wall Street Journal in 2005, Pillsbury's findings were added to the reports the Secretary of Defense sent to Congress on Chinese military power in 2002–2005.[14][15] In 2003, Pillsbury signed a nonpartisan report of the Council on Foreign Relations task force on Chinese military power. The task force found that China is pursuing a deliberate course of military modernization, but is at least two decades behind the United States in terms of military technology and capability. The task force report stated it was a "nonpartisan approach to measuring the development of Chinese military power."[16] He has discussed the threat the people's republic of China poses to the United States of America with Tucker Carlson.[17]
Criticism
Pillsbury's scholarship has been questioned by Washington Monthly assistant editor Soyoung Ho, in his article "Panda Slugger, the dubious scholarship of Michael Pillsbury, the China hawk with Rumsfeld's ear", published in the July/August issue in 2006.[18]
VOA commentator
Since May 2014, Pillsbury has been a frequent guest on Voice of America Chinese providing opinions and participating in discussion in Mandarin Chinese typically on defense-related issues.
Government positions
Consultant at US Department of Defense 2004–present
Senior Research Advisor at US-China Economic and Security Review Commission 2003–2004
Policy Advisory Group at United States Department of Defense 2001–2003
Visiting Research Fellow at National Defense University, 1997–2000
Special Government Employee at US Department of Defense (Defense Science Board) 1998–2000
Research Consultant at US Agency for International Development 1991–1995
Special Assistant to Director of Net Assessment US Department of Defense 1992–1993
Congressional Afghan Task Force Senate Staff Coordinator at US Senate 1986–1990
Assistant Under Secretary for Policy Planning at US Department of Defense 1984–1986
Professional Staff at US Senate 1978–1981
Acting Director, Arms Control and Disarmament Agency at US Department of State 1981
Affiliations
Member of the Cosmos Club
Member of the Board of Directors, Freedom House, Washington, DC, 2016–present
Member, Christ Church, Georgetown, Confirmed by Bishop Gene Robinson in the Washington National Cathedral May 2017
Member of the Advisory Council, Woodrow Wilson Center for Scholars, Washington DC
National Geographic Society, Member of Council of Advisors and Founding Co-chairman of the Explorers Society, 2012-2014
Member of the Oldest Hereditary Organization in America the Society of the Cincinnati based on descent from a Regular Officer in George Washington's Continental Army
Chairman of the Task Force on Preservation of Revolutionary War Battlefields of the Society of the Cincinnati, 2017
Member of the National Society of the Sons of the American Revolution
Member of the National Society of Sons and Daughters of the Pilgrims as a Twelfth Generation Hereditary Descendant of William H Pillsbury who arrived in the Massachusetts Bay Colony in 1640 from England
Member of English Heritage Society, London UK and Donor for the Preservation of Pillsbury Castle, Peak District, Great Britain
Member, Republican Governors Association, Executive Roundtable, 2014–present
Member of Washington DC Republican GOP Advisory Council, 2012–present
Director of the Center on Chinese Strategy, Hudson Institute, 1201 Pennsylvania Ave, Washington DC, 2014–present
Author of number one National Bestseller, The Hundred- year Marathon, also published in Korean, Japanese, Taiwan-Chinese and PRC-Chinese edition published by Chinese National Defense University, and published in Hindi and Mongolian; selected as "one of the 10 best books of the year" by the Christian Science Monitor; selected by the Commander, US Special Operations Command for Commanders Reading List, 2017
Member of the Board of Directors, French American Cultural Foundation, 1430 New York Ave, Washington, DC, 2015–present
Member of the George Washington's Mount Vernon, Alexandria, VA, 2014–present
Published works
Books
Author of two books on China, available at National Defense University Press:
Reports and articles
US China Commission Congressional Reports
[
edit
]
House and Senate testimonies
Journal articles
RAND Corporation reports
Some of these are available online:[19]
References
Further reading
External links
The Pronk Pops Show Podcasts Portfolio
Read Full Post
|
Make a Comment
(
None so far
)