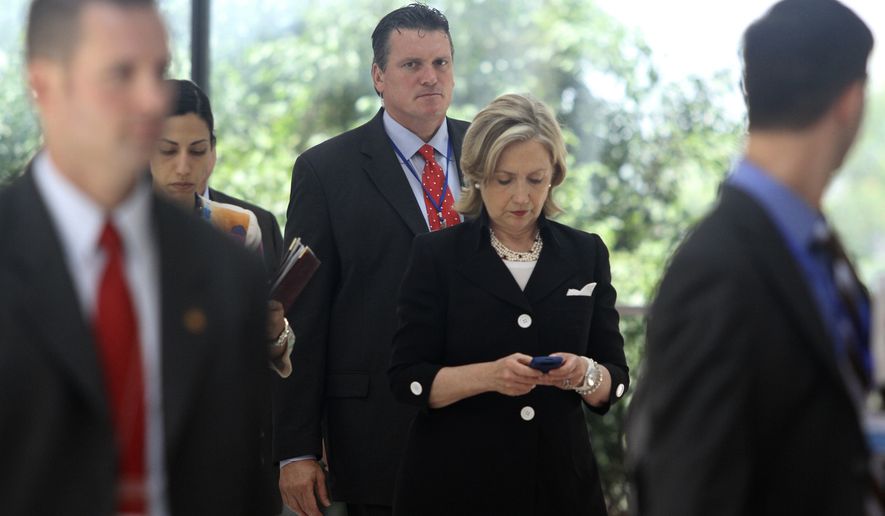 Secretary of State Hillary Rodham Clinton checks her phone after attending a U.S.-Russia meeting in Hanoi, Vietnam on July 23, 2010. The revelation that Mrs. Clinton used an off-the-books email account during her time as secretary of state has raised … more >

– The Washington Times – Thursday, June 13, 2019

Hillary Clinton has endorsed the idea of obtaining political dirt from overseas, saying her campaign's Kremlin-sourced dossier was "part of what happens in a campaign."

President Trump is taking heat from Democrats for telling ABC News on Wednesday that he would listen to negative information from a foreign country about a political opponent in 2020.

That is basically the same position Mrs. Clinton took when she was interviewed on Nov. 1, 2017, on Comedy Central's "The Daily Show."

A week earlier, the nation learned that the Christopher Steele dossier, with its dozen conspiracy charges against Trump associates, was financed by the Clinton campaign and the Democratic National Committee.

The Robert Mueller report effectively destroyed the dossier. His 22-month investigation failed to establish a conspiracy between the Trump campaign and Russia to interfere in the election that Mrs. Clinton lost.
---
---
Mrs. Clinton was asked on the show about the dossier, whose sources are listed in the document as Kremlin intelligence and government leaders.
"It's part of what happens in a campaign where you get information that may or may not be useful and you try to make sure anything you put out in the public arena is accurate," she said. "So this thing didn't come out until after the election, and it's still being evaluated."
She provided this chronology: "When Trump got the nomination of the Republican Party, the people doing it came to my campaign lawyer and said, 'Would you like us to continue it?'" she said. "He said 'yes.' He is an experienced lawyer. He knows what the law is. He knows what opposition research is."
Work on the dossier didn't begin until June 2016 when Fusion GPS, Mrs. Clinton's opposition research firm, sought funds from her campaign, via her law firm, to pay Mr. Steele.
Mr. Steele's claims about Mr. Trump did surface before Election Day, though the dossier didn't.
Fusion arranged for Mr. Steele to brief a number of Washington reporters. Yahoo News published a story in September outlining Mr. Steele's assertions that a Trump volunteer, Carter Page, had discussed bribes with top associates of Russian President Vladimir Putin in exchange for removing U.S. sanctions.
The Clinton campaign quickly cited the story.
Jennifer Palmieri, the Clinton campaign's communications director, said on one broadcast, "Michael Isikoff had a piece yesterday about Carter Page, who is a foreign policy adviser of Trump's and that he had met with someone from the Kremlin that … according to Michael's reporting, U.S. intelligence officials believe is behind the hack."
The Mueller report cleared Mr. Page of collusion with Russia's interference in the U.S. election.
Also before the election, then-Senate Minority Leader Harry Reid, Nevada Democrat, wrote a letter to the FBI summarizing Mr. Steele's charges. The letter was leaked to The New York Times, which published a story.
Clinton operatives busily circulated the dossier before and after the election.
A Fusion GPS middleman took the dossier to the FBI on several occasions. Perkins Coie, Mrs. Clinton's law firm, also tried to present Mr. Steele's charges to the Justice Department.
The FBI put the dossier to extensive use. It cited Mr. Steele to judges to obtain a wiretap on Mr. Page for a year and briefed President Obama and President-elect Donald Trump.
FBI agents were briefed by Mr. Steele in July 2016 and again in October in Europe.
The FBI offered Mr. Steele $50,000 to continue investigating Mr. Trump, though it never confirmed the former British spy's allegations.
The Justice Department inspector general is investigating how the FBI used the dossier. In addition, Attorney General William Barr has tapped John Durham, the U.S. attorney for Connecticut, to investigate how the Obama Justice Department and FBI decided to target the Trump campaign.
Perkins Coie briefed the Clinton campaign on the dossier, according to testimony to the House Permanent Select Committee on Intelligence.
The communications director for Mr. Trump's 2020 reelection campaign took to Twitter to slam the media's "selective" memory.
"The selective outrage and short memory of the media are staggering. The DNC and Hillary Clinton's campaign actually PAID FOR the discredited, fake Steele Dossier, which was compiled by a foreign national and contained information from alleged Russian sources," Tim Murtaugh wrote.
— Tim Murtaugh (@TimMurtaugh) June 13, 2019
• Dave Boyer contributed to this report.
https://www.washingtontimes.com/news/2019/jun/13/hillary-clinton-donald-trump-endorsed-idea-politic/
The FBI Tragedy: Elites above the Law
The Justice Department's investigation of the investigators involved in the Trump-Russia probe will look at actions both by the U.S. government and by foreigners.
That's what the agency said Monday, telling Congress its review is "broad in scope and multifaceted" in a letter from Assistant Attorney General Stephen Boyd to House Judiciary Committee Chairman Jerry Nadler, D-N.Y.
The DOJ said the wide-ranging inquiry led by Attorney General William Barr, along with his right-hand man U.S. Attorney John Durham, would seek to "illuminate open questions regarding the activities of U.S. and foreign intelligence services as well as non-governmental organizations and individuals."
The letter made it clear that DOJ's review is not limited just to their specific agency, but would also scrutinize the intelligence community as a whole. The letter stated that the DOJ review team had already asked certain intelligence community agencies to preserve records, make witnesses available, and start putting together documents that the DOJ would need to carry out its inquiry.
And the DOJ made it clear that they weren't just looking to see if policies were violated — they'll be looking at whether any laws were broken, too.
In 2016, the DOJ and FBI launched an investigation into any links between the Russian government and the Trump campaign. Special counsel Robert Mueller took over the ongoing effort in May 2017 after FBI Director James Comey was fired, and Mueller's probe culminated in a 448-page report in April 2019. Mueller found that the Russians had interfered in the 2016 election through cyberattacks and social media disinformation campaigns, but did not establish that anyone associated with Trump criminally colluded with Russia. Mueller left the door open on obstruction of justice by Trump, but Barr and then-Deputy Attorney General Rod Rosenstein determined that he had not.
Barr believes "there remain open questions relating to the origins of this counter-intelligence investigation and the U.S. and foreign intelligence activities that took place prior to and during that investigation," the letter states, and the DOJ review will look at "the efficacy and propriety" of the steps that the DOJ, the FBI, the broader U.S. intelligence community, and foreign governments and actors took before and during the course of the probe — and to answer those questions "to the satisfaction of the Attorney General."
The letter said Barr is coordinating with members of the U.S. intelligence community and "certain foreign actors" on the "collaborative" and "ongoing effort."
Trump recently gave Barr "full and complete authority to declassify information" during his review, a move that has been harshly criticized by many Democrats. Nadler called the move part of a "plot to dirty up the intelligence community, to pretend that there's something wrong with the beginning of the Mueller investigation and to persecute and bring into line the intelligence agencies." And former FBI General Counsel Jim Baker called the move a "slap in the face" to Director of National Intelligence Dan Coats.
Apparently to push back against such concerns, DOJ said Monday it would work hard to make sure that U.S. intelligence agents as well as foreign partners were protected during the probe, along with sensitive methods, techniques, and materials that could compromise national security.
This broad probe by DOJ is separate from the investigation by DOJ Inspector General Michael Horowitz into alleged Foreign Intelligence Surveillance Act abuse by the Justice Department and the FBI. That inquiry includes a focus on the FBI's handling of the unverified dossier compiled by British ex-spy Christopher Steele and its extensive use in the FBI's FISA applications and renewals to surveil former Trump campaign adviser Carter Page.
Barr has previously said, however, that Horowitz's "ability to get information from former officials or from other agencies outside the Department [of Justice] is very limited." Thus, Barr picked Durham to carry out a beefed-up inquiry.
Durham will continue serving as Connecticut's U.S. attorney, the DOJ said, but his review is already "being conducted primarily in the Washington D.C. area" and his DOJ team will operate out of "existing office space."
https://www.washingtonexaminer.com/news/doj-outlines-to-congress-its-investigation-of-the-investigators
Opposition research
Jump to navigationJump to search
In the politics of the United States, opposition research (also called oppo research) is the practice of collecting information on a political opponent or other adversary that can be used to discredit or otherwise weaken them. The information can include biographical, legal, criminal, medical, educational, or financial history or activities, as well as prior media coverage, or the voting record of a politician. Opposition research can also entail using "trackers" to follow an individual and record their activities or political speeches.[1]
The research is usually conducted in the time period between announcement of intent to run and the actual election; however political parties maintain long-term databases that can cover several decades. The practice is both a tactical maneuver and a cost-saving measure.[2] The term is frequently used to refer not just to the collection of information but also how it is utilized, as a component of negative campaigning.
Origins and history
In the 1st century BC, Cicero is said to have gathered information that was damaging to opponents and used it in attacks against them. He accused one political opponent, Catiline, of murdering one wife to make room for another. He attacked Mark Antony in speeches known as the Philippicae, eventually prompting Antony to chop off his head and right hand and display them at the Roman Forum.[3]
Opposition research also has its origins in military planning, as evident in such ancient texts as The Art of War, published in the 5th century BC by Sun Tzu. This manual for warriors describes the necessity for understanding an opponent's weaknesses, for using spies, and for striking in moments of weakness.
In 18th-century England, opposition research took the form of scandal-mongering pamphlet wars between the Whig and Tory parties. Writers such as Daniel Defoe, Jonathan Swift, and Henry Fielding participated, often writing under assumed names.[4] This tradition of robust attack was replicated later in the American colonies, when writers such as Thomas Paine and Benjamin Franklin conducted opposition research and published their results.
The first appearance of the phrase "opposition research" in the New York Times occurred on December 17, 1971, in an article that describes the infiltration of the Edmund Muskie presidential campaign by a female Republican volunteer: "…an article appeared in a Washington newspaper describing the 'opposition research' program at Republican headquarters…"[5]
Opposition research became systematized in the 1970s when Ken Khachigian, in the Nixon Administration, suggested that the GOP keep files on individuals as insurance against future races, rather than "scramble" in an ad hoc fashion race by race.[2]
Methods
Opposition research differs immensely depending on the size and funding of a campaign, the ethics of the candidate, and the era in which it is conducted. Information gathering can be classified into three main categories: open-source research enabled by the Freedom of Information Act, covert operations or "tradecraft, " and maintenance of human systems of informants. Increasingly, data-mining of electronic records is used. Information is then stored for future use, and disseminated in a variety of ways.[6] A local election sometimes has a staff member dedicated to reading through all of the opponents' public statements and their voting records; others initiate whisper campaigns that employ techniques of disinformation or "black ops" to deliberately mislead the public by advancing a pre-determined "narrative" that will present the opponent in a negative light.
Another technique is to infiltrate the opposition's operations and position a paid informant there. "Gray propaganda" techniques are often used to release damaging information to news media outlets without its source being identified properly, a technique inherited from disinformation tactics employed by intelligence agencies such as the Office of Strategic Services during World War II.[7]
File-sharing between operatives of political parties is quite common. In the 2008 presidential election, a dossier of opposition research against Republican Vice-Presidential nominee Sarah Palin was posted in its entirety on a political blog site, Politico.com. The file was compiled by the staff of her opponent in the 2006 Alaska gubernatorial race, Tony Knowles.[8]
"Oppo dumps" are used by political campaigns to systematically supply files of damaging information to press outlets, including matters of the public record, video footage from party archives and private collections, as well as private intelligence gathered by operatives. Many prime time television and radio news commentaries rely on this supply of party-generated material because it is free, and therefore more cost-effective than paying investigative reporters.[9][10]
Candidates and incumbents who benefit from opposition research often choose to remain uninformed about their campaign's operations and tactics, to ensure plausible deniability should criminal charges be brought against researchers.
"Trackers" and videography
Yet another technique is to position information or personnel within media outlets. Often the information is video footage gathered in campaign-funded "tracker programs" wherein videographers use candidates' itineraries to track them and record as many remarks as possible, since anything they say can and will be used against them, as was the case in former Senator George Allen's "macaca moment."[2] In the 2006 election cycle, a Virginia senator, George Allen, was unseated because of videotape of the senator calling a videographer/opposition researcher as "macaca" or monkey. The name was considered to be an ethnic slur, and Allen's campaign could not overcome the damage when the incident was broadcast widely in mainstream media and on the internet.[11]
Digital media and Wikipedia
A 2005 analysis of digital media strategies published by the American Academy of Political Science took the view that new technologies enable "political elites" to use database and Internet technologies to do opposition research more easily, but they use data-mining techniques that outrage privacy advocates and surreptitious technologies that few Internet users understand. Data becomes "richer" about political actors, policy options, and the diversity of actors and opinion in the public sphere, but citizenship is "thinner" by virtue of "the ease in which people can become politically expressive without being substantively engaged."[12]
Facebook photos became a tool of opposition researchers in California's 32nd congressional district special election, 2009 to replace Hilda Solis. Front-runner Democrat Gil Cedillo sent out mailers targeting 26-year-old Emanuel Pleitez, grouping Pleitez's Facebook photos to suggest that he parties to excess with alcohol, and fraternizes with gangs. The text of the mailer suggested Pleitez, posing with a Latino stage actress and using a Latino voter registration drive hand sign, was "flashing gang signs".[13]
In 2006, the campaign manager of Georgia Democratic gubernatorial candidate Cathy Cox, Morton Brilliant, resigned after Cox's opponent, Lt. Gov, Mark Taylor, revealed Cox's campaign had added information from an opposition research dossier to a Wikipedia page on Taylor. Wikipedia co-founder Jimmy Wales confirmed that the material had come from an IP address affiliated with the Cox campaign. Citing an Associated Press analysis, CNN reported that Wikipedia being used as a "popular tool" for opposition researchers became so widespread a problem that Wikipedia altered its submission guidelines and set up alerts so that its operators know when Capitol Hill staffers alter Wikipedia content.[14] However, anyone who wanted to could simply bypass this by using an IP address not associated with Capitol Hill.
Grassroots oppo-research
Opposition research is a necessary component of "grassroots" activist groups. Research on corporate or political opponents may enable activist groups to target neighborhoods from which to increase their numbers, to refine their focus or "target," to pinpoint the target's vulnerabilities, to reveal hidden sources of funding or little-known connections, to investigate scare tactics, and to augment a legislative initiative.[15]
In the presidential election of 2008, the blog Talking Points Memo pioneered "collaborative citizen-reporting projects" based on groups of volunteers examining public documents that shed light on the George W. Bush administration's U.S. attorneys firings controversy. Other organizations such as the Sunlight Foundation encouraged citizen examination of such public domain records as Mitt Romney's financial disclosure statements and Bill Clinton's income statements.[16]
Preventive measures
Political strategies for campaigns often include coaching on preventive measures to avoid providing too much information in public disclosure procedures that can provide ammunition for opponents' opposition researchers, particularly in itemized expenditure reports. "To eliminate some of these potential issues your campaign should take the time to review the wording of your campaign finance reports", advises one strategist writing for The Hill:
Instead of reporting that you spent $3,000 on a 'background check and public records search on Congressman X,' list the expenditure as 'issue research' or simply 'research'… One bonus financial filing tip: warn your candidate about spending campaign funds on fancy restaurants for 'strategy meetings.' Eating at Ruth's Chris or Morton's Steak House on your campaign's dime just looks bad. The press may poke a little fun at your candidate's expense; your donors may feel their donation in being misspent and may never give again.[17]
Funding and institutions
Congressional and presidential opposition research is often conducted by or funded by a political party, lobbying group, political action committee (PAC), or a 527 group that coalesces around a certain issue. In the U.S., both the Republican and Democratic parties employ full-time "Directors of Research" and maintain databases on opponents. In recent years the task of opposition research has been privatized in many areas. Full-time companies with permanent staff specializing in media productions or "grassroots" operations have replaced volunteers and campaign officials. Political media consultants may also opt for astroturfing techniques, which simulate wide popular appeal for a candidate's platform.
In presidential elections
Opponents of Andrew Jackson in the 1824 and 1828 presidential elections unearthed his marriage records to imply that he was an adulterer for marrying Rachel Robards before she was legally divorced from her first husband. Jackson had married her in 1791 on the strength of a statement from her husband that he had divorced her; Jackson had two wedding ceremonies, the not-recognizable one of 1791 and the legally corrective one of 1794. His political opponents used this information decades later against him, and he fought many duels over his wife's honor. Rachel Robards died before Jackson took office in his first term; he maintained that the stress of the opposition had killed her.[18]
In 1858, William Herndon, the law partner of Abraham Lincoln, did research in the Illinois State Library to collect "all the ammunition Mr. Lincoln saw fit to gather" to prepare for the run against Stephen A. Douglas in the 1860 presidential race.[19]
In preparation for Ronald Reagan's debate with President Jimmy Carter in the presidential race 1980, Reagan's campaign staff acquired under mysterious circumstances a 200-page briefing book, including information on Carter's strategy, which staffers David Stockmanand David Gergen had used to prepare Reagan. The Federal Bureau of Investigation and the Justice Department investigated to see how the information had been obtained by the Reagan camp. Two law professors filed suit in federal district court in Washington to request a special investigation, based on the 1978 Ethics in Government Act.[20] Carter's staff believed the book to have been stolen from the White House, but the inquiry did not uncover any credible evidence that any law had been violated. The House of Representatives conducted its own investigation, and concluded in a 2,314-page report that the Reagan staff had two copies of the book, one from Reagan's campaign director William J. Casey, future head of the Central Intelligence Agency.[21] James Baker attributed the acquisition of the documents to Casey, who claimed to know nothing about them, and an analysis of Carter campaign documents found in the "Afghanistan" files of Reagan aide David Gergen indicated they came from three White House offices: the National Security Council, Vice President Walter Mondale and Domestic Adviser Stuart Eizenstat.[22] Many years afterward, Carter himself stated in a PBS interview that the book had been taken by columnist George Will, but Will denied it, calling Carter "a recidivist liar."[23]
Lee Atwater is considered to be the "father" of modern aggressive "oppo" techniques. Atwater honed his style working in his native South Carolina for Senator Strom Thurmond and to elect Congressman (later Governor) Carroll Campbell. From his posts on the 1984 and 1988 presidential campaigns of Ronald Reagan and George H.W. Bush, Atwater encouraged and helped direct what was then the advanced oppo work of the Republican National Committee against Democrats Walter Mondale and Michael Dukakis. During the 1988 presidential campaign, dozens of RNC researchers worked three shifts around the clock to feed the then-burgeoning 24-hour news cycle. The now-infamous "Willie Horton" TV ads crafted by Floyd Brown helped turn voters away from Dukakis and towards the Republican, although Atwater and Bush were protected by plausible deniability because Brown's ads were independently funded and produced. Academic research into the Bush archives decades later revealed that a Bush staffer, Candice Strother, had released a dossier of information on Willie Horton to Elizabeth Fediay, of the non-profit group that contracted for the ad.[24] (The Horton story had been completely public for an entire year, part of news coverage that won a Pulitzer Prize for the Lawrence (Mass.) Eagle-Tribune newspaper.) Willie Horton was an African-American convicted murderer released on a weekend furlough during Governor Dukakis's tenure, who escaped and committed a brutal rape in Maryland, also stabbing his victim's husband.[25] Atwater is also credited with originating "push polls" and "whisper campaigns" that use disinformation strategies to alienate voters from opponents. A biography of Atwater, quotes him as saying in an interview toward the end of his life that he regretted some of his less ethical techniques.[26]
In the 1992 presidential campaign, Republicans reported that they spent $6 million on a "state of the art (opposition research) war machine" to investigate Bill Clinton, who was running against George H. W. Bush. In the same election, the Clinton campaign paid more than $100,000 to a private investigator to look into allegations about Clinton's womanizing, investigating more than two dozen women.[27]
In the 2000 presidential election, longtime opposition researcher and Nixon loyalist Roger Stone was recruited by former Secretary of State James Baker to oversee the recount of the disputed Presidential election in Miami-Dade County in 2000. Stone is credited with organizing the street demonstrations and eventual shut-down of the recount in that pivotal county.[28]
In the 2004 presidential race, Chris Lehane, a Democratic opposition researcher attracted notoriety and built a reputation not for deploying his skills against Republican opponents, but for using them against other Democrats in the primary races. Working for retired Army general Wesley Clark, Lehane sought to establish a media "narrative" that Howard Dean was hypocritical and dishonest, based on surveys of his administrative archive as governor of Vermont.[29]
A protege of Atwater's, Karl Rove, is considered to be the "architect" of George W. Bush's election to the governor's office in Texas, and to the presidency in 2000 and 2004. In the 2000 race, Rove is credited with masterminding the push poll that initiated the "John McCainhas a black love child" whisper campaign in South Carolina.[30] Anonymous telephone pollsters, upon determining that a voter was pro-McCain, asked the question, "Would you be more or less likely to vote for John McCain if you knew he had fathered a black child out of wedlock?" The question was not overt slander, but it prompted the president of Bob Jones University to launch his own internet campaign against McCain, and succeeded in crippling the trust of voters McCain had attracted. The Bush camp knew, as the general public did not, that in reality, John McCain was the adoptive father of a dark-skinned Bangladeshi refugee who was rescued by his wife Cindi.[31]
In the 2008 presidential election, opposition researchers for Barack Obama unearthed the fact that John Edwards had paid $400 for haircuts at campaign expense, and supplied Politico's Ben Smith with the tip, according to a memoir later published by campaign manager David Plouffe.[32] Though the Democratic National Committee continues to fund a research department, after the 2008 presidential election, the New York Times reported that "The legacy of the Democratic National Committee itself is hardly clear going forward. Mr. Obama effectively subsumed all the responsibilities in his campaign: fundraising, voter turn-out and opposition research.[33]
Executive branch
Supreme Court
In 1916, after President Woodrow Wilson nominated Louis Brandeis for the Supreme Court, "concerned" citizens seeking to block his confirmation offered information that Brandeis was a "radical Zionist," even though he was not a practicing Jew. Brandeis aggressively outmaneuvered his detractors by mounting his own opposition research efforts, including a carefully constructed chart that exposed the social and financial connections of the group, mostly from Boston's Back Bay, and including Harvard president Lawrence Lowell, as well as a group headed by former President William Howard Taft and a host of American Bar Association past presidents. Brandeis sent the chart to Walter Lippman at the New Republic who penned an editorial condemning "the most homogeneous, self-centered, and self-complacent community in the United States." Brandeis was confirmed after four months of hearings, in a Senate vote of 47–22.[43]
Ronald Reagan nominated Judge Robert Bork for appointment to the U.S. Supreme Court in 1987, prompting a Senate floor speech from Democratic Massachusetts senator Ted Kennedy, which later became known as the "Robert Bork's America" speech:
Robert Bork's America is a land in which women would be forced into back-alley abortions, blacks would sit at segregated lunch counters, rogue police could break down citizens' doors in midnight raids, schoolchildren could not be taught about evolution, writers and artists could be censored at the whim of the Government, and the doors of the Federal courts would be shut on the fingers of millions of citizens for whom the judiciary is – and is often the only – protector of the individual rights that are the heart of our democracy.
Kennedy's speech prompted a rapid-response opposition research effort from Democrats, but the White House waited two and a half months to respond. The Senate Judiciary Committee, under the direction of Delaware senator and presidential hopeful Joseph Biden, commissioned a report in response to the materials Reagan's staff had released in support of Bork's nomination. Prepared by a panel of lawyers, including two Duke University law professors, the 78-page became known as "The Biden Report." The report detailed Bork's record, and analyzed the pattern of his rulings, and deeming him to be a conservative "activist" rather than an impartial jurist Ultimately, Bork's embattled nomination failed, and Anthony Kennedy (no relation to Ted) was later confirmed to fill the position.[44][45] The fierce research-based opposition to Bork's nomination attracted significant media attention, even though a Gallup Poll on the eve of the confirmation vote showed that very few Americans could name the nominee in question, much less recall his rulings.[46] A new verb was later coined; "to bork" a candidate or nominee by mounting such voluminous research and vocal opposition that the person in question would be forced to withdraw.[47]
After President George W. Bush nominated Harriet Miers to the U.S. Supreme Court, the Boston Globe reported that Republican conservative advocacy groups were conducting opposition research against her: "Groups are circulating lists of questions they want members of the Senate Judiciary Committee to ask Miers at her confirmation hearings. The activists' thinly veiled hope is that Miers will reveal ignorance of the law and give senators a reason to oppose her."[48] Miers later withdrew her name from consideration for the court.
On July 7, 2005, soon after the resignation of Justice Sandra Day O'Connor, the Democratic National Committee gathered and circulated information on the "anti-civil rights" and "anti-immigrant" rulings of Samuel A. Alito, Jr., by then nominated by President George W. Bush to replace her. Upon inspection, the documents were revealed to have been amended by Devorah Adler, research director for the DNC. Alito's "record" had been pointedly altered to present him in a negative light. While the incident was not unusual, it received publicity in prominent places because it drew attention to the "meta-data" that is often unwittingly stored in documents that are altered and forwarded electronically.[49]
On May 2, 2009, after Supreme Court Justice David Souter announced his intent to retire from the court, the New York Times reported that Curt Levey, executive director of the Committee for Justice, had noted that conservatives were "focusing opposition research efforts on 17 women, whom they have divided into two tiers based on their perceived chances."[50]
U.S. states
Seven aides to members of the Pennsylvania House of Representatives pleaded guilty on January 7, 2010, to illegal use of state resources for campaign activities, including opposition research against the political opponents of incumbent officeholders during 2007. These seven were Democrats; a total of 25 indictments have been handed down to a mix of Democrats and Republican politicians.[51]
During Lamar Alexander's 2002 campaign for the U.S. Senate, Alexander's campaign staff received an anonymous mailing of a photograph of opponent Bob Clement obviously serving as a board member of a failed bank whose owners had been imprisoned for bank fraud. When the Alexander campaign raised the issue of Clement's financial ties with the convicted felons, Clement denied any connection. When the Alexander campaign produced the photograph as evidence, Clement claimed his role was only an informal advisory one.[52]
In early July 2009 Alaska governor Sarah Palin announced that she would be resigning as governor, partly due to complications from opposition research and ethics inquiries after her inclusion on the 2008 GOP presidential race ballot as John McCain's running mate. At a later news conference Palin told reporters, "Obviously conditions had changed so drastically on August 29, the day I was tapped to be VP," she said. "The opposition research and the games that began there — which I think is the new normal in Alaska politics, until I hand the reins over to Sean Parnell — have been so distracting."[53]
In the Pennsylvania state legislature in July 2009, former state House Democratic Campaign Committee Chair, Rep. Stephen Stetler found himself amidst an investigation when he rejected a plan that would have shifted the job of opposition research from employees on the state payroll to private firms. Attorney General Tom Corbett alleged that millions in public funds were paid to state employees who did such research on the 2006 and 2004 campaigns of Democrats in the state. Stetler left the House after 2006 to become the state's revenue secretary. A former aide, Dan Wiedemer testified before grand jurors that the suggestion to remove politically motivated research from the hands of public employees "was more or less shot down." Though Stetler has not been charged, 12 former House members and members of their staff were charged with diverting public funds for political campaign work.[54] Stetler was among those subpoenaed, said Chuck Ardo, a spokesman for Democratic Gov. Ed Rendell. The hearing will be held before President Judge Richard Lewis in September.[55]
In other countries
Australia
In October 2011, a media storm erupted in Australia over the leaking of 'dirt files' compiled by the Liberal National Party and further revelations that a former Australian Labor Party operative had been engaged to help compile the dossiers.[56]
Despite protestations that key party personnel had no knowledge of the dossiers it was later revealed a Liberal National Party opposition research strategist had been compiling the files as part of a SWOT analysis at previous elections which formed the basis of negative attack messaging for a 'rapid response unit'.[57]
South Africa
In January 2017, the African National Congress (ANC) was exposed when Sihle Bolani filed an affidavit in the Johannesburg High Court, demanding payment for her part in project War Room. The War Room's mandate was to "disempower DA and EFF campaigns" and set a pro-ANC agenda using a range of media, without revealing the ANC's hand.[58]
Mass media ethics
The practice of using tips from opposition research sources was examined in 1994 by Howard Kurtz, media analyst for The Washington Post. Kurtz surveyed the major networks, Newsweek, The Wall Street Journal, the Los Angeles Times, and other influential media outlets, and found varying levels of use of oppo research information on David Hale as a witness in the Whitewater controversy. At this time, Brown confirmed that he had been the source of four mainstream media stories that had received attention from the Columbia Journalism Review because they bore striking resemblance to the opposition research being disseminated by Citizens United.[59]
"Far from being detached observers, reporters constantly call oppo staffs looking for tidbits and sometimes trading information," wrote three reporters, Matthew Cooper, Gloria Borger, and Michael Barone, for U.S. News & World Report in 1992.[60]
Political infighting
In spring 2007, Roger Stone, a political consultant in the employ of New York state senator Joseph Bruno, resigned after leaving threatening phone messages on the answering machine of the 85-year-old father of New York Governor Eliot Spitzer, alleging that Spitzer's campaign finances were conducted improperly.[61] In November of that same year, Stone sent a letter to the FBI detailing Spitzer's sexual preferences with prostitutes and sexual props, right down to his black calf-length socks.[62] Stone was considered to be an authoritative source because he frequented the same prostitutes himself as a client. A subsequent Justice Department investigation produced evidence that ultimately led to Spitzer's resignation as governor. Bruno, Stone's client, has been a longtime political enemy of Spitzer.
In popular culture
The television show House of Cards depicts many examples of opposition research, particularly the character of Doug Stamper, the loyal adviser to Francis "Frank" Underwood, who regularly engages in the practice with little morality and few ethics.
References …
https://en.wikipedia.org/wiki/Opposition_research
Christopher Steele
Jump to navigationJump to search
Christopher David Steele (born 24 June 1964) is a British former intelligence officer with the Secret Intelligence Service MI6 from 1987 until his retirement in 2009. He ran the Russia desk at MI6 headquarters in London between 2006 and 2009. In 2009 he co-founded Orbis Business Intelligence, a London-based private intelligence firm.
Steele authored a dossier that claims Russia collected a file of compromising information on U.S. President Donald Trump.[1][2]
It has been claimed[3][4] by President Donald Trump and his supporters that U.S. intelligence community probes into Russian interference in the 2016 election were launched due to Steele's dossier.[5] The House Intelligence Committee, then in Republican control, concluded in an April 2018 report that the probe was triggered based on information on Trump adviser George Papadopoulos; meanwhile the February 2018 Nunes memo written by staff members for that committee also reached the same conclusion.[6][7]
Early life
Christopher David Steele was born in the Yemeni city of Aden (then part of the Federation of South Arabia), on 24 June 1964.[8][9] His parents, Perris and Janet, had met while working at the Met Office, the United Kingdom's national weather service. His paternal grandfather was a coal miner from Pontypridd in Wales.[10] Steele spent time growing up in Aden, the Shetland Islands, and Cyprus, as well as at Wellington College, Berkshire.[10]
Steele matriculated at Girton College, Cambridge in 1982. While at the University of Cambridge, he wrote for the student newspaper, Varsity.[8][10][11] In the Easter term of 1986, Steele was President of The Cambridge Union debating society.[12][13] He graduated with a degree in Social and Political Sciences in 1986.[14]
Career
Steele was recruited by MI6 directly following his graduation from Cambridge, working in London at the Foreign and Commonwealth Office (FCO) from 1987 to 1989.[9] From 1990 to 1993, Steele worked under diplomatic cover as an MI6 agent in Moscow, serving at the Embassy of the United Kingdom in Moscow.[8][13][15] Steele was an "internal traveller", visiting newly-accessible cities such as Samara and Kazan.[10][16][17]
He returned to London in 1993, working again at the FCO until his posting with the British Embassy in Paris in 1998, where he served under diplomatic cover until 2002. But Steele's identity as an MI6 officer and a hundred and sixteen other British spies had their cover blown by an anonymously published list that Her Majesty's Government attempted to suppress through a DSMA-Notice in 1999.[18][8][15][19][20][21]
In 2003, Steele was sent to Bagram Airfield in Afghanistan as part of an MI6 team, briefing Special Forces on "kill or capture" missions for Taliban targets, and also spent time teaching new MI6 recruits.[15] Steele returned to London and between 2006 and 2009 he headed the Russia Desk at MI6.[8][10][13][22]
Steele's expertise on Russia remained valued, and he served as a senior officer under John Scarlett, Chief of the Secret Intelligence Service (MI6), from 2004 to 2009.[22] Steele was selected as case officer for Alexander Litvinenko and participated in the investigation of the Litvinenko poisoning in 2006.[15] It was Steele who quickly realised that Litvinenko's death "was a Russian state 'hit'".[22] Twelve years later he allegedly was included himself into a hit list of the Russian Federal Security Service, along with Sergei Skripal who was poisoned in 2018 by a binary chemical weapon Novichok in Britain.[23]
Since 2009 Steele has not been to Russia, or visited any former Soviet states and in 2012, an Orbis informant quoted an FSB-agent describing him as an "enemy of Mother Russia".[8] Steele has refrained from travelling to the United States since his identity became public, citing the political and legal situation.[24]
Steele has worked with Oleg Deripaska.[25]
Private sector
In March 2009, Steele with his fellow MI6-retiree Chris Burrows co-founded the private intelligence agency Orbis Business Intelligence, Ltd., based in Grosvenor Square Gardens.[26][13] Between 2014 and 2016, Steele created over 100 reports on Russian and Ukrainian issues, which were read within the United States Department of State, and he was viewed as credible by the United States intelligence community.[10] The business was commercially successful, grossing approximately $20,000,000 in the first nine years of operation.[8]
Steele ran an investigation dubbed "Project Charlemagne", which noted Russian interference in the domestic politics of France, Italy, Germany, Turkey, and the United Kingdom.[8] Steele concluded in April 2016 that Russia was engaged in an information warfarecampaign with the goal of destroying the European Union.[8]
In 2017, Steele established a new company called Chawton Holdings, again with Christopher Burrows.[27] In November 2018, Steele sued the German industrial group Bilfinger, alleging that the company owed €150,000 for an investigation into Bilfinger's activities in Nigeria and Sakhalin.[28]
FIFA research
In 2010, The Football Association (FA), England's domestic football governing body, organized a committee in hopes of hosting the 2018 or 2022 World Cups.[29] The FA hired Steele's company to investigate FIFA (International Federation of Association Football). In advance of the FBI launching its 2015 FIFA corruption case, members of the FBI's Eurasian Organized Crime Task Force met with Steele in London to discuss allegations of possible corruption in FIFA.[26][30] Steele's research indicated that Russian Deputy Prime MinisterIgor Sechin had rigged the bidding of the 2018 World Cups by employing bribery.[8]
Trump dossier
Background and information gathering
In September 2015, the Washington Free Beacon, a conservative publication, retained the services of Fusion GPS, a private Washington D.C. political research firm, to conduct research on several primary Republican Party candidates including candidate Trump. The research was unrelated to Russia and was ended once Trump was determined to be the presidential nominee.
The firm was subsequently hired by the Hillary Clinton campaign and the Democratic National Committee through their shared attorney at Perkins Coie, Marc Elias. Fusion GPS then hired Steele[31] to investigate Trump's Russia-related activities.[26] According to CNN, Hillary Clinton's campaign and the Democratic National Committee took over the financing of the inquiry into Donald Trump and produced what became known as the Trump dossier.[32]
In July 2016, Steele supplied a report he had written to an FBI agent in Rome.[33] His contact at the FBI was the same senior agent with whom he had worked when investigating the FIFA scandal.[15][8]
In September 2016, Steele held a series of off the record meetings with journalists from The New York Times, The Washington Post, Yahoo! News, The New Yorker and CNN.[10] In October 2016, Steele spoke about his discoveries to David Corn of the progressive American political magazine Mother Jones. Steele said he decided to pass his dossier to both British and American intelligence officials after concluding that the material should not just be in the hands of political opponents of Trump, but was a matter of national security for both countries.[34] Corn's resulting 31 October article in Mother Jones was the first to publicly mention the dossier, although the article did not disclose Steele's identity.[34] The magazine did not publish the dossier itself, however, or detail its allegations, since they could not be verified.[35]
Post-election work on the dossier
Steele continued to work for Fusion GPS on the dossier without a client to pay him.[36] After the election, Steele's dossier "became one of Washington's worst-kept secrets, and journalists worked to verify the allegations.[36] On 18 November 2016, Sir Andrew Wood, British ambassador to Moscow from 1995 to 2000, met with U.S. Senator John McCain at the Halifax International Security Forum in Canada, and told McCain about the existence of the collected materials about Trump.[37] Wood vouched for Steele's professionalism and integrity.[38] In early December, McCain obtained a copy of the dossier from David J. Kramer, a former U.S. State Department official working at Arizona State University.[36] On 9 December 2016, McCain met personally with FBI Director James Comey to pass on the information.[37]
In a second memo Steele wrote in November 2016, after the termination of his contract with Fusion, he reported that Russian officials had claimed that Russia had blocked Donald Trump from nominating Mitt Romney to be his Secretary of State, due to Romney's hawkishness on Russia.[8][39]
Revealed identity
On 11 January 2017, The Wall Street Journal revealed that Steele was the author of the dossier about Trump, citing "people familiar with the matter".[2] Although the dossier's existence had been "common knowledge" among journalists for months at that point and had become public knowledge during the previous week, Steele's name had not been revealed. The Telegraph asserted that Steele's anonymity had been "fatally compromised" after CNN published his nationality.[31]
The Independent reported that Steele left his home in England several hours before his name was published as the author of the dossier, as he was fearful of retaliation by Russian authorities.[31] In contrast, The Washington Post reported that he left after he had been identified earlier in the day by the initial Wall Street Journal report.[40]
Christopher Burrows, director of Orbis Business Intelligence, Ltd., said he would not "confirm or deny" that Orbis had produced the dossier.[41]
Steele's relationship with the FBI ended, variously associated with either the public revelation of Steele's identity, or Steele's release of information to the press, or Steele's denial to the FBI of having spoken to the press.[42][43] One source dates this event to late October 2016.[44]
On 7 March 2017, as some members of the United States Congress were expressing interest in meeting with or hearing testimony from Steele, he reemerged after weeks in hiding, appearing publicly on camera and stating, "I'm really pleased to be back here working again at the Orbis's offices in London today".[45]
Disclosure and reactions
In early January 2017, a two-page summary of the Trump dossier was presented to President Barack Obama and President-elect Donald Trump in meetings with Director of National Intelligence James Clapper, FBI Director James Comey, CIA Director John Brennan, and NSA Director Admiral Mike Rogers.[46]
On 10 January 2017, BuzzFeed was the first media outlet to publish the full 35-page dossier. In publishing the Trump dossier, BuzzFeed stated that it had been unable to verify or corroborate the allegations.[47] The UK issued a DSMA notice on 10 January 2017, requesting that the media not release Steele's identity,[48] although the BBC and other UK news media released the information in news stories the same day.[16] Trump vigorously denied the dossier's allegations, calling it fake news during a press conference.[49] Vladimir Putin also dismissed the claims.[50]
Ynet, an Israeli online news site, reported that American intelligence advised Israeli intelligence officers to be cautious about sharing information with the incoming Trump administration, until the possibility of Russian influence over Trump, suggested by Steele's report, has been fully investigated.[51]
Former British ambassador to Russia, Sir Tony Brenton, read Steele's report. Speaking on Sky News he said, "I've seen quite a lot of intelligence on Russia, and there are some things in it which look pretty shaky". Brenton expressed some doubts due to discrepancies in how the dossier described aspects of the hacking activities, as well as Steele's ability to penetrate the Kremlin and Russian security agencies, given that he is an outsider.[52]
On 15 March 2017, former Acting CIA Director Michael Morell raised questions about the dossier. He was concerned about the accuracy of the information, due to the approach taken by Steele to gather it. Steele gave money to intermediaries and the intermediaries paid the sources. Morell said, "Unless you know the sources, and unless you know how a particular source acquired a particular piece of information, you can't judge the information – you just can't". Morell continues to believe that Russia attempted to influence the 2016 U.S. presidential election.[53]
Role in the origins of the FBI's Russia investigation
Although the dossier later became one factor among many in the Russia investigation, it had no role in the start of the investigation. This fact has been the subject of intense discussion and controversy, largely fueled by false claims made by Trump and his supporters.[54][55][56]
In early February 2018, the Nunes memo, written by aides of Republican U.S. Representative Devin Nunes (who was at the time the Chair of the House Intelligence Committee), described that the information on George Papadopoulos "triggered the opening of" the original FBI investigation in late July 2016 into links between the Trump campaign and Russia.[57] In late February 2018, a rebuttal memo by Democrats in the House Intelligence Committee stated that "Christopher Steele's reporting … played no role in launching the counterintelligence investigation … In fact, Steele's reporting did not reach the counterintelligence team investigating Russia at FBI headquarters until mid-September 2016, more than seven weeks after the FBI opened its investigation, because the probe's existence was so closely held within the FBI."[58][59]
In April 2018, the House Intelligence Committee, then in Republican control, released a final report on Russian interference in the 2016 presidential American election, which stated that the House Intelligence Committee found that "in late July 2016, the FBI opened an enterprise CI [counterintelligence] investigation into the Trump campaign following the receipt of derogatory information about foreign policy advisor George Papadopoulos".[6][7][60]
Role in subsequent investigations
In the summer of 2017, two Republican staffers for the United States House Permanent Select Committee on Intelligence travelled to London to investigate the dossier, visiting the office of Steele's lawyer but not meeting with Steele.[61] In August 2018, RepresentativeDevin Nunes, Chair of the House Intelligence Committee, travelled to London in an attempt to meet with the heads of MI5, MI6, and GCHQ for information about Steele, but was rebuffed by the three agencies.[62][63]
Steele reportedly revealed the identities of the sources used in the dossier to the FBI.[64] Investigators from Robert Mueller's Special Counsel investigation team met with Steele in September 2017 to interview him about the dossier's claims.[65][66] The United States Senate Select Committee on Intelligence is in continued contact with lawyers representing Steele.[67]
On April 5, 2019 the Senate Intelligence Committee sent a letter to Walter Soriano the owner of USG Security Limited based in Britain and Israel for his communication with Paul Manafort, Michael Flynn, Psy-Group,Wikistrat, and Black Cube, Orbis Business Intelligence(a firm co-founded by Christopher Steele).[68][69]
Legal action
In February 2017, lawyers for Russian internet entrepreneur Aleksej Gubarev filed a libel suit against Steele in London. Gubarev claimed he was defamed by allegations in the dossier.[70]
In August 2017, lawyers for Gubarev demanded Steele give a deposition regarding the dossier, as part of a libel lawsuit against BuzzFeed News[71][72][73] filed in February.[74] Steele objected to testifying but his objections were rejected by U.S. District Court Judge Ursula Mancusi Ungaro, who allowed the deposition to proceed.[75][76][74]
In April 2018, Mikhail Fridman, Petr Aven, and German Khan – the owners of Alfa Bank – filed a libel suit against Steele, who mentioned the bank in the Trump–Russia dossier. The lawsuit is filed in Washington D.C.[77] The lawsuit was dismissed by Judge Anthony C. Epstein on August 20, 2018.[78][79]
Senate Republicans' referral for a criminal investigation
[
edit
]
| | |
| --- | --- |
| | Wikisource has original text related to this article: |
| | |
| --- | --- |
| | Wikisource has original text related to this article: |
On 5 January 2018, Senate Judiciary Committee Chairman Chuck Grassley, joined by senior Republican member Lindsey Graham, issued a criminal referral regarding Steele to the Justice Department for it to investigate whether Steele had lied to the FBI about his interactions with the media.[80][81][82][83] Because the referral is based on classified FBI documents, the context in which the Republican senators allege Steele to have lied is limited to references that he discussed the dossier with media outlets.[83] Both Grassley and Graham declared that they were not alleging that Steele "had committed any crime. Rather, they had passed on the information for 'further investigation only'".[84]
The referral was met with skepticism from legal experts, as well as members of both parties on the Judiciary Committee.[82] Fusion GPS lawyer Joshua A. Levy said that the referral was just another effort to discredit the investigation into Russian interference in the election and that: "After a year of investigations into Donald Trump's ties to Russia, the only person Republicans seek to accuse of wrongdoing is one who reported on these matters to law enforcement in the first place".[82] Veteran prosecutor Peter Zeidenberg called the referral "nonsense" because "the FBI doesn't need any prompting from politicians to prosecute people who have lied to them."[82] Another former federal prosecutor, Justin Dillon said that "it was too early to assume the letter was simply a political attack". The senior Democrat on the Committee, Dianne Feinstein, said that the referral was made without consultation of any Democrats on the committee and released a five-page rebuttal.[85] A Republican aide said that Grassley and Graham were "carrying water for the White House"; that their actions did not reflect the views of the committee as a whole; and that other members were upset with Grassley over the matter.[82]
In an opinion-editorial for Politico, former CIA official John Sipher said that the attacks on Steele, a private citizen who provided information to the FBI that alarmed him, will make future tipsters less likely to approach American law enforcement with information that bears on national security.[86]
Personal life
His first wife, Laura, with whom he had three children, died in 2009 after a long illness. He remarried in 2012; he and his second wife Katherine had one child and are raising all four children together.[8] He currently lives in Farnham, Surrey.[8]
References …
Further reading
External links
https://en.wikipedia.org/wiki/Christopher_Steele
Fusion GPS
Jump to navigationJump to search
Fusion GPS is a commercial research and strategic intelligence firm based in Washington, D.C. The company conducts open-source investigations and provides research and strategic advice for businesses, law firms and investors, as well as for political inquiries, such as opposition research.[1] The "GPS" initialism is derived from "Global research, Political analysis, Strategic insight".[2]
History
The company was co-founded in 2011 by Glenn R. Simpson, a former investigative reporter and journalist for Roll Call and The Wall Street Journal; Peter Fritsch, former Wall Street Journal senior editor; and former Wall Street Journal journalist Thomas Catan.[3]
Work
Opposition research on Mitt Romney
Fusion GPS was hired in 2012 to do opposition research on U.S. presidential candidate Mitt Romney.[3] In February 2012, the magazine Mother Jones published an article on Frank VanderSloot and his company Melaleuca, who combined had given $1 million to a super PAC supporting Mitt Romney. After the article was published, an intern at Fusion GPS did a search of Idaho court records on VanderSloot by phone and fax. In January 2013, VanderSloot sued Mother Jones for defamation in the February 2012 article. In the course of the litigation, VanderSloot deposed Fusion GPS founder Simpson on the "theory that Mother Jones conspired with Obama's team to defame VanderSloot".[4][5][6] The seventh Judicial District Court of the State of Idaho dismissed the lawsuit in 2015.[7]
Planned Parenthood
In August 2015, Planned Parenthood retained Fusion GPS to defensively investigate the veracity of a series of undercover videos released by anti-abortion activists David Daleiden and Sandra Merritt from The Center for Medical Progress that they claim showed Planned Parenthood officials agreeing to sell fetal tissues obtained through abortions to medical researchers. Fusion GPS hired video and transcription experts to analyze the videos and summarized the findings in a forensic report.[8] The report claimed that the "unedited" videos posted by activists had been "heavily edited". The anti-abortion activists attributed the gaps to "bathroom breaks and waiting periods."[9] The report was provided to U.S. congressional leadership as evidence as they were considering funding and other issues related to Planned Parenthood operations.[10]
After a grand jury declined to indict Planned Parenthood of any wrongdoing, on March 28, 2017, Daleiden and Merritt were charged with 15 felonies in the State of California – one for each of the people whom they had filmed without consent, and one for criminal conspiracy to invade privacy.[10] On 21 June 2017, fourteen of these charges were dismissed, with leave to amend, on the grounds that they were legally insufficient.[11] On June 30, 2017, state prosecutors refiled the 14 dismissed charges with numerical identifications for each video.[12][13] On August 24, 2017, the San Francisco Superior Court rejected new defense motions to dismiss the charges and allowed the case to proceed. Daleiden then pleaded not guilty, while Merritt did not enter a plea at the time.[13]
Prevezon Holding
In 2013, the US Department of Justice, represented by the US Attorney for the Southern District of New York, Preet Bharara, sued Prevezon Holding, a Republic of Cyprus corporation registered in New York State as a foreign business corporation, under the Magnitsky Act for money-laundering part of $230 million stolen. The lawsuit sought forfeiture of various assets and real estate holdings in the US.[14][15] In May 2017, two months after President Trump had dismissed Bharara, the lawsuit was settled for $6 million, less than half what Bhahara sought[16], without Prevezon admitting to any wrongdoing and with both sides claiming victory.[14][17]
The sole shareholder of Prevezon was Russian citizen Denis Katsyv, whose father is Petr Katsyv, vice president of Russia's state-run rail monopoly and "reportedly a business associate of Vladimir Yakunin, a confidant of Vladimir Putin".[15][18] Katsyv's Russian lawyer Natalia Veselnitskaya was not licensed to practice in the US, and Katsyv hired the law firm of BakerHostetler to represent Prevezon; BakerHostetler hired Fusion GPS in early 2014 to provide research help for the litigation.[19][20][18][21]
On October 18, 2016, the appellate court disqualified BakerHostetler from the case because they had represented Bill Browder's hedge fund Hermitage Capital Management for nine months in 2008/2009 when the U.S. Justice Department was investigating a tax fraud scheme in Russia involving "co-opted Hermitage portfolio companies". The U.S. Justice Department had argued that Hermitage Capital was a victim of the tax fraud and that BakerHofstetler's prior work on behalf of Hermitage Capital created a conflict of interest.[22][19] As part of their litigation support for BakerHostetler and their client Verezon, Fusion GPS investigated Browder, a witness central to the U.S. Justice Department's case.[23]
On July 27, 2017, Fusion GPS accused the White House of trying to "smear" it for investigating the president's alleged ties to Russia. White House press secretary Sarah Huckabee Sanders pointed to Browder's testimony as vindication of Trump's claims that ongoing investigations into potential ties between his campaign and Moscow are political ploys to undermine his presidency. Fusion GPS countered that it worked only with a law firm in New York "to provide support for civil litigation" unrelated to Russian efforts to do away with the Magnitsky Act, saying it had no reason to register under the Foreign Agents Registration Act (FARA).[24]
Browder lodged a complaint with the U.S. Justice Department in 2016 that Fusion GPS may have lobbied "for Russian interests in a campaign to oppose the pending Global Magnitsky Act [and] failed to register under [U.S. law]".[20][25] The Global Magnitsky Human Rights Accountability Act (not to be confused with the Magnitsky Act) is a human rights law passed on December 23, 2016.[26] It is also named after Sergei Magnitsky, a lawyer and auditor working for Browder who died in a Russian prison after uncovering a corruption scheme that he was then charged with having helped concoct.[18]
On March 30, 2017, Senate Judiciary Chairman Chuck Grassley, R-Iowa called for a U.S. Department of Justice investigation into purported connections between Fusion GPS and Russia, and an inquiry as to whether Fusion GPS was acting as an unregistered foreign agent. The company denied the claims that they were engaged in lobbying or had violated the Foreign Agents Registration Act.[25][20] According to the Washington Post′s "Fact Checker" column, there is "no evidence that the Russian government paid for Fusion's work on the Prevezon defense at the same time Fusion investigated Trump's business dealings in Russia."[27]
Trump dossier and Christopher Steele
In September 2015, Fusion GPS was hired by The Washington Free Beacon, a conservative political website, to do opposition research on Trump and other Republican presidential candidates. In spring 2016 when Trump had emerged as the probable Republican candidate, the Free Beacon stopped funding investigation into Trump.[28] From April 2016 through October 2016, the law firm Perkins Coie, on behalf of the Clinton campaign and the Democratic National Committee, retained Fusion GPS to continue opposition research on Trump.[29][30][31] In June 2016, Fusion GPS retained Christopher Steele, a private British corporate intelligence investigator and former MI-6 agent, to research any Russian connections to Trump. Steele produced a 35-page series of memos from June to December 2016, which became the document known as the Donald Trump–Russia dossier.[29][32] Fusion GPS provided Marc Elias, the lead election lawyer for Perkins Coie, with the resulting dossier and other research documents.[30][31]
The firm is being sued for defamation by three Alfa-Bank owners named in the dossier as connected to Putin. German Khan, one of the litigants and one of Russia's wealthiest citizens, is the father-in-law of lawyer Alex van der Zwaan, who was charged in the Mueller probe for making false statements to the FBI.[33] He pleaded guilty to one count and in April 2018 was sentenced to 30 days in jail and a fine of $20,000.[34][35]
House Intelligence Committee investigation
On October 4, 2017, Chairman Devin Nunes of the House Intelligence Committee issued subpoenas to the management of the company, demanding documents and testimony in late October and early November 2017. According to a Democratic committee source, the subpoenas were issued unilaterally by the Republican majority of the committee.[36]
| | |
| --- | --- |
| | Wikisource has original text related to this article: |
On October 18, 2017, the House Intelligence Committee held a private meeting with two executives of Fusion GPS, Peter Fritsch, and Thomas Catan. The purpose was to seek information about their creation of "the opposition-research dossier that makes salacious claims about President Donald Trump's ties to Russia."[37] The meeting was attended by committee staff and a single committee member, Representative Tom Rooney (R-FL). In response to the questions asked at the meeting, Fritsch and Catan invoked their Fifth Amendment rights against self-incrimination. Their attorney, Joshua Levy, said that prior to the meeting he had informed the committee in writing that his clients would invoke their rights, but they were compelled to appear nevertheless. He added they would cooperate with "serious" investigations but that a "Trump cabal has carried out a campaign to demonize our client for having been tied to the Trump dossier."[37][38]
On October 23, 2017, Fusion GPS filed for a court injunction against Nunes' subpoena seeking the firm's bank records for a period of more than two years, arguing it would damage and possibly destroy the business as well as violate their First Amendment rights.[39] On January 4, 2018 U.S. District Court Judge Richard J. Leon struck down Fusion's application, ruling that Fusion's bank must turn over the financial records subpoenaed by the House Intelligence Committee; Fusion asked the judge to stay his order because they plan to appeal.[40]
On October 28, 2017, The Washington Free Beacon, a conservative political website, told the House Intelligence Committee that it had retained Fusion GPS's services from 2015 to May 2016, to research Donald Trump and other Republican presidential candidates. The objective was the discovery of damaging information. The Free Beacon and its primary source of funding, hedge fund manager Paul Singer, denied any involvement in the creation of the Steele dossier, pointing out that they had stopped funding research on Trump before Steele was engaged.[28]
On January 2, 2018, the founders of Fusion GPS, Glenn R. Simpson and Peter Fritsch, authored an op-ed in The New York Times, requesting that Republicans "release full transcripts of our firm's testimony" and further explaining that, "the Steele dossier was not the trigger for the F.B.I.'s investigation into Russian meddling. As we told the Senate Judiciary Committee in August, our sources said the dossier was taken so seriously because it corroborated reports the bureau had received from other sources, including one inside the Trump camp."[41]
The committee interviewed Simpson for seven hours on November 14, 2017. The transcript of the interview was released on January 18, 2018.[42][43]
Senate Judiciary Committee investigations
| | |
| --- | --- |
| | Wikisource has original text related to this article: |
Senate Judiciary Committee Chairman Grassley and ranking Democrat Dianne Feinstein made arrangements in July 2017 for Fusion GPS co-founder Glenn Simpson to testify before their committee. It was agreed that Simpson would not testify in public but would be interviewed privately.[44][45] The committee wanted to question Simpson about the Foreign Agents Registration Act (FARA). A previous witness, banker and human rights activist Bill Browder, had accused Simpson and Fusion GPS of evading registration as foreign agents for campaigning to influence and overturn the Magnitsky Act.[24] Fusion GPS said through their attorney that they were not required to register under FARA.[24] Senators were expected to also use the hearing "to press Justice Department officials on what they know about Veselnitskaya, Prevezon, Fusion GPS and their connections to both the Trump campaign or the Russian government."[46]
On August 22, 2017, Simpson was questioned for 10 hours by the Senate Judiciary Committee in a closed-door meeting. The Committee did not release a transcript of the hearing, but indicated that Fusion GPS had given more than 40,000 documents for the investigation.[47] Simpson kept the identities of the firm's clients confidential;[48][49] the client names—conservative website The Washington Free Beacon,[28] and a law firm representing the DNC and the Clinton presidential campaign[30]—were revealed in October 2017 as a result of the House Intelligence Committee investigation.
On January 2, 2018, Simpson and Fritsch co-authored an op-ed in The New York Times, requesting the two congressional committees to "release full transcripts of our firm's testimony".[41] On January 8, 2018, a spokesman for Grassley said he did not plan to release the transcript of Simpson's August 22, 2017, testimony before the Senate Judiciary Committee.[50] The next day, January 9, 2018, Feinstein unilaterally released the transcript.[51][52]
See also
References …
https://en.wikipedia.org/wiki/Fusion_GPS
The Washington Free Beacon
Jump to navigationJump to search
The Washington Free Beacon is an American conservative political journalism website launched in 2012. It states that it is "dedicated to uncovering the stories that the powers that be hope will never see the light of day" and producing "in-depth investigative reporting on a wide range of issues, including public policy, government affairs, international security, and media."[1]
The website is financially backed by Paul Singer, an American billionaire hedge fund manager and conservative activist.[2]
History
The Free Beacon was founded by Michael Goldfarb, Aaron Harrison, and Matthew Continetti, who remains its editor-in-chief. It launched on February 7, 2012, as a project of the 501(c)4 organization Center for American Freedom.[3] In August 2014, it announced it was becoming a for-profit news site.[4]
The site is noted for its conservative reporting, modeled after liberal counterparts in the media such as ThinkProgress and Talking Points Memo, intended to publicize stories and influence the coverage of the mainstream media.[3][5][6] Jack Hunter, a staff member of U.S. Senator Rand Paul's office, resigned in 2013 after a Free Beacon report detailing his past as a radio shock jock known as the "Southern Avenger" who wore a luchador mask of the Confederate flag.[7] The publication also broke several stories about former First Lady and Secretary of State Hillary Clinton's successful 1975 legal defense of an accused child rapist that attracted national media attention.[5][8] In May 2017, it received an award from The Heritage Foundation for its journalism.[9]
From October 2015 to May 2016, the Washington Free Beacon hired Fusion GPS to conduct opposition research on "multiple candidates" during the 2016 presidential election, including Donald Trump. The Free Beaconstopped funding this research when Donald Trump had clinched the Republican nomination.[10] Fusion GPS would later hire former British intelligence officer Christopher Steele and produce a dossier alleging links between the Trump campaign and the Kremlin. Paul Singer, a billionaire and hedge fund manager, who is a major donor to the Free Beacon, said he was unaware of this dossier until it was published by BuzzFeed in January 2017.[11]On October 27, 2017, the Free Beacon publicly disclosed that it had hired Fusion GPS, and stated that it "had no knowledge of or connection to the Steele dossier, did not pay for the dossier, and never had contact with, knowledge of, or provided payment for any work performed by Christopher Steele."[12]
The Free Beacon came under criticism for its reporting on Fusion GPS. Three days before it was revealed that it was the Free Beacon that had funded the work by Fusion GPS, the Free Beacon wrote that the firm's work "was funded by an unknown GOP client while the primary was still going on."[13] The Free Beacon has also published pieces that have sought to portray the work by Fusion GPS as unreliable "without noting that it considered Fusion GPS reliable enough to pay for its services."[13] In an editor's note, Continetti said "the reason for this omission is that the authors of these articles, and the particular editors who reviewed them, were unaware of this relationship," and that the outlet was reviewing its editorial process to avoid similar issues in the future.[14]
Reception
Jim Rutenburg of The New York Times described the reporting style of the Free Beacon as "gleeful evisceration."[15]
Its tactics have also led to attacks from media critics and watchdog groups. The Atlantic's Conor Friedersdorf called the Free Beacon's mission "decadent and unethical".[16]
Ben Howe wrote in The Daily Beast that the Washington Free Beacon established "itself as a credible source of conservative journalism with deep investigative dives and exposes on money in politics," but that after Trump's election "shifted away from the template they were establishing and more towards the path of least resistance: spending their time criticizing the left and the media, along with healthy doses of opinion writing."[17] McKay Coppins in the Columbia Journalism Review writes of the Free Beacon that while the website contains "a fair amount of trolling… it has also earned a reputation for real-deal journalism…If a partisan press really is the future, we could do worse than the Free Beacon."[18]
Jeet Heer writes in The New Republic of the Free Beacon, "Unlike other comparable conservative websites, the Free Beacon makes an effort to do original reporting. Its commitment to journalism should be welcomed by liberals."[19] In 2015, Mother Jones wrote positively of the Free Beacon, noting that it is far better than contemporary conservative outlets such as The Daily Caller.[20] Mother Jones however noted that "the Beacon hasn't always steered clear of stories that please the base but don't really stand up," and that it pieces inflammatory pieces that "push conservatives' buttons".[20] That same year, the Washingtonian wrote that "The Beacon's emphasis on newsgathering sets it apart among right-facing publications".[21]
See also
References …
External links
Story 2: Radical Extremist Democrat Polls — Trump Loses — Reality Deniers —  Videos —
New poll shows Trump trailing Biden and four other Democrats
,
A nationwide Fox News poll released Sunday shows President Donald Trump trailing former vice president Joe Biden and no fewer than four other Democratic contenders as early campaigning for the 2020 election begins to gain steam.
A separate survey of battleground states, by CBS, shows Democrats strongly favor Biden as the candidate most likely to beat Trump in next year's elections.
The Fox poll showed Biden leading Trump by 49 percent to 39 percent among all registered voters nationwide, while Senator Bernie Sanders held nearly the same advantage over the president, at 49 percent to 40 percent.
Holding edges of 1 or 2 points over Trump — albeit within the poll's 3-point margin of error — were Senators Elizabeth Warren and Kamala Harris, as well as Mayor Pete Buttigieg of South Bend, Indiana.
The polling comes more than 500 days before the November 3, 2020 election, an eternity in the political world. One widely viewed tweet this week shows five presidential candidates in recent decades who trailed at this point in their campaigns — including Trump — but who went on to win.
The president does not officially launch his re-election campaign until Tuesday, at a rally-style event in a huge arena in Orlando, Florida.
– Battleground states –
Still, the Fox poll, conducted June 9 to June 12, is seen as heartening by Democrats eager to chip away at Trump's popularity, particularly in key battleground states like Pennsylvania and Wisconsin.
Trump's campaign recently dismissed leaked data from its own pollsters showing Biden with double-digit leads in battleground states. The campaign at first denied the data, but then acknowledged it, branding it as "ancient" because it dated from March.
But the new CBS poll confirms a clear Biden lead in battleground states among Democratic voters, as the crowded race for that party's nomination begins to take shape.
A belief among Democratic voters that Biden is best positioned to defeat Trump in 2020 was cited by three-quarters of Democrats as a decisive factor in their support.
https://news.yahoo.com/poll-shows-trump-trailing-biden-four-other-democrats-164318873.html
Story 3: Iran Promises To Break Nuclear Agreement If Sanctions Not Removed — Pathway To Nuclear Bomb and Long Range Missile and War — Videos
Iran says it will breach nuclear deal 'in days' as its uranium stockpile limit nears
Iran threatens to violate nuclear deal
Iran to increase uranium stockpile as US considering 'all options'
Iran nuclear deal: Tehran to lift cap on uranium enrichment | Al Jazeera English
The Heat: US-Iran sanctions
Iran speeds up uranium enrichment as Mideast tensions mount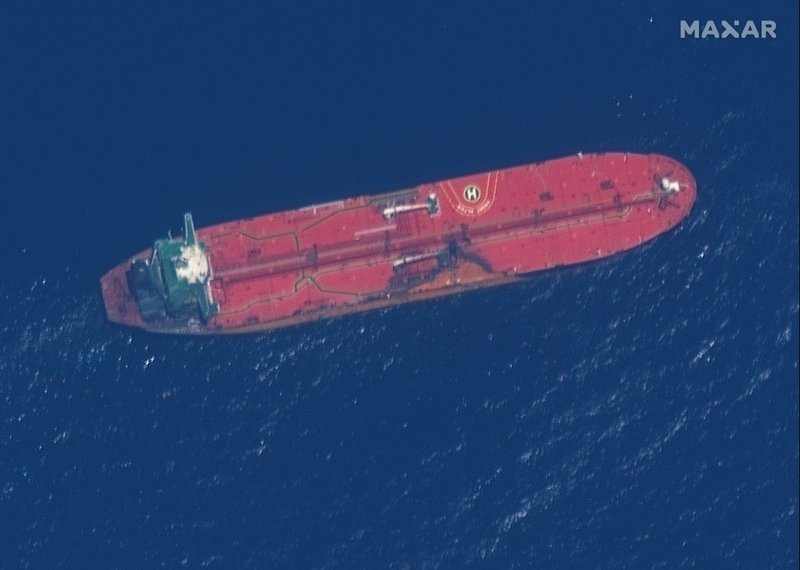 TEHRAN, Iran (AP) — Iran will surpass the uranium-stockpile limit set by its nuclear deal in the next 10 days, an official said Monday, raising pressure on Europeans trying to save the accord a year after the U.S. withdrawal lit the fuse for the heightened tensions now between Tehran and Washington.
The announcement by Iran's nuclear agency marked yet another deadline set by Tehran. President Hassan Rouhani already has warned Europe that a new deal needs to be in place by July 7 or the Islamic Republic would increase its enrichment of uranium.
Atomic energy spokesman Behrouz Kamalvandi suggested that Iran's enrichment could reach up to 20%, just a step away from weapons-grade levels.
It appears as if Iran has begun its own maximum pressure campaign on the world after facing one from President Donald Trump's administration that deeply cut into its sale of crude oil abroad and sent its economy into freefall. Europe has so far been unable to offer Iran a way around the U.S. sanctions.
The development follows apparent attacks last week in the Strait of Hormuz on oil tankers, assaults that Washington has blamed on Iran. While Iran has denied being involved, it laid mines in the 1980s targeting oil tankers around the narrow mouth of the Persian Gulf through which a fifth of the world's crude oil passes.
"If this condition continues, there will be no deal" anymore, Kamalvandi said. He accused the Europeans of "killing time" as the clock runs down.
Rouhani, greeting France's new ambassador to Tehran on Monday, similarly warned that time was running out on the deal.
"The current situation is very critical and France and the other parties to the (deal) still have a very limited opportunity to play their historic role for saving the deal," Rouhani said, according to his website.
The announcement appeared timed to strike just as European foreign ministers met in Luxembourg. Federica Mogherini, the European Union's top diplomat, declined to specifically address the Iranian announcement.
"At the moment, as of today, Iran is still technically compliant and we strongly hope, encourage and expect that Iran continues to comply," Mogherini told journalists. She insisted she would await the next report on the issue from the U.N.'s nuclear watchdog, the International Atomic Energy Agency.
Under terms of the 2015 nuclear deal with world powers, Iran can keep a stockpile of no more than 300 kilograms (660 pounds) of low-enriched uranium. Kamalvandi said that given Iran's recent decision to quadruple its production of low-enriched uranium, it would pass the 300-kilogram limit on Thursday, June 27.
The Vienna-based IAEA said last month that Iran remained within its stockpile limits and declined to comment on Iran's announcement. Kamalvandi said Iran would continue to allow the U.N. to inspect its nuclear facilities for the time being.
He also raised the specter of increasing its enrichment levels, saying Iran needs 5% enriched uranium for its nuclear power plant in southern Iranian port of Bushehr and 20% enriched fuel for its Tehran research reactor.
The nuclear deal limits Iran to enriching uranium only to 3.67%, enough for power plants and other peaceful purposes.
But after America pulled out of the nuclear accord and escalated sanctions, Rouhani set a July 7 deadline for Europe to come up with better terms for the deal or Tehran would boost enrichment further. So far, a European mechanism called INSTEX to protect trade with Iran has yet to take off.
The danger, nuclear nonproliferation experts warn, is that at 20% enrichment, only a fraction of atoms need to be removed to enrich up to weapons-grade levels of 90%. Iran maintains its nuclear program is for peaceful purposes, but the 2015 deal grew out of Western concerns about the program.
Under the accord, Iran agreed to limit its uranium enrichment in exchange for the lifting of economic sanctions. Since Trump took office, the U.S. has steadily stripped away at the accord, and he pulled America out of the deal in May 2018.
However, Iran's announcement that it was on the verge of surpassing the uranium-stockpile limit set by the nuclear agreement put the U.S. is the awkward position of having to push Iran to abide by the deal Trump has disparaged.
"It's unfortunate that they have made this announcement today," State Department spokeswoman Morgan Ortagus said. "It doesn't surprise anybody and this is why the president has often said that the JCPOA needs to be replaced with a better deal."
Israeli Prime Minister Benjamin Netanyahu said the international community should reinstate sanctions if Iran follows through on its threats, adding: "In any case, Israel will not allow Iran to obtain nuclear weapons."
Tensions have risen in the region since last month. The U.S. rushed an aircraft carrier strike group and other military assets to the Middle East in response to what it said were threats from Iran.
Meanwhile, a series of mysterious attacks have targeted oil tankers, and the U.S. blames Iranian-laid limpet mines. Iranian-backed Houthi rebels in Yemen also have launched a series of drone and missile attacks on Saudi Arabia. The Pentagon on Monday released new photos intended to bolster its case that Iran was responsible for the attacks.
Iran's paramilitary Revolutionary Guard, which the U.S. suspects in the attacks, answers only to Supreme Leader Ayatollah Ali Khamenei and operates outside of the traditional military's control.
Gen. Mohammad Hossein Bagheri, the chief of the general staff of Iran's armed forces, denied Tehran was involved in the tanker attacks, saying Monday the country only would respond in "an open, strong and severe way" if needed.
But he also reiterated Iran's traditional stance on the Strait of Hormuz.
"If we decide to block the Strait of Hormuz, we will to do it in a way that even a drop of oil won't pass the strait," Bagheri added.
Kamalvandi spoke to Iranian journalists at the country's Arak heavy water nuclear reactor. Such reactors produce plutonium that can be used in nuclear weapons. Iran, under the nuclear deal, had reconfigured the facility to address Western concerns on that issue.
However, Kamalvandi said the country could rebuild the facility to make it produce plutonium. He made a point to give an interview to Iranian state television, standing next to the open pit where the reactor would be in the facility.
As the camera panned down to what would be the reactor's core, Kamalvandi stressed that piping could be replaced and the reactor could be built to make plutonium. Hard-liners opposed to the nuclear deal had constantly accused the agency of filling the entire pit with concrete.
"They had previously photoshopped a picture of this place having been filled up with concrete," Kamalvandi said.
He added: "The message that we tried to get across to Europeans today was that not much time is left for them."
ATOMIC THREAT 
Iran reveals it will break America's uranium stockpile limits within 10 DAYS dramatically ramping up tensions with Trump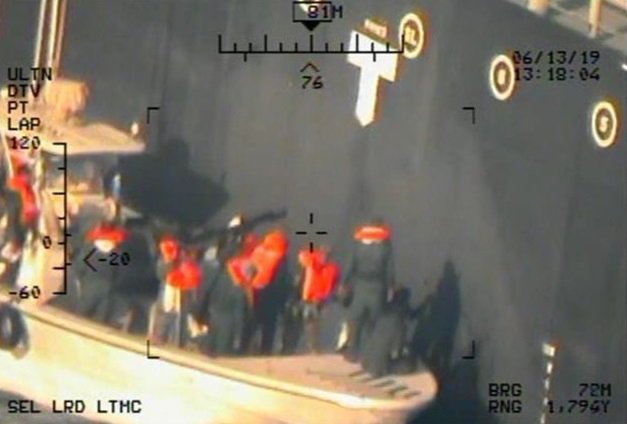 WASHINGTON (AP) — In an effort to bolster its public case against Iran, the Pentagon on Monday released new photos that officials said show that members of Tehran's Revolutionary Guard were responsible for attacks last week on two oil tankers near the Persian Gulf.
The images, many taken from a Navy helicopter, show what the Pentagon said were Iranian forces removing an unexploded mine from the side of the Japanese-owned Kokuka Courageous oil tanker in the Gulf of Oman.
Officials last week said the move appeared to be an attempt to remove forensic evidence from the scene of the attack. But it's not clear if examination of the mine would have made it definitively clear that the device was planted by the IRGC.
Other photos show a large hole on the side of the Courageous, above the water line, that officials say appears to have been caused by another similar mine.
The release of the photos came as the U.S. works this week to convince members of Congress and allies that the accusations against Tehran are true. Iran has denied involvement in the tanker attacks and has accused America of promoting an "Iranophobic" campaign. Tehran, however, has repeatedly threatened to close the vital Strait of Hormuz, through which 20% of the world's oil flows.
Secretary of State Mike Pompeo said he made a number of calls Sunday and Monday to international leaders, trying to convince them that keeping the Strait of Hormuz safe and open is a problem they all must deal with.
Relations between the U.S. and Iran have deteriorated in recent months, as the Trump administration restored crippling sanctions and designated the Revolutionary Guard as a foreign terrorist organization.
That increased pressure preceded a string of attacks that the U.S. has blamed on Iran. In late May, four oil tankers off the coast of the United Arab Emirates were attacked with what appeared to be mines, and there was a rocket attack in Baghdad. Last week, similar attacks were launched against the Courageous and the Norwegian-owned MT Front Altair in the Gulf of Oman.
The U.S. military has also accused Iranian Revolutionary Guard troops of trying but failing to shoot down a U.S. drone to disrupt surveillance of the tankers during the attacks.
The Pronk Pops Show Podcasts Portfolio