Posted on February 5, 2020. Filed under: 2020 Democrat Candidates, 2020 President Candidates, 2020 Republican Candidates, Abortion, Addiction, Addiction, American History, Amy Klobuchar, Banking System, Barack H. Obama, Bernie Sanders, Blogroll, Breaking News, Bribery, Bribes, Budgetary Policy, Business, Cartoons, Central Intelligence Agency, Computers, Congress, Constitutional Law, Corruption, Countries, Crime, Culture, Donald J. Trump, Donald J. Trump, Donald Trump, Drugs, Economics, Education, Elizabeth Warren, Empires, Employment, Federal Bureau of Investigation (FBI), Federal Government, Fifth Amendment, First Amendment, Fiscal Policy, Foreign Policy, Fourth Amendment, Free Trade, Freedom of Religion, Freedom of Speech, Government, High Crimes, History, House of Representatives, Human Behavior, Illegal Immigration, Immigration, Impeachment, Independence, Joe Biden, Labor Economics, Legal Immigration, Life, Mental Illness, Monetary Policy, National Interest, News, Pete Buttigieg, Public Corruption, Public Relations, Rape, Second Amendment, Senate, Sexual Harrasment, Spying, Success, Surveillance and Spying On American People, Tax Policy, Taxation, Taxes, Terror, Terrorism, Trade Policy, Ukraine, United States Constitution, United States of America, Videos, Wealth, Wisdom | Tags: 2020 Iowa caucuses end in debacle, 2020 State of The Union, 4 february 2020, and Moderate Left of Center Bi, and Moderate Left of Center Biden Just Makes Cutoff with (15.1%) For Now, Based on Partial Results -- Buttigieg (26.9%), Buttigieg (26.9%), Iowa Caucuses Partial Results, President Trump To Award The Medal of Freedom to Conservative Talk Show Host Rush Limbaugh, Presidential Medal of Freedom, Radical Extremist Democratic Socialists (REDS) Sweep The Iowa Caucuses, Raymond Thomas Pronk, Sanders (25.1%), The Pronk Pops Show 1391, Warren (26.9%) |
Pronk Pops Show 1391 February 4, 2020
Pronk Pops Show 1390 February 3, 2020
Pronk Pops Show 1389 January 31, 2020
Pronk Pops Show 1388 January 30, 2020
Pronk Pops Show 1387 January 29, 2020
Pronk Pops Show 1386 January 28, 2020
Pronk Pops Show 1385 January 27, 2020
Pronk Pops Show 1384 January 24, 2020
Pronk Pops Show 1383 January 23, 2020
Pronk Pops Show 1382 January 22, 2020
Pronk Pops Show 1381 January 21, 2020
Pronk Pops Show 1380 January 17, 2020
Pronk Pops Show 1379 January 16, 2020
Pronk Pops Show 1378 January 15, 2020
Pronk Pops Show 1377 January 14, 2020
Pronk Pops Show 1376 January 13, 2020
Pronk Pops Show 1375 December 13, 2019
Pronk Pops Show 1374 December 12, 2019
Pronk Pops Show 1373 December 11, 2019
Pronk Pops Show 1372 December 10, 2019
Pronk Pops Show 1371 December 9, 2019
Pronk Pops Show 1370 December 6, 2019
Pronk Pops Show 1369 December 5, 2019
Pronk Pops Show 1368 December 4, 2019 
Pronk Pops Show 1367 December 3, 2019
Pronk Pops Show 1366 December 2, 2019
Pronk Pops Show 1365 November 22, 2019
Pronk Pops Show 1364 November 21, 2019
Pronk Pops Show 1363 November 20, 2019
Pronk Pops Show 1362 November 19, 2019
UPDATED February 5, 2020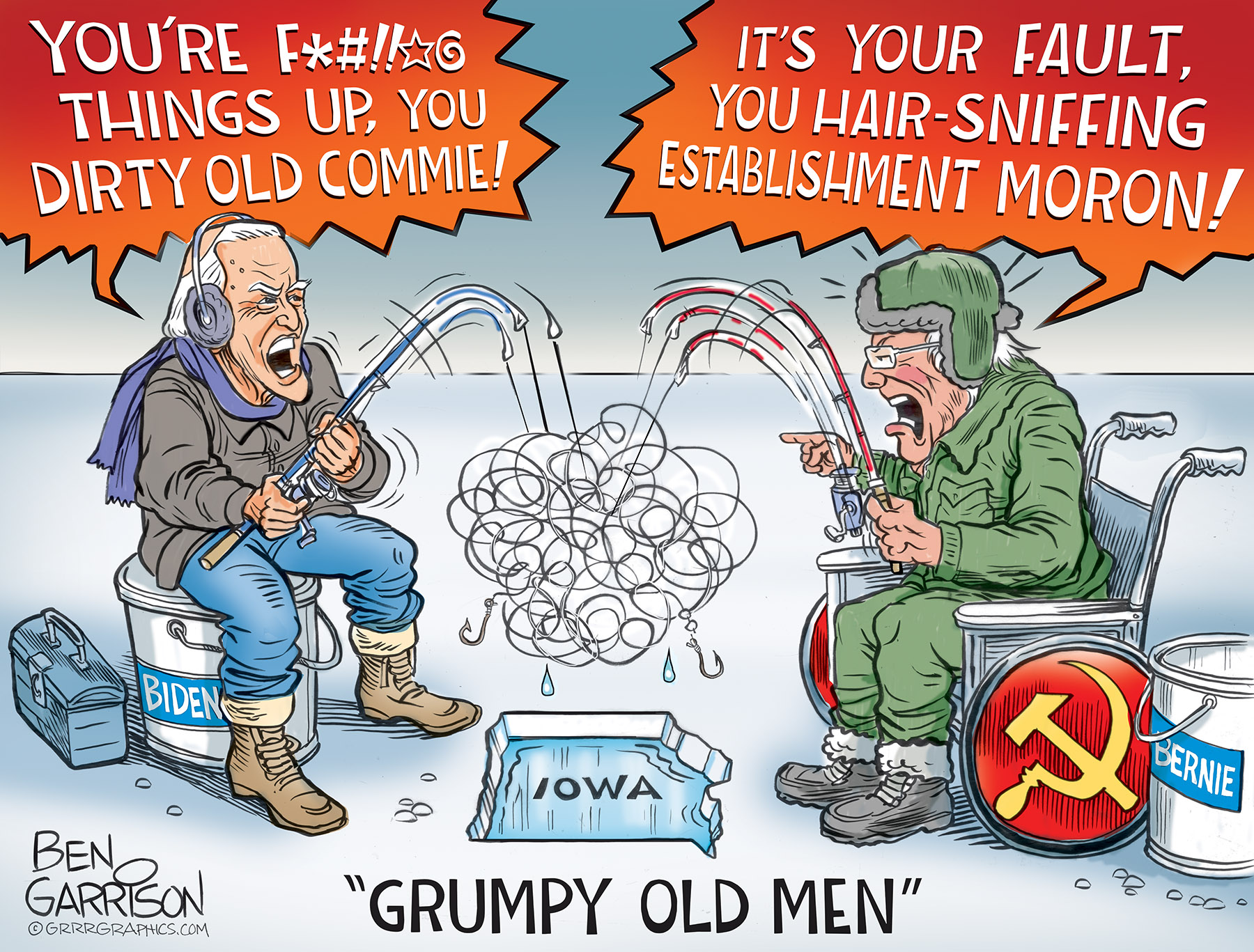 Story 1: Radical Extremist Democratic Socialists (REDS) Sweep The Iowa Caucuses Based on Partial Results — Buttigieg
(26.9%),
Sanders 
(25.1%), 
Warren 
(18.3%), and Moderate Left of Center Biden Just Makes Cutoff with (15.6%) For Now — Results Subject To Change — Videos
Democrat says 'systemic racism' to blame for low turnout in Iowa caucuses
OMG the Democrat meltdown in Iowa just keeps getting worse. In addition to the technical glitches that embarrassed Democrats worldwide, they are trying to pin the blame on Iowa in their latest effort to alienate voters. Democrat consultant Zerlina Maxwell told Craig Melvin on MSNBC that the low Democrat turnout in Iowa was because "white children are not in the cages." WHAT?!? Of course, many Latinos are white, but beyond that she has insulted all those good progressive Iowans who thought they were just as good as the radical Dems in California and New York. Guess again!
Partial results released after glitch delays Iowa caucus numbers
2020 Iowa caucuses end in debacle
Trump reacts to Iowa chaos as he prepares for State of the Union address l ABC News
Trump reacts to Iowa chaos as he prepares for State of the Union address l ABC News
Pete Buttigieg IS ahead in Iowa caucus results as Democrats FINALLY unveil two-thirds of votes – with Bernie Sanders in second place and Joe Biden in distant FOURTH
Pete Buttigieg, the former South Bend mayor, declared himself victor of the Iowa caucuses even though there were no official results
On Tuesday afternoon almost 24 hours after the caucuses began the state Democratic party finally unveiled results from two-third of precincts
They dramatically revealed that Buttigieg, 38, IS in the lead for state delegates, the key measure of success
He was on 26.9% with Bernie Sanders on 25.1%, Elizabeth Warren on 18.3%  and Joe Biden on 15.6%
But the final vote result puts Bernie Sanders just ahead of Buttigieg in the second round votes – the raw popular vote
The caucus system works like the electoral college so it is possible to lose the popular vote but win the overall result
The results are bad news for Joe Biden who was in fourth on 15.6%  and a mixed picture for Elizabeth Warren on 18.3% 
Amy Klobuchar said she did 'incredibly well' on Tuesday night but was in fifth on 12.6%
Bernie Sanders' campaign put out numbers that put him in the lead, but the senator said 'we are not declaring victory' like Buttigieg's campaign 
Iowa Democratic Party chair Troy Price apologized for the disaster and moved rapidly off stage after saying he promised the data was accurate 
By GEOFF EARLE, DEPUTY US POLITICAL EDITOR FOR DAILYMAIL.COM IN NASHUA, NEW HAMPSHIRE and EMILY GOODIN, SENIOR U.S. POLITICAL REPORTER FOR DAILYMAIL.COM and NIKKI SCHWAB, SENIOR U.S. POLITICAL REPORTER FOR DAILYMAIL.COM IN MANCHESTER, NEW HAMPSHIRE
PUBLISHED: | UPDATED: 
Pete Buttigieg is leading Democrats in the first big batch of Iowa election data released finally released Tuesday by the state party after a faulty app botched Monday night's caucus results.
Buttigieg, 38, who declared Monday night that he would be 'victorious,' was leading the field with 26.9 per cent of delegates, the key measure of success, according to the first batch of returns, with 62 per cent of precincts reporting.
He was followed by Vermont Sen. Bernie Sanders, at 25.1 per cent, and Sen. Elizabeth Warren, at 18.3 percent. Joe Biden was at 15.6 percent in the returns.
Sen. Amy Klobuchar, from neighboring Minnesota, was in fifth place, with 13 per cent of the vote. She has been banking on a strong performance in in Iowa to vault her to the national stage.
Andrew Yang, who has drawn big crowds of young Iowans, was at just 1 percent. In Iowa's controversial caucus system, candidates who draw less than 15 per cent are not deemed viable, and supporters are required to caucus for other candidates.
But the other measure of success –  final round votes – put Buttigieg narrowly in second place to Bernie Sanders with 27,030 votes to the Vermont senator's 28,220.
Buttigieg addressed the results at his Tuesday night rally in Laconia, New Hampshire.
'They are not complete, but a majority is in, and they show our campaign in first place. So, we don't know all of the numbers, but we know this, a campaign that started a year ago with four staff members, no name recognition, no money, just a big idea,' he said.
Buttigieg, the first openly gay major party candidate, choked up talking about what the results meant to him.
'It validates for a kid somewhere in a community wondering if he belongs or she belongs or they belong in their own family that if you believe in yourself and your country, there is a lot backing up the belief,' he said.
'And now, we come to new Hampshire. A state that famously thinks for itself, and as we enter this new phase and this week ahead to convince New Hampshire to support this vision and then go on, I have never been more confident in our campaign, in our team, and in the vision that brought to us this point.'
But Sanders offered no concession. His campaign adviser Jeff Weaver said: 'We want to thank the people of Iowa. We are gratified that in the partial data released so far it's clear that in the first and second round more people voted for Bernie than any other candidate in the field.'
The news came after nearly 24 hours of chaos, after the Iowa party failed to release the results after experiencing widespread technical difficulties that were attributed to an app that allowed precinct chairs to report election information.
Iowa Democratic Party Chair Troy Price apologized for the snafu that upended Democratic politics.
'The bottom line is that we hit a stumbling block on the back end of the reporting of the data but the one thing I want you to know: we know this data is accurate,' he said.
He reassured Americans about the outcome, after multiple candidates put their spin on the results.
'The one thing they will say is that the underlying data that — the raw data — is secure. It was always secure. This was a coding error in one of the pieces on the back-end, but the raw data, the data that has come in, is secure,' he said.
'We have been working day and night to make sure that the results are accurate,' he pledged, after party officials told stunned media in Iowa that it would not release results Monday night.
He called the reporting that occurred 'unacceptable' and said he was sorry. 'As chair of the party, I apologize deeply for this,' he said in a televised news conference.
 The strong performance by Buttigieg came as he was ridiculed by other party members for declaring victory before the results were in. Rival Vermont Sen. Bernie Sanders put out his own unofficial count Monday night that had him leading the field in areas tabulated by his staff.
In fact, at least as far as the first 62 per cent precincts were concerned, it is Buttigieg who is the unofficial leader.
'It took longer than we expected,' he said of the count.
Price wouldn't say when the full 100 per cent of results would be available.
When asked about President Trump's allegation the results were rigged, Price responded: 'We have said all along, that we would make the caucuses more transparent, and this year, we are reporting out more data than we have ever reported before and in addition to that, we have paper trails that we have never had before. So we will take the time to verify the results, but the results are based off of what happened in the precincts last night.'
And he wouldn't say if he would resign as party chair over the fiasco, Price demurred.
'When I ran for chair, I made a commitment to see the caucus process through. That is what I am working on. That is what I will continue to work on, and whatever happens that, it is to be determined.'
'Anyway, thank you all, folks, the results are coming in, and we will see you later,' he concluded as he ended his press conference in Des Moines, moving rapidly off stage.
The event was packed with reporters who stayed behind to cover the turmoil in Iowa, even as the candidates hastily made their way to New Hampshire for political events.
At the same time, Democratic presidential candidates put their own inexact spin on the Iowa caucuses Tuesday morning as they headed to campaign events across New Hampshire.
Sen. Elizabeth Warren of Massachusetts spoke almost as soon as she landed in New Hampshire – the next big battleground on the political calendar – declaring herself satisfied with her performance after flying direct from Des Moines.
'When I left Iowa, I said it was too close to call, and it still is, but I feel good,' she told reporters. 'It is good to be in New Hampshire.' She declared her own organization, with hundreds already deployed across the country, up to the task.
'This is an organization that is built for the long haul,' she said.
Buttigieg, who declared himself 'victorious' and said his backers 'shocked the nation' in a Monday night speech continued to talk up his performance, which he called 'phenomenal.'
'They said we shouldn't even be here. And now, here we are, in the position that we are in, coming into New Hampshire for what we think will be another historic night a week from today,' he said, referencing Tuesday's first-in-the-nation primary.
Buttigieg was the first of his rivals to wake up and do an early TV interview, speaking to CBS. He had a morning event set for Manchester and made a coffee stop in Nashua. Warren had an event planned in Keene, former Vice President Joe Biden had one set for Nashua, and Vermont Sen. Bernie Sanders had an evening rally on tap just outside of Manchester.
The Sanders campaign put out numbers in the early hours of Tuesday representing tallies from 40 per cent of precincts across Iowa showing the Vermont senator ahead of Buttigieg in all three ways results can be tallied.
Buttigieg then put out his own information.  It showed him getting 28 per cent of state delegate equivalents in Iowa, which would be a strong showing – but did not reveal whether another candidates did better and who did worse.
Jeff Weaver, Sanders' 2016 campaign manager and a top adviser on the senator's 2020 campaign, gave new tallies to reporters Tuesday afternoon before the campaign plane took off for the Granite State. The new numbers represent 60 per cent of caucus sites, Weaver said.
On first alignment Sanders got 29.08 per cent, Buttigieg got 21.63 per cent, Warren came in third with 19.51 per cent, Sen. Amy Klobuchar came in fourth with 12.27 per cent and Biden, long considered the party's frontrunner, came in a shocking fifth place with just 12.04 per cent.
The way the Iowa caucuses work is that if candidates don't get 15 per cent of caucusgoers at a particular precinct they're not viable to earn delebates, so the second set of numbers are the percentages that reflect voters' second-place preferences.
For those, the Sanders campaign still had their guy on top – with 29.4 per cent of the vote. Sanders is again followed by Buttigieg at 24.87 per cent and Warren, at 20.65 per cent. In the second tally, Biden gets more support than Klobuchar. He's at 12.92 per cent and she's at 11.18 per cent, according to the Sanders campaign.
'We anticipate that this will hold,' Weaver told reporters, according to The Intercept.
Sanders also spoke.
'Obviously, I am disappointed,' the Vermont senator expressed. 'I suspect I speak for all the candidates, all of their supporters and the people of Iowa that the Iowa Democratic Party has not been able to come up with timely election results.'
'I can't understand why that has happened, but it has happened,' Sanders added.
Asked about Buttigieg's rush to victory, Sanders said, 'I don't know how anybody could claim this as a victory.'
'We are not declaring victory,' he also said, explaining that his campaign was sharing internal numbers for the sake of 'transparency.'
Klobuchar said in Manchester that 'we know that we did incredibly well' in Iowa.
'We won a bunch of precincts and delegates, places we didn't expect to win and we're feeling good,' Klobuchar added.
Biden advisor Symone Sanders blasted Iowa for blowing its handling of results in comments to reporters in New Hampshire Tuesday.
'The app failed last night. The backup phone process failed last night.  You couldn't drive your ballot to the Iowa Democratic Party last night,' she fumed. 'The process, there were grotesque, grotesque breakdowns in the process and the integrity in this election.
'We implore the Iowa Demoratic party to get it right,' she said. Asked about candidates declaring victory, Sanders said: 'It's just not accurate. There is no data. Victory is determined by state delegate equivalencies, ladies and gentlemen. We don't have any of those right now.'
'Iowa is the beginning and not the end,' she said. 'We have to wait for the data, frankly. The Iowa Democratic party is being implored to get it right,' she told DailyMail.com in Nashua.
Biden rolled out the endorsement of Caroline Kennedy, the daughter of the late John F. Kennedy and who President Barack Obama named ambassador to Japan.
Kennedy called Biden the Democratic Party's 'best bet to win the White House, keep the gains we made in the House, and put the Senate in play.'
Andrew Yang, whose campaign slogan is M.A.T.H. – Make America Think Harder –  stopped short of trying to massage the numbers absent information, with his supporters not reaching a 15 per cent viability threshold in some precincts.
'We're very excited to get results like the rest of the country,' said Yang.
There are 21 campaign events scheduled for the Democratic contenders – including Tulsi Gabbard and Deval Patrick – on Tuesday throughout the state, according to a New Hampshire candidate tracker.
Buttigieg emerged in a Nashua, N.H., coffee shop – no doubt need the jolt of caffeine after the late night of waiting for results.  At the top of his Manchester event he joked, 'I think it's morning,' as he wished his crowd of supporters a good one.
In Nashua he had a cup of joe with the town's mayor, Jim Donchess.
He was optimistic results from Iowa would be in Tuesday although he declined to answer a question from reporters with him about whether it was premature to declare himself the winner.
'Well, I think it's safe to say no one in the country is more impatient than I am to hear the official results from the party, but we've also put out the results that we've got from over 1,200 districts our precinct organization reported based on the procedure that they were trained to do. And based on that, it was a phenomenal night for us,' he told CBS This Morning on Tuesday.
Buttigieg declared himself the winner in Iowa after technical glitches and snafus prevented the state party from announcing any caucus results Monday night.
'We don't know all of the results. But we do know that by the time it's all said and done, Iowa: you have shocked the nation. Because by all indications we are going on to New Hampshire victorious,' Buttigieg told cheering supporters – in the kind of statement that might ordinarily follow a strong measure of public information.
Instead there was no official result in any form, and the Iowa Democratic Party rushed out a statement promising that they had not been hacked and would now be using paper results with a count which will stretch into daylight on Tuesday morning.
Biden's campaign issued a letter from its lawyers warning that the results could not be trusted – but did not say how they believed they had performed.
But Buttigieg, a Harvard and Oxford-educated former McKinsey management consultant who was a Naval Reserve intelligence officer in Afghanistan, swept in with a move of extraordinary daring.
He told his supporters in Des Moines they had started a movement. 'You joined your names to say that the time has come to turn the page and join a new chapter in America,' he told them.
'With hope in our heart and fire in our bellies we are going on to New Hampshire, on to the nomination and on to chart a new course for this nation we love!' he said.
He spoke at a made-for-TV victory celebration, with supporters cheering on an elevated platform. All it was lacking was evidence from state party officials that he had won the most support.
'No results have been released,' noted CNN's Anderson Cooper after his network aired Buttigieg's speech.
Buttigieg, 38, had performed well in many state precincts, including one on the Drake University campus nearby where he held his rally – although he trailed Warren on the first ballot.
At another caucus site that DailyMail.com observed, this one in Norwalk, Iowa, near the Des Moines airport, Buttigieg came in first, with Klobuchar and Sanders also winning delegates.
Pete Buttigieg claims victory in Iowa before results are announced
I've won! The daring moment Pete Buttigieg delivered a full-blown victory speech despite no official results being released as the entire counting process was plunged into crisis with no results delivered
The real official results: How the candidates fared – at exactly the moment Pete Buttigieg declared victory
His remarks followed other Democrats who tried to put the best face on the night, but in a far more restrained form.
'The Iowa Democratic Party is working to get these results – to get them straight,' said Biden at his own caucus-night party.
'We're going to walk out of here with our share of delegates,' saying he didn't know exactly,' he said, hedging. He said indications are that 'it's going to be close.'
'We don't know exactly what it is yet, but we feel good about where we are,' said Biden.
TRUST US, WE WEREN'T HACKED: DEMOCRATS' PANICKED STATEMENT
Iowa Democratic Party Communications Director Mandy McClure said: 'We found inconsistencies in the reporting of three sets of results.
' In addition to the tech systems being used to tabulate results, we are also using photos of results and a paper trail to validate that all results match and ensure that we have confidence and accuracy in the numbers we report.
'This is simply a reporting issue, the app did not go down and this is not a hack or an intrusion.' 
Klobuchar also found ways to express optimism absent any pubic information about how she fared.
'We know there's delays but we know one thing. We are punching above our weight. My heart is full tonight,' she said at a rally outside Des Moines.
'Somehow and some way I'm going to get on a plane to New Hampshire,' she said.
Klobuchar declared: 'We have beaten the odds every step of the way.'
Sanders, who surged in polls in the run-up to the caucuses, also held back.
'Let me begin by stating that I imagine, have a strong feeling that at some point the results will be announced,' he said.
'And when those results are announced, I have a good feeling we're going to be doing very, very well here in Iowa.'
The fiasco unfolded after caucusing around the state started at 7pm Central Standard Time. Three hours later, not a single precinct's results were officially in.
'We found inconsistencies in the reporting of three sets of results. In addition to the tech systems being used to tabulate results, we are also using photos of results and a paper trail to validate that all results match and ensure that we have confidence and accuracy in the numbers we report,' Iowa Democratic Party Communications Director Mandy McClure said in a statement. 'This is simply a reporting issue, the app did not go down and this is not a hack or an intrusion.'
The underlying data and paper trail is sound and will simply take time to further report the results,' McClure added. Earlier, other Iowa officials had pointed a finger at the app.
Des Moines County Chair Tom Courtney told the Associated Press that it was 'a mess' and organizers were having to call in the results to the party.
CNN reported that party officials are meeting with representatives from the campaigns.
This is the first year that three separate results were to be released to the public. The number of caucus-goers who initially came to support candidates, then the second vote – how caucus-goers re-aligned if their candidates weren't viable. Finally, the number of delegates won by each candidate will be reported.
Each of the precincts is using 'presidential preference' cards for the first time, so there will be a paper trail of the vote.
Bernie Sanders' campaign said they had tallied results from around 40 per cent of precincts themselves, and found the Vermont senator coming out on top in both initial vote count, votes after eliminations and number of delegates won
Amy Klobuchar claimed her campaign is 'punching above our weight', despite having no results to off Monday night
Andrew Yang will be hoping his campaign gets the support it needs to continue after final votes counts are released Tuesday
Shadowy app behind vote-count chaos in Iowa
'Inconsistencies' with an app that was supposed to track the results of the Democrat caucuses in Iowa threw the vote into chaos overnight – with zero per cent of precincts reporting early Tuesday.
The app was created by Shadow, Inc., a technology firm that was created in January last year after data and messaging service Groundbase was acquired by Democrat non-profit ACRONYM.
Shadow's CEO Gerard Niemira, product manager Ahna Rao and COO James Hickey all worked on the Hillary for America campaign which was defeated by Donald Trump in 2016.
Other staff include alumni of Obama's presidential campaign, as well as Google, Apple and the DNC.
Ready for the caucus: At Hoover High School, voters headed to the basketball court to show their support for their favored candidate
How it works: The Kellogg fire station is ready with locals asked to line up under their first preference. Anyone who backs a candidate under 15% is then asked to move to one of the candidates who scored over 15%.
Democratic caucus voting gets underway in Iowa
How to understand the Iowa Caucuses (and why there may be more than one 'winner')
The Iowa caucuses  are essentially small local meetings where neighbors and strangers stand up to show their support for a particular candidate, and to persuade others to join them. Iowa's 41 national delegates are up for grabs, but the real stakes for the candidates are all about momentum.
The caucuses are the first opportunity for Democrats to express their preferences in what´s been a long and tumultuous primary. They set the tone for the monthlong sprint through the early primary states, after which the field of candidates is typically culled. The winner usually receives a boost in media attention and fundraising that can propel them through subsequent contests. An unexpectedly bad performance, meanwhile, can hobble a candidate.
Attendees hold letters reading Caucus during a campaign event in Coralville, Iowa
The caucuses don´t always pick the eventual nominee, but for Democrats they´ve been more predictive – every winner since 2000 has gone on to become the Democratic nominee. And historically, they´ve been known to catapult underdog candidates´ campaigns to prominence – like they did with Barack Obama in 2008, or Jimmy Carter in 1976.
WHERE AND WHEN DO THEY TAKE PLACE – AND WHO PARTICIPATES?
The caucuses begin at 7 p.m. CST on Monday. Democrats gather in school gymnasiums, union halls and community centers – known in caucus parlance as precincts. There are 1,678 precincts in Iowa this year and an additional 99 satellite precincts, which are for caucuses held outside of the state or at different times of the day and in locations that may be more accessible to those with disabilities or those who have to work during the main event.
Some precincts could have hundreds of Iowans show up, and some may have fewer than 10. The 2008 Democratic caucuses set a record when nearly 240,000 Iowans turned out; this year, party operatives are expecting turnout to be big, but likely not record-breaking.
Any registered Democrat who will be 18 by election day can participate, which includes 17-year-olds with an upcoming birthday. And Iowans can newly register or switch their party registration at their caucus site the day of – so campaigns have been courting disaffected Republicans and new voters across Iowa.
WHAT HAPPENS AT A CAUCUS?
There are essentially two rounds of voting in the caucuses.
When all the caucusgoers at a precinct have signed in, the attendees elect a caucus chair, who directs the proceedings. Representatives of the campaigns have an opportunity to stand up and give a last-minute pitch for their candidate, and then the caucuses begin, with a process known as the 'first alignment.'
That´s where attendees gather in the designated area for their favored candidate. In most precincts, any candidate that receives the support of 15% of the people in the room is considered 'viable' and moves on to the next round of voting. Caucusgoers who chose a viable candidate on their first round are locked in and can´t choose a new candidate on the second.
Democratic presidential candidate former South Bend, Ind., Mayor Pete Buttigieg's shadow is cast on the Iowas state flag in Coralville, Iowa
Supporters of candidates who didn´t meet that threshold, however, have four options: They can support a viable candidate, or join with supporters of another non-viable candidate close to 15% support to get them to viability. Alternately, they can try to entice supporters of other non-viable candidates over to theirs to get them over the threshold. Or, they can go home.
This part of the caucuses – known as realignment – is the most crucial, and typically the most chaotic, portion of the night. Well-organized campaigns have volunteers, staffers and surrogates working the room, trying to win over caucusgoers from opposing campaigns. It´s part of the reason why having staff and surrogates who know their area and have built a community there is so important for the campaigns.
At the end of realignment, the caucus chair takes a final count of the room, and transmits the numbers to the Iowa Democratic Party.
Changes from 2016 will allow for additional reporting of caucus results
HOW ARE THE RESULTS CALCULATED?
The results in each precinct are used by the Iowa Democratic Party to calculate what´s known as the 'state delegate equivalent,' or how many delegates each candidate gets at the Iowa Democratic Party convention. That number ultimately translates to how many of Iowa´s 41 national delegates each candidate gets at the national convention.
HOW ARE THIS YEAR´S CAUCUSES DIFFERENT FROM YEARS PAST?
For the first time, caucusgoers will record their choices on a slip of paper, which they´ll sign to certify their support. The caucus leaders will collect those presidential preference cards and turn them into the Iowa Democratic Party, and they´ll be used if any candidate requests a recount.
This year, there are only two rounds of alignment, rather than the multiple rounds in years past, and supporters of a viable candidate after the first alignment are locked in to that candidate. In previous caucuses, every attendee could choose a new candidate on each realignment.
The satellite caucuses are new, and the Iowa Democratic Party is allowing attendees to check in early rather than at their precinct site, a move aimed to cut down on the long lines and wait times in years past.
But the biggest change is the change in how the Iowa Democratic Party will report its results. Previously, they only released the state delegate equivalent numbers; now, they´re releasing the raw totals from the first and second alignments, as well as the state delegate equivalents.
The Associated Press will be deciding the winner based on state delegate equivalents – but with more data being released, the campaigns have signaled they plan to spin the numbers in their favor, whatever the eventual result.
 – Associated Press
WHO ARE THE 11 DEMOCRATS RUNNING FOR PRESIDENT IN 2020?
MICHAEL BENNET 
Age on Inauguration Day 2021: 56
Entered race:  May 2, 2019
Career: Currently Colorado senator.  Educated at elite St. Albans preparatory school and was a Capitol Hill page before graduating Wesleyan and Yale Law School. Was law clerk and worked in Clinton's Department of Justice then moved to Colorado in 1997 as managing director of billionaire Philip Anschutz's investment company. Was chief of staff to Denver mayor John Hickenlooper, then superintendent of Denver Public schools. Appointed to vacant Colorado Senate seat in 2009, held it 48.1 to 46.4 in 2010 and 50 to 44.3 in 2016
Family: Married to environmental attorney Susan Daggett, with three daughters – Halina, Anne and Caroline. Was born in New Delhi while to diplomat father Douglas Bennet, who went onto be CEO of NPR and a Clinton assistant secretary of state. His grandfather, also Douglas, was an economic adviser to FDR. Mother Susanne is retired elementary school librarian whose parents were Holocaust survivors. Brother James is editor of the New York Times opinion section
Religion: Says he was raised with Jewish and Christian heritage; no known adherence
Views on key issues: Moderate who does not endorse Medicare for all or – so far – Green New Deal. Strongly pro-choice and pro-gay rights, leading to 2010 Senate victory. Pro raising minimum wage. Wants citizenship pathway for 'dreamers.' 
Would make history as: First Colorado president
Slogan: Building Opportunity Together 
JOE BIDEN
Age on Inauguration Day 2021: 78
Entered race: April 25, 2019
Career: No current role. A University of Delaware and Syracuse Law graduate, he was first elected to Newcastle City Council in 1969, then won upset election to Senate in 1972, aged 29. Was talked out of quitting before being sworn in when his wife and daughter died in a car crash and served total of six terms. Chaired Judiciary Committee's notorious Clarence Thomas confirmation hearings. Ran for president in 1988, pulled out after plagiarism scandal, ran again in 2008, withdrew after placing fifth in the Iowa Caucuses. Tapped by Obama as his running mate and served two terms as vice president. Contemplated third run in 2016 but decided against it after his son died of brain cancer.
Family: Eldest of four siblings born to Joe Biden Sr. and Catherine Finnegan. First wife Neilia Hunter and their one-year-old daughter Naomi died in car crash which their two sons, Joseph 'Beau' and Robert Hunter survived. Married Jill Jacobs in 1976, with whom he has daughter Ashley. Beau died of brain cancer in 2015. Hunter's marriage to Kathleen Buhle, with whom he has three children, ended in 2016 when it emerged Hunter was in a relationship with Beau's widow Hallie, mother of their two children. Hunter admitted cocaine use; his estranged wife accused him of blowing their savings on drugs and prostitutes
Religion: Catholic
Views on key issues: Ultra-moderate who will emphasize bipartisan record. Will come under fire over record, having voted: to stop desegregation bussing in 1975; to overturn Roe v Wade in 1981; for now controversial 1994 Violent Crime Act; for 2003 Iraq War; and for banking deregulation. Says he is 'most progressive' Democrat. New positions include free college, tax reform, $15 minimum wage. No public position yet on Green New Deal and healthcare. Pro-gun control. Has already apologized to women who say he touched them inappropriately
Would make history as: Oldest person elected president
Slogan: Our Best Days Still Lie Ahead
MIKE BLOOMBERG
Age on Inauguration Day: 78
Entered race: November 24, 2019
Career: Currently multi-billionaire CEO of Bloomberg PL, the financial information firm he founded in 1981 and which remains a private company. Educated at Johns Hopkins and Harvard, he became a Wall Street trader at investment bank Salomon Brothers and was laid off in 1981, walking away with $10m in stock which he used to set up his own financial information firm, now one of the world's largest. Three times mayor of New York 2002 to 2013, running first as Republican then as independent; had to get term limits suspended for final term. Once flirted with running for mayor of London where he has a home; holds an honorary knighthood from Queen Elizabeth. Has spent large amounts on philanthropy in line with his political views as well as on political campaigns
Family: Born in Brookline, MA, to first-generation Jewish immigrant parents whose own parents had fled Russia. Divorced wife of 18 years, Susan Brown-Meyer, in 1993; former couple have daughters Emma, who has a son with her former boyfriend, and Georgina, who has daughter Zelda with her husband Chris Fissora. The child has a portmanteau surname, Frissberg. Partner since 2000 is Diana Taylor, former New York state banking commissioner, 13 years his junior
Religion: Jewish
Views on key issues: Self-professed fiscal conservative, although painted as a Democratic moderate by other conservative groups. Opposed to Medicare for all. Social progressive who backed gay marriage early, but has flip-flopped on marijuana legalization, most recently opposing it.. Wants firm action on climate change. Fiercely in favor of gun control. As New York mayor banned smoking in public places and tried to outlaw large sugary drinks. Backs increased immigration. Apologized for his stop-and-frisk policing strategy as mayor
Would make history as: Oldest person elected president; first Jewish president; richest president ever; first New York mayor to become president
Slogan:  Fighting For Our Future
PETE BUTTIGIEG
Age on Inauguration Day: 39
Entered race: Announced formation of exploratory committee January 23, 2019. Formally entered race April 14, 2019
Career: Currently mayor of Sound Bend, Indiana. Harvard grad and Rhodes scholar who got a second degree from Oxford before working as a McKinsey management consultant and being commissioned as a Navy Reserve intelligence officer. Elected South Bend mayor in 2011 and served in combat in 2013, won re-election in 2015
Family: Came out as gay during second mayoral run and married husband Chasten Glezman, a middle school teacher in 2018. Parents were University of Notre Dame academics; his father was Maltese-American. Surname is pronounced BOOT-edge-edge
Religion: Raised as a Catholic, now Episcopalian
Views on key issues: Has said Democratic party needs a 'fresh start'; wrote an essay in praise of Bernie Sanders aged 17; backed paid parental leave for city employees; other policies unknown 
Would make history as: First openly gay and youngest-ever president. First veteran of post-World War II conflict 
Slogan: A Fresh Start For America
TULSI GABBARD
Age on Inauguration Day: 39
Entered race: Still to formally file any papers but said she would run on January 11 2019
Career: Currently Hawaii congresswoman. Born on American Samoa, a territory. Raised largely in Hawaii, she co-founded an environmental non-profit with her father as a teenager and was elected to the State Legislature aged 21, its youngest member in history. Enlisted in the National Guard and served two tours, one in Iraq 2004-2006, then as an officer in Kuwait in 2009. Ran for Honolulu City Council in 2011, and House of Representatives in 2012
Family: Married to her second husband, Abraham Williams, a cinematographer since 2015. First marriage to childhood sweetheart Eduardo Tamayo in 2002 ended in 2006. Father Mike Gabbard is a Democratic Hawaii state senator, mother Carol Porter runs a non-profit.
Religion: Hindu
Views on key issues: Has apologized for anti-abortion and anti-gay marriage views; wants marijuana federally legalized; opposed to most U.S. foreign interventions; backs $15 minimum wage and universal health care; was the second elected Democrat to meet Trump after his 2016 victory
Would make history as: First female, Hindu and Samoan-American president; youngest president ever
Slogan: Lead with Love 
AMY KLOBUCHAR
Age on Inauguration Day: 60
Entered race: Announced candidacy February 10, 2019 at snow-drenched rally in her native Minneapolis
Career: Currently Minnesota senator. Yale and University of Chicago law graduate who became a corporate lawyer. First ran unsuccessfully for office in 1994 as Hennepin, MI, county attorney, and won same race in 1998, then in 2002, without opposition. Ran for Senate in 2006 and won 58-38; re-elected in 2012 and 2018
Family: Married to John Bessler, law professor at University of Baltimore and expert on capital punishment. Daughter Abigail Bessler, 23, works fora Democratic member of New York City council. Father Jim, 90, was a veteran newspaper columnist who has written a memoir of how his alcoholism hurt his family; mom Rose is a retired grade school teacher
Religion: Congregationalist (United Church of Christ)
Views on key issues: Seen as a mainstream liberal: says she wants 'universal health care' but has not spelled out how; pro-gun control; pro-choice; backs $15 minimum wage; no public statements on federal marijuana legalization; has backed pro-Israel law banning the 'boycott, divestment and sanctions' movement; spoke out against abolishing ICE
Would make history as: First female president
Slogan: Let's Get To Work
DEVAL PATRICK
Age on Inauguration Day: 63
Entered race: Told friends he was running on November 13, 2019
Career: Currently a managing director of Bain Capital. Awarded scholarship in eighth grade to Massachusetts boarding school Milton Academy, becoming first in his family to go to college.  Harvard law grad who twice failed the bar before working for NAACP then private practice where he represented Mike Tyson's rape victim Desiree Washington. Assistant attorney general for civil rights in Clinton administration then Texaco and Coca-Cola and sub-prime lender Ameriquest executive. Ran for Massachusetts governor as outside candidate in 2006 and won, becoming first African-American in role, won a second term 48-42.
Family: Born in Chicago, his jazz musician father Pat Patrick left mother Emily Wintersmith when he was three when he fathered a Patrick's half-sister with another woman. Patrick married wife Diane Bemus, an attorney, in 1984; they have two adult daughters, Sarah and Katherine. Sarah is married to a former Italian soldier Marco Morgese; their son Gianluca is the Patricks' first grandchild. Katherine came out as lesbian in 2008 and married Alisha Lemieux in 2016. 
Religion: Presbyterian 
Views on key issues: Moderate who championed social liberal policies and embraced Obamacare. Boosted transportation spending and increased state gas taxes to pay, speaking out against climate change. Unclear where he stands on Medicare for All and Green New Deal. Pro-gun control, proposing ban on multiple gun sales after Sandy Hook.
Would make history as: No obvious claim 
Slogan: To be announced 
BERNIE SANDERS
Age on Inauguration Day: 79
Entered race: Sources said on January 25, 2019, that he would form exploratory committee. Officially announced February 19
Career: Currently Vermont senator. Student civil rights and anti-Vietnam activist who moved to Vermont and worked as a carpenter and radical film-maker. Serial failed political candidate in the 1970s, he ran as a socialist for mayor of Burlington in 1980 and served two terms ending in 1989, and win a seat in Congress as an independent in 1990. Ran for Senate in 2006 elections as an independent with Democratic endorsement and won third term in 2018. Challenged Hillary Clinton for the Democratic nomination in 2016 but lost. Campaign has since been hit by allegations of sexual harassment  – for which he has apologized – and criticized for its 'Bernie bro' culture
Family: Born to a Jewish immigrant father and the daughter of Jewish immigrant parents in Brooklyn, New York. First marriage to college sweetheart Deborah Shiling Messing in 1964 ended in divorce in 1966; had son Levi in 1969 with then girlfriend Susan Cambell Mott. Married Jone O'Meara in 1988 and considers her three children, all adults, his own. The couple have seven grandchildren. His older brother Larry is a former Green Party councilor in Oxfordshire, England. 
Religion: Secular Jewish 
Views on key issues: Openly socialist and standard bearer for the Democratic party's left-turn. Wants federal $15 minimum wage; banks broken up; union membership encouraged; free college tuition; universal health care; re-distributive taxation; he opposed Iraq War and also U.S. leading the fight against ISIS and wants troops largely out of Afghanistan and the Middle East
Would make history as: Oldest person elected president; first Jewish president
Slogan: Not me. Us.
TOM STEYER 
Age on Inauguration Day 2021: 63
Entered race: July 9, 2019
Career: Currently retired. New York-born to wealthy family, he was educated at elite Phillips Exeter Academy, same as rival Andrew Yang, and Yale, then Stanford Business School. Morgan Stanley and Goldman Sachs banker who founded his own hedge fund in 1986 and made himself a billionaire; investments included subprime lenders, private prisons and coal mines. Stepped down in 2012 to focus on advocating for alternative energy. Longtime Democratic activist and donor who started campaign to impeach Trump in October 2017. Net worth of $1.6 billion has made him one of the Democrats' biggest single donors
Family: Married Kathryn Taylor in 1986; they have four adult children who have been told they will not inherit the bulk of his fortune. Announced last November he and his wife would live apart. Father Roy was a Nuremberg trials prosecutor
Religion: Episcopalian
Views on key issues: On the left of the field despite being a hedge fund tycoon. Backs single-payer health care, minimum wage rises and free public college. Previously spoke in favor of Bernie Sanders' agenda. Aggressive backer of climate change action, including ditching fossil fuels
Would make history as: Richest Democratic president ever
Slogan: Actions Speak Louder Than Words 
ELIZABETH WARREN
Age on Inauguration Day: 71
Entered race:  Set up exploratory committee December 31, 2018
Career: Currently Massachusetts senator. Law lecturer and academic who became an expert on bankruptcy law and tenured Harvard professor. Ran for Senate and won in 2012, defeating sitting Republican Scott Brown, held it in 2018 60% to 36%. Was short-listed to be Hillary's running mate and campaigned hard for her in 2016
Family: Twice-married mother of two and grandmother of three. First husband and father of her children was her high-school sweetheart. Second husband Bruce Mann is Harvard law professor. Daughter Amelia Tyagi and son Alex Warren have both been involved in her campaigns. Has controversially claimed Native American roots; DNA test suggested she is as little as 1,064th Native American
Religion: Raised Methodist, now described as Christian with no fixed church
Views on key issues: Was a registered Republican who voted for the party but registered as a Democrat in 1996. Pro: higher taxes on rich; banking regulation; Dream Act path to citizenship for 'dreamers'; abortion and gay rights; campaign finance restrictions; and expansion of public provision of healthcare – although still to spell out exactly how that would happen. Against: U.S. presence in Afghanistan and Syria; liberalization of gambling
Would make history as: First female president 
Slogan: Warren Has A Plan For That
ANDREW YANG
Age on Inauguration Day: 46
Entered race: Filed papers November 6, 2018
Career: No current job. Went to public school in New York where he describes being bullied with racial slurs, then elite Phillips Exeter Academy boarding school – same as rival Tom Steyer. Brown and Columbia Law graduate who abandoned career as an attorney then started a dotcom flop then become healthcare and education tech executive who set up nonprofit Venture for America
Family: Married to wife Evelyn with two sons, one of whom he has said is on the autism spectrum. His parents were both immigrants from Taiwan who met at the University of California, Berkeley, as grad students
Religion: Reformed Church
Views on key issues: Warns of rise of robots and artificial intelligence, wants $1,000 a month universal basic income and social media regulated. Spoke out against male circumcision. Wants a state monitor to crack down on 'fake news.'
Would make history as: First Asian-American president 
Slogan: Humanity First
AND THE 18 WHO HAVE WITHDRAWN   
CORY BOOKER, New Jersey Senator 
Entered race: February 1, 2019
Quit: January 13, 2020 
STEVE BULLOCK, Montana governor 
Entered race: May 14, 2019 

Quit: December 2, 2019
JULIÁN CASTRO, former Housing Secretary
Entered race: January 18, 2019

Quit: January 2, 2020 
KIRSTEN GILLIBRAND, New York senator
Entered race: January 16, 2019

Quit: August 28, 2019
BILL DE BLASIO, New York City mayor 
Entered race: May 16, 2019

Quit: September 20, 2020
JOHN DELANEY, former Maryland Congressman
Entered race: July 8, 2017

Quit: January 31, 2019 
MIKE GRAVEL, Former Alaska governor
Entered race: April 2,2019

Quit: August 2, 2019 
KAMALA HARRIS,California senator  
Entered race: January 21, 2019

Quit: December 3, 2019 
JOHN HICKENLOOPER, Former Colorado governor
Entered race: March 4, 2019

Quit: August 15, 2019 
JAY INSLEE, Washington governor 
Entered race: March 1, 2019

Quit: August 21, 2019
WAYNE MESSAM, mayor of Miramar, Florida 
Entered race: March 28, 2019

Quit: November 20, 2019 
SETH MOULTON, Massachusetts congressman
Entered race:  April 22,2019

Quit: August 23, 2019
RICHARD OJEDA, former West Virginia state senator
Entered race: November 12, 2018

Quit: January 25, 2019
BETO O'ROURKE, former Texas congressman
Entered race: March 14, 2019 

Quit: November 1, 2019  
TIM RYAN, Ohio congressman
Entered race: April 4, 2019

Quit: October 24, 2019
JOE SESTAK, former Pennsylvania congressman 
Entered race: June 23, 2019

Quit: December 1, 2019
ERIC SWALWELL, California congressman
Entered race: April 8, 2019

Quit: July 8, 2019  
MARIANNE WILLIAMSON, author
Entered race: November 15, 2018

Quit: January 10, 2020 
https://www.dailymail.co.uk/news/article-7967099/Pete-Buttigieg-ahead-Iowa-caucus-results-Democrats-FINALLY-unveil-two-thirds-votes.html
Iowa Democratic Party chair apologizes for results reporting delays, calling process 'unacceptable,' as 62% results released
Barbara Rodriguez, Des Moines Register
Published 4:02 p.m. CT Feb. 4, 2020 | 

Updated 4:32 p.m. CT Feb. 4, 2020
The Iowa Democratic Party, shortly before 4 p.m. Tuesday, released the first caucus results of the presidential candidates.
The results were long delayed after the Monday night caucuses, causing sharp critiques, confusion and recriminations. 
"I apologize deeply for this," said party chair Troy Price, adding he would soon announce 62% of results were ready to be reported. He said the delay was unacceptable.
"We hit a stumbling block on the reporting of the back end of the data," he said, "but we know this data is accurate."
The results, once released, showed former South Bend, Indiana, Mayor Pete Buttigieg leading the field with 26.9% of state delegate equivalents. U.S. Sen. Bernie Sanders followed with 25.1%. U.S. Sen. Elizabeth Warren was in third at 18.3%. At 15.6%, former Vice President Joe Biden and U.S. Sen. Amy Klobuchar (12.6%) made up the rest of the top five.
The party, under pressure the modernize the caucuses and make them more transparent, added a new app for reporting results, new ways of reporting results and new back up systems. Those systems failed on Monday night.
Live results updates:
This file will update
Inbox: Iowa Democratic Party chairman Troy Price has scheduled a meeting to address reporters shortly. Headed there now. #iacaucus
Here at this press filing area for address from Iowa Democratic Party chairman Troy Price. It was supposed to begin at 3:45p central. #iacaucus
18 people are talking about this
Zerlina Maxwell
From Wikipedia, the free encyclopedia
Jump to navigationJump to search
Zerlina Maxwell is an American political analyst, commentator, speaker, and writer. She writes and speaks about rape culture, sexual assault, gender inequity, sexual consent, racism, and similar topics.[1][2] She is herself a survivor of sexual assault and describes herself as a survivor activist.[1][3]
Maxwell has appeared frequently on CNN, FOX News, and MSNBC as a commentator and has written for the Washington Post, JET Magazine, The American Prospect, Black Enterprise, CNN.com, the Huffington Post, Salon.com, and Ebony.com.[4][5][6] Her Twitter account was named by The New York Times as "A Twitter Voice to Follow" in 2012,[7] as one of "Salon's Twitter 50" in 2012,[8] and one of TIME's 140 Best Twitter Feeds of 2014.[9] The Cut magazine's Kaitlin Menza said that Maxwell as "has built a career around expressing her political opinions with wit and intelligence."[6]
Maxwell worked as a field organizer for the 2008 Obama presidential campaign,[10] and was Director of Progressive Media for the 2016 Hillary Clinton campaign.[6] She is now Director of Progressive Programming for SiriusXM, and hosts a weekly radio show on SiriusXM, "Signal Boost."[6] In September 2017, Maxwell interviewed Hillary Clinton for a SiriusXM Progress Town Hall.[11]
References…
Story 2: President Trump To Deliver The State of Union Speech — Trump Promises Accomplished and 2020 Agenda —  Videos
Trump to give 'extraordinarily low-key' State of the Union address
Trump Set To Give State Of The Union Address Ahead Of Impeachment Vote | TODAY
President Trump Set To Deliver State Of The Union Address Tuesday Night
Story 3: Trump Hits Gallup Approval Rating of 49%! — Videos
Trump Job Approval at Personal Best 49%
STORY HIGHLIGHTS
Approval among Republicans hits 94%

Poll shows highest party polarization on record

Half of registered voters say Trump deserves to be re-elected
WASHINGTON, D.C. — President Donald Trump's job approval rating has risen to 49%, his highest in Gallup polling since he took office in 2017.
The new poll finds 50% of Americans disapproving of Trump, leaving just 1% expressing no opinion. The average percentage not having an opinion on Trump has been 5% throughout his presidency.
Trump's approval rating has risen because of higher ratings among both Republicans and independents. His 94% approval rating among Republicans is up six percentage points from early January and is three points higher than his previous best among his fellow partisans. The 42% approval rating among independents is up five points, and ties three other polls as his best among that group. Democratic approval is 7%, down slightly from 10%.
The 87-point gap between Republican and Democratic approval in the current poll is the largest Gallup has measured in any Gallup poll to date, surpassing the prior record, held by Trump and Barack Obama, by one point.
The Jan. 16-29 poll was conducted in the midst of the Senate impeachment trial that will likely result in the president's acquittal. The poll finds 52% of Americans in favor of acquitting Trump and 46% in favor of convicting and removing him from office.
In addition to possibly reflecting sentiment regarding his impeachment, Trump's increased approval rating may also result from other issues, including:
The recent military action in Iran. More Americans in the new poll approve (53%) than disapprove (45%) of the U.S. military action that resulted in the death of a leading Iranian military general. Iran retaliated but, despite fears of escalation, no further military action has been taken by either side.
Foreign trade. During the poll's field period, Trump also signed the United States-Mexico-Canada trade deal to replace the North American Free Trade Agreement.
The economy. Americans' confidence in the economy is higher than at any point in the past two decades. Similarly, national satisfaction is the highest in nearly 15 years.
Sixty-three percent of Americans now approve of the way Trump is handling the economy, up six points from the prior reading in November. It is the highest economic approval rating not only for Trump, but for any president since George W. Bush enjoyed stratospheric job approval ratings in the first few months after the Sept. 11, 2001, terrorist attacks.
Trump's ratings for handling foreign affairs (47%) and foreign trade (50%) are also his best to date.
Republican Party Image Also Improving
As Trump's job approval rating has improved, so has the image of the Republican Party. Now, 51% of Americans view the Republican Party favorably, up from 43% in September. It is the first time GOP favorability has exceeded 50% since 2005.
Meanwhile, 45% of Americans have a positive opinion of the Democratic Party, a slight dip from 48% in September.
Additionally, the poll finds 48% of Americans identifying as Republicans or leaning toward that party, compared with 44% Democratic identification or leaning. Recent Gallup polls had shown a fairly even partisan distribution, after the Democratic Party held advantages for much of 2019.
Gallup observed similar public opinion shifts when Bill Clinton was impeached.
Clinton's approval rating spiked to a personal high of 73% after the House impeachment vote, and stayed above his pre-impeachment readings through his acquittal by the Senate in early 1999.
A seven-point average Democratic advantage in party identification and leaning in two early December 1998 polls (49% to 42%) swelled to an average 17 points (53% to 36%) in two late December polls after the Dec. 19, 1998, impeachment vote.
The latest impeachment saga has had a different effect on party favorable ratings, however. When Clinton was impeached, favorable ratings of the Democratic Party were unchanged (but high, at 57% and 58% in two December polls), while the GOP's ratings plummeted, falling from 43% pre-impeachment to an all-time low of 31% after the House vote to impeach.
Election Context
Impeachment and a strong state of the nation may have brightened Trump's election prospects, but U.S. registered voters are evenly divided at 50% as to whether he deserves re-election. When the question was last asked, just before the 2018 midterm elections, 41% of Americans thought Trump deserved a second term.
With the Democratic nomination campaign fully underway, 39% of registered voters say they will vote for Trump regardless of whom the Democratic Party nominates for president, while nearly the same percentage (36%) say they will vote against Trump regardless of whom the Democrats choose. Twenty-four percent of voters say they are waiting to see whom the Democrats nominate.
For their part, Democrats continue to prefer a nominee who can defeat Trump over a candidate closer to them on the issues. Fifty-six percent of Democrats and Democratic-leaning independents want the party to nominate a candidate who has the best chance of beating Trump, even if the candidate does not agree with them on the issues they care most about, while 42% want a nominee who agrees with them on the issues but does not have the best chance of beating Trump. The current 14-point margin in favor of electability is smaller than the 24-point gap measured in November, suggesting Democrats may have a harder time settling for the eventual nominee if it's someone they don't agree with.
Democrats identify Joe Biden (44%) as the candidate they think has the best chance of beating Trump, followed by Bernie Sanders at 19% and Michael Bloomberg at 10%. Meanwhile, Democrats are most likely to name Sanders (28%) as the candidate who is closest to them on the issues, followed by Biden (20%) and Elizabeth Warren (16%).
Implications
Whether the rise in Trump's approval rating and the Republican Party's image is being driven by a backlash against impeachment, the strong economy or other factors may become clearer in the near future. If it is mostly impeachment-based, his approval rating may revert quickly back to pre-impeachment levels, as it did for Clinton. Within two months of his acquittal in February 1999, Clinton's approval rating returned to where it was before he was impeached, as did the Democratic Party's advantage in party identification and leaning.
If Trump's higher approval rating is being driven by Americans giving him credit for improvements in the economy, his support may increase over the course of the year, as it did for Ronald Reagan in 1984, Clinton in 1996 and Barack Obama in 2012. All of those recent presidents held office during periods of sustained economic improvement and were re-elected with job approval ratings of better than 50%.
https://news.gallup.com/poll/284156/trump-job-approval-personal-best.aspx
Story 4: President Trump To Award The Medal of Freedom to Conservative Talk Show Host Rush Limbaugh — Great Choice — Updates — Videos
TISSUES PLEASE: President SURPRISES Rush Limbaugh with PRESIDENTIAL MEDAL OF FREEDOM
BREAKING: Rush Limbaugh honored with Presidential Medal of Freedom
T

he Pronk Pops Show Podcasts Portfolio Read Full Post

|

Make a Comment

(

None so far

)