Posted on February 22, 2019. Filed under: 2020 Democrat Candidates, 2020 President Candidates, 2020 Republican Candidates, Addiction, Addiction, Addiction, Agenda 21, Airlines, American History, Barack H. Obama, Bernie Sander, Blogroll, Breaking News, Bribery, Bribes, Budgetary Policy, Cartoons, Central Intelligence Agency, Communications, Computers, Congress, Constitutional Law, Corruption, Countries, Crime, Culture, Deep State, Defense Spending, Diet, Donald J. Trump, Donald J. Trump, Donald J. Trump, Donald Trump, Drugs, Economics, Education, Elections, Empires, Employment, European History, Exercise, Extortion, Federal Bureau of Investigation (FBI), Federal Bureau of Investigation (FBI) and Department of Justice (DOJ), Federal Communications Commission, Federal Government, Fifth Amendment, First Amendment, Foreign Policy, Former President Barack Obama, Fourth Amendment, Free Trade, Freedom of Speech, Gangs, Government, Government Dependency, Government Spending, Hate Speech, Health, Hillary Clinton, Hillary Clinton, History, Homicide, House of Representatives, Human, Human Behavior, Illegal Drugs, Illegal Drugs, Illegal Immigration, Illegal Immigration, Immigration, Impeachment, Independence, Investments, Kamala Harris, Killing, Labor Economics, Language, Law, Legal Drugs, Legal Immigration, Life, Lying, Media, Mental Illness, Middle East, Monetary Policy, National Interest, National Security Agency, News, People, Philosophy, Photos, Politics, Polls, President Trump, Public Corruption, Railroads, Rape, Raymond Thomas Pronk, Resources, Rule of Law, Scandals, Second Amendment, Security, Senate, Sexual Harrasment, Social Security, South America, Spying, Spying on American People, Subversion, Success, Surveillance and Spying On American People, Surveillance/Spying, Tax Policy, Taxation, Taxes, Terror, Terrorism, The 2013 Agenda for Sustainable Development, Transportation, Trump Surveillance/Spying, Unemployment, United Nations, United States Constitution, United States of America, United States Supreme Court, Videos, Violence, War, Wealth, Weapons, Welfare Spending, Wisdom | Tags: 21 February 2019, Aiding and Abetting Criminal Illegal Alien and Illegal Drug Smuggling and Dealing, America, Articles, Audio, Big Lie Media Mob Propagated "Despicable Lies", Black Russian Gay Empire Actor Busted, Breaking News, Broadcasting, Capitalism, Cartoons, Charity, Citizenship, Clarity, Classical Liberalism, Collectivism, Commentary, Commitment, Communicate, Communication, Communist China, Concise, Convincing, Courage, Culture, Current Affairs, Current Events, Economic Growth, Economic Policy, Economics, Education, Evil, Experience, Faith, Family, First, Fiscal Policy, Free Enterprise, Freedom, Freedom of Speech, Friends, Give It A Listen!, God, Good, Goodwill, Growth, Hope, Individualism, Junk Journalism Aided and Abetted Criminal Hoax, Jussie Smollett, Knowledge, Liberty, Life, Love, Lovers of Liberty, Monetary Policy, MPEG3, News, notorious Mexican drug cartel, Open Border Democrats and Republicans, Opinions, Peace, Photos, Podcasts, Political Philosophy, Politics, Prosperity, Radio, Raymond Thomas Pronk, Representative Republic, Republic, Resources, Respect, Rule of Law, Rule of Men, Safe, Secure, Show Notes, State Socialism in A Police Surveillance State, Talk Radio, The Pronk Pops Show, The Pronk Pops Show 1213, Truth, Tyranny, U.S. Constitution, United States of America, Vast Surveillance Facial Recognition System, Videos, Virtue, War, Wisdom |
Story 1: Black Russian Gay Empire Actor Busted–Jussie Smollett — Big Lie Media Mob Propagated "Despicable Lies" — Junk Journalism Aided and Abetted Criminal Hoax — Videos
Chicago Police Chief: Jussie Smollett Faked Attack 'To Promote His Career' | NBC News
Chicago PD Labels Jussie Smollett "Despicable"
Jussie Smollett Arrested in Hate Crime Attack | E! News
BAIL SET: Jussie Smollett's Bail Set At $100,000
Jussie Smollett staged attack because he was 'dissatisfied' with his salary, police say
Jussie Smollett denies all allegations in court hearing
Jussie Smollett FULL Interview on alleged attack | ABC News Exclusive
PICTURED: Jussie Smollett leaves jail after posting $100k bail after prosecutor details video evidence against him and reveals he'd previously bought DRUGS from the brothers he paid to attack him after texting 'might need your help on the low'
The actor's siblings, Jazz, Jocqui, Jake, and Jojo were pictured arriving at the Cook County Criminal Court before his bond hearing on Thursday afternoon 
A judge set Smollett's bond at $100,000, which he will have to pay a portion of, and told him to give up his passport 
Prosecutors shared an extremely detailed timeline of the night of the attack and the days beforehand  
Smollett sent himself a threatening, racist and homophobic letter on January 22 to get more money from 20th Century Fox, police said Thursday  
When that did not work, he hired brothers Abel and Ola Osundairo to attack him on January 25 
On January 27, he took them to the exact location where he wanted it to happen and pointed out surveillance cameras nearby   
Smollett was in contact with them an hour before the incident, an hour afterwards and when they were in Nigeria, laying low for two weeks 
When they returned on February 13, they were picked up by police and later confessed 'the entire plot'
Smollett paid $10,000, ten percent of his bond, and agreed to surrender his passport
The 36-year-old will return to court on March 14 to face a felony charge of filing a false police report  
By JENNIFER SMITH FOR DAILYMAIL.COM
PUBLISHED: 06:56 EST, 21 February 2019 | UPDATED: 17:59 EST, 21 February 2019
ussie Smollett has been freed after posting $10,000 bond and agreeing to surrender his passport at a court hearing where he was supported by his family and prosecutors shared more details of his relationship with the two Nigerian brothers he allegedly paid to stage an attack on him in the hope that it would boost his profile.
The actor was hurried out of the Cook County Jail shortly before 5pm on Thursday and said nothing as he fought his way through photographers to get into a waiting car. He was flanked by bodyguards and driven away immediately.
Three of the actor's five famous siblings, Jazz, Jocqui and Jake, were pictured arriving at the Cook County Criminal Court before his bond hearing wearing sunglasses. They were later joined by their brother Jojo but their other sister Jurnee and mother Janet were not seen.
They left the court before Smollett once the hearing was over, fighting their way through a scrum of photographers to get into a waiting van parked outside without answering any questions.
Smollett's bail was set at $100,000 – the amount he gets paid for one episode of Empire. He paid 10 percent of it to win back his freedom and  will return to court on March 14 to face a felony charge of filing a false police report.
Scroll down for video 
Jussie Smollett was ushered out of county jail on Thursday by police officers and body guards after posting $10,000, ten percent of his $100,000 bond, and agreeing to surrender his passport. He clung on to his security guard's shoulders as he followed him out to a waiting car
Smollett said nothing and held on to his security guard who led him through a crowd of photographers outside the jail
Smollett was sandwiched between security guards as he made his way to the car. He has to return to the court March 14
Smollett was escorted out of the jail by two police officers. He stared at news cameras waiting for him outside and kept his hands in his pockets
Even before he reached the scrum of photographers, Smollett placed his hands on his security guard's shoulders
After the hearing, prosecutors gave a detailed description of how he allegedly put the hoax together.
Police say he knew Abel Osundairo, one of the brothers, because he bought 'designer drugs' from him. In text messages that predate the hoax attack, he asked Abel for 'Molly' – the street name for ecstasy – multiple times.  The pair are believed to have met when Abel was a stand-in on Empire.
On January 25, he convinced Abel and his brother Ola to 'simulate' an attack on him, giving them specific instructions about which words to use and how to rough him up but not hurt him too severely, according to police.
His alleged motive was that he did not get enough attention over a letter he is said to have sent himself a week earlier and he thought that painting himself as
Smollett took them to the location where he wanted the attack to happen outside his apartment, according to prosecutors, and even pointed to a surveillance camera he believed would capture it.  
The claims came after a blistering press conference during which furious police bosses alleged that he mailed himself a threatening letter then staged a hoax attack because he was unhappy with his $1.8million Empire salary.   
Smollett was wearing black pants and a black puffer jacket. He turned himself into police at 5am on Thursday
A sketch from inside the courtroom shows Smollett appearing before Cook County Judge John Fitzgerald to have his bond set. The judge said that if true, the allegations against him are 'utterly outrageous'. He was particularly disturbed by the use of a noose in the attack, saying it is an image which 'conjures up such evil in this country's history'
Jocqui (in beige coat), Jake (in black, right) and Jazz Smollett (center in fur-trimmed coat) arrive at the Cook County Criminal Court on Thursday to attend their brother Jussie's bond hearing. There was no sign of the actor's mother Janet, his other sister Jurnee or his brother Jojo
Jocqui Smollett is show entering the court and waiting for proceedings to begin. The Smollett family issued a statement when the attack was first reported to condemn hate crimes and stand by Jussie. Jocqui has since accused the media of vilifying his brother in social media posts
Jazz, Jocqui and Jake entered the courthouse without speaking on Thursday. Their other two siblings, Jojo and Jurnee, did not join them
Surveillance footage emerged on Wednesday showing Ola and Abel Osundairo buying ski masks the day before the attack. Smollett gave them a $100 bill to pay for the bleach, ski masks, red hat and gloves that they used, according to prosecutors
After his bail hearing, the state's attorney gave a press conference where she described in painstaking detail how the hoax came together.
On January 25, he texted Abel asking him when he was planning to go to Nigeria, a trip that had been prearranged.
Jussie Smollett is shown in his mugshot on Thursday morning. The Empire actor handed himself in at 5am on charges of filing a false police report. Police now say he concocted the fake attack because he wanted a raise
They were familiar with one another because Abel had once filled in as a character on Empire who was a love interest of Smollett's character, Jamal Lyon.
Abel replied that he and his brother were leaving on January 29 to which Smollett replied: 'Might need your help on the low.
'You around to meet up and talk face to face?'
That afternoon, they met up at the CineSpace studio and Smollett drove Abel home.
During the car ride, he told him about his 'displeasure' over 20th Century Fox's reaction to the letter he allegedly sent himself days earlier.
He said he wanted to stage an attack and suggested that Ola, Abel's younger brother, get involved.
Once they got to the brothers' home, they summoned Ola outside and Smollett asked the pair if he could trust them.
Smollett then allegedly laid out what he wanted them to do and gave them a $100 bill to buy ski masks, a red hat, gloves, rope and bleach to use.
'He stated that he wanted the brothers to catch his attention by calling him an Empire f****t Empire n****r. He detailed that he wanted Abel to attack him but not to hurt him too badly and give him a chance to fight back.
HOW THE ATTACK WAS PUT TOGETHER
January 22: Jussie Smollett receives a letter at the CineSpace studio which threatens his life and has 'MAGA' written on it in red pen. He reports it to police
January 25: Smollett sends a text to Abel Osundairo asking him when he is going to Nigeria and if they can meet up face-to-face
Abel goes to the studio where he is working and Smollett drives him home. During the ride, he said he was 'displeased' with the reaction to the letter.
Once at their home, Abel's brother Ola gets in the car and Smollett tells them what he wants them to do. He gives them a $100 bill to buy the goods they will need to fake the attack
January 27: Smollett picks the brothers up then drives them to the spot where he wants them to fake the attack.
He then goes to New York.
January 28: Smollett is in New York City for a reading of the play Take Me Out.
The brothers are filmed buying ski masks, a red hat and gloves
January 29 – Day of attack
The attack was due to take place at 10pm on January 28 but because Smollett's flight was delayed, it was pushed back.
12.30am: Smollett arrives back in Chicago
12.49am: He calls Abel Osundairo and they talk for three minutes
Abel orders an Uber minutes later.
1.22am: The brothers arrive in the area of the attack
1.45am: Smollett leaves his building to go to Subway
2.04am: The attack takes place in the arranged location
2.10am: Brothers get a taxi from a hotel nearby
2.25am: The brothers arrive back in their neighborhood in a taxi
2.27am: Smollett's manager calls the police
2.42am: Police arrive at Smollett's building and he asks them to turn off their body cameras
7.45pm: Smollett calls Abel. The conversation lasts five seconds.
7.47pm: Abel calls back and they speak for 1 minute 34 seconds.
The brothers then board their flight.
January 30, 10:46am: Smollett calls Abel who is by now in Istanbul, Turkey.
They speak for 8 minutes and eight seconds.
'He also included that he wanted Ola to place a rope around his neck, pour gasoline on him and yell: "This is MAGA country" and "Make America Great Again,"' a proffer that was released by the State's Attorney's office said.
Police have found surveillance footage of the ride and have phone records which put Smollett in the area of the brothers home at the time.
On January 27, he picked the brothers up from their home and drove them to where he wanted the attack to happen in the late morning.
He warned them not to bring their cell phones with them and showed them a surveillance camera on the corner which he believed would capture the incident.
Smollett drove the brothers home and provided them with a $3500 personal check made payable to Abel, which was backdated to January 23, 2019.
He then flew to New York City to take part in a reading of a play.
The attack was scheduled to take place at 10pm on January 28 but was set back several hours by Smollett's delayed flight from New York to Chicago on the day of the incident.
His flight landed at 12.30am, January 29.
At 12.49am, he called Abel and their conversation lasted three minutes. During this call, he instructed him to carry out the attack at 2am.
Abel then ordered an Uber to pick the pair up at their home and take them to the crime scene.
They took the Uber part of the way but then got out and hopped in a taxi to take them the remainder of the distance.
At 1.22am, they arrived within three blocks of it. At 1.45am, Smollett left his apartment building to go to a Subway and the brothers made their way towards the intended spot.
Smollett, however, was late. They did not cross paths until 2.04am which is when they carried out the attack. At the exact moment it was occurring, an NBC News employee was getting out of her car nearby. She told police later that she did not hear anything suspicious, despite Smollett alleging that the attackers yelled racial slurs.
The attack only lasted 45 seconds and was 'just outside the view of the desired nearby camera that Smollett had pointed out to the brothers approximately 15 hours earlier.'
The brothers then ran away on foot, heading southbound towards the Chicago River. They then got in a taxi at the Hyatt Regency Hotel.
Fifteen minutes later, they got out of the cab a few blocks from their house.
Two minutes later, at 2.27am, Smollett's manager reported it to police and police arrived at Smollett's apartment at 2.42am, 12 minutes later.
While being interviewed, he not only described the attack but claimed to have received a phone call on January 26 from someone who said 'hey you little f****' and hung up. He said the call happened near a camera and that it captured the attack. It was the same camera he pointed out to the brothers in the hope that it would capture their staged ambush.
Chicago Police Department Superintendent Eddie T. Johnson abhorred him as a 'troubled young man' who has 'taken advantage of the pain and anger of racism to further his career' by allegedly lying that he was attacked by racist and homophobic assailants on January 29.
Smollett makes $100,000 per episode on Empire, according to an associate who spoke to DailyMail.com, and there are 18 episodes in the current season which earns him $1.8million.
He also has a record deal with Columbia Records but, according to police, was 'dissatisfied' and wanted to boost his profile.
When police learned that Smollett's motive was to get more money, it 'p****d everybody off', Superintendent Johnson said, adding that Smollett's repeated 'lies' were 'shameful' and 'despicable'.
He called for 'absolute justice' which he said amounted to Smollett apologizing and offering to pay for the police resources he wasted.
20th Century Fox, which defended the actor on Wednesday, is now 'considering its options' in light of his arrest.
President Trump has also called for Smollett to apologize for making it appear as though he was being targeted by one of his supporters.
This is the state's case against Smollett, as laid out in their bond proffer that was submitted in court on Thursday
Police say they have found phone records which prove Smollett spoke with brothers Abel and Ola Osundairo an hour before the attack, an hour afterwards and while they were in Nigeria, keeping their heads down, while the case gained global attention.
Prosecutor Risa Lanier laid bare the allegations in a press conference after the bond hearing
They also say they have the check that Smollett used to pay them $3,500.
The brothers 'confessed' to the 'entire plot' once they were in custody on Thursday.
It began on January 22 when Smollett allegedly mailed himself a threatening letter to the Empire studio in Chicago which had 'MAGA' written on it and included racist and homophobic slurs.
It read: 'Smollett Jussie, you will die' and included a drawing of a stick figure with a gun pointed towards it.
He reported it to the police along with producer Dennis Hammer.
When that did not win him a pay rise from 20th Century Fox, however, he allegedly hired the brothers to attack him at 2am on January 29 in what he then told police was a random, racist and homophobic attack.
The attack did happen but was not caught on camera. According to the brothers, they punched him after meeting at an arranged spot and time then ran away and got into a taxi.
President Trump tweeted on Thursday after the details of his arrest emerged to demand an apology from the actor who said his attackers shouted 'This is MAGA country!'
Smollett then went home to his friend, 60-year-old Frank Gatson, who was in the apartment and told him that he had been jumped by two masked assailants who shouted: 'Empire f****t n****r', poured bleach on him, tied a noose around his neck and screamed: 'This is MAGA country!'
Police say that the actor gave himself the scratches on his face that were visible in a hospital-bed selfie he took after reporting it.
The same day, the brothers went to the airport and boarded a flight to Nigeria.
While Smollett received an outpouring of sympathy from politicians, celebrities and public figures around the world, they laid low but were allegedly in contact with the star.
As the police investigation heated up, officers honed in on them by tracking taxis that were in the area at around the time of the incident.
In particular, a ride-share the brothers took to the location gave police their details.
They were then picked up when they returned to Chicago on February 13.
Once in custody, they told police that Smollett had hired them and said it was because he wanted a higher salary.
Smollett, a vocal Trump critic, said his attackers shouted 'This is MAGA country!' and later suggested he was targeted because he is so critical of the president 
He paid them a reported $3,500 to carry out the attack, they said, and promised them $500 more when they returned from their trip.
Smollett is in custody awaiting his first court appearance on felony charges of filing a false police report. He will appear before a judge at 1.30pm. 
His lawyers issued a statement on Wednesday to protest his innocence and condemn the police for leaking so many details of the investigation.
During the press conference, Superintendent Johnson revealed Smollett went from being treated as the victim in the case to a suspect when the brothers 'confessed' the 'entire plot' in the final hour of a 48 hour hold.
That is when they, in their lawyer's words, 'manned up' and revealed that they had been hired to carry out the attack by the actor himself.
Smollett actually furthered the investigation along by going on Good Morning America and confirming that the two people in a grainy surveillance footage still were the men who attacked him.
He was unaware when he made the remark that Chicago PD had identified those men as the Osundairo brothers and that they had them in custody.
'I come to you today not only as the Superintendent of Chicago Police Department but as a black man who has spent his entire life living in the city of Chicago.
'I know the racial divide. I know how hard it has been for our city and our nation to come together.
'Empire actor Jussie Smollett took advantage of the pain and anger of racism to promote his career.
'I'm left hanging my head and asking why? Why would anyone, especially an African American man, use the symbolism of a noose to make false accusations?
Another map shows where the assailants were dropped off in a ride-share, top right, then walked to the attack and fled to get in another taxi afterwards
Chicago Police Department Superintendent Eddie T. Johnson tore through Smollett at a press conference on Thursday where he labeled him 'shameful' and 'despicable'
'How could someone look at the hatred and suffering associated with that symbol and see it as an opportunity to manipulate his own public profile?'  Superintendent Johnson said, adding it was a 'slap in the face ' to 'everyone' in Chicago.
'I love the city of Chicago, warts and all, but this publicity stunt was a scar that Chicago didn't earn and certainly didn't deserve.
'The accusations within this phony attack received national attention for weeks…Celebrities, news commentators and even presidential candidates weighed in on something that was choreographed by an actor,' he went on.
 When we discovered the actual motive, it p****d everybody off
 Chicago Police Department Superintendent Eddie T. Johnson
He added that he was 'angry and offended' and said it was a travesty that other crimes do not garner as much attention.
'I just wish that the families of the victims of gun violence in this city got as much attention. That is who really deserves this amount of attention.'
He was emphatic, later, about the fact that no other investigations suffered as a result of Smollett's claims, but said: 'Bogus police reports cause real harm.
'They do harm to ever legitimate victim who is in need of support by police.'
Johnson finished his remarks by saying: 'I'll continue to pray for this troubled young man who resorted to both drastic and illegal tactics to gain attention.
Police say Smollett cut his own cheek to make it look like he had suffered injuries in the attack. He is shown in a hospital bed selfie FaceTiming Lee Daniels, the show's creator, hours after the attack
'I'll also continue to pray for our city asking that we can move forward from this and begin to heal.'
Police examined footage from 55 surveillance cameras, obtained more than 50 search warrants and conducted more than 100 interviews.
If convicted, Smollett may be asked to repay the money that was spent investigating the crime.
Smollett has not made any statements since he was taken into custody.
His lawyers said on Wednesday night that he would fight the charges with an 'aggressive defense'.
In previous statements, his representatives have angrily hit out at the media and insisted that he is the victim.
Within hours of him being charged, Smollett's attorneys arranged for him to hand himself in quietly at Chicago's 1st District afterwards.
He appeared in his mugshot wearing a black puffer jacket, staring blankly at the camera.
After being processed at the station, he was transferred to the Cook County courthouse where he will appear at 1.30pm. He is being held separately from other detainees.
20th Century Fox, which released a statement hours before he was charged to say it was standing by him, is now reportedly suspending the actor.
20th Century Fox said on Thursday that it was now considering its options. It had been standing by the actor
A press conference is scheduled for 9am CT during which detectives will give more details about the arrest. It is not yet known where he was or what time he was taken into custody.
'Like any other citizen, Mr. Smollett enjoys the presumption of innocence, particularly when there has been an investigation like this one where information, both true and false, has been repeatedly leaked,' the actor's attorneys Todd Pugh and Victor Henderson said.
'Given these circumstances, we intend to conduct a thorough investigation and to mount an aggressive defense.'
The Osundairo brothers testified before the grand jury for about two and a half hours on Wednesday.
Addressing reporters outside afterwards, their attorney Gloria Schmidt said they'd 'manned up' by speaking out against Smollett.
The rope they put around Smollett's neck was bought in this hardware store 
They have not been arrested or charged and their lawyer said they had not been offered any form of immunity deal in exchange for testifying against Smollett. 
'There was a point where this story needed to be told, and they manned up and they said: "We're gonna correct this."
'Plea deal, immunity, all of that — they don't' care about that.'
She said that Smollett was lying, and that she didn't know how his conscience could let him sleep at night.
There was a point where this story needed to be told and they manned up and they said, "we're going to correct this"
Gloria Schmidt, lawyer for two Nigerian brothers
'I think Jussie's conscience is not letting him sleep right now and he should unload that conscience and come out and tell the American people what happened,' she added.
'I think the biggest thing for the American people to know. Is that this story, has a lot of complications to it.
'We're not trying to hide anything from the press. But we wanted to make sure that everything checked out.
'When I say that the police spent countless man-hours trying to piece this together, I mean that, I absolutely mean that.
'When I say that my clients spent countless hours getting their story out there to the police so that they could do their work, I mean that, too,' she said.
The brothers' testimony came after footage emerged of them buying ski masks, a red hat and gloves in a store the day before the attack.
The brothers said Smollett also sent himself this letter to the Fox studio where Empire is filmed a week before the attack. If he did, he faces another 5-10 years in prison on a federal mail fraud charge
Abel and Ola Osundairo's lawyers said on Wednesday night that they 'manned up' by telling police that Smollett paid them. Ola once appeared on the show as an extra. He is shown with creator Lee Daniels, right
It was taken on January 28 and shows brothers Abel and Ola Osundairo inside what looks like a drug store buying the masks and one hat.
Smollett told police that he was attacked by two masked assailants who punched him, poured bleach on him, tied a noose around his neck and called him 'Empire n****r f****t'.
No footage has ever emerged of the incident itself.
In the video taken inside the store the day earlier, the brothers look calm as they bring the items to the register.
Smollett follows the brothers' joint Instagram account where they post videos and photographs of themselves working out
Abel, whose full name is Abimbola, is dressed in a blue plaid jacket. About 30 seconds into the video, he puts his hood up while standing at the register.
His younger brother Ola, who once appeared on Empire as an extra, is in a green jacket.
The brothers were picked up by police at Chicago O'Hare Airport on Wednesday night as they returned from Nigeria.
Police seized a red hat from the brothers' home along with ski masks when they raided it last week.  Smollett said his attackers were wearing masks but there was not a description of a red hat in the initial reports.
Police have since shared their belief that at least one of them was wearing a red hat at the time of the attack.
Smollett's family, many of whom are also actors, have spoken out repeatedly in support of him since the January 29 attack as have many of his co-stars on Empire.
Among them is Gabby Sidibe, his roommate at one time, who said on Instagram on Wednesday: 'I know him. I believe him.'
Fox also insisted that he was not being written out of the show, as had been claimed, and called him a 'consummate professional' in a statement.
Smollett's lawyers include Mark Geragos, who has represented Michael Jackson and Colin Kaepernick, in the past.
When news of the attack first emerged on January 29 and 30, Smollett was inundated with support across the political spectrum.
Among those who tweeted their condemnation of him were Democratic presidential hopefuls Kamala Harris and Cory Booker.
But as days went by with no suspects on the horizon, details about the case and the police's investigation into it began to cast doubt on Smollett's version of events.
One of the earliest sources of speculation was the fact that Smollett waited 42 minutes to call the police then refused to hand over his phone to the police for them to verify his story.
He then handed over redacted files that police described as 'insufficient'.
Frustrated with the coverage of his case, he hit out at the media for reporting on leaked information coming from within the Chicago police department and insisted he was the victim.
He then went on Good Morning America to protest his innocence.
In an hour-long interview with Robin Roberts, he wept as he recalled the attack and abhorred the reaction to it.
CELEBRITIES REACT TO JUSSIE SMOLLETT'S ARREST
Celebrities have lashed out at Empire actor Jussie Smollett following his arrest after many of them publicly voiced support for him when he first claimed he had been targeted in a racist and homophobic attack.
Actor and comedian Tyler Perry penned a lengthy Facebook post saying he had personally spoken to Smollett who insisted he was telling the truth.
Perry added that the evidence seemed to contradict Smollett's version and that he was 'lost for words'.
'I have personally spoken to Jussie, and he is adamant that he's telling the truth. Also, everyone that I know who knows him says that he is not the kind of person who would make up such a horrible and awful thing,' he said.
50 Cent mocked Smollett and his Tupac reference with an Instagram photo of the actor's face imposed on the cover of the rapper's album, saying: 'All Liez On Me'
Snoopdog posted a Scooby Doo cartoon with Smollett's face edited in
'Yet the evidence seems to state otherwise. I'm lost for words. To stoke fears and raise racial tensions is wrong in every situation on ALL SIDES! Yet my prayers are still with him and his family and our Nation.'
Straight Outta Compton actor O'Shea Jackson Jr was scathing in a series of lengthy tweets about the developments.
'What upsets me about this Jussie situation is that people were genuinely worried about you man. And the things that you said happened could have led to some serious outcomes. People were prepared to fight for you bruh. Things coulda got ugly…… and you made it up.
'The world has plenty of real monsters. You don't have to make up any. And what for? Just further dividing people for personal gain? It sucks for the people who actually have to deal with that type of hate.
'And why did you call yourself the gay Tupac. What does Tupac have to do with anything that happened to you? Did you do this to sell records bro? Did you fake a hate crime, Enrage the Black community. The LBGT community and anti-Trump community just to sell records bruh?
Actor and comedian Tyler Perry penned a lengthy Facebook post saying he had personally spoken to Smollett who insisted he was telling the truth but later added that the evidence seemed to tell a different story
Straight Outta Compton actor O'Shea Jackson Jr was scathing in a series of lengthy tweets about the developments
'People could've gotten hurt. Thinking they're protesting and standing up for you. This is not a game.'
Smollett had compared himself to Tupac during a performance in West Hollywood earlier this month. He ended his set saying he fought back against his so-called attackers and said he was 'the gay Tupac'.
50 Cent mocked Smollett and his Tupac reference with an Instagram photo of the actor's face imposed on the cover of the rapper's album, saying: 'All Liez On Me'.
Andy Cohen tweeted that his 'head is exploding' following news of Smollett's arrest before calling the story 'pathetic'.
Actor Patton Oswalt retweeted a tweet from President Donald Trump, saying: 'Way to go Jussie. You just handed this racist dips**t a 'Get Out Of Race-Baiting Free' card that he's gonna wave around like a soiled diaper until he's re-elected.'
Trump had tweeted: '.@JussieSmollett – what about MAGA and the tens of millions of people you insulted with your racist and dangerous comments!? #MAGA'.
Choking back tears, he explained when asked why it took so long for him to contact the authorities: 'There is a level of pride there.
'We live in a society where as a gay man you are considered somehow to be weak and I am not weak. I am not weak and we as a people are not weak.'
Later, he added how desperate he was for them to find footage of the attack.
'I want that video found so badly because, for probably four reasons.
'Number one, I want them to find the people that did it.
'Number two, I want them to stop being able to say 'alleged' attack.
'Number three,  I want them to see that I fought back,' he continued, welling-up.
'I want a little gay boy who might watch this to see that I fought the f*** back. They ran off,' I didn't,' he said.
After it emerged that Smollett knew the brothers and may have been involved in the staging of the attack, the celebrities and politicians who rushed to support him walked back their claims.
Nancy Pelosi deleted her tweet about it and Cory Booker said he would now be 'withholding judgement' until more information emerged.
Kamala Harris said, when questioned about her tweet that it was a 'modern day lynching', that she was 'very concerned'.
Key moments in reported attack on actor Jussie Smollett
 January 29, 2019
Smollet is seen with a cut cheek on Jan. 29
Jussie Smollett tells Chicago police he was physically attacked by two men in downtown Chicago while walking home from getting food from a Subway restaurant at 2am.
The black and openly gay actor tells authorities the men used racial and homophobic slurs, wrapped a rope around his neck and poured an 'unknown substance' on him.
Smollett told detectives that the attackers yelled he was in 'MAGA country,' an apparent reference to President Donald Trump's 'Make America Great Again' campaign slogan, which some critics of Trump have claimed is a racist dog whistle.
January 30
Chicago police say they've reviewed hundreds of hours of surveillance camera footage, including of Smollett walking downtown, but none of the videos show the attack.
Police obtain and release images of two people they would like to question.
Reports of Smollett's attack draw outrage and support on social media, including from U.S. Senators Kamala Harris, Cory Booker, and Elizabeth Warren.
Both Booker and Harris called the incident a 'modern day lynching'.
Joe Biden said: 'We must stand up and demand that we no longer give this hate safe harbor; that homophobia and racism have no place on our streets or in our hearts.'
Police released this image of 'persons of interest' taken near the reported attack
January 31
Trump tells reporters at the White House that he saw a story the night before about Smollett and that, 'It doesn't get worse, as far as I'm concerned.'
Smollett's family issues a statement calling the attack a racial and homophobic hate crime.
Smollett's family says he 'has told the police everything' and 'his story has never changed,' disputing assertions leveled on social media that he has been less than cooperative and changed his story.
February 1
Smollett issues a statement telling people that he is OK and thanking them for their support.
He says he is working with authorities and has been '100 percent factual and consistent on every level.'
February 2
Smollett gives sold-out concert in West Hollywood, California, opening with an emotional speech, saying he had to play the show because he couldn't let his attackers win.
At the end of the set, he announces that he fought back against his attackers, calling himself 'the gay Tupac'.
Congresswoman Maxine Waters is in attendance at the concert.
Smollet is seen performing on February 2, where he called himself 'the gay Tupac'
February 5th: Chicago PD releases incident report which reveals Smollett did not want to call police. There is no mention of the MAGA country remark which he gave in a follow-up interview
Brandon Z. Moore, his manager, gives police a screenshot to prove their call.
February 11th: Smollett finally hands over redacted phone records to prove the phone call but police label them 'insufficient'.
His neighbors say they don't believe his version of events.
February 12th: Smollett's rep releases statement to say he is the victim and that he has been telling the truth
February 14th:  Good Morning America airs the full interview with Smollett, in which he blasts speculation that the attack was staged as itself racist and hateful.
Hours later, it emerges that two Nigerian brothers were picked up at Chicago's O'Hare Airport on their return from Nigeria the night before.
Cops identify the two men as the individuals seen in the surveillance images released from the night of January 29 but will not share their names.
Two television stations in Chicago simul report the widespread belief among investigators that Smollett staged the attack as a hate hoax.
Chicago's police superintendent later said that he had no evidence to prove that the attack was a hoax.
Producers of 'Empire' dispute media reports that Smollett's character was being written off the show.
High-powered criminal defense attorney Michael Monico reveals that he is representing Smollett.
Brothers Olabinjo 'Ola' Osundairo, 27, and Abimbola 'Abel' Osundairo, 25, were detained by police on February 13
Police logs show the items that cops seized from the Nigerian brothers' Chicago home
February 15
DailyMail.com confirms they are brothers Olabinjo 'Ola' Osundairo, 27, and Abimbola 'Abel' Osundairo, 25. 
Later, Chicago police spokesman Anthony Guglielimi says the two 'persons of interest' are now considered suspects. He says the men are in custody but have not been charged with a crime.
Chicago police release two men without charges after arresting them on suspicion of assaulting Smollett and holding them for nearly 48 hours. 
A police spokesman said the two are no longer considered suspects and that investigators have 'new evidence' to consider as a result of questioning them.
February 16
A police spokesman said that the investigation had 'shifted' after detectives questioned the two brothers about the attack and released them without charges.
Smollett hired Michael Cohen's high-powered criminal defense attorney, Michael Monico, as the police investigation into the attack he reported last month took a sudden shift amid allegations of a hoax.
Smollett's lawyers said on Saturday the actor felt 'victimized by reports he played a role in the assault, and that Smollett would continue cooperating with police.
February 17
A police spokesman said that Chicago police have told Smollett's attorneys they want to do a follow-up interview with the actor.
A spokesperson for Smollett's lawyers said she couldn't comment on whether Smollett had agreed to another interview.
This is the letter Smollett allegedly received at the Fox studio, a week before the January 29 incident. No photographs of it emerged until after the alleged attack. He reported the letter to the police when he received it along with Empire producer Dennis Hammer
February 18 
Stars and politicians who spoke out in support of Smollett walk back their condemnation of the attack amid growing suspicion that it is a hate hoax
February 19 
Cook County State's Attorney Kim Foxx  recused herself from the Smollett case
The Osundairo brothers speak with police and prosecutors in Chicago but are halted at the last minute before going to testify before a grand jury.
Smollett hires Colin Kaepernick's attorney Mark Geragos and his legal team present a 'hail Mary' piece of evidence which stops the brothers' testimony
State's Attorney Kimberly Foxx recuses herself from the case citing her 'familiarity with potential witnesses'
Leaked information from the brothers' meetings with prosecutors and police emerges. They reportedly claimed Smollett was involved in sending himself the letter on January 22
February 20 
Fox says Smollett is not being written out of Empire contrary to reports and Smollett's co-stars speak out in support of him.
He is named as a suspect later in the afternoon and the brothers are seen entering grand jury offices at the courthouse.
Smollett is criminally charged with filing a false police report, a Class 4 felony which carries a maximum penalty of three years imprisonment and a $25,000 fine.
February 21 
Smollett hands himself in to police at 5am.
Prosecutor: Actor Gave Detailed Instructions For Fake Attack
By DON BABWIN
Associated Press
CHICAGO (AP) — "Empire" actor Jussie Smollett gave detailed instructions to two brothers who helped him stage a racist, anti-gay attack on himself, including giving them specific slurs to yell, telling them to shout "MAGA country" and pointing out a surveillance camera that he thought would record the beating, a prosecutor said Thursday.
Police said Smollett planned the hoax because he was unhappy with his salary and wanted to promote his career. Before the attack, he also sent a letter that threatened him to the Chicago studio where "Empire" is shot, police said.
Smollett, who is black and gay, turned himself in to face accusations that he filed a false police report last month when he told authorities he was attacked in downtown Chicago by two masked men who hurled racist and anti-gay slurs and looped a rope around his neck, police said.
The actor "took advantage of the pain and anger of racism to promote his career," police Superintendent Eddie Johnson said.
"This publicity stunt was a scar that Chicago didn't earn and certainly didn't deserve," he added.
As part of the instructions, Smollett also told the brothers to put the rope around his neck, Assistant State's Attorney Risa Lanier told a news conference.
His plans for the surveillance camera were thwarted. Police say it was pointed another way and did not have a view of the beating.
At Smollett's first court appearance, a judge set bond at $100,000, meaning that he had to post $10,000 to be released. Smollett's attorneys asked for him to be freed on his own recognizance, but the judge, who is also black, rejected that idea and said he was particularly bothered by the allegations involving the noose.
Smollett, who was released a couple of hours after the hearing, said little during the proceedings, except to state his name. The actor, his attorneys and supporters left without speaking to reporters.
One of the attorneys, Jack Prior, told the judge that Smollett "maintains these are outrageous allegations" and denies they are true.
The FBI has been investigating the threatening letter. Johnson would not say whether Smollett could face additional charges for that.
The companies that make "Empire," Fox Entertainment and 20th Century Fox Television, issued a statement Thursday saying that they were "evaluating the situation" and "considering our options."
In less than a month, Smollett went from being the seemingly sympathetic victim of a hate crime to being accused of fabricating the entire thing. The 36-year-old was charged Wednesday with felony disorderly conduct, a charge that could bring up to three years in prison and force the actor to pay for the cost of the investigation into his report of a Jan. 29 beating.
Police treated Smollett as a victim until the two brothers , who had been taken into custody for questioning, admitted to helping him stage the attack, Johnson said.
It was the brothers who also explained Smollett's motive to detectives. Authorities have a check for $3,500 that Smollett paid the brothers, he said.
Smollett, who plays a gay character on the show that follows a black family as they navigate the ups and downs of the recording industry, said he was attacked as he was walking home from a downtown Subway sandwich shop. He said the men yelled "This is MAGA country" — an apparent reference to President Donald Trump's campaign slogan, "Make America Great Again" — before fleeing.
In describing what police believe actually happened, Johnson made it sound as if Smollett was casting and directing a short movie.
"He probably knew he needed somebody with bulk," he said of Smollett's decision to hire the two muscular brothers. Police have said at least one of the brothers worked on "Empire," and Smollett's attorneys said one of the men is the actor's personal trainer.
The brothers, who are not considered suspects, wore gloves during the staged attack and "punched him a little bit," Johnson said. The scratches and bruising Smollett had on his face were "most likely self-inflicted," Johnson said.
Detectives found the two brothers after reviewing hundreds of hours of video. They released images of two people they said they wanted to question and last week picked up the pair at O'Hare Airport as they returned from Nigeria. Police questioned the men and searched their apartment.
The brothers, who were identified by their attorney as Abimbola "Abel" and Olabinjo "Ola" Osundairo, were held for nearly 48 hours on suspicion of assaulting Smollett.
The two appeared before a grand jury on Wednesday to "lock in their testimony," according to police spokesman Anthony Guglielmi. Smollett was charged by prosecutors, not the grand jury.
Speaking outside the courthouse where the grand jury met, the brothers' attorney said the two men testified for about two and a half hours.
"There was a point where this story needed to be told, and they manned up and they said we're going to correct this," Gloria Schmidt said.
She said her clients did not care about a plea deal or immunity. "You don't need immunity when you have the truth," she said.
Smollett has been active in LBGTQ issues, and initial reports of the assault drew outrage and support for him on social media, including from Sen. Kamala Harris of California and TV talk show host Ellen DeGeneres.
Referring to a published account of the attack, Trump said last month that "it doesn't get worse, as far as I'm concerned." On Thursday, he tweeted to Smollett: "What about MAGA and the tens of millions of people you insulted with your racist and dangerous comments!? #MAGA."
https://hosted.ap.org/article/7f419a0f017e4f7b933167f2e206de43/empire-actor-goes-victim-accused-felon-3-weeks
Hate crime
From Wikipedia, the free encyclopedia
Jump to navigationJump to search
| | |
| --- | --- |
| | This article needs to be updated. Please update this article to reflect recent events or newly available information. (March 2017) |
A hate crime (also known as a bias-motivated crime or bias crime[1]) is a prejudice-motivated crime which occurs when a perpetrator targets a victim because of his or her membership (or perceived membership) in a certain social group or race.
Examples of such groups can include and are almost exclusively limited to: sex, ethnicity, disability, language, nationality, physical appearance, religion, gender identity or sexual orientation.[2][3][4] Non-criminal actions that are motivated by these reasons are often called "bias incidents".
"Hate crime" generally refers to criminal acts which are seen to have been motivated by bias against one or more of the social groups listed above, or by bias against their derivatives. Incidents may involve physical assault, damage to property, bullying, harassment, verbal abuse or insults, mate crime or offensive graffiti or letters (hate mail).[5]
A hate crime law is a law intended to deter bias-motivated violence.[6] Hate crime laws are distinct from laws against hate speech: hate crime laws enhance the penalties associated with conduct which is already criminal under other laws, while hate speech laws criminalize a category of speech. Hate speech laws exist in many countries. In the United States, hate crime laws have been upheld by both the Supreme Court [7] and lower courts, especially in the case of 'fighting' words and other violent speech, but they are thought by some people to be in conflict with the First Amendment right to freedom of speech, but hate crimes are only regulated through threats of injury or death.[8]
History
The term "hate crime" came into common usage in the United States during the 1980s, but the term is often used retrospectively in order to describe events which occurred prior to that era.[9] From the Roman persecution of Christians to the Nazi slaughter of Jews, hate crimes were committed by both individuals and governments long before the term was commonly used.[4] A major part of defining a crime as a hate crime is that it is directed toward a historically oppressed group.[10][11]
As Europeans began to colonize the world from the 16th century onwards, indigenous peoples in the colonized areas, such as Native Americans increasingly became the targets of bias-motivated intimidation and violence.[citation needed] During the past two centuries, typical examples of hate crimes in the U.S. include lynchings of African Americans, largely in the South, and lynchings of Mexicans and Chinese in the West; cross burnings to intimidate black activists or to drive black families from predominantly white neighborhoods both during and after Reconstruction; assaults on white people traveling in predominantly black neighborhoods; assaults on lesbian, gay, bisexual and transgender people; the painting of swastikas on Jewish synagogues; and xenophobic responses to a variety of minorityethnic groups.[12]
The verb "to lynch" is attributed to the actions of Charles Lynch, an 18th-century Virginia Quaker. Lynch, other militia officers, and justices of the peace rounded up Tory sympathizers who were given a summary trial at an informal court; sentences handed down included whipping, property seizure, coerced pledges of allegiance, and conscription into the military. Originally, the term referred to extrajudicial organized but unauthorized punishment of criminals. It later evolved to describe execution outside "ordinary justice." It is highly associated with white suppression of African Americans in the South, and periods of weak or nonexistent police authority, as in certain frontier areas of the Old West.[4]
The murders of Channon Christian and Christopher Newsom and the Wichita Massacre were not classified as "hate crimes" by U.S. investigative officials or the media. In the early 21st century, conservative commentators David Horowitz, Michelle Malkin (Fox News channel and author) and Stuart Taylor Jr. (journalist) did describe these events as "hate crimes against whites by blacks."[13]
Psychological effects
Hate crimes can have significant and wide-ranging psychological consequences, not only for their direct victims but for others as well. A 1999 U.S. study of lesbian and gay victims of violent hate crimes documented that they experienced higher levels of psychological distress, including symptoms of depression and anxiety, than lesbian and gay victims of comparable crimes which were not motivated by antigay bias.[14] A manual issued by the Attorney-General of the Province of Ontario in Canada lists the following consequences:[15]
Impact on the individual victim

Effect on the targeted group

Effect on other vulnerable groups

Effect on the community as a whole
Hate crime victims can also develop depression and psychological trauma.[16]
A review of European and American research indicates that terrorist bombings cause Islamophobia and hate crimes to flare up but, in calmer times, they subside again, although to a relatively high level.[17] Terrorist's most persuasive message is that of fear and fear, a primary and strong emotion, increases risk estimates and has distortive effects on the perception of ordinary Muslims.[17] Widespread Islamophobic prejudice seems to contribute to anti-Muslim hate crimes, but indirectly: terrorist attacks and intensified Islamophobic prejudice serve as a window of opportunity for extremist groups and networks.[17]
Laws
Hate crime laws generally fall into one of several categories:
laws defining specific bias-motivated acts as distinct crimes;
criminal penalty-enhancement laws;
laws creating a distinct civil cause of action for hate crimes; and
laws requiring administrative agencies to collect hate crime statistics.[18] Sometimes (as in Bosnia and Herzegovina), the laws focus on war crimes, genocide, and crimes against humanity with the prohibition against discriminatory action limited to public officials.
Eurasia
European Union
Since 2002, with an amendment to the Convention on Cybercrime, the European Union mandates individual states to punish as a crime hate speech done through the internet.[19]
Andorra
Discriminatory acts constituting harassment or infringement of a person's dignity on the basis of origin, citizenship, race, religion, or gender (Penal Code Article 313). Courts have cited bias-based motivation in delivering sentences, but there is no explicit penalty enhancement provision in the Criminal Code. The government does not track hate crime statistics, although they are relatively rare.[18]
Armenia
Armenia has a penalty-enhancement statute for crimes with ethnic, racial, or religious motives (Criminal Code Article 63).[18]
Austria
Austria has a penalty-enhancement statute for reasons like repeating a crime, being especially cruel, using others' helpless states, playing a leading role in a crime, or committing a crime with racist, xenophobic or especially reprehensible motivation (Penal Code section 33(5)).[20]
Azerbaijan
Azerbaijan has a penalty-enhancement statute for crimes motivated by racial, national, or religious hatred (Criminal Code Article 61). Murder and infliction of serious bodily injury motivated by racial, religious, national, or ethnic intolerance are distinct crimes (Article 111).[18]
Belarus
Belarus has a penalty-enhancement statute for crimes motivated by racial, national, and religious hatred and discord.[18][21]
Belgium
Belgium's Act of 25 February 2003 ("aimed at combating discrimination and modifying the Act of 15 February 1993 which establishes the Centre for Equal Opportunities and the Fight against Racism") establishes a penalty-enhancement for crimes involving discrimination on the basis of gender, supposed race, color, descent, national or ethnic origin, sexual orientation, civil status, birth, fortune, age, religious or philosophical beliefs, current or future state of health and handicap or physical features. The Act also "provides for a civil remedy to address discrimination."[18] The Act, along with the Act of 20 January 2003 ("on strengthening legislation against racism"), requires the Centre to collect and publish statistical data on racism and discriminatory crimes.[18]
Bosnia and Herzegovinavina (enacted 2003) "contains provisions prohibiting discrimination by public officials on grounds, inter alia, of race, skin colour, national or ethnic background, religion and language and prohibiting the restriction by public officials of the language rights of the citizens in their relations with the authorities (Article 145/1 and 145/2)."[22]
Bulgaria
Bulgarian criminal law prohibits certain crimes motivated by racism and xenophobia, but a 1999 report by the European Commission against Racism and Intolerance found that it does not appear that those provisions "have ever resulted in convictions before the courts in Bulgaria."[23]
Croatia
The Croatian Penal Code explicitly defines hate crime in article 89 as "any crime committed out of hatred for someone's race, skin color, sex, sexual orientation, language, religion, political or other belief, national or social background, asset, birth, education, social condition, age, health condition or other attribute".[24] On 1 January 2013, a new Penal Code was introduced with the recognition of a hate crime based on "race, skin color, religion, national or ethnic background, sexual orientation or gender identity".[25]
Czech Republic
The Czech legislation finds its constitutional basis in the principles of equality and non-discrimination contained in the Charter of Fundamental Rights and Basic Freedoms. From there, we can trace two basic lines of protection against hate-motivated incidents: one passes through criminal law, the other through civil law. The current Czech criminal legislation has implications both for decisions about guilt (affecting the decision whether to find a defendant guilty or not guilty) and decisions concerning sentencing (affecting the extent of the punishment imposed). It has three levels, to wit:
a circumstance determining whether an act is a crime – hate motivation is included in the basic constituent elements. If hate motivation is not proven, conviction for a hate crime is not possible.
a circumstance determining the imposition of a higher penalty – a hate motivation is included in the qualified constituent elements for some types of crimes (murder, bodily harm). If hate motivation is not proven, the penalty is imposed according to the scale specified for the basic constituent elements of the crime.
general aggravating circumstance – the court is obligated to take the hate motivation into account as a general aggravating circumstance and determines the amount of penalty to impose. Nevertheless, it is not possible to add together a general aggravating circumstance and a circumstance determining the imposition of a higher penalty. (see Annex for details)
Current criminal legislation does not provide for special penalties for acts that target another by reason of his sexual orientation, age or health status. Only the constituent elements of the criminal offense of Incitement to hatred towards a group of persons or to the curtailment of their rights and freedoms, and general aggravating circumstances include attacking a so-called different group of people. Such a group of people can then, of course, be also one defined by sexual orientation, age or health status. A certain disparity has thus been created between, on the one hand, those groups of people who are victimized by reason of their skin color, faith, nationality, ethnicity or political persuasion and enjoy increased protection, and, on the other hand, those groups that are victimized by reason of their sexual orientation, age or health status and are not granted increased protection. This gap in protection against attacks motivated by the victim's sexual orientation, age or health status cannot be successfully bridged by interpretation. Interpretation by analogy is inadmissible in criminal law, sanctionable motivations being exhaustively enumerated.[26]
Denmark
Although Danish law does not include explicit hate crime provisions, "section 80(1) of the Criminal Code instructs courts to take into account the gravity of the offence and the offender's motive when meting out penalty, and therefore to attach importance to the racist motive of crimes in determining sentence."[27] In recent years judges have used this provision to increase sentences on the basis of racist motives.[18][28]
Since 1992, the Danish Civil Security Service (PET) has released statistics on crimes with apparent racist motivation.[18]
Estonia
Under section 151 of the Criminal Code of Estonia of 6 June 2001, which entered into force on 1 September 2002, with amendments and supplements and as amended by the Law of 8 December 2011, "activities which publicly incite to hatred, violence or discrimination on the basis of nationality, race, colour, sex, language, origin, religion, sexual orientation, political opinion, or financial or social status, if this results in danger to the life, health or property of a person, are punishable by a fine of up to 300 fine units or by detention".[29]
Finland
Finnish Criminal Code 515/2003 (enacted January 31, 2003) makes "committing a crime against a person, because of his national, racial, ethnical or equivalent group" an aggravating circumstance in sentencing.[18][30] In addition, ethnic agitation (Finnish: kiihotus kansanryhmää vastaan) is criminalized and carries a fine or a prison sentence of not more than two years. The prosecution need not prove that an actual danger to an ethnic group is caused but only that malicious message is conveyed. A more aggravated hate crime, warmongering (Finnish: sotaan yllyttäminen), carries a prison sentence of one to ten years. However, in case of warmongering, the prosecution must prove an overt act that evidently increases the risk that Finland is involved in a war or becomes a target for a military operation. The act in question may consist of
illegal violence directed against a foreign country or its citizens,
systematic dissemination of false information on Finnish foreign policy or defense
public influence on the public opinion towards a pro-war viewpoint or
public suggestion that a foreign country or Finland should engage in an aggressive act.[31]
Nepal
France
In 2003, France enacted penalty-enhancement hate crime laws for crimes motivated by bias against the victim's actual or perceived ethnicity, nation, race, religion, or sexual orientation. The penalties for murder were raised from 30 years (for non-hate crimes) to life imprisonment (for hate crimes), and the penalties for violent attacks leading to permanent disability were raised from 10 years (for non-hate crimes) to 15 years (for hate crimes).[18][32]
Georgia
"There is no general provision in Georgian law for racist motivation to be considered an aggravating circumstance in prosecutions of ordinary offenses. Certain crimes involving racist motivation are, however, defined as specific offenses in the Georgian Criminal Code of 1999, including murder motivated by racial, religious, national or ethnic intolerance (article 109); infliction of serious injuries motivated by racial, religious, national or ethnic intolerance (article 117); and torture motivated by racial, religious, national or ethnic intolerance (article 126). ECRI reported no knowledge of cases in which this law has been enforced. There is no systematic monitoring or data collection on discrimination in Georgia."[18]
Germany
The German Criminal Code does not have hate crime legislation, but instead criminalizes hate speech under a number of different laws, including Volksverhetzung. In the German legal framework motivation is not taken into account while identifying the element of the offence. However, within the sentencing procedure the judge can define certain principles for determining punishment. In section 46 of the German Criminal Code it is stated that "the motives and aims of the perpetrator; the state of mind reflected in the act and the willfulness involved in its commission."[33] can be taken into consideration when determining the punishment; under this statute, hate and bias have been taken into consideration in sentencing in past cases.[34]
Hate crimes are not specifically tracked by German police, but have been studied separately: a recently published EU "Report on Racism" finds that racially motivated attacks are frequent in Germany, identifying 18,142 incidences for 2006, of which 17,597 were motivated by right wing ideologies, both about a 14% year-by-year increase.[35] Relative to the size of the population, this represents an eightfold higher rate of hate crimes than reported in the US during the same period.[36] Awareness of hate crimes and right-wing extremism in Germany remains low.[37]
Greece
Article Law 927/1979 "Section 1,1 penalises incitement to discrimination, hatred or violence towards individuals or groups because of their racial, national or religious origin, through public written or oral expressions; Section 1,2 prohibits the establishment of, and membership in, organisations which organise propaganda and activities aimed at racial discrimination; Section 2 punishes public expression of offensive ideas; Section 3 penalises the act of refusing, in the exercise of one's occupation, to sell a commodity or to supply a service on racial grounds."[38] Public prosecutors may press charges even if the victim does not file a complaint. However, as of 2003, no convictions had been attained under the law.[39]
Hungary
Violent action, cruelty, and coercion by threat made on the basis of the victim's actual or perceived national, ethnic, religious status or membership in a particular social group are punishable under article 174/B of the Hungarian Criminal Code.[18] This article was added to the Code in 1996.[40]
Iceland
Section 233a of the Icelandic Penal Code states "Anyone who in a ridiculing, slanderous, insulting, threatening or any other manner publicly abuses a person or a group of people on the basis of their nationality, skin colour, race, religion or sexual orientation, shall be fined or jailed for up to two years."[41]
India
In past few years, a number of hate crimes in India against minority communities especially against Muslims and Christians rise tremendously. To monitor this rising trend of hate crime based on religious identity a web portal is launched name DOTO Database to track these incidents.[42]
From the 3035 reported incidents August 2018, 1892 were Muslims. That is 62% of the total violence and 740 were Christians. That is 24% of the total violence.[43]
Ireland
"The Prohibition of Incitement to Hatred Act 1989″ makes it an offense to incite hatred against any group of persons on account of their race, color, nationality, religion, sexual orientation, ethnic or national origins, or membership of the Traveller community, an indigenous minority group."[18]
Ireland does not systematically collect hate crime data.[18]
Italy
Italian criminal law, at Section 3 of Law No. 205/1993, the so-called Legge Mancino (Mancino law), contains a penalty-enhancement provision for all crimes motivated by racial, sex/gender, ethnic, national, or religious bias.[18]
Kazakhstan
In Kazakhstan, there are constitutional provisions prohibiting propaganda promoting racial or ethnic superiority.[18]
Kyrgyzstan
In Kyrgyzstan, "the Constitution of the State party prohibits any kind of discrimination on grounds of origin, sex, race, nationality, language, faith, political or religious convictions or any other personal or social trait or circumstance, and that the prohibition against racial discrimination is also included in other legislation, such as the Civil, Penal and Labour Codes."[44]
Article 299 of the Criminal Code defines incitement to national, racist, or religious hatred as a specific offense. This article has been used in political trials of suspected members of the banned organization Hizb-ut-Tahrir.[18][45]
Russia
Article 29 of the penal code of the Russian Federation bans incitement to riot for the sake of stirring societal, racial, ethnic, and religious hatred as well as the promotion of the superiority of the same. Article 282 further includes protections against incitement of hatred (including gender) via various means of communication, instilling criminal penalties including fines and imprisonment.[46]
Spain
Article 22(4) of the Spanish Penal Code includes a penalty-enhancement provision for crimes motivated by bias against the victim's ideology, beliefs, religion, ethnicity, race, nationality, gender, sexual orientation, illness or disability.[18]
Sweden
Article 29 of the Swedish Penal Code includes a penalty-enhancement provision for crimes motivated by bias against the victim's race, color, nationality, ethnicity, sexual orientation, religion, or "other similar circumstance" of the victim.[18][47]
Ukraine
I. "Constitution of Ukraine" :
The most important law of the Ukraine country : the "Constitution of Ukraine" guarantees protection against Hate crime :
Article 10 : "In Ukraine, free development, use and protection of Russian and other languages of national minorities of Ukraine are guaranteed".
Article 11 : "The state shall promote the development of ethnic, cultural, linguistic and religious identity of all indigenous peoples and national minorities of Ukraine".
Article 24 :"There can be no privileges or restrictions on the grounds of race, color of the skin, political, religious or other beliefs, sex, ethnic or social origin, property status, place of residence, language or other grounds".[48]
II. "CRIMINAL CODEX OF UKRAINE" :
in Ukraine, all criminal punishments for crimes committed under the law are required to be registered in only one law, it is the only one: "CRIMINAL CODEX OF UKRAINE"
The crimes committed for Hate crime reinforce the punishment in many articles of the criminal law. There are also separate articles on punishment for Hate crime.
"CRIMINAL CODEX OF UKRAINE" :
Article 161 : "Violations of equality of citizens depending on their race, nationality, religious beliefs, disability and other grounds
1. Intentional acts aimed at incitement to national, racial or religious hatred and violence, to humiliate national honor and dignity, or to repulse citizens' feelings due to their religious beliefs, as well as direct or indirect restriction of rights or the establishment of direct or indirect privileges citizens on the grounds of race, color, political, religious or other beliefs, sex, disability, ethnic or social origin, property status, place of residence, language or other grounds"(Maximum criminal sentence of up to 8 years in prison)
Article 300 : "Importation, manufacture or distribution of works promoting a cult of violence and cruelty, racial, national or religious intolerance and discrimination" (Maximum criminal sentence of up to 5 years in prison)[49]
United Kingdom
For England, Wales, and Scotland, the Crime and Disorder Act 1998 makes hateful behaviour towards a victim based on the victim's membership (or presumed membership) in a racial group or a religious group an aggravation in sentencing for specified crimes.[50] The Anti-terrorism, Crime and Security Act 2001 (c. 24) amended sections of the Crime and Disorder Act 1998.[51] For Northern Ireland, Public Order (Northern Ireland) Order 1987 (S.I. 1987/463 (N.I. 7)) serves the same purpose.[52] A "racial group" is a group of persons defined by reference to race, colour, nationality (including citizenship) or ethnic or national origins. A "religious group" is a group of persons defined by reference to religious belief or lack of religious belief. The specified crimes are assault, criminal damage, offences under the Public Order Act 1986, and offences under the Protection from Harassment Act 1997.
Sections 145 and 146 of the Criminal Justice Act 2003 require a court to consider whether a crime which is not specified by the Crime and Disorder Act 1998 is racially or religiously aggravated, and to consider whether the following circumstances were pertinent to the crime:
(a) that, at the time of committing the offence, or immediately before or after doing so, the offender demonstrated towards the victim of the offence hostility based on—

(i) the sexual orientation (or presumed sexual orientation) of the victim, or
(ii) a disability (or presumed disability) of the victim, or

(b) that the offence is motivated (wholly or partly)—
The Crime Survey for England and Wales (CSEW) reported in 2013 that there are an average of 278,000 hate crimes a year with 40% being reported according to a victims survey, although police records only identified around 43,000 hate crimes a year.[55] It was widely reported that police recorded a 57% increase in hate crime complaints in the four days following the UK's European Union membership referendum, however a press release from the National Police Chief's Council stated that "this should not be read as a national increase in hate crime of 57 per cent".[56][57]
In 2013, Greater Manchester Police began recording attacks on goths, punks and other alternative culture groups as hate crimes.[58]
On December 4, 2013 Essex Police launched the 'Stop the Hate' initiative as part of a concerted effort to find new ways to tackle hate crime in Essex. The launch was marked by a conference in Chelmsford, hosted by Chief Constable Stephen Kavanagh, which brought together 220 delegates from a range of partner organisations involved in the field. The theme of the conference was 'Report it to Sort it' and the emphasis was on encouraging people to tell police if they have been a victim of hate crime, whether it be based on race, religion, sexual orientation, transgender identity or disability.[59]
Crown Prosecution Service guidance issued on 21 August 2017 stated that online hate crimes should be treated as seriously as offences in person.[60]
Perhaps the most high-profile hate crime in modern Britain occurred in Eltham, London, on 24 April 1993, when 18-year-old black student Stephen Lawrence was stabbed to death in an attack by a gang of white youths. Two white teenagers were later charged with the murder, and at least three other suspects were mentioned in the national media, but the charges against them were dropped within three months after the Crown Prosecution Service concluded that there was insufficient evidence to prosecute. However, a change in the law a decade later allowed a suspect to be charged with a crime twice if new evidence emerged after the original charges were dropped or a "not guilty" verdict was delivered in court. Gary Dobson, who had been charged with the murder in the initial 1993 investigation, was found guilty of Stephen Lawrence's murder in January 2012 and sentenced to life imprisonment, as was David Norris, who had not been charged in 1993. A third suspect, Luke Knight, had been charged in 1993 but was not charged when the case came to court nearly 20 years later.
Scotland
Under Scottish Common law[citation needed] the courts can take any aggravating factor into account when sentencing someone found guilty of an offence. There is legislation dealing with the offences of incitement of racial hatred, racially aggravated harassment, prejudice relating to religious beliefs, disability, sexual orientation, and transgender identity.[61] A Scottish Executive working group examined the issue of hate crime and ways of combating crime motivated by social prejudice, reporting in 2004.[62] Its main recommendations were not implemented, but in their manifestos for the Scottish Parliament election, 2007 several political parties included commitments to legislate in this area, including the Scottish National Party who now form the Scottish Government. The Offences (Aggravation by Prejudice) (Scotland) Bill was introduced on 19 May 2008 by Patrick Harvie MSP,[63] having been prepared with support from the Scottish Government, and was passed unanimously by the parliament on 3 June 2009.[64]
Eurasian countries with no hate crime laws[edit]
Albania, Cyprus, San Marino, Slovenia and Turkey have no hate crime laws.[18]
North America
Canada
"In Canada the legal definition of hate crime can be found in sections 318 and 319 of the Criminal Code". [65]
In 1996 the federal government amended a section of the Criminal Code that pertains to sentencing. Specifically, section 718.2. The section states (with regard to the hate crime):
A court that imposes a sentence shall also take into consideration the following principles:
(a) a sentence should be increased or reduced to account for any relevant aggravating or mitigating circumstances relating to the offence or the offender, and, without limiting the generality of the foregoing,
(i) evidence that the offence was motivated by bias, prejudice or hate based on race, national or ethnic origin, language, colour, religion, sex, age, mental or physical disability, sexual orientation, or any other similar factor, . . . shall be deemed to be aggravating circumstances." [65]
A vast majority (84 per cent) of hate crime perpetrators were "male, with an average age of just under 30. Less than 10 of those accused had criminal records, and less than 5 per cent had previous hate crime involvement (ibid O'Grady 2010 page 163.)." [66] "Only 4 percent of hate crimes were linked to an organized or extremist group (Silver et al., 2004)." [67]
As of 2004, Jewish people were the largest ethnic group targeted by hate crimes, followed by blacks, Muslims, South Asians, and homosexuals (Silver et al., 2004).[67]
During the Nazi regime, anti-Semitism was a cause of hate related violence in Canada. For example, on August 16, 1933 there was a baseball game in Toronto and one team was made up of mostly Jewish players. At the end of the game, a group of Nazi sympathizers unfolded a Swastika flag and shouted 'Heil Hitler'. That event erupted into a brawl that had Jews and Italians against Anglo Canadians and the brawl went on for hours.[65]
The first time someone was charged with hate speech over the internet occurred on 27 March 1996. "A Winnipeg teenager was arrested by the police for sending an email to a local political activist that contained the message 'Death to homosexuals' it's prescribed in the Bible! Better watch out next Gay Pride Week.' (Nairne, 1996)."[67]
United States
Hate crime laws have a long history in the United States. The first hate crime[68] laws were passed after the American Civil War, beginning with the Civil Rights Act of 1871, to combat the growing number of racially motivated crimes being committed by the Reconstruction era Ku Klux Klan. The modern era of hate-crime legislation began in 1968 with the passage of federal statute, 18 U.S. 245, part of the Civil Rights Act which made it illegal to "by force or by threat of force, injure, intimidate, or interfere with anyone who is engaged in six specified protected activities, by reason of their race, color, religion, or national origin." However, "The prosecution of such crimes must be certified by the U.S. attorney general.".[69]
The first state hate-crime statute, California's Section 190.2, was passed in 1978 and provided for penalty enhancement in cases where murder was motivated by prejudice against four "protected status" categories: race, religion, color, and national origin. Washington included ancestry in a statute passed in 1981. Alaska included creed and sex in 1982 and later disability, sexual orientation, and ethnicity. In the 1990s some state laws began to include age, marital status, membership in the armed forces, and membership in civil rights organizations.[70]
Criminal acts which could be considered hate crimes in various states included aggravated assault, assault and battery, vandalism, rape, threats and intimidation, arson, trespassing, stalking, and various "lesser" acts until in 1987 California state legislation included all crimes as possible hate crimes.[71]
Defined in the 1999 National Crime Victim Survey, "A hate crime is a criminal offense. In the United States, federal prosecution is possible for hate crimes committed on the basis of a person's race, religion, or nation origin when engaging in a federally protected activity." In 2009, the Matthew Shepard Act added actual or perceived gender, gender identity, sexual orientation, and disability to the federal definition, and dropped the prerequisite that the victim be engaging in a federally protected activity.
Forty-five states and the District of Columbia have statutes criminalizing various types of hate crimes. Thirty-one states and the District of Columbia have statutes creating a civil cause of action in addition to the criminal penalty for similar acts. Twenty-seven states and the District of Columbia have statutes requiring the state to collect hate crime statistics.[72]
According to the FBI Hate Crime Statistics report for 2006, hate crimes increased nearly 8% nationwide, with a total of 7,722 incidents and 9,080 offenses reported by participating law enforcement agencies. Of the 5,449 crimes against persons, 46% were classified as intimidation and 32% as simple assaults. 81% of the 3,593 crimes against property were acts of vandalism or destruction.[73]
However, according to the FBI Hate Crime Statistics for 2007, the number of hate crimes decreased to 7,624 incidents reported by participating law enforcement agencies.[74] These incidents included 9 murders and 2 rapes(out of the almost 17,000 murders and 90,000 forcible rapes committed in the U.S. in 2007).[75]
Attorney General Eric Holder said in June 2009 that recent killings show the need for a tougher U.S. hate crimes law to stop "violence masquerading as political activism".[76]
The 2011 hate crime statistics show 46.9% were motivated by race and 20.8% by sexual orientation.[77]
In 2015, the Hate Crimes Statistics report identified 5,818 single-bias incidents involving 6,837 offenses, 7,121 victims, and 5,475 known offenders[78]
Prosecutions of hate crimes have been difficult in the United States. Recently though, state governments have attempted to re-investigate and re-try past hate crimes. One prominent example is Mississippi's decision in 1990 to retry Byron De La Beckwith for the murder of Medgar Evers, a prominent figure in the NAACP.[79] This would be the first time in U.S. history that an unresolved civil rights case would be re-opened. Byron De La Beckwith, a member of the Ku Klux Klan, was tried for the murder on two previous occasions and it resulted with a hung jury. However, he was finally sentenced to life in prison in 1994. Presented with testimony of two FBI informants who had infiltrated the KKK, the missing transcript from the first trial, the relocation of missing witnesses, numerous witness admissions of Beckwith bragging about his role in the murder and Beckwith's own racist writings, a mixed race jury found Beckwith guilty of murder. Even though De La Beckwith was 73 years of age when he was sentenced to life in prison, the 1994 conviction has been interpreted as a way for Mississippi to shed its racist past.[80]
According to a November 2016 report issued by the FBI hate crime statistics are on the rise in the United States.[81] The number of hate crimes increased from 5,850 in 2015, to 6,121 hate crime incidents in 2016, an increase of 4.6 percent.[82][83][84]
Victims in the United States
One of the largest waves of hate crimes took place during the civil rights movement. During the 1950s and 1960s, both violence and threats of violence were common against African Americans, and hundreds of lives were lost due to such acts. Members of this social class faced violence from groups such as the Ku Klux Klan as well as violence from individuals who were committed to maintaining segregation.[85] At the time, civil rights leaders such as Martin Luther King Jr. and their supporters fought hard for the right of African Americans to vote as well as for equality in their everyday lives. African Americans have been the target of hate crimes since the Civil War,[86] and the humiliation of this social class was also desired by many Anti-black individuals. Other frequently reported bias motivations were bias against a religion, bias against a particular sexual orientation, and bias against a particular ethnicity/national origin.[87] At times, these bias motivations overlapped, because violence can be both anti-gay and anti-black, for example.[88]
Analysts have compared groups in terms of the per capita rate of hate crimes committed against them, to allow for differing populations. Overall, the total number of hate crimes committed since the first hate crime bill was passed in 1997 is 86,582.[89] David Ray Hate Crimes Prevention Act
Hate Crimes in the US (2008–2012) by Population Group
Population Group
Estimated Population
Total Hate Crimes Against (2008-2012)[90][91][92][93][94]
Rate (per 100,000 people)
Violent Hate Crimes Against[95]
Rate (per 100,000 people)
Jewish
5,248,674[96]
4,457
84.9
411
7.8
LGBT
9,000,000[97]
7,231
66.9
3,849
35.6
Muslim
1,852,473[96]
761
41.1
258
13.9
Black
38,929,319[98]
13,411
34.4
4,356
11.2
Aboriginal
2,932,248[98]
364
12.4
161
5.5
Hispanic
50,477,594[98]
3,064
6.1
1,482
2.9
Asian & Pacific Islander
15,214,265[98]
798
5.2
276
1.8
White
223,553,265[98]
3,459
1.5
1,614
0.7
Catholic
67,924,018[99]
338
0.5
32
0.0
Atheist & Agnostic
17,598,496[99]
47
0.3
5
0.0
Protestant
148,197,858[99]
229
0.2
17
0.0
Among the groups currently mentioned in the Hate Crimes Statistics Act, the largest number of hate crimes are committed against African Americans.[100] During the Civil Rights Movement, some of the most notorious hate crimes included the 1968 assassination of Martin Luther King Jr., the 1964 murders of Charles Moore and Henry Dee, the 1963 16th Street Baptist Church bombing, the 1955 murder of Emmett Till,[86] as well as the burning of crosses, churches, Jewish synagogues and other places of worship of minority religions. Such acts began to take place more frequently after the racial integration of many schools and public facilities.[100]
High-profile murders targeting victims based on their sexual orientation have prompted the passage of hate crimes legislation, notably the cases of Sean W. Kennedy and Matthew Shepard. Kennedy's murder was mentioned by Senator Gordon Smith in a speech on the floor of the US Senate while he advocated such legislation. The Matthew Shepard and James Byrd, Jr. Hate Crimes Prevention Act was signed into law in 2009. It included sexual orientation, gender identity and expression, the disabled, and military personnel and their family members.[101][citation needed] This is the first all-inclusive bill ever passed in the United States, taking 45 years to complete.[clarification needed]
Gender-based crimes may also be considered hate crimes. This view would designate rape and domestic violence, as well as non-interpersonal violence against women such as the École Polytechnique massacre in Quebec, as hate crimes.[102][103][104]
In May 2018, ProPublica reviewed police reports for 58 cases of purported anti-heterosexual hate crimes. ProPublica found that about half of the cases were anti-LGBT hate crimes that had been miscategorized, and that the rest were motivated by hate towards Jews, blacks or women or that there was no element of a hate crime at all. ProPublica found not a single case of a hate crime spurred by anti-heterosexual bias.[105]
South America
Brazil
In Brazil, hate crime laws focus on racism, racial injury, and other special bias-motivated crimes such as, for example, murder by death squads[106] and genocide on the grounds of nationality, ethnicity, race or religion.[107] Murder by death squads and genocide are legally classified as "hideous crimes" (crimes hediondos in Portuguese).[108]
The crimes of racism and racial injury, although similar, are enforced slightly differently.[109] Article 140, 3rd paragraph, of the Penal Code establishes a harsher penalty, from a minimum of 1 year to a maximum of 3 years, for injuries motivated by "elements referring to race, color, ethnicity, religion, origin, or the condition of being an aged or disabled person".[110] On the other side, Law 7716/1989 covers "crimes resulting from discrimination or prejudice on the grounds of race, color, ethnicity, religion, or national origin".[111]
In addition, the Brazilian Constitution defines as a "fundamental goal of the Republic" (Article 3rd, clause IV) "to promote the well-being of all, with no prejudice as to origin, race, sex, color, age, and any other forms of discrimination".[112]
Chile
In 2012, the Anti-discrimination law amended the Criminal Code adding a new aggravating circumstance of criminal responsibility, as follows: "Committing or participating in a crime motivated by ideology, political opinion, religion or beliefs of the victim; nation, race, ethnic or social group; sex, sexual orientation, gender identity, age, affiliation, personal appearance or suffering from illness or disability."[113][114]
Middle East
Israel is the only country in the middle east who has hate crime laws. Hate crime, as passed by the Israeli Knesset (Parliament), is defined as crime for reason of race, religion, gender and sexual orientation
Support for and opposition to hate crime laws
Support[edit]
Justifications for harsher punishments for hate crimes focus on the notion that hate crimes cause greater individual and societal harm.[citation needed] It is said[115] that, when the core of a person's identity is attacked, the degradation and dehumanization is especially severe, and additional emotional and physiological problems are likely to result. Society then, in turn, can suffer from the disempowerment of a group of people.[citation needed] Furthermore, it is asserted that the chances for retaliatory crimes are greater when a hate crime has been committed. The riots in Los Angeles, California that followed the beating of Rodney King, a Black motorist, by a group of White police officers are cited as support for this argument.[12] The beating of white truck driver Reginald Denny by black rioters during the same riot is also an example that supports this argument.
In Wisconsin v. Mitchell, the U.S. Supreme Court unanimously found that penalty-enhancement hate crime statutes do not conflict with free speech rights, because they do not punish an individual for exercising freedom of expression; rather, they allow courts to consider motive when sentencing a criminal for conduct which is not protected by the First Amendment.[116] Whilst in the case of Chaplinsky v. New Hampshire the court defined "fighting words" as "those which by their very utterance inflict injury or tend to incite an immediate breach of the peace."[117]
Opposition
The U.S. Supreme Court unanimously found the St. Paul Bias-Motivated Crime Ordinance amounted to viewpoint-based discrimination in conflict with rights of free speech, because it selectively criminalized bias-motivated speech or symbolic speech for disfavored topics while permitting such speech for other topics.[118] Many critics further assert that it conflicts with an even more fundamental right: free thought. The claim is that hate-crime legislation effectively makes certain ideas or beliefs, including religious ones, illegal, in other words, thought crimes.[119][120] Heidi Hurd argues that hate crimes criminalize certain dispositions yet do not show why hate is a morally worse disposition for a crime than one motivated by jealousy, greed, sadism or vengeance or why hatred and bias are uniquely responsive to criminal sanction compared to other motivations. Hurd argues that whether or not a disposition is worse than another is case sensitive and thus it is difficult to argue that some motivations are categorically worse than others.[121]
In their book Hate Crimes: Criminal Law and Identity Politics, James B. Jacobs and Kimberly Potter criticize hate crime legislation for exacerbating conflicts between groups. They assert that by defining crimes as being committed by one group against another, rather than as being committed by individuals against their society, the labeling of crimes as "hate crimes" causes groups to feel persecuted by one another, and that this impression of persecution can incite a backlash and thus lead to an actual increase in crime.[122] Jacobs and Potter also argued that hate crime legislation can end up only covering the victimization of some groups rather than all, which is a form of discrimination itself and that attempts to remedy this by making all identifiable groups covered by hate crime protection thus make hate crimes co-terminus with generic criminal law. The authors also suggest that arguments which attempt to portray hate crimes as worse than normal crimes because they spread fear in a community are unsatisfactory, as normal criminal acts can also spread fear yet only hate crimes are singled out.[122] Indeed it has been argued that victims have varied reactions to hate crimes, so it is not necessarily true that hate crimes are regarded as more harmful than other crimes.[123][124] Heidi Hurd argues that hate crime represents an effort by the state to encourage a certain moral character in its citizen and thus represents the view that the instillation of virtue and the elimination of vice are legitimate state goals, which she argues is a contradiction of the principles of liberalism. Hurd also argues that increasing punishment for an offence because the perpetrator was motivated by hate compared to some other motivation means that the justice systems is treating the same crime differently, even though treating like cases alike is a cornerstone of criminal justice[125]
Some have argued hate crime laws bring the law into disrepute and further divide society, as groups apply to have their critics silenced.[126] American forensic psychologist Karen Franklin said that the term hate crime is somewhat misleading since it assumes there is a hateful motivation which is not present in many occasions;[127] in her view, laws to punish people who commit hate crimes may not be the best remedy for preventing them because the threat of future punishment does not usually deter such criminal acts.[128] Some on the political left have been critical of hate crime laws for expanding the criminal justice system and dealing with violence against minority groups through punitive measures.[6]
See also
References
Story 2: Open Border Democrats and Republicans Are Supporting Drug Cartels By Aiding and Abetting Criminal Illegal Alien and Illegal Drug Smuggling — Videos
Six illegal immigrants linked to notorious Mexican drug cartel are arrested for trafficking meth and cocaine after police sting
Cops arrested Oscar, Regulo, Raul, and Rigoberto Rangel-Gutierrez in a raid
They also busted Francisco Garcia-Martinez and Rodolfo Martinez in the bust
The gang transported huge amounts of cocaine and meth to Charlotte, NC
By GEORGE MARTIN FOR MAILONLINE
PUBLISHED: 05:53 EST, 18 February 2019 | UPDATED: 06:16 EST, 18 February 2019
Six illegal immigrants linked to one of Mexico's most dangerous cartels have been arrested in North Carolina during a drug trafficking operation – it has been revealed. 
Police documents revealed by WSOC show that the operation involved the transportation of large amounts of cocaine and methamphetamine to Charlotte, North Carolina.
The suspects were identified as Oscar Rangel-Gutierrez, Regulo Rangel-Gutierrez, Francisco Garcia-Martinez, Rodolfo Martinez, Raul Rangel-Gutierrez and Rigoberto Rangel-Gutierrez. 
Oscar Rangel-Gutierrez (left), Rodolfo Martinez (center), and Regulo Rangel Gutierrez (right)
Federal officials said more than 1,800 grams of meth were delivered from Oscar Rangel-Guiterrez's home in Statesville in August and October last year
'Members of the investigative team believe – based on wire intercepts, surveillance and other facts discovered from the investigation – that Oscar and Regulo transport illicit proceeds, derived from the sales of narcotics, when they travel from Myrtle Beach to Charlotte,' the court documents read.
Court documents indicated that Rangel-Guiterrez and the five other suspects were in the country illegally..
The person who lived there, Oscar Rangel-Guiterrez, is an alleged high-level cartel member.
Francisco Garcia-Martinez (left), Rigoberto Rangel-Gutierrez (center) and Raul Rangel-Gutierrez (right)
Court documents indicated that Rangel-Guiterrez and the five other suspects were in the country illegally
Misty Joyner, who reportedly lived near the home in Charlotte where investigators said Rangel-Gutierrez stored drug money, was in disbelief about her neighbors.
'Just devastating,' Joyner told WSOC. 'They were good people.'
The group were said to have been affiliated with the Jalisco New Generation cartel which has been engaged in a blood feud with 'El Chapo's' infamous Sinaola cartel.
Sinaloa's leader, Guzman, was convicted last Tuesday in New York, likely meaning he will spend decades behind bars in the United States.
The group were said to have links to El Chapo who was convicted by a New York court last week
China: facial recognition and state control | The Economist
Trust and consequences: China's evolving 'social credit system'
Everyone In China Is Getting A 'Social Credit Score'
 China bans millions with low 'social credit' from rail, air travel | Al Jazeera English
China Behavior Rating System V/S Sweden Microchip implants | Must watch technology
China rolls out social credit system to spy on population
Inside China's High-Tech Dystopia
China's social credit system shows its teeth, banning millions from taking flights, trains
Annual report shows the businesses and individuals added to trustworthiness blacklist as use of the government system accelerates
System aims to pressure citizens to avoid bad behaviour, although human rights advocates argue it does not take into account individual circumstances
Updated: Tuesday, 19 Feb, 2019 10:39am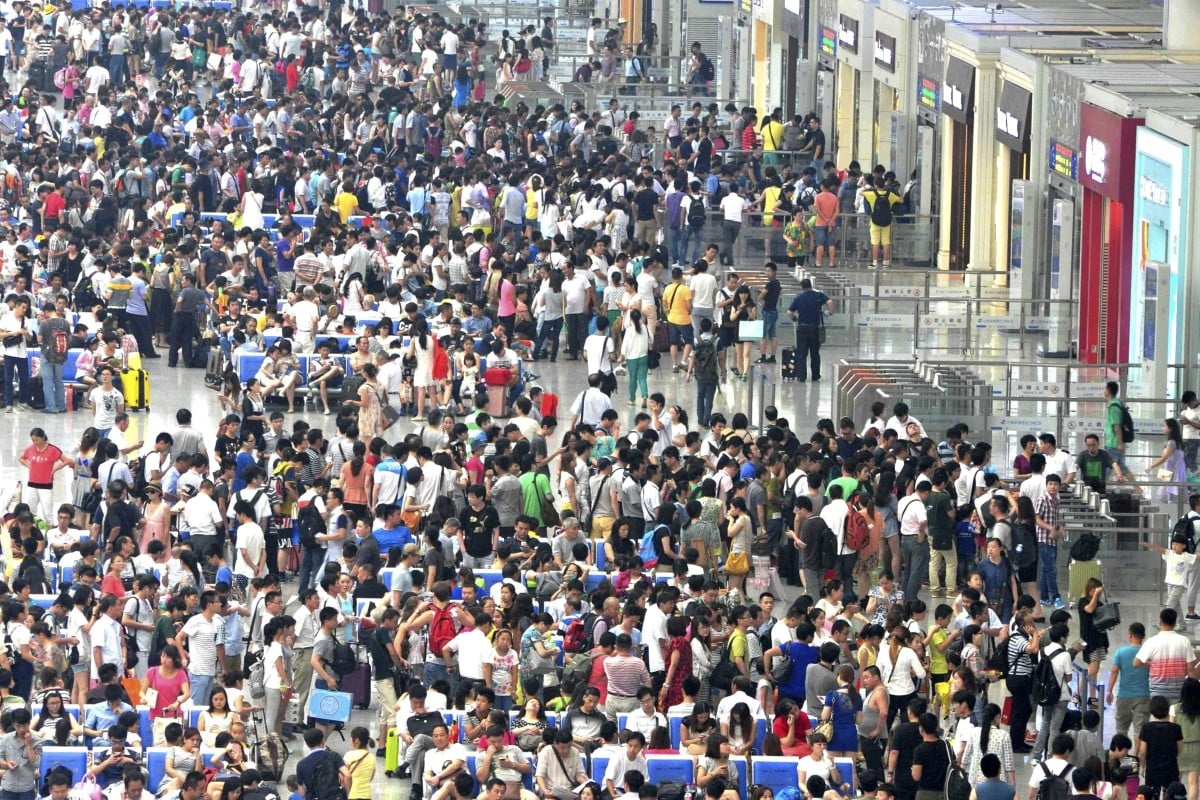 About 17.46 million "discredited" people were restricted from buying plane tickets and 5.47 million were restricted from purchasing high-speed train tickets, the reportsaid. Photo: Handout
Millions of Chinese individuals and businesses have been labelled as untrustworthy on an official blacklist banning them from any number of activities, including accessing financial markets or travelling by air or train, as the use of the government's social credit system accelerates.
The annual blacklist is part of a broader effort to boost "trustworthiness" in Chinese society and is an extension of China's social credit system, which is expected to give each of its 1.4 billion citizens a personal score.
The social credit system assigns both positive and negative scores for individual or corporate behaviour in an attempt to pressure citizens into behaving.
Human rights advocates, though, worry that the arbitrary system does not take into account individual circumstances and so often unfairly labels individuals and firms as untrustworthy.
Over 3.59 million Chinese enterprises were added to the official creditworthiness blacklist last year, banning them from a series of activities, including bidding on projects, accessing security markets, taking part in land auctions and issuing corporate bonds, according to the 2018 annual report released by the National Public Credit Information Centre.
The centre is backed by the National Development and Reform Commission, China's top economic planner, to run the credit rating system.
SUBSCRIBE TO SCMP TODAY: INTL EDITION
Get updates direct to your inbox
SUBMIT
According to the report, the authorities collected over 14.21 million pieces of information on the "untrustworthy conduct" of individuals and businesses, including charges of swindling customers, failing to repay loans, illegal fund collection, false and misleading advertising, as well as uncivilised behaviour such as taking reserved seats on trains or causing trouble in hospitals.
About 17.46 million "discredited" people were restricted from buying plane tickets and 5.47 million were restricted from purchasing high-speed train tickets, the report said.
China to bar people with bad 'social credit' from trains, planes
Besides restrictions on buying tickets, local authorities also used novel methods to put pressure on untrustworthy subjects, including preventing people from buying premium insurance, wealth management products or real estate, as well as shaming them by exposing their information in public.
A total of 3.51 million untrustworthy individuals and entities repaid their debts or paid off taxes and fines last year due to pressure from the social credit system, the report said.
The report highlighted untrustworthy problems at peer-to-peer (P2P) lending platforms and recent high-profile scandals in medical care that have caused public anger.
A total of 1,282 P2P operators, more than half located in Zhejiang, Guangdong and Shanghai, were placed on the creditworthiness blacklist because they could not repay investors or were involved in illegal fundraising.
Health care product maker
and vaccine maker
were added to the creditworthiness blacklist because of their involvement in major health sector scandals.
From drones to social credits, 10 ways China watches its citizens
Quanjian was accused of making false marketing claims about the benefits of a product that a four-year-old cancer patient drank, while Changsheng, the major Chinese manufacturer of rabies vaccines, was fined US$1.3 billion in October after it was found to have fabricated records.
Lawyers worry that the accelerated use of the creditworthiness system will violate an individuals right to privacy.
The Pronk Pops Show Podcasts Portfolio
Read Full Post
|
Make a Comment
(
None so far
)