Posted on October 16, 2019. Filed under: 2020 Democrat Candidates, 2020 President Candidates, 2020 Republican Candidates, Addiction, Addiction, Addiction, American History, Banking System, Barack H. Obama, Blogroll, Breaking News, Bribery, Bribes, Budgetary Policy, Cartoons, Central Intelligence Agency, Clinton Obama Democrat Criminal Conspiracy, Communications, Congress, Constitutional Law, Corruption, Countries, Crime, Culture, Deep State, Defense Spending, Donald J. Trump, Donald J. Trump, Economics, Education, Elections, Empires, Federal Bureau of Investigation (FBI), Federal Government, Fifth Amendment, First Amendment, Fiscal Policy, Foreign Policy, Former President Barack Obama, Fourth Amendment, Free Trade, Freedom of Religion, Freedom of Speech, Genocide, Government, Government Dependency, Government Spending, Health Care, Health Care Insurance, Hillary Clinton, Hillary Clinton, Hillary Clinton, History, House of Representatives, Human, Human Behavior, Illegal Immigration, Immigration, Impeachment, Independence, Joe Biden, Killing, Labor Economics, Law, Life, Lying, Media, Mental Illness, Middle East, Mike Pompeo, Military Spending, Monetary Policy, National Interest, National Security Agency, Natural Gas, Nuclear, Oil, People, Philosophy, Photos, Politics, Polls, Public Relations, Radio, Raymond Thomas Pronk, Robert S. Mueller III, Rule of Law, Scandals, Second Amendment, Security, Senate, Social Sciences, Subornation of perjury, Subversion, Tax Policy, Taxation, Taxes, Trade Policy, Unemployment, United States Constitution, United States of America, Videos, Violence, War, Wealth, Wisdom | Tags: 10 October 2019, America, Articles, Audio, Breaking News, Broadcasting, Capitalism, Cartoons, Charity, Citizenship, Clarity, Classical Liberalism, Collectivism, Commentary, Commitment, Communicate, Communication, Concise, Convincing, Courage, Culture, Current Affairs, Current Events, Economic Growth, Economic Policy, Economics, Education, Evil, Experience, Faith, Family, First, Fiscal Policy, Free Enterprise, Freedom, Freedom of Speech, Friends, Give It A Listen!, God, Good, Goodwill, Growth, Hope, Individualism, Knowledge, Liberty, Life, Love, Lovers of Liberty, Monetary Policy, MPEG3, News, Opinions, Peace, Photos, Podcasts, Political Philosophy, Politics, President Trump Rally, Prosperity, Radio, Raymond Thomas Prok, Raymond Thomas Pronk, Representative Republic, Republic, Resources, Respect, Rule of Law, Rule of Men, Search For The Partisan Democrat CIA Leaker Phony Whistleblower That Worked For Joe Biden?, Show Notes, Talk Radio, The Pronk Pops Show, The Pronk Pops Show 1338, Truth, Two Trump Supporters Arrested On Campaign Finance Charges, Tyranny, U.S. Constitution, United States of America, Videos, Virtue, War, Whistleblower, Wisdom |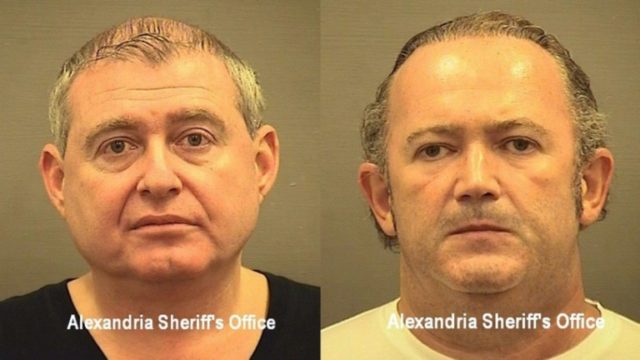 Story 1: President Trump Rally In Minneapolis, Minnesota — Videos
FULL RALLY: President Trump rally in Minneapolis, MN
Story 2: Search For The Partisan Democrat CIA Leaker Phony Whistleblower Worked For Joe Biden — Videos —
Bidens Lied About Hunter's Burisma Pay, Dems Colluded With Ukraine, Reports John Solomon
Second Whistleblower Emerges On President Donald Trump And Ukraine | Velshi & Ruhle | MSNBC
CIA whistleblower: This is an insult to real whistleblowers
US intelligence chief testifies on whistleblower complaint – as it happened
Joe Biden 'worked with whistleblower when he was vice president' say White House and intelligence sources – despite CIA analyst's denial that he had 'ties' to any 2020 Dem candidate
New report says that CIA whistleblower worked with Biden when he was VP

Whistleblower's attorneys previously denied ties in carefully worded statement
Questions are mounting about whistleblower's possible political bias

Person has already been identified as having a Democratic affiliation

 

IG said person 'had some type of professional relationship' with Dem candidate

But attorneys for the CIA agent said he had only ever worked as a professional civil servant and had not worked for any political campaign 
By KEITH GRIFFITH and GEOFF EARLE, DEPUTY U.S. POLITICAL EDITOR FOR DAILYMAIL.COM
PUBLISHED: 20:30 EDT, 10 October 2019 | UPDATED: 01:34 EDT, 11 October 2019
The whistleblower accusing President Donald Trump of abuse of power worked with Joe Biden when he was vice president, according to a new report.
On Wednesday, attorneys for the CIA whistleblower issued a carefully-worded statement denying that the had a 'professional' link to a 2020 Democratic candidate, saying he is an apolitical civil servant.
Now an intelligence source says that it is likely that the unnamed CIA analyst, who is clearly an expert on Ukraine issues, briefed Biden and probably even accompanied him on Air Force Two on one or more of Biden's six visits to the country.
'From everything we know about the whistleblower and his work in the executive branch then, there is absolutely no doubt he would have been working with Biden when he was vice president,' a retired CIA officer told the Washington Examiner.
The Biden campaign did not immediately respond to a request for comment from DailyMail.com on Thursday evening.
Biden is seen with then-President Barack Obama signing executive orders to close down the detention center at Guantanamo Bay Cuba in 2009. Source say that Biden worked closely with the CIA whistleblower while serving as vice president
Trump has accused the whistleblower of having ties to one of his political opponents
President Trump claims Schiff helped write whistleblower complaint
Separately, a former Trump administration official told the Examiner that Biden's work on foreign affairs as vice president brought him into close proximity with the whistleblower.
"This person, after working with Biden, may feel defensive towards him because he feels [Biden] is being falsely attacked. Maybe he is even talking to Biden's staff," the former official said. "Maybe it is innocent, maybe not."
The whistleblower's alleged political bias has become the subject of various accusations following a report that the Intelligence Community Inspector General said that the person 'worked or had some type of professional relationship with one of the Democratic candidates.'
The claim of a 'professional link' between the CIA agent and a candidate was first made in an article by Washington Examiner columnist and conservative commentator Byron York.
The whistleblower, who alleges misconduct on Trump's part, had already been identified as having a Democratic party affiliation.
A person with knowledge of the Inspector General (IG) for the Intelligence Community's recent testimony to the House, was reported by York to have indicated there was an additional 'professional relationship.'
'The IG said [the whistleblower] worked or had some type of professional relationship with one of the Democratic candidates,' a source told the Examiner.
Another source told the paper: 'The IG said the whistleblower had a professional relationship with one of the 2020 candidates.'
After Trump tweeted a link to the Examiner report, the unnamed CIA agent's attorneys issued a rare public statement claiming that there was a 'professional relationship' between the whistleblower and a candidate.
Trump tweeted: 'This is just the beginning.' Later on Tuesday he tweeted: 'The Whistleblower has ties to one of my DEMOCRAT OPPONENTS.'
But late Wednesday, the lawyers said they wanted to 'clarify some facts,' and said in the statement: 'Our client has never worked for or advised a political candidate, campaign, or party.
'Second, our client has spent their entire government career in apolitical, civil servant positions in the Executive Branch.
'Third, in these positions our client has come into contact with presidential candidates from both parties in their roles as elected officials – not as candidates.'
The whisteblower's attorneys – who did not confirm that the official is a male CIA agent, although that aspect of his identity is already known – went on to slam suggestions that his complaint was not credible and said he had told the inspector general about his career to help establish its credibility.
'Fourth, the whistleblower voluntarily provided relevant career information to the ICIG in order to facilitate an assessment of the credibility of the complaint,' the attorneys said.
'Fifth, as a result, the ICIG concluded – as is well known – that the complaint was both urgent and credible.
Finally, the whistleblower is not the story. To date, virtually every substantive allegation has been confirmed by other sources. For that reason the identity of the whistleblower is irrelevant.'
The combination of a clapback at the president by the attorneys, and a hint of more information about the official's resume, will only add to the drama surrounding the complaint.
Pointedly, the lawyers called their client 'whisteblower #1,' a reference to a report that they have another or possibly even multiple other whistleblowers who are in the process of making complaints.
The IG, Michael Atkinson, had provided vague information in a letter to the House Intelligence Committee in August, writing the whistle-blower had 'some indicia of an arguable political bias … in favor of a rival political candidate.'
The whistle-blower in a complaint alleges that Trump asked the President of Ukraine to investigate the Bidens to help his own 2020 reelection. An unsealed call shows Trump bringing up the Bidens with the Ukrainian president.
Who could it be? Amy Klobuchar, Cory Booker, Pete Buttigieg, Bernie Sanders, Joe Biden, Elizabeth Warren, Kamala Harris, Andrew Yang, Beto O'Rourke and Julian Castro Third 2020 Democratic Party Presidential Debate, Houston, USA. A report connected the whistle-blower to one of the 2020 candidates
The president has previously gone after the whistle-blower, identified by the New York Times as a CIA officer who has been detailed to the White House at some point, and demanded the right to face his accuser.
The Washington Post reported that House Democrats may interview the whistle-blower at an off-site location to protect their identity, amid concerns it could leak.
In remarks caught on video, Trump said: 'I want to know who's the person, who's the person who gave the whistle-blower the information? Because that's close to a spy.' He continued: 'You know what we used to do in the old days when we were smart? Right? The spies and treason, we used to handle it a little differently than we do now,' he said, referencing execution.
A group of 90 national security professionals has applauded an unidentified whistle-blower.
'While the identity of the whistleblower is not publicly known, we do know that he or she is an employee of the U.S. Government. As such, he or she has by law the right—and indeed the responsibility—to make known, through appropriate channels, indications of serious wrongdoing,' the officials wrote.
'That is precisely what this whistleblower did; and we applaud the whistleblower not only for living up to that responsibility but also for using precisely the channels made available by federal law for raising such concerns,' said the security officials, who served Democratic and Republican presidents.
Joe Biden's 2020 Ukrainian nightmare: A closed probe is revived
BY JOHN SOLOMON, OPINION CONTRIBUTOR — 04/01/19 09:37 PM EDT  2,274
THE VIEWS EXPRESSED BY CONTRIBUTORS ARE THEIR OWN AND NOT THE VIEW OF THE HILL
Two years after leaving office, Joe Biden couldn't resist the temptation last year to brag to an audience of foreign policy specialists about the time as vice president that he strong-armed Ukraine into firing its top prosecutor.
In his own words, with video cameras rolling, Biden described how he threatened Ukrainian President Petro Poroshenko in March 2016 that the Obama administration would pull $1 billion in U.S. loan guarantees, sending the former Soviet republic toward insolvency, if it didn't immediately fire Prosecutor General Viktor Shokin.
"I said, 'You're not getting the billion.' I'm going to be leaving here in, I think it was about six hours. I looked at them and said: 'I'm leaving in six hours. If the prosecutor is not fired, you're not getting the money,'" Biden recalled telling Poroshenko.
"Well, son of a bitch, he got fired. And they put in place someone who was solid at the time," Biden told the Council on Foreign Relations event, insisting that President Obama was in on the threat.
Interviews with a half-dozen senior Ukrainian officials confirm Biden's account, though they claim the pressure was applied over several months in late 2015 and early 2016, not just six hours of one dramatic day. Whatever the case, Poroshenko and Ukraine's parliament obliged by ending Shokin's tenure as prosecutor. Shokin was facing steep criticism in Ukraine, and among some U.S. officials, for not bringing enough corruption prosecutions when he was fired.
But Ukrainian officials tell me there was one crucial piece of information that Biden must have known but didn't mention to his audience: The prosecutor he got fired was leading a wide-ranging corruption probe into the natural gas firm Burisma Holdings that employed Biden's younger son, Hunter, as a board member.
U.S. banking records show Hunter Biden's American-based firm, Rosemont Seneca Partners LLC, received regular transfers into one of its accounts — usually more than $166,000 a month — from Burisma from spring 2014 through fall 2015, during a period when Vice President Biden was the main U.S. official dealing with Ukraine and its tense relations with Russia.
The general prosecutor's official file for the Burisma probe — shared with me by senior Ukrainian officials — shows prosecutors identified Hunter Biden, business partner Devon Archer and their firm, Rosemont Seneca, as potential recipients of money.
Shokin told me in written answers to questions that, before he was fired as general prosecutor, he had made "specific plans" for the investigation that "included interrogations and other crime-investigation procedures into all members of the executive board, including Hunter Biden."
He added: "I would like to emphasize the fact that presumption of innocence is a principle in Ukraine" and that he couldn't describe the evidence further.
William Russo, a spokesman for Joe Biden, and Hunter Biden did not respond to email messages Monday seeking comment. The phone number at Rosemont Seneca Partners LLC in Washington was no longer in service on Monday.
The timing of Hunter Biden's and Archer's appointment to Burisma's board has been highlighted in the past, by The New York Times in December 2015 and in a 2016 book by conservative author Peter Schweizer.
Although Biden made no mention of his son in his 2018 speech, U.S. and Ukrainian authorities both told me Biden and his office clearly had to know about the general prosecutor's probe of Burisma and his son's role. They noted that:
Hunter Biden's appointment to the board was widely reported in American media;
The U.S. Embassy in Kiev that coordinated Biden's work in the country repeatedly and publicly discussed the general prosecutor's case against Burisma;
Great Britain took very public action against Burisma while Joe Biden was working with that government on Ukraine issues;
Biden's office was quoted, on the record, acknowledging Hunter Biden's role in Burisma in a New York Times article about the general prosecutor's Burisma case that appeared four months before Biden forced the firing of Shokin. The vice president's office suggested in that article that Hunter Biden was a lawyer free to pursue his own private business deals.
President Obama named Biden the administration's point man on Ukraine in February 2014, after a popular revolution ousted Russia-friendly President Viktor Yanukovych and as Moscow sent military forces into Ukraine's Crimea territory.
According to Schweizer's book, Vice President Biden met with Archer in April 2014 right as Archer was named to the board at Burisma. A month later, Hunter Biden was named to the board, to oversee Burisma's legal team.
But the Ukrainian investigation and Joe Biden's effort to fire the prosecutor overseeing it has escaped without much public debate.
Most of the general prosecutor's investigative work on Burisma focused on three separate cases, and most stopped abruptly once Shokin was fired. The most prominent of the Burisma cases was transferred to a different Ukrainian agency, closely aligned with the U.S. Embassy in Kiev, known as the National Anti-Corruption Bureau of Ukraine (NABU), according to the case file and current General Prosecutor Yuriy Lutsenko.
NABU closed that case, and a second case involving alleged improper money transfers in London was dropped when Ukrainian officials failed to file the necessary documents by the required deadline. The general prosecutor's office successfully secured a multimillion-dollar judgment in a tax evasion case, Lutsenko said. He did not say who was the actual defendant in that case.
As a result, the Biden family appeared to have escaped the potential for an embarrassing inquiry overseas in the final days of the Obama administration and during an election in which Democrat Hillary Clinton was running for president in 2016.
But then, as Biden's 2020 campaign ramped up over the past year, Lutsenko — the Ukrainian prosecutor that Biden once hailed as a "solid" replacement for Shokin — began looking into what happened with the Burisma case that had been shut down.
Lutsenko told me that, while reviewing the Burisma investigative files, he discovered "members of the Board obtained funds as well as another U.S.-based legal entity, Rosemont Seneca Partners LLC, for consulting services."
Lutsenko said some of the evidence he knows about in the Burisma case may interest U.S. authorities and he'd like to present that information to new U.S. Attorney General William Barr, particularly the vice president's intervention.
"Unfortunately, Mr. Biden had correlated and connected this aid with some of the HR (personnel) issues and changes in the prosecutor's office," Lutsenko said.
Nazar Kholodnytskyi, the lead anti-corruption prosecutor in Lutsenko's office, confirmed to me in an interview that part of the Burisma investigation was reopened in 2018, after Joe Biden made his remarks. "We were able to start this case again," Kholodnytskyi said.
But he said the separate Ukrainian police agency that investigates corruption has dragged its feet in gathering evidence. "We don't see any result from this case one year after the reopening because of some external influence," he said, declining to be more specific.
Ukraine is in the middle of a hard-fought presidential election, is a frequent target of intelligence operations by neighboring Russia and suffers from rampant political corruption nationwide. Thus, many Americans might take the restart of the Burisma case with a grain of salt, and rightfully so.
But what makes Lutsenko's account compelling is that federal authorities in America, in an entirely different case, uncovered financial records showing just how much Hunter Biden's and Archer's company received from Burisma while Joe Biden acted as Obama's point man on Ukraine.
Between April 2014 and October 2015, more than $3 million was paid out of Burisma accounts to an account linked to Biden's and Archer's Rosemont Seneca firm, according to the financial records placed in a federal court file in Manhattan in an unrelated case against Archer.
The bank records show that, on most months when Burisma money flowed, two wire transfers of $83,333.33 each were sent to the Rosemont Seneca–connected account on the same day. The same Rosemont Seneca–linked account typically then would pay Hunter Biden one or more payments ranging from $5,000 to $25,000 each. Prosecutors reviewed internal company documents and wanted to interview Hunter Biden and Archer about why they had received such payments, according to interviews.
Lutsenko said Ukrainian company board members legally can pay themselves for work they do if it benefits the company's bottom line, but prosecutors never got to determine the merits of the payments to Rosemont because of the way the investigation was shut down.
As for Joe Biden's intervention in getting Lutsenko's predecessor fired in the midst of the Burisma investigation, Lutsenko suggested that was a matter to discuss with Attorney General Barr: "Of course, I would be happy to have a conversation with him about this issue."
As the now-completed Russia collusion investigation showed us, every American deserves the right to be presumed innocent until evidence is made public or a conviction is secured, especially when some matters of a case involve foreigners. The same presumption should be afforded to Joe Biden, Hunter Biden, Devon Archer and Burisma in the Ukraine case.
Nonetheless, some hard questions should be answered by Biden as he prepares, potentially, to run for president in 2020: Was it appropriate for your son and his firm to cash in on Ukraine while you served as point man for Ukraine policy? What work was performed for the money Hunter Biden's firm received? Did you know about the Burisma probe? And when it was publicly announced that your son worked for Burisma, should you have recused yourself from leveraging a U.S. policy to pressure the prosecutor who very publicly pursued Burisma?
John Solomon is an award-winning investigative journalist whose work over the years has exposed U.S. and FBI intelligence failures before the Sept. 11 attacks, federal scientists' misuse of foster children and veterans in drug experiments, and numerous cases of political corruption. He serves as an investigative columnist and executive vice president for video at The Hill.
https://thehill.com/opinion/white-house/436816-joe-bidens-2020-ukrainian-nightmare-a-closed-probe-is-revived
Whistleblower had 'professional' tie to 2020 Democratic candidate
 | October 08, 2019 03:04 PM
In an Aug. 26 letter, the Intelligence Community's inspector general, Michael Atkinson, wrote that the anonymous whistleblower who set off the Trump-Ukraine impeachment fight showed "some indicia of an arguable political bias … in favor of a rival political candidate."
A few weeks later, news reports said the whistleblower's possible bias was that he is a registered Democrat. That was all. Incredulous commentary suggested that Republicans who were pushing the bias talking point were so blinded by their own partisanship that they saw simple registration with the Democratic Party as evidence of wrongdoing.
"Give me a break!" tweeted whistleblower lawyer Mark Zaid. "Bias? Seriously?"
Now, however, there is word of more evidence of possible bias on the whistleblower's part. Under questioning from Republicans during last Friday's impeachment inquiry interview with Atkinson, the inspector general revealed that the whistleblower's possible bias was not that he was simply a registered Democrat. It was that he had a significant tie to one of the Democratic presidential candidates currently vying to challenge President Trump in next year's election.
"The IG said [the whistleblower] worked or had some type of professional relationship with one of the Democratic candidates," said one person with knowledge of what was said.
"The IG said the whistleblower had a professional relationship with one of the 2020 candidates," said another person with knowledge of what was said.
"What [Atkinson] said was that the whistleblower self-disclosed that he was a registered Democrat and that he had a prior working relationship with a current 2020 Democratic presidential candidate," said a third person with knowledge of what was said.
All three sources said Atkinson did not identify the Democratic candidate with whom the whistleblower had a connection. It is unclear what the working or professional relationship between the two was.
In the Aug. 26 letter, Atkinson said that even though there was evidence of possible bias on the whistleblower's part, "such evidence did not change my determination that the complaint relating to the urgent concern 'appears credible,' particularly given the other information the ICIG obtained during its preliminary review."
Democrats are certain to take that position when Republicans allege that the whistleblower acted out of bias. Indeed, the transcript of Trump's July 25 call with Ukrainian President Volodymyr Zelensky is a public document, for all to see. One can read it regardless of the whistleblower's purported bias.
Nevertheless, Republicans will want to know more about the origins of the whistleblower complaint, especially given the unorthodox use of whistleblower law involved. There is more to learn — like who the Democratic candidate is — before Republicans will say they know enough about what happened.
https://www.washingtonexaminer.com/news/whistleblower-had-professional-tie-to-2020-democratic-candidate
 Story 3: Two Trump Supporters Arrested On Campaign Finance Charges — Videos —
PBS NewsHour full episode October 10, 2019
Nightly News Broadcast (Full) – October 10th, 2019 | NBC Nightly News
Rudy Giuliani's Ukraine fixers are arrested trying to flee the U.S. hours after lunching with him and are charged with funneling $350k from mystery Russian businessman to Trump PAC – then pushing to have ambassador to Kiev fired
Lev Parnas Igor Fruman assisted Giuliani's effort to get Ukraine to investigate his theory about the 2016 elections 
They are both foreign-born and expected to appear in federal court in Virginia
Donated $325,000 to pro-Trump super PAC through an LLC
Accused of breaking campaign finance laws and concealing foreign donations 
House Intelligence committee called both men to testify about their work with Giuliani in Ukraine but lawyer declined
They were subpoenaed on Thursday 
The two men had dinner with President Trump and Donald Trump Jr. in 2018
Giuliani has said both are clients of his 

They introduced Giuliani to Ukrainian figures as part of his effort to pursue his theory of foreign election interference

The men took steps to hide foreign donor as source behind contributions due to his 'Russian roots and current political paranoia about it'
By GEOFF EARLE, DEPUTY U.S. POLITICAL EDITOR FOR DAILYMAIL.COM
PUBLISHED: 09:55 EDT, 10 October 2019 | UPDATED: 17:38 EDT, 10 October 2019
A pair of Florida businessmen who worked with Donald Trump's lawyer Rudy Giuliani to promote politically-charged investigations in Ukraine were arrested on federal campaign finance charges as they tried to flee the country, it was revealed Thursday.
Lev Parnas and Igor Fruman, who were each born in former Soviet republics, assisted Giuliani's effort to get Ukraine to investigate his theory about the 2016 elections, and also help Giuliani's effort to dig up dirt on a company tied to the Bidens in Ukraine.
They were arrested at Dulles Airport on a plane to Vienna, Austria, a few hours after they were seen lunching with Giuliani at the Trump Hotel in Washington D.C.
At a federal court hearing in Alexandria, VA, Thursday afternoon federal prosecutors said the pair were a flight risk.
U.S. Judge Michael Nachmanoff ordered Parnas and Fruman to post $1 million each in bail, surrender their passports and be subject to home detention, among other conditions, before they can be released from jail.
The two men cultivated ties with a series of top Republican officials. They had dinner with President Trump at the White House and dined with Donald Trump Jr. in 2018.
Parnas bragged about dining with the president at the White House that year.
Giuliani has said both are clients of his.  While they were sitting in Alexandria Sheriff's Office cells, the Soviet-born duo were also hit with subpoenas by the House Intelligence Committee.
Parnas and Fruman had lunch with Giuliani Wednesday at Trump's DC hotel hours before trying to leave the country, the Wall Street Journal reported.
In an indictment unsealed Thursday in the Southern District of New York, the men are accused of funneling $325,000 from a mystery Russian businessman into America First Action, a pro-Trump super PAC in violation of U.S. campaign laws banning foreign donations and efforts to conceal campaign funds.
Flight risk: U.S. Judge Michael Nachmanoff ordered Lev Parnas and Igor Fruman to post $1 million each in bail, surrender their passports and be subject to home detention, among other conditions, before they can be released from jail
Lev Parnas and Igor Fruman were arrested and charged with campaign finance crimes in an indictment unsealed Thursday
Mike Pence, Igor fruman, Lev Parnas, President Trump, and Rudy Giuliani are pictured in an image captured by the Organized Crime and Corruption Reporting Project
Dining at the White House: Lev Parnas bragged that he was a guest of Donald Trump in spring 2018 –
In addition to helping Trump, the same super PAC spent millions to boost former Texas GOP Rep Pete Sessions, who wrote a letter calling for the firing of former U.S. ambassador to Ukraine Marie Yovanovich, who Trump trashed on his infamous July call with the Ukrainian president and who House Democrats want to interview Friday as part of their impeachment probe.
The House Intelligence committee wants both men to testify about their work with Giuliani in Ukraine as part of its impeachment probe into Trump's interactions with Ukraine.
Their lawyer John Dowd – Trump's former attorney – has said they won't provide the information. Amid the standoff, three House committees issued subpoenas for interviews and information.
Dowd hung up on an Associated Press reporter seeking comment. He had previously replied to the Democrat-controlled committee rejecting the subpoenas and writing in comic sans font. He had also accused the Democrats of harassing his clients.
The men were arrested late Wednesday at Dulles airport in Virginia as they were about to fly abroad with one-way tickets to Vienna, according to prosecutors.
U.S. President Trump's personal lawyer Rudy Giuliani has coffee with Ukrainian-American businessman Lev Parnas at the Trump International Hotel in Washington, U.S. September 20, 2019. Giuliani said both Parnas and Fruman were his clients. They assisted his Ukraine investigation
This Facebook screen shot provided by The Campaign Legal Center, shows from left, Donald Trump, Jr., Tommy Hicks, Jr., Lev Parnas and Igor Fruman, posted on May 21, 2018
Men associated with Giuliani arrested for violating campaign laws
The pair donated $325,000 to a pro-Trump super PAC, America First Action, through an LLC, prosecutors say.
Although the indictment mentions only an alleged scheme to violate campaign finance laws, the two men are also connected to a the sprawling Ukraine matter that has President Trump now facing a ramped-up House Democratic impeachment effort.
The Associated Press reported that the two men sought to use their connections to Giuliani to get the Ukrainian state gas company, Naftogaz, to replace members of their board of directors.
The indictment doesn't mention Giuliani, whose association with Parnas and Fruman was part of his effort to amass potential dirt on Trump political rival Joe Biden.
The pair dined with Donald Trump Jr. in May 2018, along with Tommy Hicks Jr., according to a Facebook post that captured the event. Hicks was leading the pro-Trump super PAC at the time and now has a position as co-chair of the Republican National Committee.
They also had dinner with President Trump, and images Parnas posted on Twitter in May thanks the president for an 'incredible dinner and even better conversation' at the White House.
He also wrote: '!!!! Making America Great!!!!!!!' and tagged '#TRUMP2020.'
An image posted by the Organized Crime and Corruption Reporting Project shows them pictured with Vice President Mike Pence, Trump, and Giuliani.
They also donated to Florida Sen. Rick Scott and hosted fundraisers for Florida Gov. Ron DeSantis headlined by Donald Trump Jr., the Miami Herald reported.
The men are being represented John Dowd, who served as Donald Trump's lawyer during part of the Mueller probe.
Their company, Global Energy Producers LLC, has been accused of violating campaign finance laws for its six-figure donations to the super PAC.
Chief rabbi of Ukraine Moshe Reuven Azman with former Arkansas governor Mike Hackabee – father of Sarah Huckabee Sanders – and 'American friends of Anatevka' Lev Parnas and Igor Fruman were pictured in Jerusalem
+11
Correia, President Trump, and Igor Fruman on July 4, 2018
Florida men tied to Giuliani arrested on campaign charges
By MICHAEL BIESECKER, MICHAEL BALSAMO, DESMOND BUTLER and ERIC TUCKER
an hour ago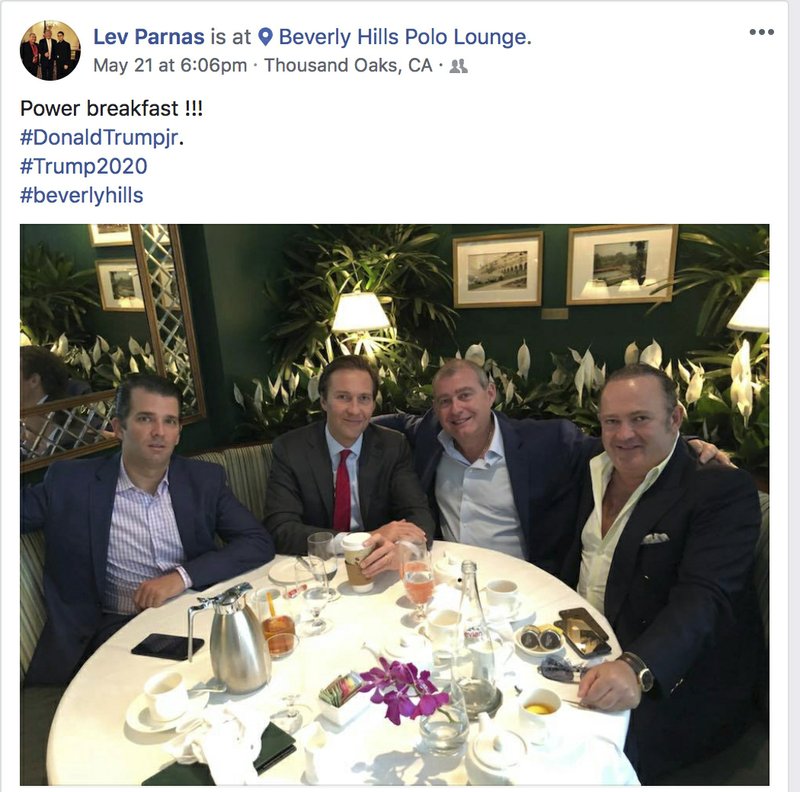 WASHINGTON (AP) — Two Florida businessmen tied to President Donald Trump's lawyer and the Ukraine investigation were charged Thursday with federal campaign finance violations. The charges relate to a $325,000 donation to a group supporting Trump's reelection.
Lev Parnas and Igor Fruman, associates of Rudy Giuliani, were arrested Wednesday trying to board an international flight with one-way tickets at Dulles International Airport in Virginia, according to Geoffrey Berman, the U.S. attorney in Manhattan. No destination was disclosed.
Parnas and Fruman were arrested on a four-count indictment that includes charges of conspiracy, making false statements to the Federal Election Commission and falsification of records. The men had key roles in Giuliani's efforts to launch a Ukrainian corruption investigation against Democratic presidential contender Joe Biden and his son Hunter.
The indictments mark the first criminal charges related to the Ukraine controversy. While they do not suggest wrongdoing by the president, they are likely to add fuel to the House impeachment inquiry, raising additional questions about whether those close to Trump and Giuliani sought to use their influence to affect U.S. foreign policy decisions.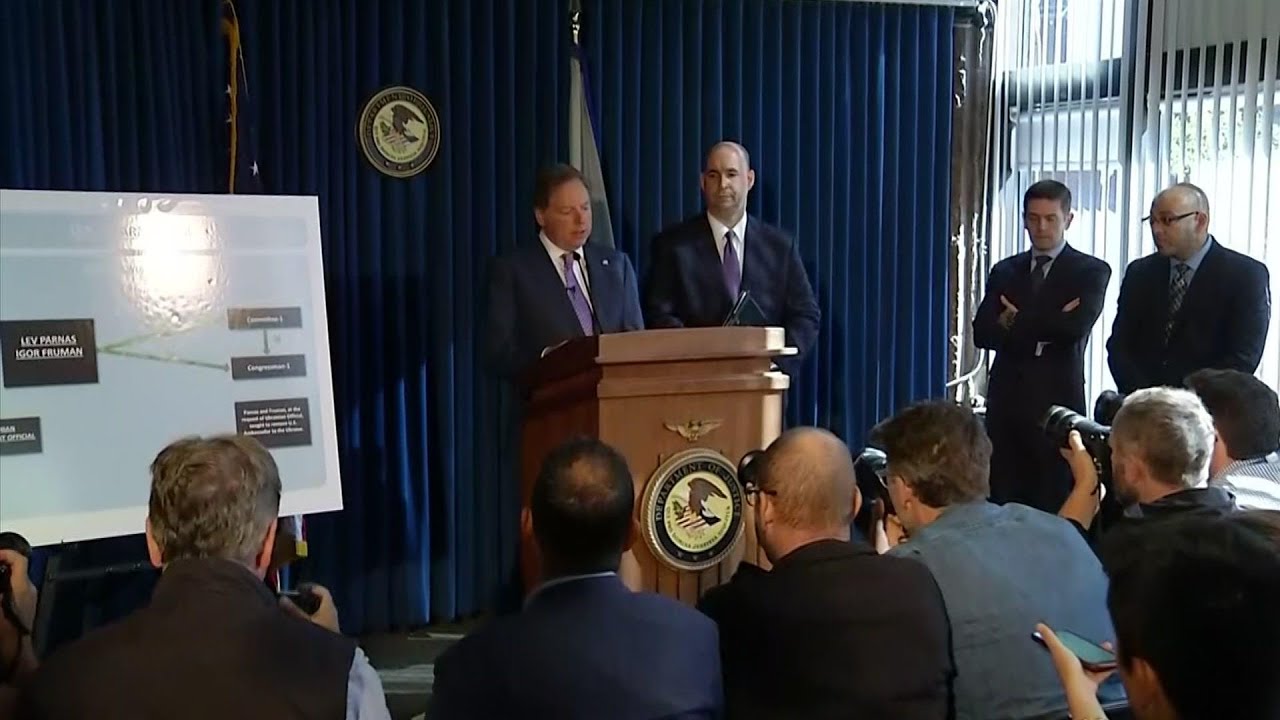 Trump has dismissed the impeachment inquiry as baseless and politically motivated.
Records show that Parnas and Fruman used wire transfers from a corporate entity to make the $325,000 donation to the America First Action committee in 2018. But wire transfer records that became public through a lawsuit show that the corporate entity reported as making the transaction was not the source of the money.
Prosecutors also allege that Parnas urged a congressman to seek the ouster of the U.S. ambassador to Ukraine, at the behest of Ukrainian government officials. That happened about the same time that Parnas and Fruman committed to raising more than $20,000 for the politician.
The congressman wasn't identified in court papers, but the donations match campaign finance reports for former Rep. Pete Sessions, a Texas Republican who lost his re-election bid in November. In May 2018, Parnas posted a photo of himself and his business partner David Correia with Sessions in his Capitol Hill office, with the caption "Hard at work !!"
John Dowd, an attorney for Parnas and Fruman, hung up on an Associated Press reporter seeking comment. Giuliani said he couldn't comment and that he didn't represent the men in campaign finance matters.
The men were arrested around 6 p.m. Wednesday and booked at a local jail in Alexandria, Virginia. A court appearance Thursday was delayed as lawyers tried to work out a bail package. Kevin Downing, the lawyer who represented former Trump campaign chairman Paul Manafort on charges that he hid millions of dollars that he earned in Ukraine advising politicians there, was representing the men for their initial appearance and declined to comment.
Correia and Andrew Kukushkin, a Ukrainian-born U.S. citizen, were also charged in the case.
Attorney General William Barr had been briefed on the investigation soon after he was confirmed in February, was updated in recent weeks and was made aware Wednesday night that the men were being arrested, a person familiar with the matter told The Associated Press. The person spoke on condition of anonymity to discuss an ongoing investigation.
The indictment says Parnas and Fruman "sought to advance their personal financial interests and the political interests of at least one Ukrainian government official with whom they were working" and took steps to conceal it from third parties, including creditors. They created a limited liability corporation, Global Energy Producers, and "intentionally caused certain large contributions to be reported in the name of GEP instead of in their own names."
Prosecutors charge that the two men falsely claimed the contributions came from GEP, which was described as a liquefied natural gas business. At that point, the company had no income or significant assets, the indictment said.
Prosecutors allege that Parnas and Fruman conspired to make illegal contributions to try to skirt the limit on federal campaign contributions. The men are also accused of making contributions to candidates for state and federal office, joint fundraising committees and independent expenditure committees in the names of other people.
The commitment to raise more than $20,000 for the congressman was made in May and June 2018. The lawmaker had also received about $3 million in independent expenditures from a super political action committee that Parnas and Fruman had been funding. A super PAC can raise and spend unlimited amounts of money in support of a candidate but isn't allowed to directly coordinate with the official campaign.
As a result of the donations, Parnas and Fruman had meetings with the congressman and Parnas lobbied him to advocate for removing the ambassador to Ukraine, Berman said. Trump referred to Ambassador Marie Yovanovitch, who was indeed recalled to the U.S., as "bad news" in his July phone call with Ukrainian President Volodymyr Zelenskiy.
Berman said his office "will not hesitate to investigate and prosecute those who engage in criminal conduct that draws into question the integrity of our political process." His office had brought unrelated charges against the president's former legal "fixer" Michael Cohen last year.
The indictment also charges that Kukushkin conspired with the three other defendants to make political contributions, funded by a foreign national, to politicians seeking state and federal office "to gain influence with candidates as to policies that would benefit a future business venture."
An unnamed foreigner wired $500,000 from a bank account overseas through New York to the defendants for contributions to two candidates for state office in Nevada, the indictment alleges. Foreigners are not permitted to contribute to U.S. elections.
The indictment accuses the four men of also participating in a scheme to acquire retail marijuana licenses through donations to local and federal politicians in New York, Nevada and other states.
The big donation to the Trump-allied PAC in May 2018 was part of a flurry of political spending tied to Parnas and Fruman, with at least $478,000 in donations flowing to GOP campaigns and PACs in little more than two months.
The money enabled the relatively unknown entrepreneurs to quickly gain access to the highest levels of the Republican Party, including meetings with Trump at the White House and Mar-a-Lago in Florida.
America First Action said the $325,000 contribution would remain in a separate account while the court cases play out. A spokeswoman, Kelly Sadler, said the committee will "scrupulously comply with the law."
The AP reported last week that Parnas and Fruman helped arrange a January meeting in New York between Ukraine's former top prosecutor, Yuri Lutsenko, and Giuliani, as well as other meetings with top government officials.
Giuliani's efforts to launch a Ukrainian corruption investigation were echoed by Trump in the July 25 call with Zelenskiy. That conversation is now at the heart of the impeachment inquiry .
House Democrats subpoenaed Parnas and Fruman on Thursday for documents they have refused to produce to three House committees. The panels have also subpoenaed Giuliani.
A whistleblower complaint by an unnamed intelligence official makes reference to "associates" of Giuliani in Ukraine who were attempting to make contact with Zelenskiy's team, though it's not clear that refers to Parnas and Fruman. That could put the two men squarely in the middle of the investigation into Giuliani's activities.
___
Neumeister reported from New York City. Associated Press writers Colleen Long and Brian Slodysko in Washington, Larry Neumeister and Jonathan Lemire in New York and Matthew Barakat in Alexandria, Virginia contributed to this report.
https://apnews.com/c9125e9ccd894965bbf2860100366779
T

he Pronk Pops Show Podcasts Portfolio Read Full Post

|

Make a Comment

(

None so far

)