Hypersonic Missiles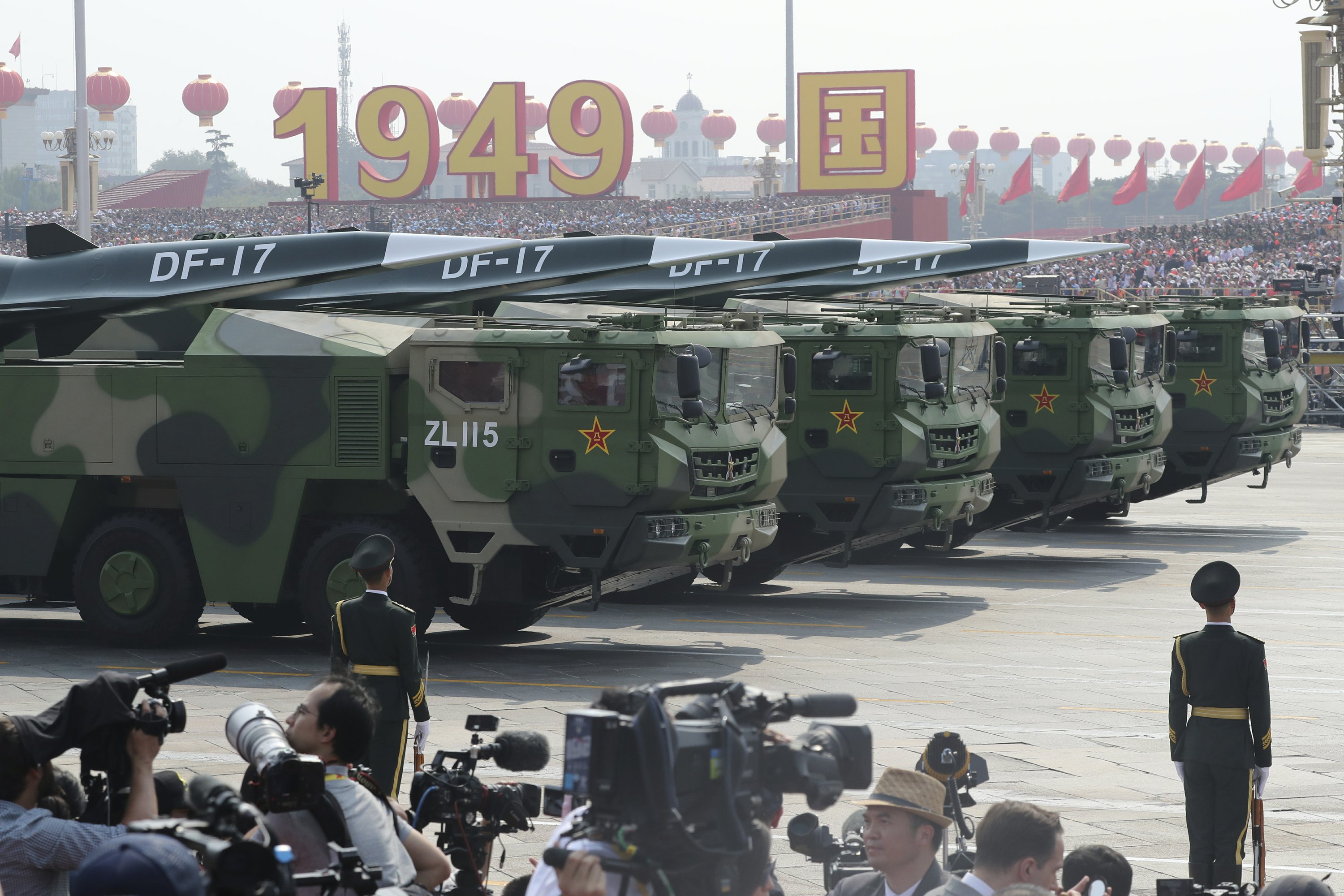 Story 1: Communist China Celebrates 70th Anniversary of Its Chinese Communist Party Dictatorship With Weapons Display — Videos —
15 military units march in China's largest National Day parade
China 70th anniversary parade and celebrations | FULL
China's Communist Party marks 70th anniversary of its rule with military parade
China marked the founding of the People's Republic of China in 1949 with a massive parade that includes a new-generation intercontinental ballistic missile capable of striking anywhere in the United States, as well as stealth combat drones and fighter jets. Subscribe to The Washington Post on YouTube: https://wapo.st/2QOdcqK
China marks the 70th anniversary of its founding with military parade – watch live
'A picture says a thousand words' as China puts on menacing display
CrossTalk: Communist China at 70
Story 2: Communist China Parades New Missiles Including DF-41 ICBMs and The DF-17 Hyper-sonic Missile — Videos —
China shows off new missiles during milestone celebration
China's military parade a 'significant development' in arms race
North Korea Launches Missile Before Resuming Talks — Videos
China Displays DF-17 New Hypersonic Missile – DF-41 World's Longest-Range Military Missile
China's Dongfeng-41 missile – likely centerpiece at its 70th National Day parade?]
DF-41
Jump to navigationJump to search
DF-41
Type
ICBM
Place of origin
China
Service history
In service
2017
Used by
People's Liberation Army Rocket Force
Production history
Manufacturer
China Academy of Launch Vehicle Technology (CALT)
Specifications
Mass
~80,000 kilograms (180,000 lb)[1]
Length
~21 metres (69 ft)[1]
Diameter
~2.25 m (7 ft 5 in)[1]
Warhead
Thermonuclear weapon, 10-12 MIRVs (single 1 Megaton or MIRV with selectable 20, 90, 150 kiloton)[1]

---

Engine
Three-stage Solid-fuel rocket

Operational
range

~14,000–15,000 kilometres (8,700–9,300 mi)[1]
Speed
Mach 25 (30,626 km/h; 19,030 mph; 8.5073 km/s)[2]

Guidance
system

Inertial, likely with stellar updates and BeiDou[3]
Accuracy
100m CEP[3]

Launch
platform

Silo, road-mobile Transporter erector launcher
The Dongfeng-41 (DF-41, CSS-X-10) (simplified Chinese: 东风-41; traditional Chinese: 東風-41; literally: 'East Wind-41'), is a Chinese solid-fuelled road-mobile intercontinental ballistic missile. The missile, reportedly capable of reaching the contiguous United States within 30 minutes, was officially unveiled at the China Day military parade on October 1st, 2019.
Design
The missile reportedly has an operational range between 12,000 to 15,000 kilometres (7,500 to 9,300 mi).[4][1] This would make it the world's longest-range missile, surpassing that of the US LGM-30 Minuteman, which has a reported range of 13,000 kilometres (8,100 mi).[5][6] It is believed to have a top speed of Mach 25,[2] and to be capable of MIRV delivery (up to 12).[4] The development of the MIRV technology is reported to be in response to the deployment of the United States national missile defense system which degrades China's nuclear deterrence capability.[7] The project started in 1986,[4] and may now be coupled with the JL-2 program.
Though there have been reports that the DF-41 can carry 6 to 10 warheads, analysts think it most likely carries only three warheads, with the additional payload used for many penetration aids.[8]
Richard Fisher, an expert on Asia-Pacific military affairs, says that a typical Second Artillery Corps unit has 6-12 missile launchers and may have an additional 6-12 "reload missiles", i.e. missiles to be launched after the first missile with which the launcher is equipped are launched, indicating 12-24 DF-41 missiles per unit. If a missile had 10 warheads, that would give a single SAC unit the capability to target the contiguous United States with 120-240 nuclear warheads.[9]
Development
Air Power Australia reported that the DF-41 was cancelled pre-2000, with the technology developed transferred to the DF-31A.[4][10] It was incorrectly anticipated that the DF-41 would be delivered to the Second Artillery around the year 2010.[4][11] Some military experts had expected that it could be unveiled at the 2009 National Parade.[12] However, rehearsals of the military parade did not feature this missile.
The American conservative website The Washington Free Beacon reported in August 2012 that the DF-41 had its first flight test on July 24, 2012.[13]
In April 2013, Taiwan's National Security Bureau head reported to the Legislative Yuan that the DF-41 was still in development, and not yet deployed.[14]
The U.S. Department of Defense in its 2013 report to Congress on China's military developments made no explicit mention of the DF-41, but did state that "China may also be developing a new road-mobile ICBM, possibly capable of carrying a multiple independently targetable re-entry vehicle (MIRV)", which may refer to the DF-41.[15] Later in 2013 the Washington Free Beacon reported that the second launch test took place on December 13, 2013 from the Wuzhai missile launch center in Shanxi province to an impact range in western China, according to officials familiar with details of the tests.[16]
The Free Beacon reported in June 2014 that U.S. officials had said by then that the DF-41 was test launched twice since 2012.[17]
In August 2014, China Shaanxi Provincial Environmental Monitoring Center website accidentally made a news report about events of setting environmental monitoring site for DF-41 ICBM; the news report (and the whole website) was taken down shortly after getting public attention.[18]
In December, The Washington Free Beacon claimed that China had test-launched a DF-41 using multiple reentry vehicles for the first time on 13 December 2014.[19] Later that month, China confirmed that the launch occurred, saying it has a legitimate right to conduct scientific tests within its border, that they were not targeting any country, and the development of the missile did not affect China's policy of not using nuclear weapons first in a conflict. The launch took place at the Wuzhai Missile and Space Test Center in central China and impacted in the west of the country.[20]
In August 2015, the missile was flight-tested for the fourth time.[21]
In December 2015, the missile was flight-tested for the fifth time. The flight test demonstrated the use of two multiple independently targetable reentry vehicles. The missile launch and dummy warheads were tracked by satellites to an impact range in western China.[22]
In April 2016, China successfully conducted the 7th test of DF-41 with two dummy warheads near the South China Sea, amid growing tensions between Washington and Beijing about the area.[23]
On January 23, 2017, China was reported to have deployed a strategic ballistic missile brigade to Heilongjiang province, bordering Russia, along with another strategic ballistic missile brigade deploying to Xinjiang.[24]
In November 2017, just two days before U.S. President Trump's visit to China, the DF-41 was tested in the Gobi desert.[25][26]
On October 1, 2019, China on its 70th anniversary displayed the missiles in a large military parade. [27]
Rail-mobile version
On 5 December 2015 China conducted a launcher test of a new rail-mobile version of the DF-41, similar to the Russian RT-23 Molodets.[28][29]
References …
Story 3: North Korea Launches Missile Before Resuming Nuclear Talks — Videos —
North Korea launches ballistic missile into Sea of Japan
North Korea Has Fired A Ballistic Missile Days Before Resuming Nuclear Talks With The U.S. | TIME
North Korea Launches Missile Before Resuming Talks — Videos
North Korea makes calculated show of strength with ballistic missile launch
Timeline of North Korea's Missile Program
This Is What a Nuclear War Would Actually Look Like (HBO)
Breaking down Russia and U.S. nuclear capabilities
North Korea's latest missile launch may have been fired from a SUBMARINE just hours after Pyongyang agreed to fresh nuclear talks with the US this weekend
South Korea says North fired ballistic missile toward Sea of Japan on Wednesday
Officials in Seoul believe missile may have been fired from a submarine or barge 
South Korean military chief says missile flew 280 miles and reached altitude of 565 miles
Talks between North Korea and the U.S. have hit standstill over sanctions, disarmament issues
President Trump and Kim Jong-un held summit in Hanoi in February
North Korea fired a ballistic missile toward the sea Wednesday, South Korea's military said, in a display of its expanding military capabilities hours after saying it would resume nuclear diplomacy with the United States this weekend.
South Korean officials said the missile was fired from North Korea's eastern waters, suggesting it may have been submarine-launched.
But South Korean defense officials won't officially disclose whether the missile was fired from a submarine, a barge or any other possible platform.
North Korea having the ability to launch missiles from submarines would be alarming because such weapons are harder to detect in advance.
North Korea is known to have developed and tested at least one nuclear-capable SLBM – the Pukguksong-1 – and has carried out several test-launches of its successor, the Pukguksong-2.
North Korean leader Kim Jong-un was shown (above) in coverage in the South about the latest rocket launch. The Hermit Kingdom fired what was believed to be a submarine-launched ballistic missile (SLBM) from waters off its east coast
The Hermit Kingdom has a large submarine fleet but only one known experimental submarine capable of carrying a ballistic missile.
Kim was accompanied on the visit by Kim Jong-sik, an official who has played a leading role North Korea's missile program, and Jang Chang-ha, the head of a national defense academy which the U.S. believes is in charge of the country's weapons research.
According to Seoul's Joint Chiefs of Staff, the missile flew about 280 miles at the maximum attitude of 565 miles before landing between the Korean Peninsula and Japan. 
The Joint Chiefs of Staff said South Korean and U.S. authorities were analyzing more details of the launch.
Japanese Chief Cabinet Secretary Yoshihide Suga earlier said the North fired two ballistic missiles from the country's east coast, and one of them appeared to have landed inside Japan's exclusive economic zone.
There were no reports of damage to Japanese vessels or aircraft, he said.
The North had not fired a weapon that reached inside Japan's EEZ since November 2017 at the height of an unusually provocative run in nuclear and missile tests.
Japanese Prime Minister Shinzo Abe condemned the launches and said they violate U.N. resolutions against the North. 
'We will continue to cooperate with the U.S. and the international community and do the utmost to maintain and protect the safety of the people as we stay on alert,' Abe said.
A woman watching a television news screen showing file footage of a North Korean missile launch at a railway station in Seoul, South Korea, today
A South Korean soldier walking past a TV broadcasting a news report in Seoul, South Korea, on North Korea firing a missile that is believed to be launched from a submarine today
The launches, which were the North's ninth round of weapons tests since late July, came hours after a senior North Korean diplomat said North Korea and the United States have agreed to resume working-level nuclear negotiations this weekend.
After supervising a testing firing of what the North described as a 'newly developed super-large multiple rocket launcher' last month, North Korean leader Kim Jong-un was quoted by state media as saying that the system would require a 'running fire test' to complete its development.
North Korea could also be demonstrating its displeasure over South Korea displaying for the first time some of its newly purchased U.S.-made F-35 stealth fighter jets at its Armed Forces Day ceremony on Tuesday.
The North has called the F-35 purchases a grave provocation that violate recent inter-Korean agreements aimed at lowering military tensions.
Nuclear negotiations halted following a February summit between Kim Jong-un and President Donald Trump in Vietnam that broke down after the U.S. rejected North Korean demands for broad sanctions relief in exchange for partially surrendering its nuclear capabilities.
North Korea's subsequent belligerent rhetoric and recent short-range weapons tests have been seen as an attempt to gain leverage before resuming the negotiations.
South Korean people watching breaking news at Seoul Station in Seoul today concerning North Korea's latest missile launch
The United States and North Korea announced on Tuesday that they will resume talks this weekend about Pyongyang's nuclear program. President Trump (left) and North Korean ruler Kim Jong-un (right) are seen on the North Korean side of the border in Panmunjon in June
In a statement released through state media, Choe Son Hui, North Korea's first vice minister of foreign affairs, said the two nations will have preliminary contact on Friday before holding working-level talks on Saturday.
She did not say where it would take place.
'It is my expectation that the working-level negotiations would accelerate the positive development of the DPRK-U.S. relations,' Choe said in the statement, using an abbreviation for North Korea's formal name, the Democratic People's Republic of Korea.
State Department spokeswoman Morgan Ortagus, who is traveling with Secretary of State Mike Pompeo in Rome, said later she did not have further details to share about the meeting.
Last month, North Korea praised Trump for suggesting Washington may pursue an unspecified 'new method' in the negotiations.
North Korea also has welcomed Trump's decision to fire hawkish former National Security Adviser John Bolton, who advocated a 'Libya model' of unilateral denuclearization as a template for North Korea.
The 2004 disarmament of Libya is seen by North Korea as a deeply provocative comparison because Libyan leader Moammar Gadhafi was killed following U.S.-supported military action in his country seven years after giving up a rudimentary nuclear program that was far less advanced than North Korea's.
The office of South Korean President Moon Jae-in, who lobbied hard to set up the first summit between Kim and Trump last year in Singapore, welcomed Choe's announcement and expressed hope the resumed talks would result in 'substantial progress' in denuclearization and peace.
That could be a tall order.
North Korea's Kim Jong-un is seen above touring a facility which houses a submarine in a file photo released earlier this year
Visual timeline of North Korea's missile programme
The diplomacy between Trump and Kim has been driven chiefly by their personalities rather than an established diplomatic process, and working-level meetings have fleshed out the logistics of summits without bringing the countries closer to any nuclear agreement.
The stalemate of recent months has revealed fundamental differences.
North Korea says it will never unilaterally surrender its nuclear weapons and missiles and insists that U.S.-led sanctions against it should be lifted first before any progress in negotiations.
The Trump administration has vowed to maintain robust economic pressure until North Korea takes real steps toward full, verifiable denuclearization.
Leif-Eric Easley, a professor at Ewha University in Seoul, said progress in working-level negotiations would depend on several factors, including whether Kim empowers his officials to negotiate concrete steps and whether the Trump administration embraces 'a phased approach where summits and sanctions relief must be earned, but denuclearization is not decided all at once.'
But there are doubts about whether Kim would ever voluntarily deal away an arsenal that he may see as his strongest guarantee of survival.
After their Singapore summit in June 2018, Trump and Kim issued a vague statement calling for a nuclear-free Korean Peninsula without describing how or when it would occur.
The lack of substance and fruitless working-level talks set up the failure in Hanoi. Trump and Kim met for the third time at the inter-Korean border on June 30 and agreed that working-level talks between the countries should resume.
Story 4: United States Must Counter Missiles of Communist China and Russia Accelerate Development, Production and Deployment  of Missile Defense and Hypersonic Missile Systems — New Arms Race — Hypersonic Missile Gap — Videos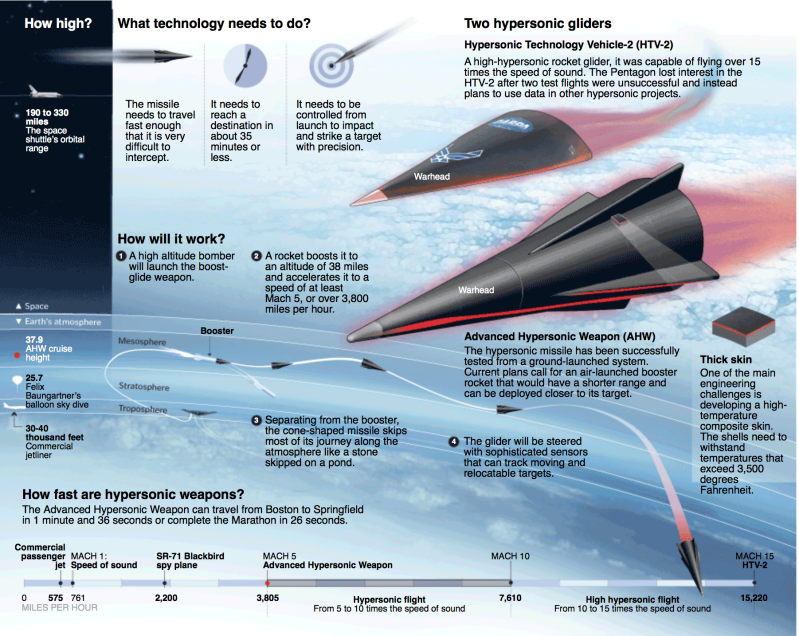 Steve Bannon: China doesn't know how to handle Trump
Trump speaks at the Missile Defense Review
Streamed live on Jan 17, 2019
How Hypersonic Weapons Created A New Arms Race
Is a new hypersonic arms race underway? | Inside Story
Russia, China outpace US in hypersonic missile technology
Putin: Russia's new nuclear missile is invincible
RUSSIAN S 400 vs AMERICAN PATRIOT PAC 3 & THAAD- UNBIASED ANALYSIS
TERMINAL HIGH ALTITUDE AREA DEFENSE (THAAD) SUCCESSFULLY INTERCEPTS MISSILE IN TEST !!
Here's How Israel's Iron Dome Actually Works
Why a U.S. Missile Defense System Is Angering China
Putin says he's ready for another Cuban Missile-style crisis
Trump pushes for major expansion of US missile defense systems
Trump's new plans for missile defense may spark arms race, critics say
China vs United States (USA) 2016 – Who Would Win – Military Comparison
United States (USA) vs Russia and China – Who Would Win? Military / Army Comparison
Real Reason Why China Wants To Expand
China's Geography Problem
China's ballyhooed new hypersonic missile isn't exactly a game-changer
Oct. 4, 2019 at 7:18 a.m. CDT
For the past few years, scientists, Pentagon officials and uniformed military leaders have warned about China's apparent lead in hypersonic technology, which they often describe as a "game changer." Over the long term, hypersonic missiles could indeed provide China (and Russia, too) with a uniquely threatening capability, but there is time for a considered response: The DF-17 and its immediate successors are unlikely to add much, if anything, to China's already impressive military forces.
To be sure, the DF-17 is a powerful weapon, even armed with a conventional warhead, as it will be, according to the parade announcer in Beijing. The missile consists of a rocket that launches a glider, presumably at more than five times the speed of sound. (That's what "hypersonic" means.) The U.S. intelligence community reportedly estimates the missile's range at 1,100 to 1,550 miles, and Chinese state media has described it as being capable of conducting "precision strikes." Not on the U.S. mainland, though; Beijing is nearly 6,000 miles from San Francisco.
But the important question isn't whether the DF-17 poses a danger to U.S. and allied forces in the western Pacific. It does. Better to ask whether the DF-17 significantly enhances the threat from China's formidable arsenal of existing weapons, in particular its force of between 900 and 1,950 ballistic missiles, most of them conventionally armed, with ranges of less than 1,850 miles.
There are good reasons to question how much additional capability the DF-17 will provide. Chinese ballistic missiles are based on mature technology, and the Pentagon has determined that they are able to strike their targets precisely. Chinese propaganda, by contrast, is the only unclassified source for the accuracy of the first-of-its-kind DF-17.
Moreover, hypersonic gliders are actually at a speed disadvantage compared with ballistic missiles of the same range. Ballistic missiles are also boosted to high speed by large rockets, before arcing through the vacuum of space. A glider, by contrast, spends most of its trajectory in the atmosphere, using aerodynamic lift to extend its range. The increased range comes at the cost of faster deceleration caused by atmospheric friction. One implication of this reduced speed is that hypersonic gliders may be more vulnerable to interception by U.S. "point" missile defenses (especially after such defenses have been optimized for that purpose). Like cornerbacks in football, point missile defenses are intended to protect small but important areas — such as U.S. military bases in the western Pacific.
The main advantage claimed for hypersonic gliders is their ability to maneuver during flight. If capable of adjusting their heading rapidly enough, these gliders could indeed defeat defenses by dodging interceptors. But executing rapid maneuvers without sacrificing the accuracy necessary for military effectiveness presents a significant technical challenge. There is no evidence that China, or any other state, has yet surmounted it.
That said, hypersonic weapons do present a serious challenge for the United States — but the threat is likely to emerge slowly.
Over time, China will probably develop accurate, conventionally armed gliders capable of reaching ever deeper into the United States itself. This development would create new threats for critical military infrastructure, such as communication systems for transmitting data to and from satellites, that is not currently vulnerable to non-nuclear attack. An appropriate U.S. response — hardening and burying critical systems, enhancing redundancy and deploying defenses — is likely to be expensive and time-consuming. (China could also arm intercontinental-range gliders with nuclear weapons, but since it can already reduce U.S. cities to smoking radioactive ash, this terrifying prospect would not actually represent an increase in the threat to the United States.)
Yet Washington's response to the exhibition of the DF-17 will almost inevitably focus on closing the "hypersonics gap." That might make sense if the United States could use gliders to destroy Chinese hypersonic weapons preemptively. But, like the DF-17, intercontinental Chinese gliders would almost certainly be deployed on trucks that are extremely difficult to track and destroy. Thus, hypersonic weapons in U.S. hands would not actually offset whatever advantages China seeks by deploying them.
The Pentagon's budget request for fiscal 2020 included $2.6 billion for hypersonic-related research, and there is a strong appetite in Washington for deploying hypersonic weapons as soon as possible. But the Defense Department would be wise to move cautiously. Hypersonic weapons may ultimately find their niche in U.S. military strategy, but first the Pentagon must define their role and analyze potential alternatives. For now, defending against current – and particularly future – Chinese hypersonic weapons is a more urgent task.
https://www.washingtonpost.com/opinions/2019/10/04/chinas-ballyhooed-new-hypersonic-missile-isnt-exactly-game-changer/
The Pronk Pops Show Podcasts Portfolio
Read Full Post
|
Make a Comment
(
None so far
)