Medicine
Part 1 — Story 1: House Freedom Caucus Is Right: First Complete Clean Repeal and Then Replace Obamacare — No Three Phases/Prongs Bull — Change Your Rules or American People Will Replace You — Restore Free Market Competition In Health Insurance Sector So That Companies and Consumers Are Free of Government Mandates and Dictates Thereby Lowering Premiums and Deductibles  — Freedom Works — Repeal and Replace Obamacare Now! — Videos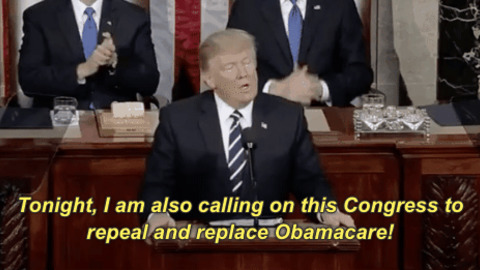 What Is Budget Reconciliation?
Video Transcript:
Led by President Donald Trump, Republicans have promised to repeal the Affordable Care Act. They have control of both houses of Congress and the White House, but they still have one big obstacle in that effort.
In the Senate, opponents could stage a filibuster — the right of the minority to try to talk a bill to death and keep senators from voting. It takes 60 votes to stop a filibuster. Republicans have a majority but only 52 seats. And Democrats say they won't help take apart the health law they voted to pass seven years ago.
Instead, Republicans are vowing to use a budget procedure called "reconciliation." It comes from a 1974 law called the Congressional Budget and Impoundment Control Act. Lots of major health laws have been passed using reconciliation, including those guaranteeing the right to emergency room care, creating the Children's Health Insurance Plan, and allowing private plans as an alternative to traditional Medicare coverage.
Here's how reconciliation would work. First, Congress has to pass a budget resolution.
That budget document has to be agreed on by the House and Senate, but it doesn't go to the president for his signature.
The budget resolution does two main things. First, it sets spending targets for federal programs Congress funds every year. Those are known as appropriations.
But there are also programs funded by the federal government that don't need annual approvals from Congress. These include tax cuts or increases and so-called entitlement programs like Medicare and Medicaid.
So the budget resolution also instructs the congressional committees in charge of those programs to propose changes in the law that would "reconcile" how much those programs cost with the targets set by the budget. This is what Republicans would use to order changes to the Affordable Care Act.
When the committees report back their proposed changes, they are assembled into a budget reconciliation bill.
In the Senate, budget reconciliation has its own special rules that make it easier to pass. Debate is strictly limited, and the bill only needs a simple majority to pass.
But there are limits, too. Budget reconciliation bills can only change things that directly impact the federal budget — either adding to or reducing federal spending.
For the Affordable Care Act, that means Congress could use budget reconciliation to eliminate spending, like the help people get to pay their premiums or funding to states to expand the Medicaid program for the poor. It can also repeal the taxes that help pay for those benefits, including the tax penalties for individuals who fail to have insurance.
But Congress can't use reconciliation to change parts of the health law like provisions requiring insurance companies to provide certain benefits or sell coverage to people with preexisting conditions. Those don't directly affect federal spending.
That has led insurance companies to complain that they will go broke if they still have to sell to sick people, but healthy people won't have any incentive to get covered. In that case, they say, only sick people will buy insurance, and premiums will skyrocket.
And the new Republican Congress seems set on using the technique to take apart the health law. Whether that's a good idea may depend on whether you favor or oppose the Affordable Care Act.
FreedomWorks Day of Action Obamacare Repeal Rally
Watch House Freedom Caucus members speak out on health care bill
Reps. Gohmert, Meadows detail the new ObamaCare proposal
FNN: Paul Ryan's FULL PowerPoint Presentation on American Health Care Act (Obamacare Replacement)
AWESOME!! PRESIDENT TRUMP KEEPING HIS PROMISE ON OBAMACARE REPEAL AND REPLACE
House Freedom Caucus Throws Support Behind Paul Health Care Plan
Rand Paul Unveils His Brilliant Replacement Plan for Obamacare
CSPAN | Rand Paul Answers Tough Questions on His Healthcare Plan
Rand Paul and Mark Sanford Unveil Obamacare / Affordable Care Act Replacement Bill
Rand Paul on Why He Walked Out of Obamacare Meeting
Reconciliation in Congress
Exclusive — Rand Paul: 'Easily 35 No Votes' Against Paul Ryan's Obamacare 2.0, 'I Would Predict They Pull Bill, Start Over'
Sen. Rand Paul (R-KY) told Breitbart News exclusively on Tuesday afternoon that he expects House Speaker Paul Ryan will be forced to pull the American Health Care Act (AHCA) before a scheduled Thursday vote because Ryan will not get the votes to pass the legislation.
The AHCA has been dubbed "Obamacare Lite" by Paul — a leading conservative critic of the plan — and by other conservatives as "RyanCare," "RINO-Care," and "Obamacare 2.0," since the bill does not actually fully repeal Obamacare and keeps many of the main structures that the now-former President Barack Obama installed in the healthcare system. It has come under intense scrutiny from both sides of the Republican Party — moderates and conservatives are lining up against the bill — and Ryan, despite publicly projecting confidence, cannot find the necessary 216 votes to pass the legislation.
Paul, one of the leading senators out of more than a dozen Republicans in the upper chamber criticizing the bill there, told Breitbart News in this exclusive interview he believes there are at least 35 House Republicans ready to vote against the bill in its current form. And he predicted that, unless some major changes come to the legislation between now and the scheduled vote on Thursday, Ryan will need to withdraw the bill and Republicans will have to start from scratch with a new bill and a new strategy on Obamacare.
Paul said in the in-person interview at his U.S. Senate office in the Russell Senate Office Building:
I think there's easily 35 no votes right now so unless something happens in the next 24 hours, I would predict they pull the bill and start over. I think if conservatives stick together, they will have earned a seat at the table where real negotiation to make this bill an acceptable bill will happen. But it's interesting what conservatives are doing to change the debate. We went from keeping the Obamacare taxes for a year—hundreds of billions of dollars—but they're coming towards us because we're standing firm. So we have to stick together, and if we do stick together there will be a real negotiation on this. The main goal I have is not to pass something that does not fix the situation. If a year from now, insurance rates and premiums are still going through the roof and it's now a Republican plan it will be a disservice to the president and all of us if we pass something that doesn't work.
.@RandPaul to @mboyle1: Obamacare Lite will hurt us in the next election. This bill will either get stopped or pulled in the next 48 hrs.
There is plenty of reason to believe that Paul is correct in predicting Ryan does not have the votes to pass this legislation and will need to pull the bill to start over. Despite overtures from President Donald Trump, the House Freedom Caucus members — and particularly its chairman Rep. Mark Meadows (R-NC) — remain steadfastly opposed to the bill.
NBC News has now ID'ed 26 House GOPers who are opposed/leaning strongly against House health-care bill, per @AlexNBCNews & @LACaldwellDC
But Breitbart News can confirm several more than that are definitely opposed to the legislation. To kill the bill, Republicans need just 21 Republicans opposed—and some are talking about holding a press conference on Wednesday or Thursday with the necessary number of House Republicans to crush RyanCare, appearing arm-in-arm in public opposition before a vote.
House GOP leadership made some last minute changes, too, which Paul — in his interview with Breitbart News — flatly said "no," were not enough to get the bill passed. Regarding those changed, Paul said:
If you keep all the insurance mandates, and you keep subsidizing insurance, basically it's Obamacare Lite. So I think it's still Obamacare Lite. The modifications, some are going in the right direction, but they actually expanded some of the subsidies. So one of the new things about it is it's actually $75 billion more in subsidies. So, I think they're stuck trying to split the baby. They're trying to give conservatives a few token changes. And they're trying to give the moderates more subsidies.
Paul added that Ryan would not have dragged President Trump into this awful position if he had been more open and inclusive in the process from the beginning. In effect, Paul argued as he has done before, that Ryan is hurting President Trump by doing this the way he is doing it. Paul said:
I'm still unclear as to why they completely ignored conservatives early on in the process and then they had the audacity to look at conservatives and say 'this is what you all campaigned on.' That just, frankly, was never true. I was elected in 2010 in the big Tea Party wave that was for repealing Obamacare root and branch, rip the whole thing out. We were for repealing it. I still think that our grassroots conservative supporters are for repealing it. But somewhere along the line, Paul Ryan decided that it wasn't so much about repealing it but about replacing it with Obamacare Lite. And I think that was a tactical error on their part to think 'oh, we'll just be for this and everybody will be for this' when in reality no conservatives are really for the Ryan plan.
Paul would not say if Ryan will lose the confidence necessary to run the House of Representatives if this bill fails, as some have suggested. When asked if Ryan can still run the House if the bill goes down, Paul told Breitbart News that instead he thinks the bill going down would lead to real negotiations on healthcare reform. He said:
I think what it will be is the real negotiations will begin the moment his bill fails, and when his bill fails conservatives will have a seat at the table. As long as conservatives stay unified and don't start negotiating one person at a time — what's a really bad part of negotiations is if everybody starts saying individually 'oh if you give me this, give me this, give me this' because then you won't really fix the main thrust of the bill and the main outcome is that insurance premiums continue to rise and we continue to bail out insurance companies that's not repeal of Obamacare—that's Obamacare Lite.
More from Sen. Rand Paul's latest exclusive interview with Breitbart News is forthcoming.
http://www.breitbart.com/big-government/2017/03/21/exclusive-rand-paul-easily-35-no-votes-paul-ryans-obamacare-2-0-predict-pull-bill-start/
Member Name Party State Liberty Score Years in DC Next Election
 Track
Rep.
Gary Palmer R AL-6 A 100% 2 2018
Rep.
Dave Brat R VA-7 A 100% 2 2018
Sen.
Mike Lee R UT A 100% 6 2022
Rep.
Louie Gohmert R TX-1 A 98% 12 2018
Sen.
Ted Cruz R TX A 97% 4 2018
Rep.
Jim Bridenstine R OK-1 A 97% 4 2018
Rep.
Justin Amash R MI-3 A 96% 6 2018
Rep.
Jeff Duncan R SC-3 A 96% 6 2018
Rep.
Jim Jordan R OH-4 A 96% 10 2018
Rep.
Thomas Massie R KY-4 A 94% 4 2018
Sen.
Benjamin Sasse R NE A 94% 2 2020
Rep.
Mark Meadows R NC-11 A 94% 4 2018
Rep.
Ken Buck R CO-4 A 94% 2 2018
Rep.
Raul Labrador R ID-1 A 93% 6 2018
Sen.
Rand Paul R KY A 92% 6 2022
Rep.
Trent Franks R AZ-8 A 90% 14 2018
Rep.
David Schweikert R AZ-6 A 90% 6 2018
Rep.
Mark Sanford R SC-1 A 90% 3 2018
Sen.
Tim Scott R SC B 89% 4 2022
Rep.
Ron DeSantis R FL-6 B 87% 4 2018
Rep.
Tom McClintock R CA-4 B 86% 8 2018
Rep.
Scott DesJarlais R TN-4 B 85% 6 2018
Rep.
Trey Gowdy R SC-4 B 85% 6 2018
Rep.
Doug Lamborn R CO-5 B 85% 10 2018
Rep.
Randy Weber R TX-14 B 84% 4 2018
Rep.
Paul Gosar R AZ-4 B 84% 6 2018
Rep.
Mo Brooks R AL-5 B 84% 6 2018
Rep.
Kenny Marchant R TX-24 B 84% 12 2018
Rep.
Sam Johnson R TX-3 B 82% 25 2018
Rep.
Steve King R IA-4 B 81% 14 2018
Rep.
John Ratcliffe R TX-4 B 81% 2 2018
Rep.
Jody Hice R GA-10 B 81% 2 2018
Rep.
Dana Rohrabacher R CA-48 B 80% 28 2018
Rep.
Andy Harris R MD-1 B 80% 6 2018
Rep.
Bill Posey R FL-8 B 80% 8 2018
Rep.
John J. Duncan Jr. R TN-2 B 80% 28 2018
– See more at: https://www.conservativereview.com/scorecard#sthash.RyaYlHY1.dpuf
Freedom Caucus
From Wikipedia, the free encyclopedia
This article is about the U.S. Congressional organization. For the Democratic political action organization, see
Democratic Freedom Caucus
.
The Freedom Caucus, also known as the House Freedom Caucus, is a congressional caucus consisting of conservative Republican members of the United States House of Representatives.[7] It was formed in 2015 by a group of Congressmen as what member Jim Jordan called a "smaller, more cohesive, more agile and more active" group of conservatives.[8]
Many members are also part of the Republican Study Committee, another conservative House group.[8][9] The caucus is sympathetic to the Tea Party movement.[10] According to its mission statement, it "gives a voice to countless Americans who feel that Washington does not represent them. We support open, accountable and limited government, the Constitution and the rule of law, and policies that promote the liberty, safety and prosperity of all Americans."[11]
History
The origins of the caucus lie at the mid-January 2015 Republican congressional retreat in Hershey, Pennsylvania. Nine conservative active Republican members of the House began planning a new Congressional caucus separate from the Republican Study Committee and apart from the House Republican Conference. The group ultimately became the nine founding members and the first board of directors for the new caucus consisting of Republican Representatives Scott Garrett of New Jersey, Jim Jordan of Ohio, John Fleming of Louisiana, Matt Salmon of Arizona, Justin Amash of Michigan, Raúl Labrador of Idaho, Mick Mulvaney of South Carolina, Ron DeSantis of Florida and Mark Meadows of North Carolina.[12] The group debated over a name for their new caucus eventually settling on "House Freedom Caucus" (HFC) because, according to founding member Mick Mulvaney, "it was so generic and universally awful that we had no reason to be against it." The group of nine founding members in Hershey set as a criterion for new members that they had to be willing to vote against Speaker of the United States House of Representatives John Boehner on legislation that the group opposed.[13]
During the crisis over the funding of the Department of Homeland Security in early 2015, the Caucus offered four plans for resolution, but all were rejected by the Republican leadership. One of the caucus leaders, Labrador of Idaho, said the Caucus will offer an alternative that the most conservative Republican members could support.[14]
The House Freedom Caucus was involved in the resignation of Boehner on September 25, 2015, and the ensuing leadership battle for the new Speaker.[15] Members of the Caucus who had voted against Boehner for Speaker felt unfairly punished, accusing him of cutting them off from positions in the Republican Study Committee and depriving them of key committee assignments. Boehner found it increasingly difficult to manage House Republicans with the fierce opposition of the Freedom Caucus, and he sparred with House Republican members (who later created and became members of the Freedom Caucus when it was created in 2015) in 2013 over their willingness to shut down the government in order to accomplish goals such as repealing the Affordable Care Act.[13][16]
Initially, Kevin McCarthy, the House Majority Leader, was the lead contender, but the Freedom Caucus withheld its support.[17] However, McCarthy withdrew from the race on September 28, 2015.[18] On the same day as McCarthy's withdrawal, Reid Ribble resigned from the Freedom Caucus saying he had joined to promote certain policies and could not support the role that it was playing in the leadership race.[19]
On October 20, 2015, Paul Ryan announced that his bid for the Speaker of the United States House of Representatives was contingent on an official endorsement by the Freedom Caucus.[20] While the group could not reach the 80% approval that was needed to give an official endorsement, on October 21, 2015, it announced that it had reached a supermajority support for Ryan.[21] On October 29, 2015, Ryan succeeded John Boehner as the Speaker of the House.[22]
On November 17, 2015, Jim Jordan was re-elected as Chairman of the caucus.
The group has faced backlash from the Republican Party establishment during the 2016 election cycle.[23] One of its members, Congressman Tim Huelskamp, a Tea Party Republican representing Kansas's First District, was defeated during a primary election on August 2, 2016, by Roger Marshall.[24] GOP Establishment PACs, many of whom also opposed Donald Trump, spent nearly $2 million to defeat Huelskamp.[25]
Membership
Members of the House Freedom Caucus as of March 2017 include:
Former members
See also
It's Rand Paul vs Paul Ryan in the battle over Obamacare — and the future of the GOP
Brandon Morse Mar 17, 2017 8:52 am
A protester wears a Repeal Obamacare button on his jacket during a Freedom Works rally Wednesday against the proposed GOP health care plan across from the U.S. Capitol in Washington, D.C. (Justin Sullivan/Getty Images)
The in-house Republican battle over the repeal of Obamacare is about to boil over as Kentucky Sen. Rand Paul and Speaker of the House Paul Ryan (R-Wis.) are engaged in an increasingly sharp war over words over their disagreements on how to proceed forward with the promised repeal and replace of former President Obama's signature legislation.
Paul has been waging a war against the House GOP Obamacare repeal and replace plan since before it was given to the public. Calling it "Obamacare Lite," Paul has lambasted not only the bill, but his fellow Republicans for their less-than-diligent attempts at getting rid of the unpopular health care law. This time, he turned his attention toward Ryan, who has been the bill's primary spokesman.
"I think that Paul Ryan's selling [Donald Trump] a bill of goods that he didn't explain to the president, and the grassroots doesn't want what Paul Ryan is selling," Paul told CNN.
Paul Ryan, during an segment on CNN's "The Lead with Jake Tapper," fired back at the Kentucky senator, claiming that his remarks were a jab at President Donald Trump.
"Frankly, I think that's kind of an insulting remark to the president — as if he doesn't know what he's doing," Ryan said.
"We think this is a smarter way to go," Ryan said to Tapper. "The alternative is the status quo, and the status quo is in the middle of a collapse."
Ryan has made the case that this version of the Obamacare repeal bill is the "closest we will ever get" to repealing it.
Paul, however, believes that Trump is open to changing his mind on the health care bill, despite his prior statements of broad approval, and that it's Republican leadership who have "dug in their heels."
"They are not going to compromise. So the only way that we are going to get to a compromise where they listen to the grassroots that wants complete repeal, the only way we got to that compromise is that we have to demonstrate to the House leadership that we have the votes to stop them."
Other Republicans in Congress have joined Paul in his efforts to push a more conservative version of a repeal bill, which focuses solely on repeal, and repeal alone. Rep. Jim Jordan and Paul have both submitted versions of the bill in the Senate and the House, and has the support of conservative legislators such as Rep. Justin Amash, Sen. Mike Lee,  Rep. Jeff Duncan, and Sen. Tom Cotton. This list of allies now also includes a group of moderate Republicans rattled by the recent Congressional Budget Office report.
As the battle continues between the conservatives and GOP leadership, the faith of the voters hangs in the balance, according to the conservatives. Paul believes that should the GOP pass "Obamacare Lite," Republicans will pay for it come election time. Duncan wrote in the Daily Signal that should the bill pass, voters "will feel betrayed."
If that is true, then winner of the struggle between Paul and Ryan may determine the GOP's future momentum.
http://www.theblaze.com/news/2017/03/17/its-rand-paul-vs-paul-ryan-in-the-battle-over-obamacare-and-the-future-of-the-gop/
Rand Paul Unveils His Brilliant Obamacare Replacement Plan

WASHINGTON (AP) — Time for talk running out, President Donald Trump on Tuesday warned wavering House Republicans that their jobs were on the line in next year's elections if they failed to back a GOP bill that would overhaul Barack Obama's Affordable Care Act.
The countdown quickened toward an expected vote Thursday on legislation undoing much of the law that provided health coverage to some 20 million Americans. Trump huddled behind closed doors with rank-and-file Republicans just hours after GOP leaders unveiled changes intended to pick up votes by doling out concessions to centrists and hardliners alike.
"If we fail to get it done, fail to (meet) the promises made by all of us, including the president, then it could have a very detrimental effect to Republicans in '18 who are running for re-election," said Rep. Mike Conaway, R-Texas. "If it fails, then there will be a lot of people looking for work in 2018."
Trump's message to Republicans: "If you don't pass the bill there could be political costs," said Rep. Walter Jones, R-N.C.
The outlook for House passage remains dicey even with the revisions.
The GOP bill would scale back the role of government in the private health insurance market, and limit future federal financing for Medicaid. It would also repeal tax cuts on the wealthy that Democrats used to pay for Obama's coverage expansion. Fines enforcing the Obama-era requirement that virtually all Americans have coverage would be eliminated.
The nonpartisan Congressional Budget Office estimates that 24 million fewer people will have health insurance in 2026 under the GOP bill.
Trump warned House Republicans they'd seal their political doom if they waver, with the party potentially losing majority control of the House. Still, several conservatives were steadfast in their opposition even after the session with Trump and the leadership's changes.
"The president wouldn't have been here this morning if they have the votes," said Rep. Rod Blum, R-Iowa, a member of the Freedom Caucus who complained that the GOP bill leaves too much government regulation in place.
Rep. Don Bacon, R-Neb., said he was convinced to back the bill in part by Trump's urging and the changes.
"I think a vote 'no' is a vote for Obamacare," Bacon said. "We can vote for this, and continue to make it better. I intend to vote 'yes' Thursday."
Speaker Paul Ryan, R-Wis., told reporters that if Republicans pass the legislation, "people will reward us. If we don't keep our promise, it will be very hard to manage this."
If the bill advances, prospects are uncertain in the Senate, where Republicans hold a slim majority. Six GOP senators have expressed deep misgivings including Tom Cotton of Arkansas, who said Tuesday he cannot support the House bill.
In an Associated Press interview, Senate Majority Leader Mitch McConnell, R-Ky., signaled he'd use Trump's clout to pressure unhappy Republicans in his chamber. McConnell said he's optimistic that in the end no Republican senator will want to be held responsible for "Obamacare's" survival.
"I would hate to be a Republican whose vote prevented us from keeping the commitment we've made to the American people for almost 10 years now," McConnell said.
The House GOP bill would dismantle Obama's requirements that most people buy policies and that larger companies cover workers. Federal subsidies based on peoples' incomes and the cost of insurance would end, and a Medicaid expansion to 11 million more low-income people would disappear.
Instead, the bill would provide tax credits based chiefly on age to help people pay premiums. Open-ended federal payments to help states cover Medicaid costs would be cut. Insurers could charge older consumers five times the premiums they charge younger people instead of Obama's 3-1 limit, and would boost premiums 30 percent for those who let coverage lapse.
The latest changes to the bill by GOP leaders were largely aimed at addressing dissent that the measure would leave many older people with higher costs.
Included was an unusual approach: language paving the way for the Senate, if it chooses, to make the bill's tax credit more generous for people age 50-64. Republicans said the plan sets aside $85 billion over 10 years for that purpose. The income tax threshold for deducting medical expenses would be lowered to 5.8 percent, from the current 10 percent.
The leaders' proposals would accelerate the repeal of tax increases Obama imposed on higher earners, the medical industry and others.
On Medicaid, the changes would provide higher federal payments to help states care for older and disabled beneficiaries. States would be able to impose work requirements for able-bodied adults. But the bill would still limit future federal financing for Medicaid, seen by many state officials as a cost shift. Obama's Medicaid expansion would be repealed.
In a bid to cement support from upstate New Yorkers, the revisions would also stop that state from passing on over $2 billion a year in Medicaid costs to upstate counties, though it exempts Democratic-run New York City from that protection. Local officials have complained the practice overburdens their budgets.
Democrats remain solidly opposed to the GOP repeal effort.
Rep. Chris Collins, R-N.Y., said Trump told Republicans he would campaign for them if they backed the bill.
—
Associated Press reporters Matthew Daly, Kevin Freking, Richard Lardner, Stephen Ohlemacher in Washington and Thomas Beaumont in Iowa contributed to this report.
http://hosted.ap.org/dynamic/stories/U/US_CONGRESS_HEALTH_OVERHAUL?SITE=AP&SECTION=HOME&TEMPLATE=DEFAULT&CTIME=2017-03-21-03-20-21
http://thepronkpopsshow857.podomatic.com/
The Pronk Pops Show Podcasts Portfolio
Read Full Post
|
Make a Comment
(
None so far
)
The Pronk Pops Show 826, January 27, 2017, Story 1: March for Life 2017, Washington D.C. — Vice President Mike Pence, Counselor to the President Kelllyanne Conway and Representative Mia Love Speeches — Voices for The Voiceless — Celebrating Life — Videos
"Never tire of firmly speaking out in defense of life from its conception and do not be deterred from the commitment to defend the dignity of every human person with courageous determination. Christ is with you: be not afraid!"
~Pope John Paul II

WATCH LIVE: Vice President Mike Pence speaks at March for Life
President Donald Trump adviser Kellyanne Conway Speech at March for Life -Washington,DC
"Of all sad words of tongue or pen, the saddest are these, 'It might have been."
― John Greenleaf Whittier, Maud Muller – Pamphlet
Rep. Mia Love (R-UT) full remarks at March for Life (C-SPAN)
Women from around the nation prepare to March for Life
Will Pence draw more attention to March for Life?
March For Life welcomes VP Pence and record crowds
Pro-Life Wisconsin says "March for Life" is pro-women
USA: Thousands join 'pro-life' march in DC, Trump tweets 'full support'
March For Life 2017 Washington DC Featuring Vice President Mike Pence
WATCH: Vice President Mike Pence Speech March For Life 2017 Washington DC
Published on Jan 27, 2017
For the first time in the history of the March For Life a sitting Vice President addressed the audience.
FULL SPEECH: Kellyanne Conway March For Life 2017 Washington DC
Published on Jan 27, 2017
Kellyanne Conway, highest-ranking woman in President-elect Trump's administration, speaks speak at the 44th annual March for Life, the world's largest annual pro-life demonstration, in Washington, D.C. on January 27th, 2017
Mia Love's Powerful Speech at Pro-Life March Event in DC – January 27, 2017
LIVE STREAM: March For Life Event in Washington DC
Pro-Life Women on Why They're Going to the Women's March | The Daily Signal
Life is winning Pence fires up March for Life crowd
Trump calls out ABC's David Muir not covering March For Life
LIVE STREAM: March for Life 2017 RALLY Washington DC JANUARY 27 2017 Mike Pence & Conway Speech ✔
'March for Life' in Washington, DC, on Friday
VP Mike Pence Appears At March For Life Anti Abortion Rally in Washington DC (REACTION)
The Abortion Rate Is At An All-Time Low, Why?
20 Real Abortion Facts That Will Make You Cry
Tears Of Abortion – Story of an aborted baby, This ProLife Video will make you cry your eyes out.
What Actually Happens When You Have An Abortion?
The Silent Scream (Full Length)
Fit vs. UnFit, Eugenics, Planned Parenthood & Psychology, Mind Control Report
Abortion Clinic Employees — "Babies born alive daily."
GRAPHIC WARNING Gosnell Abortions – TheBlaze
"See No Evil" – the case of Kermit Gosnell (45 minutes)
The Nazi Doctors, American Eugenics & Psychiatry Part 1
Uploaded on Jun 13, 2007
Be My Friend – http://www.myspace.com/psychtruth
The Nazi Doctors, American Eugenics & Psychiatry Part 1
Dr. Breeding, Ph.D. in psychology, discusses the role of psychiatry and the Nazi doctors in the holocaust. Did eugenics on people with mental health issues end with the end of world war II or is eugenics alive and well in modern day America?
The Nazi Doctors, American Eugenics & Psychiatry Part 2
The Nazi Doctors, American Eugenics & Psychiatry Part 3
Eugenics Glenn Beck w/ Edwin Black author of "War Against the Weak" talk Al Gore & Margaret Sanger
Eugenics, Hitler, Margaret Sanger's Planned Murderhood, etc. by Edwin Black
BLACK REPUBLICANS Tell Other Blacks To WAKE UP!!!
American eugenics extermination of the black race
Eugenicist Movement in America: Victims Coming Forward
Black Genocide: The Democrats Institutionalized Racism
MAAFA 21: BLACK GENOCIDE
Margaret Sanger, Planned Parenthood's Racist Founder
Planned Parenthood's Racist History – Margaret Sanger's Eugenics Abortion Program
Pence fires up anti-abortion activists in Washington march
Posted 27 Jan 2017 23:25
Updated 28 Jan 2017 05:45
Counselor to the President Kellyanne Conway speaks at the annual March for Life rally in Washington, DC, U.S. January 27, 2017. REUTERS/Yuri Gripas
WASHINGTON: U.S. Vice President Mike Pence fired up tens of thousands of anti-abortion activists who gathered on Friday for the 44th March for Life, celebrating a political shift in their favor with the election of President Donald Trump.
"Life is winning again in America," Pence told the demonstrators on the National Mall, near where Trump was sworn in a week ago before hundreds of thousands.
The March for Life took place in the same area where even more massive crowds flooded Washington a day after Trump's inauguration in favor of women's rights, including abortion rights.
Pence, a longtime hero of the anti-abortion movement, is the most senior government official to speak in person at the rally, organizers said. As governor of Indiana, he signed what were seen as some of the nation's strictest abortion laws.
Pence praised "the election of pro-life majorities in the Congress of the United States of America," Trump's upcoming nomination of an anti-abortion Supreme Court justice, and the president's reinstatement on Monday of a policy that cuts off U.S. funding to healthcare providers that promote or provide abortions overseas.
"It's the best day I've ever seen for the March of Life," he said.
Trump senior aide Kellyanne Conway was one of many women to address the demonstrators before they started their march from the Mall to the U.S. Supreme Court, about 1.5 miles (2 km) away.
"We hear you. We see you. We respect you," Conway said. "And we look forward to working with you."
Protesters hoisted signs saying "Choose life," "I am the pro-life generation," and "Equal Rights For Unborn People."
A Christian rock band warmed up the crowd for Pence, leading people in hand-clapping at the rally within sight of the White House.
"We're here to stand up for the unborn because no one else can, and having Donald Trump in the White House makes everyone more enthusiastic," said Jim Kolar, 59, of West Palm Beach, Florida.
Organizers had no immediate estimate of crowd size, but the march to the Supreme Court after the rally filled the street for many blocks amid chants of "We love babies, yes, we do, we love babies, how 'bout you?"
"This is good, this is a good turnout," said the Rev. Kevin Cusick, a Catholic priest from Benedict, Maryland, who has been coming to the marches off and on for more than 40 years.
The March for Life is held each year close to the anniversary of the court's Roe v. Wade ruling that legalized abortion in 1973.
Trump has said Roe v. Wade should be overturned and has vowed to appoint an anti-abortion justice to fill the Supreme Court seat left vacant by the death of Justice Antonin Scalia last year.
He also has pledged to defund Planned Parenthood, which draws the ire of many Republicans because it provides abortions, along with other services.
Abortion rights supporters say cutting off funding for abortion providers will prevent poor women from getting other critical heath care and birth control that could prevent unwanted pregnancies.
The rally comes as the number of U.S. abortions has fallen to a record low. The Guttmacher Institute, a reproductive health and rights organization, said last week that it dropped below 1 million in 2013 for the first time since 1975.
A Quinnipiac University poll released on Friday showed that 64 percent of Americans say abortion should be legal in all or most cases, while 31 percent said it should be illegal in all or most cases.
Anti-abortion forces are often inspired by a religious conviction that life begins at conception and see abortion as murder.
(Reporting by Ian Simpson and Will Dunham; Writing by Daniel Trotta; Editing by Bill Trott and Lisa Shumaker)
http://www.channelnewsasia.com/news/health/pence-fires-up-anti-abortion-activists-in-huge-washington-march/3472882.html
Anti-abortion activists to 'march for life' in Washington
By Ian Simpson
WASHINGTON, Jan 27 (Reuters) – Anti-abortion activists gathered in Washington on Friday for the 44th March for Life, buoyed by President Donald Trump's pledge to restrict the procedure and Vice President Mike Pence's plan to address the marchers.
Organizers expect tens of thousands of supporters to converge on the National Mall for the march, which is held each year close to the anniversary of the U.S. Supreme Court's Roe v. Wade ruling that legalized abortion in 1973.
Vice President Mike Pence, a Republican and longtime hero of the anti-abortion movement, is due to be the most senior government official ever to speak in person at the rally, organizers said. As governor of Indiana, Pence signed what were seen as some of the nation's strictest abortion laws.
Senior Trump aide Kellyanne Conway, New York Cardinal Timothy Dolan and several Republican lawmakers also are scheduled to speak.
Rally participants will march from the Mall about 1.5 miles (2 km) to the Supreme Court.
The March for Life comes six days after Washington was flooded by hundreds of thousands of anti-Trump protesters, many of them backers of abortion rights. That protest came a day after Trump was sworn in as president.
Trump has said Roe v. Wade should be overturned and has vowed to appoint an anti-abortion justice to fill the Supreme Court seat left vacant by the death of Justice Antonin Scalia last year.
He also has pledged to defund Planned Parenthood, which draws the ire of many Republicans because it provides abortions, along with other services.
In a speech to Republican lawmakers at a retreat in Philadelphia on Thursday, Trump noted that on Monday he reinstated a national policy banning U.S. aid to non-governmental organizations abroad that provide or "promote" abortion.
Trump, who has frequently accused the media of underestimating the crowd at his inauguration, predicted the size of the march crowd would be "300, 400, 500, 600,000 people."
The rally comes as the number of U.S. abortions has fallen to a record low. The Guttmacher Institute, a reproductive health and rights organization, said last week that it dropped below 1 million in 2013 for the first time since 1975.
The drop could be because of improved contraceptive practices as well as restrictive abortion laws, the institute said.
A Pew poll last year showed 57 percent of Americans believe abortion should be legal in all or most cases. (Reporting by Ian Simpson and Will Dunham; Editing by Daniel Wallis and Bill Trott)
http://www.dailymail.co.uk/wires/reuters/article-4164408/Anti-abortion-activists-march-life-Washington.html#ixzz4X148c9E1
The politically ascendant anti-abortion movement gathered Friday for a triumphant rally on the National Mall, rejoicing at the end of an eight-year presidency that participants said was dismissive of their views.
Vice President Mike Pence told the crowd at the March for Life that anti-abortion policies were a top priority of the new administration, and President Donald Trump tweeted that the rally had his "full support."
The March for Life is held every year in Washington to mark the anniversary of the 1973 Supreme Court decision legalizing abortion. While no official crowd estimates were available, the turnout was clearly larger than in recent years, when abortion opponents had less political clout. Many thousands huddled in the shadow of the Washington Monument and stood in long lines outside security checkpoints made necessary by Pence's appearance.
"We've come to a historic moment in the cause for life," said Pence, the first vice president to address the rally. "Life is winning in America."
Pence said ending taxpayer-funded abortion and choosing a Supreme Court justice in the mold of the late Antonin Scalia – a conservative Catholic who opposed abortion – are among the administration's most important goals.
One of Trump's first acts after taking office a week ago was to sign an executive order banning U.S. aid to foreign groups that provide abortions. Pence said more such actions would follow.
A budget provision known as the Hyde Amendment already bans federal funding for Medicaid coverage of most abortions. Conservatives would like to see the rule made into a permanent law.
Majority Republicans in the House and Senate would also like to end federal funding for Planned Parenthood, which provided more than a third of the nation's abortions in 2014. They also hope to ban most abortions after 20 weeks of pregnancy. Trump has pledged to sign both measures if they reach his desk.
Many people at the march said they were encouraged by the early days of the Trump administration, even if they did not support him initially or disagreed with him on other issues.
Trump "was elected because of people who did not have a voice before. This past administration did not listen to us and did not even care," said Glenn Miller, 60, a cabinet maker from Coventry, Connecticut, who was attending the march for the fourth time. "I wouldn't say that I was a supporter of Donald Trump. I voted for him because I didn't think I had a choice."
Other participants said they felt the march was important this year because their voices were not represented at last week's Women's March on Washington, an anti-Trump demonstration that drew massive crowds in Washington and cities around the country. The women's march included support for abortion rights in its mission statement and dropped an anti-abortion group as a partner.
Joi Hulecki, 63, a nurse practitioner from Orlando, Florida, said abortion-rights supporters wrongly portray the decision to terminate a pregnancy as empowering for women, when in fact women often feel pressured to have abortions and regret it later.
"We don't want to judge them. We want to help them," she said. "We consider ourselves pro-women too."
The annual event was never expected to attract a crowd on the scale of the women's march, which brought more than half a million people to Washington. Organizers said in their permit application that they expected 50,000 people, though they hoped for more.
"There's been a lot of talk about numbers this past week," said Jeanne Mancini, president of the March for Life. "It's hard to add up so many numbers after 44 years because there have been a lot of us."
Mancini added that the most important number for marchers was 58 million, an estimate for the number of abortions performed in the United States since 1973.
Americans remain deeply divided on abortion. The latest Gallup survey, released last spring, found that 47 percent of Americans described themselves as pro-abortion rights and 46 percent as anti-abortion. It also found that 79 percent believed abortion should be legal in either some or all circumstances.
Ilyse Hogue, president of NARAL Pro-Choice America, said that poll shows why abortion-rights supporters should not despair.
"The vast majority of Americans support Roe v. Wade and support the legal right to abortion," Hogue said.
The March for Life, however, is running ads arguing that a majority of Americans support some restrictions on abortion and don't believe it should be funded by tax dollars.
Kellyanne Conway, a senior adviser to Trump, also addressed the rally and assured the crowd that Trump and Pence were on their side.
"Their decisive actions as president and vice president will further this cause," she said.
—
Follow Ben Nuckols on Twitter at https://twitter.com/APBenNuckols .
Kellyanne Conway
From Wikipedia, the free encyclopedia
Kellyanne Elizabeth Conway (née Fitzpatrick; born January 20, 1967) is an American Republican campaign manager, strategist, pollster, and trusted advisor to President Donald Trump. She holds the title of Counselor to the President. She is president and CEO of The Polling Company Inc./Woman Trend.
In 2016, Conway endorsed Ted Cruz in the Republican presidential primaries and chaired a pro-Cruz political action committee, Keep the Promise I, which ran advertisements critical of then Republican candidate Donald Trump.[1][2] On July 1, 2016, after Cruz withdrew from the race, Donald Trump appointed her as a senior advisor to his campaign. Conway was promoted to the position of campaign manager on August 19, 2016, after the resignation of Paul Manafort.[3][4] She served as Trump's campaign manager for two and a half months, through the November 8, 2016, election, and was the first woman to successfully run a presidential campaign.[5] On December 22, 2016, Trump, then president-elect, announced that Conway would join his administration as Counselor to the President.[6]
Early life
Kellyanne Elizabeth Fitzpatrick was born on January 20, 1967, in Camden, New Jersey, to Diane Fitzpatrick.[7][8] Conway's father, who had Irish ancestry, owned a small trucking company, and her mother, who was of Italian descent, worked at a bank. They divorced when she was three.[9] She was raised by her mother, grandmother and two unmarried aunts in the Atco section of Waterford Township, New Jersey and graduated from St. Joseph High School in 1985. Her family's religion was Catholic.[7][10][11]
Conway credits her experience working for eight summers on a blueberry farm in Hammonton, New Jersey for teaching her a strong work ethic. "The faster you went, the more money you'd make." At age 16 she won the New Jersey Blueberry Princess pageant. At 20, she won the World Champion Blueberry Packing competition. She states, "Everything I learned about life and business started on that farm."[11]
In 1989, Conway received her B.A. magna cum laude in political science from Trinity College, Washington, D.C. (now Trinity Washington University), where she was elected to Phi Beta Kappa. She then earned a J.D. with honors from the George Washington University Law School in 1992.[12] She served as a judicial clerk for Judge Richard A. Levie of the Superior Court of the District of Columbia after graduation.[13][14]
Career
Conway entered the polling business with Wirthlin Group, a Republican polling firm. She also worked for Luntz Research Companies before founding her own firm,[10] The Polling Company, in 1995. Conway's company has consulted on consumer trends, often trends regarding women. Conway's clients have included Vaseline, American Express and Hasbro.[15]
In the 1990s, Conway, along with other young conservative women, Laura Ingraham, Barbara Olsen and Ann Coulter, helped turn punditry into "stylish stardom" in both Washington and cable television She and her fellow conservative women commentators were referred to as a "pundettes".[16][17] As she put it, however, her "broad mind and small waist have not switched places"[18]
Among the political figures Conway worked for were Congressman Jack Kemp; Senator Fred Thompson;[14] former Vice President Dan Quayle;[19] Speaker of the House Newt Gingrich; and Congressman (now Vice President) Mike Pence.[15] She worked as the senior advisor to Gingrich during his unsuccessful 2012 United States presidential election campaign.;[20] another client in 2012 was U.S. Senate candidate Todd Akin.[21]
In addition to her political opinion research work, Conway has directed demographic and attitudinal survey projects for trade associations and private companies, including American Express, ABC News, Major League Baseball, and Ladies Home Journal.[14] Her firm The Polling Company also includes WomanTrend, a research and consulting division.[14]
Conway has appeared as a commentator on polling and the political scene, having appeared on ABC, CBS, NBC, PBS, CNN, MSNBC, NY1, and the Fox News Channel, in addition to various radio programs. She received the Washington Post's "Crystal Ball" award for accurately predicting the 2004 elections.[22]
2016 presidential election
Ted Cruz support and endorsement
In the 2016 Republican presidential campaign, Conway endorsed Ted Cruz and chaired a pro-Cruz political action committee known as Keep the Promise I, which was almost entirely funded by businessman Robert Mercer.[23][24] Conway's organization criticized Republican presidential candidate Donald Trump as "extreme" and "not a conservative."[25] On January 25, 2016, Conway criticized Trump as "a man who seems to be offending his way to the nomination."[26] On January 26, Conway criticized Trump's use of eminent domain, saying "Donald Trump has literally bulldozed over the little guy to get his way."[27]
In mid-June, following Cruz's suspension of his campaign. Conway left the organization.[28]
Trump campaign
On July 1, 2016, Trump announced that he had hired Conway for a senior advisory position on his presidential campaign.[29] Conway was expected to advise Trump on how to better appeal to female voters.[29]
On August 19, Trump named Conway the campaign's third campaign manager.[15][30] She served in this capacity for 10 weeks, through the November 8 general election, and was the first woman to run a Republican general election presidential campaign.[30]
Since October 2016, Conway has been parodied on Saturday Night Live by Kate McKinnon.[31][32][33]
Presidential transition
On November 10, 2016, Conway tweeted publicly that Trump had offered her a White House job.[34] "I can have any job I want," she said on November 28.[35]
On November 24, Conway tweeted that she was "Receiving deluge of social media & private comms re: Romney. Some Trump loyalists warn against Romney as sec of state" with a link to an article on Trump loyalists' discontent for the 2012 nominee. Conway told CNN she was only tweeting what she has shared with President-elect Donald Trump and Vice President-elect Mike Pence in private.[36]
On November 28, two top sources at the Trump transition team told media outlets that Trump "was furious" at Conway for media comments she made on Trump administration cabinet appointments.[37] The following day, however, Trump released a written statement stating that the campaign sources were wrong and that he had sanctioned her critical comments on Romney.[38] CNBC reported on November 28 that senior officials in the Trump transition "have reportedly been growing frustrated by Conway's failure to become a team player."[35]
On December 1, Conway appeared with senior aides of the Trump campaign, at Harvard's Kennedy School of Government, for a forum on the 2016 presidential race; the quadrennial post-presidential election forum has been held at the School of Government since 1972. Sitting across from Conway were senior Clinton campaign aides, including Clinton's campaign manager Robby Mook. As tempers began to flare, the forum escalated into a "shouting match"; during one exchange, Clinton senior strategist Joel Benenson said "The fact of the matter is that more Americans voted for Hillary Clinton than for Donald Trump." Conway replied to Benenson while looking at the Trump aides: "Hey, guys, we won. You don't have to respond. He was the better candidate. That's why he won."[39]
In early December, Conway said that Hillary Clinton supporters were making death threats against her.[40]
In a January 2017 press conference, Conway stated that there are "alternative facts" to explain factual discrepancies reported by the media; this led to the George Orwell novel 1984 suddenly appearing at the top of the Amazon.com best-seller list, as Conway's phrase is reminiscent of "Newspeak," a dystopian language style that was a key element of the society portrayed in Orwell's novel.[41][42]
Political views
Conway views herself as a Gen X conservative.[43][44]
She is opposed to abortion. Her reasoning is "We grew up with sonograms. We know life when we see it".[44] On January 27, 2017, Conway was invited as one of the speakers at the 2017 March for Life, an annual rally protesting abortion and Roe v. Wade.[45]
She is pro immigration reform. In 2014 she coauthored a memo for FWD.us that supported a pathway to citizenship for undocumented workers living in the US.[46]
Personal life
Conway married George T. Conway III, a litigation partner at the law firm Wachtell, Lipton, Rosen & Katz, in 2001.[47] The couple have four children, including twins, and live in Alpine, New Jersey.[14][48][49]
Book
In 2005, Conway and Democratic pollster Celinda Lake co-authored What Women Really Want: How American Women Are Quietly Erasing Political, Racial, Class, and Religious Lines to Change the Way We Live (Free Press/Simon and Schuster, 2005; ISBN 0-7432-7382-6).
Mia Love
From Wikipedia, the free encyclopedia
Ludmya Bourdeau "Mia" Love (born December 6, 1975) is an American politician and the U.S. Representative from Utah's 4th congressional district. She is the first Haitian American and the first black female Republican in Congress,[1][2] as well as the first African American to be elected to Congress from Utah.[3]
Born to Haitian parents in Brooklyn, New York, Love was elected as the Mayor of Saratoga Springs, Utah, serving from 2010 to 2014.[4] She was previously on its city council. In 2012, Love ran for Utah's 4th congressional district, losing narrowly to incumbent Democratic Representative Jim Matheson. She was a speaker at the 2012 Republican National Convention. She was elected as a Republican to the House of Representatives on November 4, 2014, defeating Democratic opponent Doug Owens, son of the former Congressman Wayne Owens and defeated him again in their 2016 rematch to win her second term.[1][2] In 2016, Love made headlines by joining a long list of Republicans who opposed the GOP nominee for President, Donald Trump.[5]
Early life and education
Love was born Ludmya Bourdeau on December 6, 1975, in Brooklyn, New York, the daughter of Mary and Jean Maxine Bourdeau.[6] At a time of political repression, her parents emigrated together from Haiti in 1973,[7] leaving their two older children behind with family.[8][9] Her father had been threatened by the Tonton Macoute, the secret police in Haiti, and her parents traveled to the United States on a tourist visa.[10] They spoke only French when they arrived. Her father became a paint-company manager and her mother worked as a nurse.[11]
Love's birth enabled her parents to gain a US residency permit (green card) under an immigration law that favored immigrants from the Western Hemisphere who had a child born in the United States; it expired in early 1976.[8][12] They later became naturalized citizens.[13]
When Love was five, her family moved from Brooklyn to Norwalk, Connecticut.[14] Love attended Norwalk High School.[10] She was raised as a Roman Catholic in the faith of her parents. After the family settled in Norwalk, her parents brought her older siblings from Haiti to reunite the family.[2][15]
Love attended the University of Hartford Hartt School with a half-tuition scholarship.[16] She graduated with a degree in musical theatre.[10]
After college, she worked at Sento Corporation and the Ecopass Corporation.[17] She was also a flight attendant with Continental Airlines.[12][18] She moved to Utah in 1998 after converting to The Church of Jesus Christ of Latter-day Saints and while working for Continental. There she married Jason Love.
Early political career
Love began to be active in civic affairs when she served as the community spokesperson in Saratoga Springs, Utah in an effort to persuade the developer of her neighborhood to spray against flies.[10] The city of 18,000 near Salt Lake City was established in 1997 and has had rapid growth.
In 2003 Love won a seat on the Saratoga Springs City Council. She was the first female Haitian-American elected official in Utah County; she took office in January 2004.[18] During an economic downturn, as part of the city council Love approved a transition from the agriculture tax to municipal tax. She worked with other city council members to cut expenses, reducing the city's shortfall during the economic downturn from $3.5 million to $779,000. Saratoga Springs now has the highest possible bond rating for a city of its size.[19]
After six years on the Council, Love was elected mayor,[20] winning with 861 votes to 594 for her opponent Jeff Francom.[21] She served from January 2010 to January 2014.[17] During her term, Love led the city in dealing with natural disasters, including a wildfire, followed shortly afterward by a severe mudslide.[22]
Elections
2012
Love ran in Utah's 4th congressional district, which was created after the 2010 Census.[23][24] She competed for the Republican nomination against attorney Jay Cobb and State Reps. Stephen Sandstrom of Orem and Carl Wimmer of Herriman; she won the nomination on April 21, 2012, at the 2012 Utah Republican Party Convention with over 70 percent of the vote. She faced six-term Democratic incumbent Jim Matheson in the general election, who while living in the 2nd congressional district ran in the new 4th district. losing some of his reliably Democratic constituents.
Nationally, Love received campaign support from 2012 Republican presidential nomineeMitt Romney and his wife Ann Romney, House Majority LeaderEric Cantor, House Budget Committee Chairman and 2012 Republican vice presidential nomineePaul Ryan, and Speaker of the House John Boehner.[25][26]
In 2012, National Journal named Love one of ten Republicans to follow on Twitter.[27] When speaking to the 2012 Republican National Convention on August 28, 2012, she discussed lessons learned from her parents, immigrants from Haiti who fled political repression.[28] She said, "Mr. President, I am here to tell you we are not buying what you are selling in 2012."[29]
In September 2012, questions arose about her parents' immigrant status. Forbes investigated a claim in an article that month in Mother Jones that no law existed in 1976 that would have allowed Love's parents to become citizens of the United States after her birth. Forbes found that immigrants who had been residents of the Western Hemisphere could get long-term residency permits (green cards) if they had a child born in the United States. Mother Jones issued a correction.[6][8][30] Love did not make her family's papers available for review. In an October 2012 interview, her father said that Mia's birth as a U.S. citizen was key to him and his wife gaining permanent legal status and ultimately citizenship.[10]
Love lost the election to Jim Matheson by 768 votes out of 245,277 votes cast,[31] a difference of 0.31%. She was regarded to have run a weak campaign, switching campaign managers three times, trying to "nationalize" the race rather than focus on local issues, and missing interviews and appointments because of rifts in her campaign staff.[32]
2014
In March 2013, Love said she was seriously considering another run against Matheson.[33] In May 2013 she announced she would run in 2014. As of July 2013, Love had raised over $475,000 for her campaign.[34] Love was an opening speaker at the 2013 Western Conservative Summit. She spoke of the need for increased grassroots organization in the GOP, and the need to be independent from the government.[35]
In August 2013, Love was chosen by Newsmax as an "Up and Comer" in their list of top "25 Influential Women of the GOP," given her visible position as a young black female Republican.[36] In November 2013, Love acknowledged the growing consensus that the Tea Party needed to shift away from being the "party of no," disagreeing with its part in forcing a federal government shutdown over the budget.[37] She later reiterated her support for the philosophy of the Tea Party and many of its leaders, including Utah Sen. Mike Lee.[38]
On December 17, 2013, Matheson announced that he would not run for re-election. Love was ranked as the favored candidate due to her name recognition and characteristics of the district. In early October 2014, the National Journal listed Utah's 4th district as the number one most likely district to change hands in November.[39]
In early 2014 Love was made a member of the Republican National Committee's National Advisory Council on African-American outreach.[40] On April 26, 2014 Love won the Republican nomination for the 4th congressional district at the Utah Republican Convention, with 78% of the vote at the convention.[29][41]
On election night, Owens led Love until late in the evening, when she pulled ahead and ultimately won by more than 4,000 votes.[29][42]
2016
Love ran for re-election in 2016. She defeated Democrat Doug Owens in the general election with 53% of the vote.[43][44] David Scott, a Democratic Representative from Georgia, gave $1,000 to Love's campaign.[45]
A poll released in August 2016 found that Love was leading Owens by 13 percentage points, 51% to 38%.[46] According to the poll, Love was leading Owen with both Republicans and independents.[46] As of the federal financial disclosure dated June 30, 2016, Love had nearly $1.5 million in the bank and Owens had $890,000.[46] In a September 2016 poll, Love held a 18% lead over Owens, 53% to 35%.[47]
U.S. House of Representatives
With the start of the new Congress, Love was appointed to the House Financial Services Committee.[48] Love joined the Congressional Black Caucus in January 2015 after taking her seat.[49] While campaigning in 2012, Love had said that if elected, she would "join the Congressional Black Caucus and try to take that thing apart from the inside out." She described the mainly Democratic Caucus as characterized by
…demagoguery. They sit there and ignite emotions and ignite racism when there isn't. They use their positions to instill fear. Hope and change is turned into fear and blame. Fear that everybody is going to lose everything and blaming Congress for everything instead of taking responsibility.[50]
In May 2015 she was a lead sponsor along with Duncan Hunter of HR 2518 the Student Right to Know Before You Go Act, designed to increase the amount of information universities and colleges are required to provide prospective students.[51]
In October 2015, Love was named to serve on the Select Investigative Panel on Planned Parenthood.[52]
In April 2016, Love got her first bill through the U.S. House. HR3791, which was approved in a 247-171 vote, raises limits on how large community banks can grow, which Love says will make more credit available.[53]
Political positions
Love says she favors "fiscal discipline, limited government, and personal responsibility."[20] She has also said that she asks herself three questions whenever she approaches an issue: "Is it affordable? Is it sustainable? Is it my job?"[54]
Love was described as a Tea Party conservative in 2012.[32] In a 2015 article titled "How 'tea party' is Mia Love?", the Washington Post wrote that "Love's rhetoric from 2012 to 2014 changed a bit, even as her policy positions remained fairly constant" and noted that Love had "angered some conservatives when she questioned the tea party driven government shutdown in 2013 over Obamacare."[55] A blogger for libertarian-leaning magazine Reason described her as a "Trojan horse libertarian" due to her stance on homeschooling, federal control of land, and other issues.[56]
Love is pro-life.[57] She supports gun rights and holds a concealed weapons permit.[57] Love supports Utah's effort to reclaim public land from federal agency controls.[57]
During her first campaign for Congress, Love proposed deep cuts to federal spending, particularly in the area of entitlement spending.[32] She also supports cutting taxes.[32] She supported cuts to foreign aid and tort reform.[58] She believes that the federal government should have less power.[58] In 2014, Love focused more on balancing the budget, avoiding stating specific cuts needed but identifying the goal of matching spending to revenue.[59] Love supported the March 2015 budget, which required an increase in federal employee contributions to their retirement funds.[60]
On October 8, 2016, Love issued a statement that she would not vote for Republican candidate Donald Trump in the upcoming presidential election and urged him to withdraw from the race for the good of the party and the country.[61]
Personal life
Raised a Roman Catholic, Love joined The Church of Jesus Christ of Latter-day Saints after graduating from college in 1998.[62] While working as a flight attendant, she moved to Utah as part of her work. She also wanted to be closer to a Mormon temple and to learn more about her faith.[10] There she got to know Jason Love, whom she had met briefly when he was an LDS missionary in Connecticut.
The two were married in December 1998, four months after their first date. Love turned down an offer to appear in the Broadway show Smokey Joe's Café that would start two days before her marriage.[10][63] When first married, the Loves lived in American Fork. They have three children together. The Loves decided that Jason should continue his software work and maintain their residence in Utah.[64]
Electoral history
March for Life (Washington, D.C.)
From Wikipedia, the free encyclopedia
The March for Life is an annual rally protesting abortion, held in Washington, D.C., on or around the anniversary of the United States Supreme Court's decision legalizing abortion in the case Roe v. Wade. The march is organized by the March for Life Education and Defense Fund. The overall goal of the march is to overturn the Roe v. Wade decision and reduce access to the procedure.[1]
The 2017 march was held on January 27th, a week following the United States presidential inauguration.[2]
History
The first March for Life, which was founded by Nellie Gray,[4] was held on January 22, 1974, on the West Steps of the Capitol, with an estimated 20,000 supporters in attendance.[5]
During the 33rd annual March for Life in 2006, the nomination of Judge Samuel Alito to the Supreme Court caused a major positive shift, because of the expectation that Alito would "win Senate approval and join a majority in overturning Roe."[6]
Around the time of the 35th annual March for Life in 2008, a Guttmacher Institute report was released, which revealed that the number of abortions performed in the United States dropped to 1.2 million in 2005. This was the lowest level of abortions since 1976. Although this seemed like a victory, many march participants stressed that the figures were not a large enough decline. Many marchers said they would not stop protesting until abortions were illegal.[7]
During the 2009 March for Life, the threat of passage by the 111th United States Congress of the Freedom of Choice Act—a bill that would "codify Roe v. Wade" by declaring a fundamental right to abortion and lifting many restrictions on abortion—served as a key rallying point, because pro-lifers worried that the legislation would eliminate certain abortion restrictions like parental notification for minors and repeal the Partial-Birth Abortion Ban Act.[8]
Itinerary
The March for Life proceedings begin around noon.[8] They typically consist of a rally at the National Mall near Fourth Street. It is followed by a march which travels down Constitution Avenue NW, turns right at First Street and then ends on the steps of the Supreme Court of the United States, where another rally is held. Many protesters start the day by delivering roses and lobbying members of Congress.[9]
Attendance
In 1987, approximately 5,000 participated, despite a snowstorm.[9]
In 1995, which is the last year that the National Park Service made an official estimate of attendance, 45,000 attended, compared to 35,000 in 1994.[10]
In 2016, the march proceeded despite a blizzard that dropped 24 inches of snow in D.C., with attendees that "appeared to be in the thousands".[11][12]
Many teenagers and college students attend the march each year, typically traveling with church/youth groups. The Washington Post columnist Robert McCartney estimated that about half of the marchers are under age 30.[13]
Notable speakers
In 1987, Ronald Reagan spoke remotely via telephone, and vowed to help "end this national tragedy". Jesse Helms, then Senator of North Carolina, attended and spoke. He called abortion an "American holocaust".[9]
In 2003, George W. Bush spoke remotely via telephone and thanked participants for their "devotion to such a noble cause". During his telephone addresses, he tended to speak broadly of opposing abortion as opposed to offering any specific efforts being made to overturn the Roe v. Wade decision.[1]
In 2003, speakers included Representative Chris Smith, Republican of New Jersey, and Randall Terry, the founder of Operation Rescue. In his speech, Terry targeted the youth in the audience, calling them to "fight for all you're worth."[14]
In 2004, 15 lawmakers, all Republican, spoke. Many of them stressed the importance of backing and voting for only candidates whose platform supported antiabortion in the November elections. Among the lawmakers who spoke were Representatives Todd Tiahrt of Kansas, and Patrick J. Toomey of Pennsylvania. Tiahrt, who also spoke at the 30th annual march, urged marchers to "help pro-lifers in your state"; Toomey supported these remarks, saying to vote for pro-life candidates in order to reclaim the Senate and, in turn, the courts.[1]
In 2006, Representative Steve Chabot, an Ohio Republican and prominent pro-life advocate in the United States House of Representatives, spoke to the masses on overturning Roe v. Wade. He stated that what he called the killing of millions of babies should be "sufficient justification for overruling that awful case". Nellie Gray, the founder of March for Life, spoke of "feminist abortionists", foretelling that the United States would hold them accountable for their actions in trials equivalent to the Nuremberg trials.[6]
In 2009, approximately 20 Congress members spoke, including Representative F. James Sensenbrenner, Jr., Wisconsin Republican and former chairman of the House Judiciary Committee, and Gray.[8]
In 2011, speakers included House Majority LeaderEric Cantor, House Majority WhipKevin McCarthy, and several other members of Congress, including Mike Pence (see below).[15]
In 2013, presenters included Speaker of the United States House of RepresentativesJohn Boehner (via a pre-recorded video address), former United States Senator and candidate for the 2012 Republican Party presidential nominationRick Santorum, as well as other members of Congress.[16]
In 2016, Republican Presidential candidate Carly Fiorina took part in the march.[17]
In 2017, speakers included Kellyanne Conway, the Counselor to President Donald Trump; the Archbishop of New York Cardinal Timothy M. Dolan; pro-life activist Abby Johnson; NFL player Benjamin Watson; Virginia gubernatorial candidate Corey Stewart; and Mexican telenovela actress Karyme Lozano as speakers.[18] Vice President Mike Pence announced on the eve of the march that he would also attend, a first for any vice president.[19][20] Pence was also one of the speakers at the 2010 march when he was serving as representative of Indiana's 6th congressional district.[21]
Media attention
March for Life has received relatively little media attention over the years.[22] The typical coverage consists of a "story with a tiny little comment from one individual marcher", Gray has said. The 36th annual march in 2009 was just two days after President Barack Obama's inauguration.
To counter the relative lack of media coverage, one of the March for Life's supporters, the Family Research Council, organized a "Blogs for Life" conference in Washington, D.C. The main goal of the conference was to "bring pro-life bloggers together to talk over strategies" for securing more effective media coverage and advancing pro-life issues. Such strategies include securing media coverage through legislative means or by tapping into new media outlets.[23]
Associated events
Various pro-life organizations hold events before and after the March. Such events include a Luau for Life at Georgetown University and a candlelight vigil at the Supreme Court.[7] Additionally, independent films with a pro-life message have premiered or have been promoted in association with the March, including the Vatican endorsed film Doonby, which was shown at Landmark E Street Cinema during the 2013 march, and 22 Weeks, which premiered at Union Station's Phoenix Theatre on the eve of the 2009 march.[24][25][26][27]
Anglican events
Anglicans for Life, the pro-life apostolate of the Anglican Church in North America, launched the "Mobilizing the Church for Life" conference on the day before the 2016 March for Life.[28] On the following day, the primate of the Anglican Church in North America, Foley Beach, led Anglicans in the March for Life.[28]
Catholic events
Preceding the March for Life, there are several Masses; two of which are celebrated at the Basilica of the National Shrine of the Immaculate Conception as well as the Verizon Center in Chinatown. The Catholic Archdiocese of Washington hosts a Youth Rally and Mass every year at the Verizon Center, attended by approximately 20,000 young people,[29] where a message from the Pope is relayed.
In 2009, the apostolic nuncio to the United States, Archbishop Pietro Sambri, read Pope Benedict XVI's message, which told attendants that he was "deeply grateful" for the youths' "outstanding annual witness for the gospel of life".[8] In 2008, the Pope's message thanked attendants for "promoting respect for the dignity and inalienable rights of every human being."[7] In 2011, an event parallel to the Verizon Center event was held at the D.C. Armory; a total of over 27,000 young people attended the events.[30]
In response to a growing number of pilgrims traveling to the area for the March for Life, in 2009 the Roman Catholic Diocese of Arlington began to host the "Life is VERY Good" Evening of Prayer, the night before the March.[31] In 2013, a Morning Mass and Rally (preceding the March for Life) was added and held at the Patriot Center on the campus of George Mason University, including Arlington Bishop Paul Loverde and more than 100 bishops and priests from across the nation.[32] Life is VERY Good, which began with 350 participants in 2009, gathered in excess of 12,000 between its two events, held before and after the March, in 2013.[33]
Since 2000, Catholic students at Georgetown University have hosted the annual Cardinal O'Connor Conference on Life the day after the march. It is the largest of the student-run pro-life conferences in the U.S., and it regularly hosts prominent pro-life speakers such as Cardinal O'Malley and feminist Helen Alvaré. Hundreds of laypeople and clergy attend each year to hear the speakers and to participate in break-out sessions on pro-life issues. [34]
Eastern Orthodox events
The Orthodox presence at the March for Life is a long one with representation from many jurisdictions every year. The evening before the March, there is often at least one Vespers service at a local D.C. church. During the March there is a Panakhida for the Unborn performed along the way. Seminarians from Christ the Saviour Seminary, Holy Cross Seminary, St. Tikhon's Orthodox Seminary, and St. Vladimir's Orthodox Seminary (represented by the St. Ambrose Society[35]) are invariably in attendance along with their families, hierarchs, clergy, and monastics from all over the country. Metropolitan Jonah of Washington (Orthodox Church in America) has been a speaker at the pre-March invocations in recent years. The Carpatho-Russian Diocese and Greek Archdiocese also have a strong connection to the March for Life and have been at the forefront of the pro-life movement. Metropolitan Nicholas of Amissos (American Carpatho-Russian Orthodox Diocese) was a constant presence during his episcopate dating back to 1987.
Evangelical events
At the 2016 March for Life rally, the Ethics & Religious Liberty Commission, the public policy arm of the Southern Baptist Convention, organized a conference "aimed at increasing the level of engagement in the pro-life cause".[36]
The Taskforce of United Methodists on Abortion and Sexuality, which is a part of the National Pro-Life Religious Council, holds its annual service of worship at the United Methodist Building, and the liturgy held for the 2016 March of Life featured "a sermon by Dr. Thomas C. Oden, General Editor of the Ancient Christian Commentary on Scripture, former Professor of Theology and Ethics at Drew University, and Lifewatch Advisory Board member."[37][28]
Lutheran events
Several factions of the Lutheran Church, including the Lutheran Church-Missouri Synod, North American Lutheran Church and Wisconsin Evangelical Lutheran Synod, have held conferences in Washington D.C. surrounding the March of Life and the Lutheran Church-Missouri Synod (LCMS) is planning the 2017 LCMS Life Conference to be held on 27 January, 2017, on the day of the March for Life.[38] Students from schools affiliated with the Lutheran factions mentioned above have made pilgrimages to the capitol of the United States in order to march in the event.[39][40] Before the 2016 March for Life, a Divine Service was celebrated at Immanuel Lutheran Church in Alexandria, Virginia.[28]
Virtual March for Life
In 2010, Americans United for Life launched an online virtual March. Pro-lifers unable to attend the event in person could create avatars of themselves and take part in a virtual demonstration on a Google Maps version of the Washington Mall.[41] The online event attracted approximately 75,000 participants.[42]
See also
https://en.wikipedia.org/wiki/March_for_Life_(Washington,_D.C.)
U.S. Abortion Rate Falls To Lowest Level Since Roe v. Wade
The abortion rate in the United States fell to its lowest level since the historic Roe v. Wade Supreme Court decision legalized abortion nationwide, a new report finds.
The report by the Guttmacher Institute, a research group that supports legalized abortion, puts the rate at 14.6 abortions per 1,000 women of childbearing age (ages 15-44) in 2014. That's the lowest recorded rate since the Roe decision in 1973. The abortion rate has been declining for decades — down from a peak of 29.3 in 1980 and 1981.
The report also finds that in 2013, the total number of abortions nationwide fell below 1 million for the first time since the mid-1970s. In 2014 — the most recent year with data available — the number fell a bit more, to 926,200. The overall number had peaked at more than 1.6 million abortions in 1990, according to Guttmacher.
Perhaps not surprisingly, given the longstanding controversy around abortion policy, the meaning of the report is somewhat in dispute.
Planned Parenthood President Cecile Richards said efforts to help women get better access to contraception are paying off. She points in particular to recent improvements in the rate of unintended pregnancies, and a historically low teen pregnancy rate.
"It shows that we're finally doing a better job of helping women get access to birth control that's affordable and that's high-quality," Richards said.
As President-elect Donald Trump prepares to take office, Richards is gearing up for a fight over federal funding for women's health services provided by Planned Parenthood. Republican leaders in Congress have vowed to work with Trump to repeal the Affordable Care Act, which requires contraceptive coverage for many women.
"We shouldn't go backwards on access to birth control," Richards said.
Some anti-abortion groups, meanwhile, argue the Guttmacher report shows new state restrictions on abortion are working. Kristi Hamrick, a spokeswoman for Americans United for Life, said she has her doubts about the Guttmacher report — since the data come from surveys of abortion providers — but accepts the overall conclusion. She emphasized the impact of new regulations on clinics and laws requiring women seeking abortions to get an ultrasound, which she said are having a "real, measurable impact on abortion."
"These have been game-changers, and we see the abortion rate dropping in response," Hamrick said.
Hamrick said she believes abortion numbers are also falling in part because public sentiment is turning against abortion — although surveys by the Pew Research Center show opinions on abortion have been largely stable over the past two decades. The Gallup polling firm has found Americans largely divided on abortion in recent decades, with a majority labeling themselves "pro-choice" in a 2015 survey.
The Guttmacher report says abortion restrictions do appear to be a factor in the declining numbers in some states. But principal research scientist Rachel Jones, lead author of the report, said that's not the whole story. She noted that abortion declined in almost every state, and "having fewer clinics didn't always translate into having fewer abortions."
A more important driver of the declining abortion rate, Jones said, appears to be improved access to contraception, particularly long-acting birth control options like IUDs. She noted that women in the United States have been using the highly effective devices in growing numbers for more than a decade, and said the declining birthrate suggests more women are preventing unwanted pregnancies.
"Abortion is going down, and births aren't going up," Jones said.
Chuck Donovan, president of the anti-abortion Charlotte Lozier Institute, called the drop in the abortion rate "good news," regardless of one's political point of view. He said there are likely a number of factors behind the decline.
"By and large, this is encouraging for a country that obviously remains deeply divided and discomfited about the benefits of abortion to the public," Donovan said.
But when it comes to abortion, common ground is hard to find. The Guttmacher Institute's Jones said the data may signal that some women who want abortions can't get access.
"If there are women in these highly restrictive states who want abortions but can't get them because there aren't any clinics that they can get to, and that's why abortion's going down, that's not a good thing," Jones said. "But we think the story that's going on in a lot of situations, in a lot of states, is that fewer women are having unintended pregnancies and in turn fewer abortions, and that is actually a good story."
http://www.npr.org/sections/thetwo-way/2017/01/17/509734620/u-s-abortion-rate-falls-to-lowest-level-since-roe-v-wade
* Documentation for the basis for the Abortion Counters (Guttmacher, etc.)
Return to Life Matters TV
Below are the sources for the statistics used and rationale for the number of abortions used in the abortion counters. Each abortion counter is a real-time estimate of the number of abortion in the US and the number of abortions worldwide based on the very latest data of the actual number of abortions performed in past years.  Most of the abortions reported in these numbers are surgically induced.  The eleven abortion counters include: number of abortions in the US today, number of abortions in the US since Roe versus Wade (1973), number of abortions in the US this year, number of abortions in the US this year due to rape or incest, number of abortions in the US this year after 16 weeks gestation, number of abortions by Planned Parenthood since 1970, and the number of aborions by planned Parenthood this year, number of abortions worldwide since 1980, number of abortions worldwide this year, and number of abortions worldwide today.
* Note that the abortions in the counters on this site are almost all "surgical abortions".   We have made no attempt to tally the totals for "chemically-induced abortions" here.  The Pharmacists for Life organization estimates that their have been approximately 250 million babies aborted chemically since 1973 in the USA: http://www.pfli.org/
* The Guttmacher Institute, formed as a division of Planned Parenthood of America, reported 42 million abortions World-Wide in 2003 which was down from 46 million in 1995.  The study was funded by the World Health Organization, an agency of the UN and the World Bank.
* In January 2014, the Guttmacher Institute reported:  * 1.05 million abortions in the US in 2012; * 4.8% of abortions in the US occurred from week 16 of pregnancy to week 32.  US 2014 STUDY on abortions:
http://www.guttmacher.org/pubs/fb_induced_abortion.html
World Wide STUDY on abortions: http://www.guttmacher.org/pubs/fb_IAW.pdf
*  The National Right to Life Committee reported on their 2/2015 fact sheet  (http://www.nrlc.org/uploads/factsheets/FS01AbortionintheUS.pdf )    that the total of  US abortions since 1973 (RVW) through 2014  was 57496011 based  on state government health organization data & the Guttmacher Institute data including factoring in the possible 3% undercount cited by GI for their own figures.
* Planned Parenthood reports the number of abortions performed each year in their annual report. Planned Parenthood's 2005-2006 annual report states that they committed 264,943 abortions in the USA in 2005 and from 1977 through 2005, Planned Parenthood performed 4,068,749 abortions in the USA.  More recent PP annual reports show they committed 289,750 in 2006, 305,310 in 2007, 324,008 in 2008, 331796 in 2009,  and 329,445 in 2010.  They reported 329,445 in 2010, 333,924 in 2011, 327,166 in 2012, 327166 in 2013 and 323999 in 2014 : 2013 report. , 2014 report 
* The World Wide abortion counters uses one of the more conservative estimates on the number of abortions world-wide since 1980 (40 Million per year for 30years)  and this equals 1,200,000 Billion (from Lifesitenews.com: http://www.lifesitenews.com/ldn/2009/oct/09101604.html )
* All the US abortion counters show results with one decimal place displayed.  This was originally done to show that these abortion counters are active and not a static count.  If you look at abortion procedures like Dilation & Evacuation   or Partial-Birth abortion (http://www.nrlc.org/uploads/factsheets/FS04AbortionTechniques.pdf), you realize that the abortion takes place in pieces over time so the decimal places do represent some reality.
* Why did we include a "black baby counter":  Two African-American Religious-based web sites asked us to put in a black baby counter to highlight the disparity of the high number of abortions in the black population.  Margaret Sanger, the founder of Planned Parenthood, had this as objective in her eugenics plan.
* Why is there a "After 16 weeks gestation" abortion counter?  There is a lot of argument about "When does life begin" ?  It would seem to be pretty hard for anyone to argue that a baby at 16 weeks gestation "is just a blob of tissue" based on what the scientific community knows today about the development of a baby at 16 weeks:
– The body is fully formed, the fingers and toes have fingerprints & nails.
– Is about 5 inches long and weighs  about 3 ounces, about the size of a large avacado.
– The baby is moving about: may grasp for the umbilical cord , suck it's thumb, and  is capable of making facial expressions and kicking at the amniotic sac.
– The heart & circulatory system and the urinary tract are fully functioning. and the blood is pumping through these tiny veins
– The baby is inhaling and exhaling the amniotic fluid through the lungs.
-The eyes are in the proper position, and the baby can see straight ahead & blink his/her eyelids.
– The genitals have formed. In the case of a girl, the uterus has already developed and the ovaries are in the proper place.
– Umberto Castiello, University of Padova, Italy  reported unborn babies have the ability to interact as early as 14 weeks into the pregnancy: "We conclude that performance of movements towards the co-twin is not accidental: already starting from the 14th week of gestation twin fetuses execute movements specifically aimed at the co-twin."
* This site is also accessible by www.usabortionclock.org.  The original idea a page of abortion counters came from the site www.usdebtclock.org is a very interesting perspective on the magnitude of the US debt obligations.
To view the active count of the number of abortions in the US and the numbers of abortions worldwide return to www.abortioncounters.com web page.
The Pronk Pops Show Podcasts Portfolio
Read Full Post
|
Make a Comment
(
None so far
)