/ Updated 
By Tom Winter, Pete Williams and Dan De Luce
The U.S. has seized a North Korean freighter that was caught shipping coal in violation of U.N. sanctions, the Justice Department revealed Thursday.
The 17,000-ton cargo ship, called the Wise Honest, was stopped in Indonesia last year after it was found to be carrying coal. The ship's captain was charged with violating Indonesian law, and last July, the U.S. filed an action to seize the ship, according to court papers.
Federal prosecutors said the seizure marks the first time the U.S. has taken possession of a North Korean ship for violating international sanctions.
"This sanctions-busting ship is now out of service," said John Demers, assistant attorney general for the Justice Department's National Security Division.
The Wise Honest, North Korea's second-largest ship for carrying bulk cargo, was on its way to American Samoa, U.S. officials said.
On Thursday, the Justice Department asked a federal judge to give the U.S. ownership of the vessel through a civil forfeiture action — the same thing prosecutors do when they seek to take ownership of planes or boats used by drug smugglers. The Justice Department says the U.S. is entitled to take this action because payments to maintain and equip the vessel were made through American banks.
"Our office uncovered North Korea's scheme to export tons of high-grade coal to foreign buyers by concealing the origin of their ship, the Wise Honest," said Geoffrey Berman, U.S. Attorney for the Southern District of New York. "This scheme not only allowed North Korea to evade sanctions, but the Wise Honest was also used to import heavy machinery to North Korea, helping expand North Korea's capabilities and continuing the cycle of sanctions evasion."
The announcement of the seizure came just hours after North Korea launched suspected short-range missiles — the second such weapons test in a week. But Berman said the effort to take control of the Wise Honest had been in the works for some time and was not spurred by North Korea's overnight actions.
The Justice Department said the Korea Songi Shipping Company used the Wise Honest from at least November 2016 through April 2018 — and broke American law by paying U.S. dollars to "unwitting" banks for several improvements, equipment purchases and service expenditures for the vessel.
The March 2018 cargo shipment yielded payments totaling more than $750,000, the Justice Department said.
Berman declined comment when asked if the heavy machinery shipped back to North Korea was used in the country's weapons program.
The seizure follows a report in March by a U.N. panel of experts that found North Korea is successfully evading United Nations sanctions through elaborate smuggling and deceptive tactics, allowing the regime to import oil and ship coal to China and other countries.
The sanctions are designed to deprive Pyongyang of cash for its nuclear weapons and ballistic missile programs and force the regime to abandon its arsenal. The Trump administration has led international efforts to tighten sanctions against North Korea, vowing to impose "maximum pressure" to persuade North Korea agree to relinquish its weapons in return for an end to sanctions.
"These violations render the latest United Nations sanctions ineffective by flouting the caps on the import of petroleum products and coal oil" by North Korea imposed by the U.N. Security Council in 2017, according to the U.N. report. "These transfers have increased in scope, scale and sophistication," it said.
Download the NBC News app for breaking news and politics
Despite U.S. warnings to keep up the economic pressure on North Korea, the regime has not suffered a spike in fuel prices in recent months, a sign that analysts say shows the country is able to secure enough fuel to keep its economy afloat.
North Korea has adapted to sanctions over the years and now employs increasingly sophisticated methods, the U.N. panel found in its March report. Pyongyang used to alter sections of shipping documents but now creates entirely fake registration and other papers that enable it to smuggle illicit cargo through ports around the world.
The regime also steals the identities of other ships and spoofs the location of vessels on the global electronic tracking system for ships, according to the U.N. panel.
https://www.nbcnews.com/politics/justice-department/u-s-seeks-seize-north-korean-ship-suspected-violating-u-n1003811
Story 2: Islamic Republic of Iran Terrorist Attack on U.S. Bases — CIA Meeting — Videos
John Bolton Holds 'Highly Unusual' Meeting At CIA | Morning Joe | MSNBC
Trump's top intelligence and military advisers held unusual meeting at CIA on Iran, officials say
Current and former officials said it is extremely rare for senior White House officials or Cabinet members to attend a meeting at CIA headquarters.
National security adviser John Bolton, outside the White House last week, has long advocated for regime change in Iran.Kevin Lamarque / Reuters
By Courtney Kube, Ken Dilanian, Dan De Luce and Carol E. Lee
WASHINGTON — In a highly unusual move, national security adviser John Bolton convened a meeting at CIA headquarters last week with the Trump administration's top intelligence, diplomatic and military advisers to discuss Iran, according to six current U.S. officials.
The meeting was held at 7 a.m. on Monday, April 29, and included CIA Director Gina Haspel, Acting Defense Secretary Patrick Shanahan, Chairman of the Joint Chiefs of Staff Gen. Joe Dunford, Secretary of State Mike Pompeo, and Director of National Intelligence Dan Coats, five of the officials said.
National security meetings are typically held in the White House Situation Room. The six current officials, as well as multiple former officials, said it is extremely rare for senior White House officials or Cabinet members to attend a meeting at CIA headquarters.
The officials said the discussion was not about the intelligence that led to the decision in the following days to send a carrier strike group and bomber task force to the Middle East, but did not describe what the meeting covered.
Five former CIA operations officers and military officials said that in the past, such meetings have been held at CIA headquarters to brief top officials on highly sensitive covert actions, either the results of existing operations or options for new ones.
The U.S. has a very specific intelligence gathering capability on Iranthat is only able to be reviewed at CIA headquarters, two former officials said.
Another possible reason to hold a meeting of senior White House officials at Langley is if there is disagreement about what the intelligence shows on a particular subject, said John McLaughlin, a former acting CIA director. Then-Vice President Dick Cheney frequently traveled to CIA to grill analysts about intelligence, McLaughlin said. Critics later accused Cheney of seeking to cherry-pick intelligence suggesting that Iraq had weapons of mass destruction, a charge he denies. The CIA and other agencies wrongly assessed that Iraq had WMD.
A spokesperson for the National Security Council declined to comment on the April 29 meeting.
The meeting came amid rising tensions between the U.S. and Iran, as the Trump administration piles pressure on Tehran's economy through crippling sanctions. Days after it took place, Bolton, citing indications of an increased threat from Iran, announced the deployment of a U.S. aircraft carrier strike group and a bomber squadron to the Persian Gulf. He warned Tehran that "any attack on United States interests or on those of our allies will be met with unrelenting force."
Asked on Thursday about Iran, President Donald Trump said: "They're in bad shape right now. I look forward to the day where we can actually help them. We're not looking to hurt Iran. I want them to be strong and great and have a great economy."
"But they should call, and if they do, we're open to talk to them."
Administration officials believe sanctions reimposed in the year since Trump withdrew the U.S. from the nuclear deal are deeply damaging Iran's economy, fueling runaway inflation and drastically cutting Iran's oil revenues.
Download the NBC News app for breaking news and politics
Mark Dubowitz of the Foundation for Defense of Democracies, a think tank that takes a hard line on Iran, suggested in a Wall Street Journal op-ed on April 2 that the administration could "build a wall of additional sanctions" to encourage Iran to halt its support for militants, its work on missiles and its human right abuses.
The administration announced new additional sanctions on Wednesday. The International Monetary Fund said last month that inflation in Iran could hit 37 percent this year, and issued a forecast that the country's economy will contract by 6 percent.
Democratic lawmakers have accused the White House of stoking tensions with Iran to lay the groundwork for war.
"I'm deeply worried that the Trump administration is leading us toward an unnecessary war with Iran," Sen. Tim Kaine of Virginia, a member of the Senate Armed Services Committee, said on Tuesday.
"Trump's Iran strategy is blind escalation," said Sen. Chris Murphy of Connecticut, who sits on the Senate Foreign Relations Committee. "There is no endgame. No overriding strategy. No way out. It's just escalation for the sake of escalation."
Yet even some critics of the administration's hard-line Iran policy said there was good reason for the acceleration last week of moving military assets in the Persian Gulf.
"There is legitimate intelligence that the Iranians are preparing to launch attacks in the region," one former official said.
The Trump administration has said its goal is to produce "systemic change" in Iran's behavior and denied accusations it is seeking "regime change." Bolton has long advocated for regime change in Iran.
The CIA has a seasoned intelligence officer, Mike D'Andrea, running its Iran operations. D'Andrea oversaw U.S. drone strikes that targeted al Qaeda militants and the effort to hunt down bin Laden.
Story 3: President Trump Says Former Secretary of State John Kerry Should Be Prosecuted Under The Logan Act — Long Overdue — Videos
Keane: John Kerry is undermining Trump's foreign policy
Gutfeld: Did John Kerry violate the Logan Act?
John Kerry Hits Back at Trump Call for Logan Act Prosecution: 'Simply Wrong, End of Story'
Trump says John Kerry 'should be prosecuted' for Iran contacts
President Trump on Thursday accused former Secretary of State John Kerry of breaking the law by meeting with Iranian officials last year — and went so far as to say he should be prosecuted under the Logan Act.
"You know John Kerry speaks to them a lot, and John Kerry tells them not to call. That's a violation of the Logan Act, and frankly he should be prosecuted on that," Trump told reporters at the White House.
TRUMP AND KERRY TRADE BARBS OVER EX-SECRETARY OF STATE'S MEETINGS WITH IRANIAN REGIME
"But my people don't want to do anything, only the Democrats do that kind of stuff. If it were the opposite way, they'd prosecute him under the Logan Act," he said.
Trump appears to be partially referring to a reported meeting between Kerry and Iranian Foreign Minister Javad Zarif at the beginning of 2018, part of what the Boston Globecalled "an aggressive yet stealthy" mission to put pressure on the Trump administration to keep the Iran nuclear deal.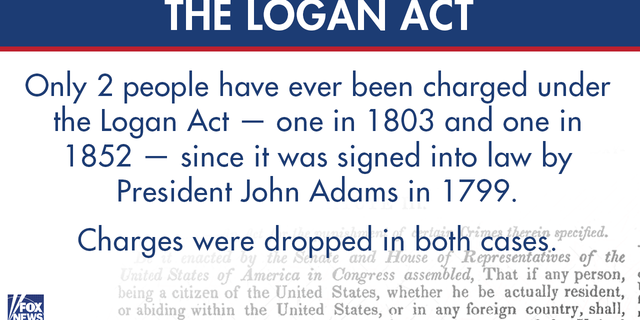 Such a push was unsuccessful as Trump would announce the U.S. withdrawal from the 2015 Joint Comprehensive Plan of Action (JCPoA) just a few months later.
But Trump has repeatedly accused Kerry of being in violation of the Logan Act, which prohibits private citizens from negotiating on behalf of the U.S. government without authorization. No one has ever been successfully prosecuted under the law, however.
In September, Kerry acknowledged meeting with Zarif "three or four times" since leaving office, admitting to discussing the scrapped nuclear deal, among other issues.
CLINTON SLAMS TRUMP ADMINISTRATION'S 'MAXIMUM PRESSURE' CAMPAIGN 
"What I have done is tried to elicit from him what Iran might be willing to do in order to change the dynamic in the Middle East for the better," Kerry said on Hugh Hewitt's radio show.
On Thursday, Trump indicated he believes the contact between Kerry and Tehran to be ongoing, accusing Kerry of having "many meetings and many phone calls and he's telling them what to do — that is a total violation of the Logan Act."
A spokesman for Kerry pushed back on Trump's remarks, calling them "simply wrong, end of story."
"He's wrong about the facts, wrong about the law, and sadly he's been wrong about how to use diplomacy to keep America safe. Secretary Kerry helped negotiate a nuclear agreement that worked to solve an intractable problem," the spokesman said.
"The world supported it then and supports it still. We'd hope the President would focus on solving foreign policy problems for America instead of attacking his predecessors for theater."
Trump's remarks came as the administration imposed sanctions on Tehran's steel, aluminum, copper and iron sectors this week, the latest pressure the administration is putting on Iran's already fragile economy.
Iran, meanwhile, announced that it will keep excess uranium instead of selling it as required by the nuclear deal. It also issued an ultimatum to Europe that it will enrich its stockpile in 60 days unless new terms to the deal are negotiated.
https://www.foxnews.com/politics/trump-kerry-prosecuted-iran
Story 4: No Constitutional Crisis — A Failure To Prosecute In Timely Manner The Clinton Obama Democratic Criminal Conspiracy — Videos
Gaetz: I don't think Democrats know what 'crisis' means