Pronk Pops Show 1191, December 19, 2018, Story 1: 30 Year Invasion of United States By 30 to 60 Million Illegal Aliens Will Only Stop When A Border Barrier Spanning 2000 Miles Is Built — Neither Democrats or Republican Are Listening To Demands of American People for Immigration Law Enforcement — American Independents United To Defeat Big Government Two Party Tyranny — Videos — Story 2: A Day of Reckoning For The Warfare and Welfare State Coming Sooner Than You Think With Unfunded Liabilities and Obligations Already Exceeding $200,000,000,000,000 — Federal Government Spending Is Out-of-Control — Videos — Story 3: The Normalizing of Interest Rates Will Increase Carrying Cost Of U.S. Treasury Debt in Budget — Videos
Merry Christmas and
A Happy and Prosperous New Year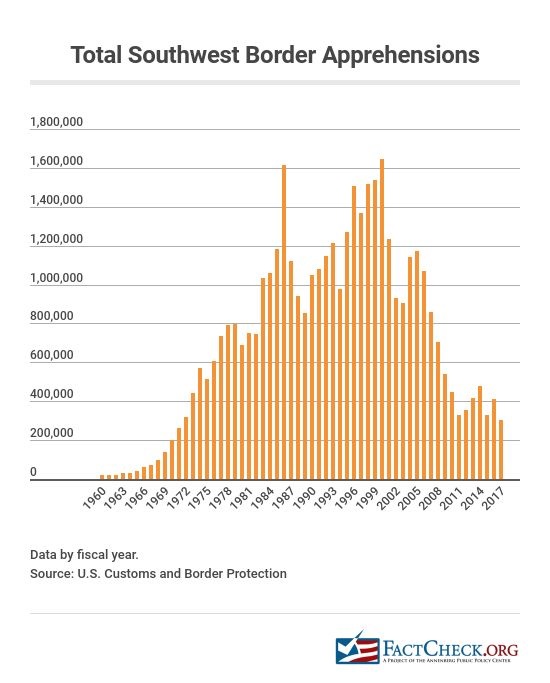 Story 1: 30 Year Invasion of United States By 30 to 60 Million Illegal Aliens Will Only Stop When A Border Barrier Spanning 2000 Miles Is Built — Neither Democrats or Republicans Are Listening To Demands of American People — American Independents United To Defeat Big Government Two Party Tyranny — Limited Legal Merit Based Immigration Only — Videos —
Updated December 21, 2018
Congress searches for budget compromise ahead of shutdown deadline
Trump 'ready for shutdown' as Senate struggles over wall
BORDER or SHUTDOWN 🔴 President Trump URGENT Speech Signs First Step Act Following Mattis Quit
House approves bill to avert government shutdown and fund border wall
Trump Tells Rush Limbaugh 'Secret Plan' On Border Wall, Pelosi & Schumer Flip Out
With Trump determined to fund the border wall, what will happen next with Congress?
House passes bill to fund government with border funds, setting up showdown with Senate
Trump: I'm asking Congress to defend our nation's border
Thomas Sowell On Immigration
Milton Friedman – Illegal Immigration only helps when its Illegal
George H. W. Bush And Ronald Reagan Debate On Immigration In 1980 | TIME
BEST VERSION: Reagan on Amnesty & Illegal Immigration
The Immigration Reform and Control Act of 1986
President Reagan's Remarks at Ceremony for Immigration Reform and Control Act. November 6, 1986
Immigration Reform and Control Act of 1986
Heather Mac Donald, Victor Davis Hanson & Steven Malanga – The Immigration Solution
Ann Coulter Slams Trump for Failure to Fund Border Wall
GUTLESS PRESIDENT IN WALL-LESS COUNTRY
December 19, 2018
If you were elected president after decades of politicians doing nothing about the millions of illegals pouring into our country every year, committing crimes, dealing drugs, driving drunk, molesting children and killing Americans like Kate Steinle, and your central campaign promise — repeated every day — was to build a wall, wouldn't you have spent the entirety of your transition period working on getting it done?
Wouldn't you have been building prototypes, developing relationships with key congressional allies and talking to military leaders about using the Seabees or the Army Corps of Engineers to build the wall?
Wouldn't you skip the inauguration and take the oath of office in San Diego so you could get started on supervising wall construction immediately after putting your hand on the Bible and being sworn in as the leader of the free world?
You would if you meant it.
Well, Donald Trump didn't do that.
OK, sure he could have taken the oath in D.C., gone to a few balls, then started the wall on day two of his presidency. But he didn't do that either.
Maybe I'm a literalist. A zealot. When people kept telling me to be patient — the wall is coming! — I nursed a private hope that I was wrong, and they were right.
It is now crystal clear that one of two things is true: Either Trump never intended to build the wall and was scamming voters all along, or he has no idea how to get it done and zero interest in finding out.
He sacrifices every opportunity to make the wall happen.
For two years, Trump pretended to believe the president of the United States needs express authorization from Congress to defend the nation's borders and blamed the Republican majority for not "funding" the wall.
In a few weeks, he'll start blaming the Democratic House.
Last week — several whole days ago — Trump said over and over again that he would shut down the government if he didn't get funding for the wall — the precise thing he claims he needs. "We need border security. The wall is a part of border security," he said. "If we don't have border security, we'll shut down the government."
Trump wore the shutdown over the wall as a badge of honor: "You want to know something? OK, you want to put that on me. I'll take it. You know what I'll say? Yes, if we don't get what we want … I will shut down the government. Absolutely."
One week later, The Drudge Report:
WALL FUNDING OFF TABLE
In other words, Trump is doing exactly what I feared he would do in the worst conceivable way. He's not building the wall, while making ridiculous promises right up until the second before he folds.
The Washington Post loves to find the one crazy, trailer park lady who supports Trump because she's had religious ecstasies about him, but most people who voted for him did so with a boatload of qualms.
The basic factory setting on the perception of Trump is: gigantic douchebag. This is a man who manufactured fake Time magazine covers featuring himself with the headline, "Donald Trump: The 'Apprentice' is a television smash!" so that he could put framed copies of it on the walls of his clubs.
His business is convincing people with lowbrow taste to give him their money.
He's a vulgar publicity hound who used to call reporters in a fake voice and pretend to be his own PR agent, "John Miller" or "John Barron," so he could brag that actresses wanted to date him.
On one "Apprentice" episode, the reward for the winning team was: to see Trump's apartment. Not to eat there or spend the night. They got to see it. "As a little treat," he said, "you're gonna see the nicest apartment in New York City." He added: "I show this apartment to very few people. Presidents, kings …"
It's not as if a majority of his voters weren't clear-eyed about what kind of man he is. If anything, Trump's vulgar narcissism made his vow to build a wall more believable. Respectable politicians had made similar promises over the years — and they always betrayed the voters. Maybe it took a sociopath to ignore elite opinion and keep his word.
On the basis of his self-interest alone, he must know that if he doesn't build the wall, he has zero chance of being re-elected and a 100 percent chance of being utterly humiliated.
But when Trump is alone with Ivanka, they seem to agree that the wall has nothing to do with it. The people just love him for who he is! In a country of 320 million people, I'm sure there are some, but I have yet to meet a person who said, Yeah, I don't really care about immigration or trade, I just love his personality!
What else were we going to do? He was the only one talking sense. Unfortunately, that's all he does: talk. He's not interested in doing anything that would require the tiniest bit of effort.
In the end, we'll probably find out "wall" was Trump's "safe word" with Stormy Daniels. It's just something he blurts out whenever he's in trouble.
He's in trouble now. As absurd as the Russia nonsense is, the details about Trump's sleazy associates, the porn star, the Playboy playmate and his seedy business practices leave his supporters feeling queasy, even if he hasn't committed any crimes.
Instead of joining a fight that will make his most ardent supporters cringe no matter how it comes out, why not choose a battleground where he's guaranteed a win? If Trump used the military to build the wall — actually build it, not keep telling us he's going to build it — the Democrats will go mad.
They'll hold impeachment hearings, file a million lawsuits, produce weeping children reading from phony scripts written by immigrant rights groups — and Trump will win. The public will support Trump overwhelmingly, and the left will be forced to keep reminding voters why they hate Democrats.
Instead, what he's doing now absolutely guarantees that the next president will be a Democrat and, given today's Democratic Party, that president will be Kamala Harris.
Remarks on Signing the Immigration Reform and Control Act of 1986
November 6, 1986
The President. I'm very pleased that you could all be here today. I know how busy you've been with events leading up to Tuesday's election, and I want to congratulate all of you in the House of Representatives who've just been reelected.
This bill, the Immigration Reform and Control Act of 1986, that I will sign in a few minutes is the most comprehensive reform of our immigration laws since 1952. It's the product of one of the longest and most difficult legislative undertakings in the last three Congresses. Further, it's an excellent example of a truly successful bipartisan effort. The administration and the allies of immigration reform on both sides of the Capitol and both sides of the aisle worked together to accomplish these critically important reforms to control illegal immigration.
In 1981 this administration asked the Congress to pass a comprehensive legislative package, including employer sanctions, other measures to increase enforcement of the immigration laws, and legalization. The act provides these three essential components. Distance has not discouraged illegal immigration to the United States from all around the globe. The problem of illegal immigration should not, therefore, be seen as a problem between the United Statesand its neighbors. Our objective is only to establish a reasonable, fair, orderly, and secure system of immigration into this country and not to discriminate in any way against particular nations or people.
I would like to recognize a few of the public servants whose unflagging efforts have made this legislation a reality. Senator Alan Simpson, Congressman Dan Lungren, Chairman Peter Rodino, and Congressman Rom Mazzoli have long pursued and now have attained this landmark legislation. Important roles were played by Senator Strom Thurmond, Senator Paul Simon, and Congressmen Ham Fish, Bill McCollum, Chuck Schumer, and many others in both Houses of the Congress and in both parties. Additionally, I would like to note the excellent efforts of members of my administration who have worked so hard over the last 6 years to make this bill signing possible today. The long list of those in the executive branch is headed by Attorneys General Edwin Meese and William French Smith, who with Immigration Commissioner Alan C. Nelson have contributed greatly to our efforts to pass meaningful immigration reform.
Future generations of Americans will be thankful for our efforts to humanely regain control of our borders and thereby preserve the value of one of the most sacred possessions of our people: American citizenship. So, now I'll get on with the signing and make this into law. Hope nothing happens to me between here and the table. [Laughter] And I got my names in the right order there. [Laughter]
Reporter. Mr. President, do we have a deal going with Iran of some sort?
The President. No comment. But could I suggest an appeal to all of you with regard to this: that the speculation, the commenting and all, on a story that came out of the Middle East, and that to us has no foundation — that all of that is making it more difficult for us in our effort to get the other hostages free.
Note: The President spoke at 10:10 a.m. in the Roosevelt Room at the White House. S. 1200, approved November 6, was assigned Public Law No. 99 – 603.
https://www.reaganlibrary.gov/research/speeches/110686a
Immigration Reform and Control Act of 1986
Jump to navigationJump to search
Immigration Reform and Control Act of 1986
Acronyms

(colloquial)

IRCA
Nicknames
Simpson–Mazzoli Act
Enacted by
the 99th United States Congress
Effective
Signed into law by Ronald Reagan on November 6, 1986
Citations
Public law
Pub.L. 99–603

Statutes at Large

100 Stat. 3359
Legislative history

Introduced in the Senate as S. 1200 by Alan K. Simpson on May 23, 1985
Committee consideration by Senate Judiciary, Senate Budget
Passed the Senate on September 19, 1985 (69–30)
Passed the House on October 9, 1986 (voice vote after incorporating H.R. 3810, passed 230–166)
Reported by the joint conference committee onOctober 14, 1986; agreed to by the House on October 15, 1986 (238–173) and by the Senate on October 17, 1986 (63–24)
Signed into law by President Ronald Reagan onNovember 6, 1986
The Immigration Reform and Control Act (IRCA), Pub.L. 99–603, 100 Stat. 3445, enacted November 6, 1986, also known as the Simpson–Mazzoli Act or the Reagan Amnesty,[1] signed into law by Ronald Reagan on November 6, 1986, is an Act of Congress which reformed United States immigration law. The Act[2]
required employers to attest to their employees' immigration status;
made it illegal to hire or recruit illegal immigrants knowingly;
legalized certain seasonal agricultural undocumented immigrants, and;
legalized undocumented immigrants who entered the United States before January 1, 1982 and had resided there continuously with the penalty of a fine, back taxes due, and admission of guilt; candidates were required to prove that they were not guilty of crimes, that they were in the country before January 1, 1982, and that they possessed at least a minimal knowledge about U.S. history, government, and the English language.
At the time, the Immigration and Naturalization Service estimated that about four million illegal immigrants would apply for legal status through the act and that roughly half of them would be eligible.[3]
Legislative background and description
Romano L. Mazzoli was a Democratic representative from Kentucky and Alan K. Simpson was a Republican senator from Wyoming who chaired their respective immigration subcommittees in Congress. Their effort was assisted by the recommendations of the bipartisan Commission on Immigration Reform, chaired by Rev. Theodore Hesburgh, then President of the University of Notre Dame.
The law criminalized the act of engaging in a "pattern or practice" of knowingly hiring an "unauthorized alien"[4] and established financial and other penalties for those employing illegal immigrants under the theory that low prospects for employment would reduce undocumented immigration. Regulations promulgated under the Act introduced the I-9 form to ensure that all employees presented documentary proof of their legal eligibility to accept employment in the United States.[5]
These sanctions would apply only to employers that had more than three employees and did not make a sufficient effort to determine the legal status of their workers.
The first Simpson–Mazzoli Bill was reported out of the House and Senate Judiciary Committees. The bill failed to be received by the House, but civil rights advocates were concerned over the potential for abuse and discrimination against Hispanics, growers' groups rallied for additional provisions for foreign labor, and the U.S. Chamber of Commerce persistently opposed sanctions against employers.
The second Simpson–Mazzoli Bill finally passed both chambers in 1985, but it came apart in the conference committee over the issue of cost. The year marked an important turning point for the reform effort. Employer opposition to employer sanctions began to subside, partly because of the "affirmative defense" clause in the law that explicitly released employers from any obligation to check the authenticity of workers' documents.
Also, agricultural employers shifted their focus from opposition to employer sanctions to a concerted campaign to secure alternative sources of foreign labor. As opposition to employer sanctions waned and growers' lobbying efforts for extensive temporary worker programs intensified, agricultural worker programs began to outrank employer sanctions component as the most controversial element of reform.
Reagan Executive Action
The Immigration Reform and Control Act did not address the status of children of illegal aliens who were eligible for the amnesty program. In 1987 President Reagan used his executive authority to legalize the status of minor children of parents granted amnesty under the immigration overhaul,[6] announcing a blanket deferral of deportation for children under 18 who were living in a two-parent household with both parents legalizing, or with a single parent who was legalizing.[7] This action affected an estimated 100,000 families.
Impact
On labor market
According to one study, the IRCA caused some employers to discriminate against workers who appeared foreign, resulting in a small reduction in overall Hispanic employment. There is no statistical evidence that a reduction in employment correlated to unemployment in the economy as a whole or was separate from the general unemployment population statistics.[8] Another study stated that if hired, wages were being lowered to compensate employers for the perceived risk of hiring foreigners.[9]
The hiring process also changed as employers turned to indirect hiring through subcontractors. "Under a subcontracting agreement, a U.S. citizen or resident alien contractually agrees with an employer to provide a specific number of workers for a certain period of time to undertake a defined task at a fixed rate of pay per worker".[9] "By using a subcontractor the firm is not held liable since the workers are not employees. The use of a subcontractor decreases a worker's wages since a portion is kept by the subcontractor. This indirect hiring is imposed on everyone regardless of legality".[9]
On illegal immigration
This section 

needs expansion

. You can help by 

adding to it

. 

(February 2014)
There have been various law changes over the years that encouraged immigrants to enter or exit the United States. With the railroad, World War II, and agricultural work force demands, many immigrants saw the opportunity to come to the United States temporarily for money or a better life. An increase in legal immigrants migrating to the United States also led to an increase of illegal aliens, especially from Mexico. Most of these immigrants searched for and gained jobs where hard labor was needed. As the immigration population increased American citizens started to worry about their impact on the economy.
The reform did not have a lot of impact on decreasing the immigrant population, "Until 2012, there was virtually no movement in Congress to deal with the problem of the 11 million undocumented immigrants living in the United States since the passage of the Immigration Reform and Control Act of 1986, which granted amnesty to many of the 3.2 million illegal immigrants living in the United States."[10]
In 1983, the Supreme Court forbade schools and hospitals to deny services based on undocumented immigration status.[11]
On crime
One study finds that the legalization of three million immigrants reduced crime by 3-5%, primarily property crime.[12] The author finds that this is due to greater job market opportunities for the immigrants.[12]
Structure of the Act and relationship to United States Code
Following the Short title, the IRCA is divided into seven Titles (I through VII). Title I is divided into parts A, B, and C, and Title III is divided into parts A and B. The IRCA affects 8 USC 1101. Additional portions of the U.S. Code created or amended by the IRCA include, but are not necessarily limited to:
Parts A and B of Title I: 8 USC 1324, 8 USC 1324a, 8 USC 1324b, 18 USC 1546, 8 USC 1321, 8 USC 1357, 8 USC 1255.
Part C of Title I: 42 USC 1320b-7
Title II: 8 USC 1255a
Title III: 8 USC 1186, 8 USC 1152, 8 USC 1187
See also
References
External links
Story 2: A Day of Reckoning For The Warfare and Welfare State Coming Sooner Than You Think With Unfunded Liabilities and Obligations Already Exceeding $200,000,000,000,000 — Federal Government Spending Is Out-of-Control — Videos
Professor Laurence Kotlikoff – True U.S. Debt Over $200 Trillion
What is FISCAL GAP? What does FISCAL GAP mean? FISCAL GAP meaning, definition & explanation
Dan Mitchell: Is There an Endgame for US Debt?
Is DEBT Threatening the USA's Future? – VisualPolitik EN
Entitlements Fantasy: The Abyss of Unfunded Liabilities
III – Unfunded Liabilities
Story 3: The Normalizing of Interest Rates Will Increase Carrying Cost Of U.S. Treasury Debt in Budget — Videos 
Trump pressures the Fed ahead of expected rate hike
National news | Fed expected to hike interest rates, defying Trump
Fed To Raise Rates, End Tightening
Gundlach: The Fed should not raise rates this week
Merry Christmas and
A Happy and Prosperous New Year
The Pronk Pops Show Podcasts Portfolio