The Pronk Pops Show 1163, October 26, 2018, Story 1: Bomb Device Suspect, Cesar Altier Sayoc, Arrested Trump Supporter — Red Capped Make America Great Again Native American Indian — Crazy Van Easy Rider — Busted — Videos — Story 2: Incoming Caravan of Illegal Alien Mob Moving in Mexico towards United States — Invasion of America By Illegal Aliens Continues — Where is The Wall? — Videos — Story 3: Advanced Estimate Real Gross Domestic Product (GDP) Increases By 3.5% In Third Quarter — Consumption Up By 4.0%, Investment Flat And Housing Construction Slump — Videos
Story 1: Bomb Device Suspect, Cesar Altier Sayoc, Arrested Trump Supporter — Red Capped Make America Great Again Native American Indian — Crazy Van Easy Rider — Busted — Videos —
Easy Rider (Peter Fonda & Jack Nicholson)
One suspect in custody in connection to suspicious packages
Arrest Made In Explosive Device Mailings
Suspicious packages reporting has a level of amateurishness: Sebastian Gorka
1 in custody in connection with suspected mail bomb campaign: Special Report
Tucker: When political debate turns into sectarianism
Easy Rider – The Weight
PICTURED: Trump-supporting, bodybuilding, Native American Florida strip-club worker is revealed as the 'MAGAbomber' who 'sent suspicious packages to 12 liberals'
Federal authorities arrested a suspect in the mail bombing spree on Friday in South Florida
The suspect is reportedly a male in his 50s who has a history of threatening judges 
FBI discovered suspicious package addressed to Senator Cory Booker in Florida on Thursday night
Then a postal inspector intercepted another package to James Clapper in Manhattan Friday morning
The suspicious package was addressed to Clapper at headquarters of CNN, where he is a contributor
NYPD bomb squad's Total Containment Vessel responded to postal facility in Midtown to remove package
Discoveries mark the 11th and 12th suspicious packages targeting outspoken critics of President Trump
FBI warns the public to be on the lookout for similar packages and says there could be more bombs 
The suspect in a mail bombing spree targeting critics of President Donald Trump has been identified.
Cesar Altier Sayoc was taken into custody on Friday morning in Plantation, Florida in connection with the 12 suspicious packages that have been discovered this week.
According to Sayoc's Facebook page, he is a Trump fan who posted pictures and videos of himself at one of the President's rallies in October 2016.
He posted a photograph of himself wearing a MAGA hat in front of the US Capitol in 2017.
He is Native American, and according to a picture posted on his social media page, he is a member of the Seminole Tribe of Florida.
In a post a year ago, Sayoc shared a photograph of Governor Rick Scott and Donald Trump, writing: 'The greatest Governor in Country Fla Rick Scott and great friend of We Unconquered Seminole Tribe . Trump Trump Trump'
He shared bodybuilding pictures and appears to have worked in a strip club.
He expressed his dislike of Hillary Clinton and posted stories about incidents of Islamic terrorism.
The suspect in his 50s was arrested in front of an AutoZone store in Plantation, a police source tells DailyMail.com.
Michelle Taylor, a nurse at the Senior Medical Associates clinic, saw police taking a vehicle believed to be Sayoc's into custody.
'We've been in the office for an hour and we're so nervous,' she said. 'The police were surrounding some kind of a van. Thank god we're done with our patients for the day and there's only two of us in here.'
A witness who works at Marlins Insurance said dozens of police cars descended on the area around State Road 7 and SW 8th Street about 10am, a few feet away from her office.
'It's really bad,' the woman said by telephone. She declined to give her name. 'We heard a loud bang, like a bomb exploding. Police officers who told us to stay inside said they were arrested the guy who's been sending bombs all over the place. It's pretty scary but we're inside trying to get some work done.'
The suspect is reportedly a former resident of New York who is living in Florida. The 12 mail bombs are all believed to have been handled by a regional mail sorting facility in southern Florida.
The suspect is known to law enforcement, and has a history of making terroristic threats to judges, sources said.
Heavy police activity was seen in Plantation, Florida, a town to the west of Fort Lauderdale and directly south of Sunrise, the location of Debbie Wasserman-Schultz's office, which the bombs listed as a return address.
Police impounded a white panel van that is believed to be connected to the investigation.
The Department of Justice announced a press conference for 2.30pm at which further details are expected to be available.
Earlier in the day, the investigators said they had found two new packages believed to be part of the mail bombing spree, addressed to Senator Cory Booker and former Director of National Intelligence James Clapper.
The package to Booker was found on Thursday night at a mail sorting facility in Florida, and the package addressed to Clapper was found at a postal facility in Manhattan on Friday.
The two new packages marked the 11th and 12th suspected mail bombs in a spree that has targeted critics of Trump.
Trump's first public response to the latest suspicious packages was a tweet at 10.19am reading: 'Republicans are doing so well in early voting, and at the polls, and now this 'Bomb' stuff happens and the momentum greatly slows – news not talking politics. Very unfortunate, what is going on. Republicans, go out and vote!'
The FBI found two new packages believed to be part of the mail bombing spree, addressed to Senator Cory Booker (left) and former Director of National Intelligence James Clapper (right)
The suspicious package (above) addressed to James Clapper at the Time Warner Center was intercepted by postal inspectors at a Manhattan sorting facility on Friday morning
The Total Containment Vessel is used to transport explosive devices and is designed to contain powerful blasts
The special NYPD vehicle is seen transporting the package addressed to James Clapper to a secure facility in the Bronx
NYPD Deputy Commissioner Intelligence and Counterterrorism John Miller was on scene during an investigation of a bomb addressed to James Clapper at a US Post Office on W 52nd Street on Friday in Manhattan
FDNY set up a command post at an investigation of a bomb at a postal sorting facility in Midtown Manhattan on Friday
A police dog assists in a suspicious package response at a postal facility in Manhattan on Friday morning
Postal workers stand on the street after evacuating a sorting facility during a report of a suspicious package in Manhattan
Postal workers stand on the street after evacuating a Midtown Manhattan postal facility on Friday
The facility was evacuated after inspectors intercepted a suspicious package addressed to James Clapper
The map above shows the locations of 12 suspicious packages that have all been linked to a mail bombing spree
The package to Clapper was addressed to CNN's headquarters in the Time Warner Center in Midtown Manhattan, but was intercepted before delivery.
A photo of the package showed that it matched notable characteristics of the previous mail bombs, none of which have exploded.
Clapper joined CNN as a contributor after stepping down as the nation's most senior intelligence official last year.
'At least they got the correct spelling of my name and they got the right network,' Clapper said in remarks to CNN, referring to a mail bomb sent to CNN earlier this week and addressed to 'John Brenan'.
John Brennan, a former CIA director, is a contributor for MSNBC.
'This is definitely domestic terrorism, no question about it in my mind,' Clapper said in an interview with the cable network. 'This is not going to silence the administration´s critics.'
Clapper said that he had been on vacation with his wife, and had warned the neighbors who were collecting his mail to be on the lookout for suspicious packages as the mail bomb spree developed this week.
Like the other targets in the mail bomb spree, Clapper has been harshly critical of Trump. In a speech last year, he said that Trump was guilty of 'ignorance or disrespect'.
First respondents are seen on the scene where suspicious package was found in Midtown. There were no reports of injuries and the stretcher is believed to be a precaution
The package intercepted on Friday was addressed to Clapper care of CNN, but was spotted by postal inspectors at a sorting facility before delivery.
The NYPD bomb squad was on scene at the postal facility at West 52nd Street and 8th Avenue on Friday morning.
The NYPD's Total Containment Vessel was spotted at the scene by about 9.30am.
Streets in the area were closed off and postal workers were seen waiting on the sidewalks after the facility was evacuated.
The containment vehicle departed the area at 10am transporting the suspected bomb to a secure police facility in Rodman's Neck in the Bronx.
Streets were shut down and the facility evacuated after a suspicious package was found
On Thursday, a local police bomb squad and canine units joined federal investigators to examine a sprawling U.S. mail distribution center at Opa-Locka, northwest of Miami, Miami-Dade County police said.
Investigators believe that all of the suspicious packages were sorted at the facility, which processes mail regionally in South Florida.
It was at the Opa-Locka facility that the 11th bomb was discovered, addressed to Senator Booker.
Booker is a Democrat from New Jersey. Like Clapper and the other targets of the mail bombs in the recent spree, he is an outspoken critic of Trump.
The identity and motives of the bomber have not been revealed, however, with the FBI saying it is pursuing the case as the agency's highest priority.
No one has claimed responsibility for the bombs.
A police dog is loaded into an SUV outside New Jersey Democratic Senator Cory Booker's office in Camden, New Jersey
A police officer and dog are shown outside a postal facility on Thursday in Opa-locka, Florida. The search uncovered a suspicious package addressed to Senator Cory Booker
'In America, love always trumps hate': Cory Booker at 2016 DNC
Senator Mark Warner, the top Democrat on the Senate Intelligence Committee, told MSNBC on Friday that the mail bombs were stoking fear across the county and that U.S. leaders, including Trump, must reassure the public.
Elected officials and others need to say that this is not who we are as a country, Warner said. 'That would be a heck of a lot stronger if that message also came from the White House.'
U.S. Homeland Security Secretary Kirstjen Nielsen said that Florida appeared to be the starting point for at least some of the bomb shipments.
'Some of the packages went through the mail. They originated, some of them, from Florida,' she said during an interview with Fox News Channel on Thursday.
'I am confident that this person or people will be brought to justice.'
https://www.dailymail.co.uk/news/article-6321331/Suspected-mail-bomber-identified-Cesar-Altier-Sayoc.html
Story 2: Incoming Caravan of Illegal Alien Mob Moving in 
Mexico towards United States — Invasion of America By Illegal Aliens Continues — Where is The Wall? — Videos —
US Military Will Stop Migrant Caravan Of Illegal Immigrants Heading To Border (Full Compilation)
Will migrant caravan photos influence voters before midterms?
Nielsen on response to migrant caravan, pipe bomb threat
Honduran migrants stranded on bridge between Mexico and Guatemala
Life Inside the Migrant Caravan: 'Everyone Is Tired' | Dispatches
'The Five' reacts to growing migrant caravan crisis
Geraldo, Gorka spar over how to deal with migrant caravan
Story 3: Advanced Estimate Real Gross Domestic Product (GDP) Increases By 3.5% In Third Quarter — Consumption Up By 4.0%, Investment Flat And Housing Construction Slump — Videos
Strong GDP growth is sign of middle-class tax law working, says Rep. Kevin Brady
Consumer Spending Helps GDP Slow Less Than Expected
Today News – US economic growth slows less than expected in Q3
Early North American trade on 26.10.2018: USD, EUR
GDP grew at 3.5% in the 3rd quarter, but some areas of the economy that aren't fairing as well.
Today News – Trumps trade war took a stunning bite out of the US economy
The Truth About US GDP Growth
What Would Happen If USA Stopped Paying Its Debt?
Gross Domestic Product, 3rd quarter 2018 (advance estimate)
Real gross domestic product (GDP) increased at an annual rate of 3.5 percent in the third quarter of 2018 (table 1), according to the "advance" estimate released by the Bureau of Economic Analysis. In the second quarter, real GDP increased 4.2 percent.
The Bureau emphasized that the third-quarter advance estimate released today is based on source data that are incomplete or subject to further revision by the source agency (see "Source Data for the Advance Estimate" on page 2). The "second" estimate for the third quarter, based on more complete data, will be released on November 28, 2018.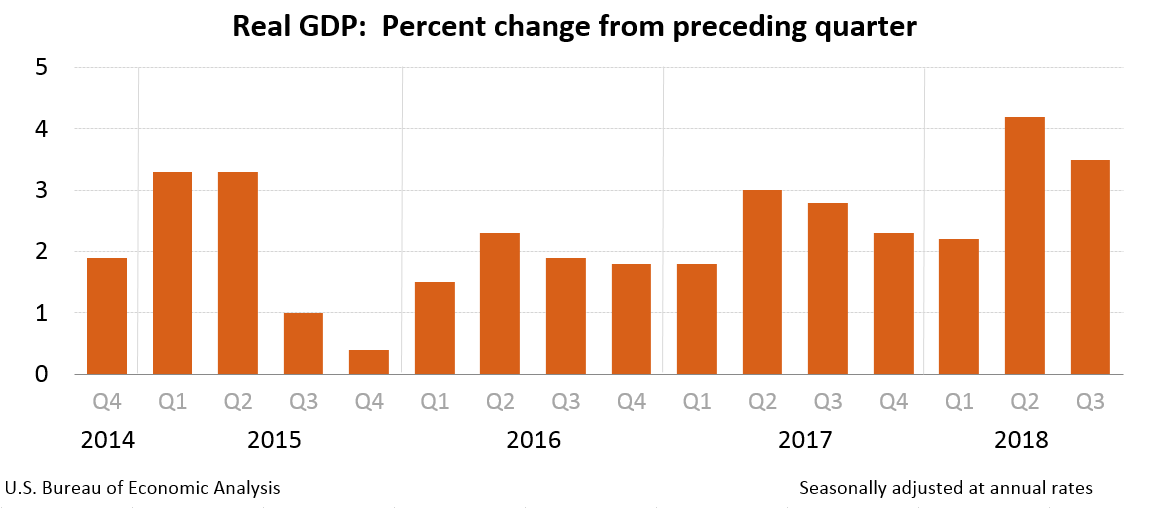 The increase in real GDP in the third quarter reflected positive contributions from personal consumption expenditures (PCE), private inventory investment, state and local government spending, federal government spending, and nonresidential fixed investment that were partly offset by negative contributions from exports and residential fixed investment. Imports, which are a subtraction in the calculation of GDP, increased (table 2).
The deceleration in real GDP growth in the third quarter reflected a downturn in exports and a deceleration in nonresidential fixed investment. Imports increased in the third quarter after decreasing in the second. These movements were partly offset by an upturn in private inventory investment.
Current dollar GDP increased 4.9 percent, or $247.1 billion, in the third quarter to a level of $20.66 trillion. In the second quarter, current-dollar GDP increased 7.6 percent, or $370.9 billion (table 1 and table 3).
The price index for gross domestic purchases increased 1.7 percent in the third quarter, compared with an increase of 2.4 percent in the second quarter (table 4). The PCE price index increased 1.6 percent, compared with an increase of 2.0 percent. Excluding food and energy prices, the PCE price index increased 1.6 percent, compared with an increase of 2.1 percent.
Personal Income (table 8)
Current-dollar personal income increased $180.4 billion in the third quarter, compared with an increase of $180.7 billion in the second quarter. Accelerations in rental income, wages and salaries, and nonfarm proprietors' income were offset by a downturn in farm proprietors' income and a slowdown in dividend income.
Disposable personal income increased $155.0 billion, or 4.1 percent, in the third quarter, compared with an increase of $168.9 billion, or 4.5 percent, in the second quarter. Real disposable personal income increased 2.5 percent, the same increase as in the second quarter.
Personal saving was $999.6 billion in the third quarter, compared with $1,054.3 billion in the second quarter. The personal saving rate — personal saving as a percentage of disposable personal income — was 6.4 percent in the third quarter, compared with 6.8 percent in the second quarter.
Source Data for the Advance Estimate
Information on the source data and key assumptions used for unavailable source data in the advance estimate is provided in a Technical Note that is posted with the news release on BEA's Web site. A detailed "Key Source Data and Assumptions" file is also posted for each release. For information on updates to GDP, see the "Additional Information" section that follows.
https://www.bea.gov/news/2018/gross-domestic-product-3rd-quarter-2018-advance-estimate
Beach Boys – Barbara Ann – Jack Benny – 1965 – (Remaster Live) – Bubblerock – HD
Good Vibrations the Lost Studio Footage
The Beach Boys- California Girls
 

(1965)
Beach Boys – I can hear music 1969
Biography – Brian Wilson
The Pronk Pops Show Podcasts Portfolio