Archive for October 24th, 2016
The Pronk Pops Show Podcasts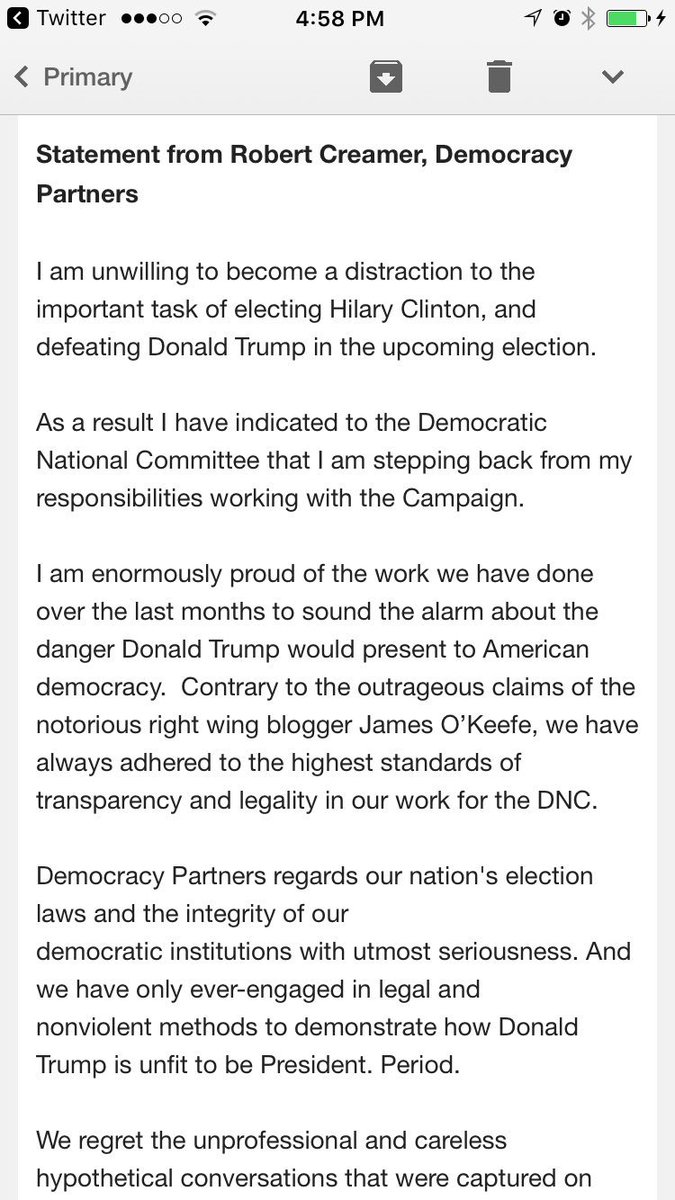 On the Record | Fox News | 10/24/16
Benson: Dem Operatives 'Got Fired Awfully Quickly' for Veritas Tape to be Edited
Rigging the Election – Video III: Creamer Confirms Hillary Clinton Was PERSONALLY Involved
Published on Oct 24, 2016
Part III of the undercover Project Veritas Action investigation dives further into the back room dealings of Democratic politics. It exposes prohibited communications between Hillary Clinton's campaign, the DNC and the non-profit organization Americans United for Change. And, it's all disguised as a duck. In this video, several Project Veritas Action undercover journalists catch Democracy Partners founder directly implicating Hillary Clinton in FEC violations. "In the end, it was the candidate, Hillary Clinton, the future president of the United States, who wanted ducks on the ground," says Creamer in one of several exchanges. "So, by God, we would get ducks on the ground." It is made clear that high-level DNC operative Creamer realized that this direct coordination between Democracy Partners and the campaign would be damning when he said: "Don't repeat that to anybody." The first video explained the dark secrets and the hidden connections and organizations the Clinton campaign uses to incite violence at Trump rallies. The second video exposed a diabolical step-by-step voter fraud strategy discussed by top Democratic operatives and showed one key operative admitting that the Democrats have been rigging elections for fifty years. This latest video takes this investigation even further.
First video: https://www.youtube.com/watch?v=5IuJG…
Second video: https://www.youtube.com/watch?v=hDc8P…
Are you kidding me! Hillary Clinton hires Donald Duck to erupt Donald Trump press conference!
Part III of the undercover Project Veritas Action investigation dives further into the back room dealings of Democratic politics. It exposes prohibited communications between Hillary Clinton's campaign, the DNC and the non-profit organization Americans United for Change. And, it's all disguised as a duck. In this video, several Project Veritas Action undercover journalists catch Democracy Partners founder directly implicating Hillary Clinton in FEC violations. "In the end, it was the candidate, Hillary Clinton, the future president of the United States, who wanted ducks on the ground," says Creamer in one of several exchanges. "So, by God, we would get ducks on the ground." It is made clear that high-level DNC operative Creamer realized that this direct coordination between Democracy Partners and the campaign would be damning when he said: "Don't repeat that to anybody." The first video explained the dark secrets and the hidden connections and organizations the Clinton campaign uses to incite violence at Trump rallies. The second video exposed a diabolical step-by-step voter fraud strategy discussed by top Democratic operatives and showed one key operative admitting that the Democrats have been rigging elections for fifty years. This latest video takes this investigation even further.
Project Veritas Action Founder James O'Keefe brings you more Hillary shockers.
Impact of Project Veritas videos on the 2016 election
Top Clinton Strategist Discusses Project Veritas Action Videos With George Stephanopoulos
George Stephanopoulos and Eric Trump Discuss Project Veritas Action Videos
Anderson Cooper Calls Project Veritas Action Videos "Damning"
Bob Woodward on the Clinton Foundation: 'It's Corrupt'
BREAKING: HILLARY IS DISQUALIFIED! NEW UNDERCOVER VERITAS VIDEO CONVICTS HER OF GROSS FEDERAL CRIMES
BREAKING: HILLARY IS GOING DOWN!
O'KEEFE JUST FILED SUIT AGAINST CLINTON AND THE DNC
WIKILEAKS JUST ASSASSINATED HILLARY: TREASON REVEALED AFTER ONE NATION DONATED HUGE TO THE CLINTONS
WikiLeaks Reveals How Hillary Clinton's Campaign Coordinates With Super PACs
Wikileaks emails prove illegal coordination between Clinton and her Super PACs
More Truth About The Hillary Clinton Wikileaks Scandal
Fact-Checking Hillary Clinton's Presidential Debate Lies
Trey Gowdy On Hillary's Treason Email Scandal 'be in jail'
White House Responds to Project Veritas Action Videos
Judge Jeanine Pirro Goes Off on Project Veritas Video Democrats Inciting Violence at Trump Rally
Donald Trump Mentions Project Veritas Action Videos at Third Presidential Debate
Rigging the Election – Video I: Clinton Campaign and DNC Incite Violence at Trump Rallies
Rigging the Election – Video II: Mass Voter Fraud
Wikileaks: Hillary Plans To Implode US Economy
New Wikileaks Confirm Media Rigging Polls For Hillary
Trump Is Leading Hillary In New Polls And New Wikileaks – The Kelly File (FULL SHOW 10/21/2016)
HILLARY WIKILEAKS: Top 10 You Must Know
NEW WIKILEAKS Revelations DEADLY For Hillary Clinton – Hannity (FULL SHOW 10/14/2016)
O'KEEFE COMPLAINT TO FEC CITES DEMS' 'CRIMINAL CONSPIRACY'
Vote fraud, Trump-rally anarchy linked to Clinton campaign
Citing a Democratic operative's confirmation of a chain of command that runs directly from Hillary Clinton's campaign to agents who "execute … on the ground," the activists at Project Veritas are asking the Federal Election Commission to investigate a "criminal conspiracy.'
The filing of the complaint with the federal agency follows the release earlier this week of two videos in which Democrats explain how they can attempt to change the outcome of the election through apparently fraudulent means, such as having people travel across state lines to vote illegally.
The complaint follows the filing of a another complaint with the FEC, by the Public Interest Legal Foundation, a nonprofit organization "dedicated to protect the right to vote, preserve the constitutional framework of American elections, and educate the public on the issue of election integrity."
Both cite the evidence in the videos released by James O'Keefe's Project Veritas.
The videos have resulted already in two Democratic operatives who appeared on them losing their jobs.
Editor's Note: Be aware of offensive language throughout videos and in quotes from videos.
One is Scott Foval, who had worked for People for the American Way, a George Soros-funded group, and more recently with Americans United for Change.
In the video, he said: "You know what? We've been busing people in to deal with you f—ing a—–es for 50 years, and we're not going to stop now."
Also, he said he and his agents are "starting anarchy" by creating "conflict engagement … in the lines at Trump rallies."
Sign the precedent-setting petition supporting Trump's call for an independent prosecutor to investigate Hillary Clinton!
Also now out of work is Bob Creamer, founder and partner of Democracy Partners, and husband of Rep. Jan Schakowsky, D-Ill.
Foval credited Creamer with coming up with a number of ideas and strategies to enhance Democrats' standing among voters.
The new complaint from O'Keefe's organization explained his journalists "have uncovered a criminal conspiracy where, in the words of Scott Foval, 'The way that works is: The [Clinton] campaign pays DNC, DNC pays Democracy Partners, Democracy Partners pays The Foval Group, The Foval group goes and executes … on the ground.'
The complaint states: "This has been done in a manner to evade federal election laws and violating coordinated expenditure rules."
It is supplemented with pages of evidence.
"The criminal conspiracy involves the knowing and willful creation of coordinated expenditures from prohibited corporate sources. As is detailed numerous times in the Veritas transcript, attached as EXHIBIT A, the supposedly independent speech and actions of third-party groups were directed, controlled, or puppeteered by HFA or the DNC.
"Indeed, the record establishes not just simple violations of the FECA's coordination provisions, but ongoing knowing and willful evasion of federal election law requirements through a complicated scheme. Because this conspiracy involves large numbers of employees, heightened travel, production, and distribution costs and because of the nationwide scale of the operation, upon information and belief, this triggers criminal penalties."
One result of the six-month undercover investigation is that "the supposedly spontaneous and independent protests occurring at Donald Trump events nationwide were controlled and directed by Democratic Party operatives."
"The commission should find reason to believe that Hillary for America and other named respondents have violated 52 U.S.C. [paragraph] 30101, et seq, and conduct an immediate investigation," the complaint explains. "Because of the weighty public interest at stake here, it should do so within 120 days of the filing of this complaint … the complainants request that the FEC impose sanctions appropriate to these violations and take further action as may be appropriate, including referring the matter to the Department of Justice for a criminal investigation."
Foval explains the subterfuge.
"We can hire any demo that we want. We use the same mechanism to recruit them that we do to make focus groups. … We have to be really careful. Um, because, what we don't need is for it to show up on CNN that the DNC paid 'x' people to … that's not gonna happen. We need to keep it, you know, I hate to use the Beyonce term, 'partition,' but we need to keep the partition. That's as gay as I'll get."
The previous complaint from PILF was over the same events.

Sign the precedent-setting petition supporting Trump's call for an independent prosecutor to investigate Hillary Clinton!
When the videos appeared, former House Speak Newt Gingrich also raised questions about the apparent disdain for the law.
"Where is the FBI, why is the FBI not investigating this?" the former House speaker asked during an appearance on Fox News on Tuesday, BizPacReview reported. "You have a deliberate willful effort to foment violence, to break up a presidential campaign [and] to intimidate voters."
The PILF complaint, directed to the office of the general counsel for the FEC in Washington, names Hillary for America, the DNC, Democracy Partners, Americans United for Change and others.
"This complaint is based on information and belief that respondents have engaged in public communications, campaign activity, targeted voter registration drives, and other targeted GOTV activity … at the request, direction, and approval of the Hillary for America campaign committee and the Democratic National committee in violation of 11 C.F.R. 109.20 and 11 C.F.R. 114.4(d)(2) and (3)."
The activities, the complaint says, "potentially registered persons who were not citizens." They also illegally coordinated political maneuvers between a candidate's committee and groups that are supposed to be operating independently, the complaint charges.
That puts them in violation of Federal Election Campaign Act of 1971, the complaint contends.
Sen. Ted Cruz, R-Texas, said on Twitter, according to the Washington Examiner, that multiple visits to the White House by a "voter fraud operative" merits "a serious criminal investigation."
Talk-radio icon Rush Limbaugh said the evidence is worrisome.
"Every Trump rally would feature none of this [violence] unless the Democrats were paying for it. I think it's a big deal, folks. The media is complicit. They know who these people are. … They're in on it. They're part of the game. … None of it's organic. None of it's natural. None of it's real. Every bit of it is bought and paid for.
"[Democrats] can't leave elections to chance because they know that, despite the way it may look, the majority of Americans would not support them if they knew who they are."
Foval said he works backward in his thinking. He first speculates how a charge of voter fraud could be proven, and then he manipulates circumstances and events to avoid those tactics.
He talked about bringing voters from one state to another to vote illegally.
Hiring a bus could be used as evidence of conspiracy, he noted, so people would need to drive their own cars, or better yet, rentals.
There also was a discussion about using local addresses for illegal voters.
He said what needs to happen is to "implement the plan on a much bigger scale."
"You implement a massive change in state legislatures and in Congress. So you aim higher for your goals, and you implement it across every Republican-held state."
In Monday's video, Creamer confirmed, "The campaign is fully in it."
Project Veritas says the actions are "behind-the-scenes shady practices with consequences most Americans have seen on national television at Donald Trump campaign rallies across the country."
"What the media hasn't reported is that the Clinton campaign and Democratic National Committee has been directing these activities with, at very best, a very thin veil of plausible deniability."
Commented Foval at one point, "I'm saying we have mentally ill people, that we pay to do s—, make no mistake. Over the last 20 years, I've paid off a few homeless guys to do some crazy stuff, and I've also taken them for dinner, and I've also made sure they had a hotel, and a shower. And I put them in a program. Like I've done that. But the reality is, a lot of people especially our union guys. A lot of our union guys … they'll do whatever you want. They're rock and roll. When I need to get something done in Arkansas, the first guy I call is the head of the AFL-CIO down there, because he will say, 'What do you need?' And I will say, 'I need a guy who will do this, this and this.' And they find that guy. And that guy will be like, 'Hell yeah, let's do it.'"
Last week, O'Keefe reported his Twitter account was shut down as he was releasing reports on voter fraud.
In one video he released last week, a Clinton staffer confessed that ripping up voter registration forms – if they are for Republicans – is "fine."
The video also revealed a sexist atmosphere inside the Clinton campaign in which another staffer boasts he would probably have to "grab a–" twice before he'd even be reprimanded. It underscores the double standard by Democrats who have been critical of the 11-year-old recording of Donald Trump making lewd remarks about women.
In the video, both Wylie Mao, a field organizer for the Clinton campaign and the Democratic Party of Florida in West Palm Beach, and Trevor Lafauci, a Clinton campaign staffer, agree that ripping up registration forms from Republicans should be "fine."
"If I rip up completed VR forms, like 20 of them, I think I'll just get reprimanded. I don't think I would get fired," Mao said.
Lafauci, after being told that someone else ripped up Republican registration forms, said, "Yeah, that should be fine."
When Project Veritas journalists confronted both Mao and Lafauci about the comments they made on camera, they "refused to answer and walked away," the organization said.
O'Keefe previously released an undercover video of Alan Schulkin, the New York Democratic commissioner of the Board of Elections, confirming there is widespread fraud.
In the video, he is heard disclosing that organizers use buses to haul people from poll to poll to vote.
"Yeah, they should ask for your ID. I think there is a lot of voter fraud," he said in the video, which was recorded some months ago.
 http://www.wnd.com/2016/10/okeefe-complaint-to-fec-cites-dems-criminal-conspiracy/#y15gwzlJcyR5tBzu.99
Story 2: George Soros and  Hillary Clinton  Agree On Open Borders —  United Nations All-In For Unlimited Mass Migration — Videos
Fox News Exposes George Soros, Open Society Foundation & Hillary Clinton Relations!
George Soros, the Democratic Party and Hillary Clinton
Wikileaks: George Soros To Be Shadow President Of USA
Europe: Who benefits from Muslim mass migration? Only the elite Left
5 immigration myths debunked in (just over) 5 minutes
Australia's zero tolerance of migrants: A lesson for Italy
Top UN official says mass migration 'unavoidable reality'
UN-led Mass Migration Destroying U.S. Nationhood
EUROPE ILLEGAL MIGRANT CRISIS – The Truth & Agenda Exposed
Something You've Never Seen Is Happening in Europe!! | 'Migrant Crisis' | 'WW3' | 'Donald Trump'
Migrants Attack 60 Minutes Crew In Sweden.
Sweden…… (MUST SEE)
[yotuube=https://www.youtube.com/watch?v=olH1qXW2w4M]
Sweden has died. Do not allow your country to be next….
Immigrant rape statistics in Sweden
Hungary – Defending Europe's Borders
Visegrad Alliance – Central Europe Rises
Tribute to the Visegrad Four countries: Poland, Hungary, Czech Republic and Slovakia. Often in the West we hear of "Europeans values", "Western values". Those values that are touted as "European" and "Western" by Leftist are anything but. The value of self-hate is a value of the far-left imposed on Europe over the last half-century. Those aren't our real European values nor representative of our ancient cultures. It is manipulation and deceit to say they are.
Hungarian PM: Mass Migration a Plot to Destroy Christian West
The New Urban Agenda
Agenda 21 – Replacement Migration – United Nations
How the World Will Know if the New Urban Agenda Is Successful
George Soros Owns Hillary Clinton: Why We Need Trump (FULL SHOW)
Hillary Clinton embraces George Soros' 'radical' vision of open-border world
– The Washington Times
Hillary Clinton has aligned herself closely with a vision for America laid out by her benefactor — left-wing financier George Soros, who talks of "international governance," more open borders, increased Muslim immigration and diminished U.S. global power.
The phrase "American exceptionalism" is not part of his agenda. He wrote in 1998: "The sovereignty of states must be subordinated to international law and international institutions."
"We need some global system of political decision-making. In short, we need a global society to support our global economy," Mr. Soros wrote.
After the Sept. 11, 2001, al Qaeda attacks on New York City and the Pentagon, he said, "Military power is of limited use in dealing with asymmetric threats such as terrorism."
The Clinton-Soros symbiosis came into clearer focus this month with WikiLeaks' release of thousands of hacked emails from John Podesta, Mrs. Clinton's campaign chairman. Mr. Soros' name comes up nearly 60 times.
The financial and ideological alliance is so complete that after Mr. Soros dined with Mrs. Clinton in 2014 and asked her to attend a liberal group's fundraiser, her campaign manager, Robby Mook, wrote in an email, "I would only do this for political reasons (ie to make Soros happy)."
http://www.washingtontimes.com/news/2016/oct/20/hillary-clinton-embraces-george-soros-radical-visi/
Will Hillary explain her dream of 'open borders'?
John Kass 

Contact Reporter
Just as America was tossed — or did we eagerly jump — into the sexual political gutter with Bill and Hillary and Donald, there was other news breaking.At least I thought it was news. But I must warn you: Sex and sexual politics has nothing to do with it.
It's Hillary Clinton's dream of an America without borders, as expressed to investors of a Brazilian bank, in comments leaked by WikiLeaks.
An America without borders, Hillary? How positively George Soros of you, Madam Secretary.
"My dream is a hemispheric common market, with open trade and open borders, sometime in the future with energy that's as green and sustainable as we can get it, powering growth and opportunity for every person in the hemisphere," Clinton reportedly said to investors in a paid speech she gave to Brazilian Banco Itau in 2013.
Here's the thing about borders. If you don't have borders, you don't have a country. Americans are beginning to understand this. Europeans understand it now, quite clearly.
Clinton's dream also includes a Western Hemispheric common market, like the European common market that is dissolving in chaos, fear and debt.
If that is indeed her dream, then she dreams the internationalist dream that would end America. But Americans aren't talking about this, perhaps because there is no video involving sex and Hollywood and Trump.
I would love to hear Clinton's explanation. Perhaps she could put it in some proper context.
Or perhaps she was merely telling the Brazilians something they wanted to hear, because they were paying her a good chunk of cash.
And if there is a way for America to maintain sovereignty without borders, Hillary might be just the one to tell us. But the Clinton campaign isn't commenting. And reporters aren't really pressing, preoccupied as they are by that vulgar video of a boorish Trump.
Clinton campaign spokesman Robby Mook was on one of the talk shows saying Clinton's dreams of American open borders didn't really mean open borders.
Mook said she meant open borders in the context of green energy for all.
Cool. But then what about her dreams of the hemispheric common market and all the people traveling to and fro across the Western Hemisphere?
So I'd like to hear Hillary Clinton tell it.
The way to deal with this would be for Clinton to release the transcripts of all her well-paid speeches, the ones to Wall Street and the one about border dreams to Banco Itau. That's what Bernie Sanders wanted.
But that's not happening, just like Donald Trump isn't releasing his tax returns.
So the Clintonistas are blaming the Russians for the hacking.
It might also be true that if a hacker could hack into Clinton campaign emails, then a hacker might also have hacked into top secret emails she kept on her home brew server in violation of federal law when she was secretary of state.
But I won't say anything, lest I be denounced as a Russian spy.
That WikiLeaks information was available just before the last Clinton-Trump debate. The moderators could have asked a question about it, but they chose not to.
They did ask about another drop from WikiLeaks, that of Clinton's belief in holding one public position on policy for the public and another for private consideration by insiders.
Kind of like when she was secretary of state and telling America that the four dead Americans in Benghazi were killed by protesters angry about some video. And then telling her daughter and others, in private emails, that the four were killed in a terrorist attack.
In the debate, Clinton was asked if an official holding a private and a public position could be considered "two-faced."
She said Abraham Lincoln did it. In a movie.
And now, rather than worry about divisive issues such as borders, we're consumed by that vulgar Trump video.
Yet back when the Clintons held the White House, back when Bill used the cigar on that intern in the Oval Office, the political left protected him. And they defended Hillary for defending Bill, who had a habit of putting his hands on women when he held office.
Sex was a private matter then. It's quite a public matter now. But then it was all a private matter, remember?
And so, after a brief bout of impeachment interruptus, the American political establishment welcomed Bill and Hillary back into the establishment fold, where wealth and near absolute power awaited them.
What's laughable about all this is the Clintonista argument that to cleanse America of the stain of Trump, we must re-install Hillary and Bill back into the same White House that they soiled years ago.
I get all that.
Trump is a boor and Bill Clinton is a boor and Hillary is Hillary — either a loyal spouse or a cunning enabler. And politics is politics, so you'll hate the one or forgive the other based on your preferences, or shout a pox upon them all.
But having an America with or without borders is also rather important, no?
And someone running for president might want to explain it all, in the proper context of course.
An America without borders? That's not a dream, that's a nightmare.
Ask the Europeans. They know.
http://www.chicagotribune.com/news/columnists/kass/ct-hillary-clinton-open-borders-kass-1012-20161011-column.html
WIKILEAKS RELEASE : Hillary Calls For The End of The U.S. and One "Hemispheric" Government
The most frightening thing about the recent Wikileaks drop, which included excerpts of Hillary's paid Wall St. speeches is her excitement over ending the United States as we know it.
Hillary is an extreme globalist.
She not only embraces the globalist mentality but she actually wants to end the U.S. as we know it and replace it with a "Hemispheric Government."
No wonder Angela Merkel is her "favorite leader."
Hillary wants to turn the United States into Germany – or worse.
U.N. GOES ALL-IN FOR UNLIMITED MIGRATION
Hillary an enthusiastic supporter of globalist plan for U.S. cities
LEO HOHMANN
The United Nations has cooked up a "New Urban Agenda" coming soon to a city near you.
It was unveiled this week in Quito, Ecuador, at the so-called Habitat III conference.
And part of the plan, enthusiastically embraced by Hillary Clinton, calls for unlimited migration across open borders. Migrants displaced by war, failing economies or other hardships will be seen as having "rights" in nations other than their own. Cities are seen as the key battlegrounds and the U.N. conference in Quito had a lot to say about how your city will be expected to embrace migrants of all types, from all regions of the world.
By now most Americans who follow world events are familiar with the U.N's plan for global governance as envisioned by its "2030 Agenda for Sustainable Development," approved by some 190 world leaders including President Obama and Pope Francis in September 2015.
This agenda includes 17 goals aimed at ending hunger, wiping out poverty and stamping out global income inequality by "transforming our world" through sweeping changes ostensibly aimed at freeing cross-border "labor mobility," among other things.
Hillary Clinton, anointed by Obama as his successor, said in a speech to Wall Street bankers she envisions the U.S. as part of a single "hemispheric common market with free trade and open borders," according to WikiLeaks data dumps.
In another bombshell revealed by WikiLeaks, Mrs. Clinton told Goldman Sachs bankers that Americans who want to limit immigration are "fundamentally un-American." She has also called for a 550-percent increase in the resettlement of Syrian refugees in America – that's 550 percent more than Obama's vastly increased level of more than 12,000 resettled in one year.
In short, Hillary's agenda for cities sounds an awful lot like the U.N.'s agenda for cities as laid out in the New Urban Agenda document approved this week by world leaders in Quito.
"She's totally in line with the U.N. agenda, on board with everything they do," says economist Patrick Wood, author of "Technocracy Rising: The Trojan Horse of Global Transformation."
Clinton earlier this year announced her $135 billion "breaking every barrier" program to transform America's cities.
In this plan, she makes 37 pledges promising everything from removal of blight to construction of affordable housing in areas that are currently out of the price range of refugees, immigrants, the chronically unemployed and under-employed. She intends to build on the "successes" of her husband and the Obama administration in using public-private partnerships to transform cities. Obama's contribution in this area included his Affirmatively Furthering Fair Housing rule, which forces grant-receiving cities to infuse their low-crime suburban areas, deemed "too white," with subsidized housing marketed to low-income renters.
This fits right in with the U.N.'s 2030 Agenda.
"She's making a pre-announcement here that she's going to follow the U.N. agenda," Wood said. "She's signaling to her fellow globalists that she's 100 percent on board with their agenda."
The problem that keeps globalists like Obama and Clinton up at night is how to implement the sweeping changes laid out in the U.N. 2030 Agenda last September at the global sustainability summit in New York.
That's where Habitat III comes into play. It's called the U.N. Conference on Housing and Sustainable Development or "Habitat III" for short. Its focus is on the world's cities.
Largest U.N. conference ever
Habitat III was attended by a staggering 50,000 people including more than 200 mayors and another 140 city delegations
The sole purpose of this conference is to approve a 24-page document called the New Urban Agenda.
"The only purpose of the conference is to rubber stamp this document and elevate it and lift it up to the world," said Wood. "And right now it looks like they are. Everybody. All the nations."
In this document lies the globalists' plans for cities. All cities. Big, small, even tiny cities. Every American who lives in a city will at some point see the fruits of the plan the U.N. has in store for the world, says Wood, an expert on global governance and the technocracy movement.
The Habitat conference convenes only once every 20 years but when it does, it leaves a trail of anti-capitalist, anti-liberty "global standards" in its wake, says Wood. These are the standards by which the U.N. wants each and every city in the world to be operated. They come packaged as "non-binding" and Congress never approves them.
Yet, somehow, the global standards coming out of the major U.N. conferences always seem to filter down to even the smallest American hamlet. How? Through federal grants. Any city that accepts federal grants will at some point be required to implement the practices that the U.N. has declared "sustainable."
'Inclusive' by design, coercive by default
The buzzword in the New Urban Agenda is "inclusive" or "inclusivity." This concept has a long history with global elites and technocrats.
The definition of "technocracy" as used by the original technocrats back 1938 was "the science of social engineering, the scientific operation of the entire social mechanism, to produce and distribute goods and services to the entire population." That's according to The Technocrat magazine.
"They use the word 'entire' twice in that definition so I'm really not surprised we see it showing up in these conferences today," Wood said. "Their intent is to create a net that will catch 100 percent of the people."
The word "inclusive" or "inclusivity" appear in the New Urban Agenda document no fewer than 36 times.
"There is no exclusion," Wood says. "If you read the document, you'll find for instance under item 6a, 'transformative commitments,' the statement starts out 'leave no one behind.'"
That same phrase, leave no one behind, is in the U.N.'s 2030 Agenda.
"In fact just about everywhere you go now at the U.N. you'll find this concept," Wood said. "It's a little disturbing."
Wood says the U.N. is resurrecting an old concept that fizzled in the early days of the technocracy movement. Its time hadn't arrived yet, back in the 1930s, but now things are different. The world is run by big data and the world is eager to embraced a set of globalized, one-world standards for everything, whether it be Common Core education standards, globalized police standards that Attorney General Loretta Lynch announced at the U.N. last fall in the form of the Strong Cities Network, or global standards for healthcare, ala Obamacare. You name it, the United Nations wants to standardize it.
The next big hurdle in the race to standardize the world is the issue of immigration.
Point 42 on page 7 of the New Urban Agenda talks about cities providing opportunities for dialogue, "paying particular attention to the potential contributions" of women and children, the elderly and disabled, "refugees and internally displaced persons and migrants, regardless of migration status, and without discrimination based on race, religion, ethnicity, or socio-economic status."
Everyone is welcome
Wood notes that, in America, that would mean exactly what John Podesta, Clinton's campaign manager, has already said — that anyone with a driver's license should be allowed to vote.
"This is the way I read it," he said. "It doesn't matter if they're legal or illegal, wanted or unwanted, jihadists or non-jihadists, sick or healthy. If they show up in your country, they must participate in the affairs of that country immediately, whatever country they find themselves in."
The preamble to the New Urban Agenda says cities are the "key to tackling global challenges."
"So these people are viewing cities as the key ingredient right now to implementing sustainable development, and they say this battle for sustainability will be won or lost in the cities."
And the U.N. document goes on to state that this agenda is "the first step for operationalizing sustainable development in an integrated and coordinated way at the global, national, subnational, and local levels."
In essence, it's a roadmap to global governance where American cities will no longer get their direction from elected officials representing them on the city council, or even the state legislature, but the United Nations itself. The local councils will likely not even know that the rules they are following in order to qualify for federal grants are tied to United Nations' standards for sustainability.
Cities committing to 'a paradigm shift'
The document talks about cities committing to "a paradigm shift" in the way they "plan, develop and manage urban development."
"It's top to bottom," Wood said. "They're saying it's going to be a top-down implementation. But for all the gains that sustainable development have made since 1992, there's been a complaint that it hasn't gone fast enough or far enough, and that it's not inclusive enough, that some pockets have been left out. So, what they're saying here is that this New Urban Agenda document is really, in their minds, the first step for operationalizing it. First step to making sustainable development completely operational. That's huge."
Wallace Henley, a journalist and former aide in the Nixon White House who went on to become a Christian pastor and who has written extensively on globalism, said the U.N. is making a full-on assault against the American system of government, which requires federalism, states' rights and separation of powers.
"The U.N. is a glaring example of the inevitable course of bureaucracies. Like kudzu in Alabama, a tiny seed will inevitably spread until it controls the whole of a hillside," Henley, author of "God and Churchhill," told WND in an email.
And he, like Wood, sees Hillary Clinton in the thick of the battle, fighting on the side of the globalists, not America first.
"The leftist-progressive philosophy is the fertilizer. Agencies sprout and grow, and bring forth policy confabs like Habitat III. The conferences then produce white papers that ultimately become the source of policies," he said. "It is a leftist-progressivist dream."
"Sustainability" is a code word for regulatory authority, Henley said, and that is the suffocating vine that chokes out everything else.
"This meshes perfectly with the New Globalism and its dream of a world without borders. Anything can be done in the name of a 'sustainable' future, including the 'humanitarian' invasion of a sovereign state – but only if its leaders embrace the same left-progressive philosophy as the bureaucracies headquartered in New York. This makes a Hillary Clinton presidency even more foreboding," he said.
And these "progressives" include many in the Republican Party who are now shilling for Clinton, such as House Speaker Paul Ryan and Arizona Sen. John McCain. Ryan, according to an article by Breitbart's Julia Hahn, has been working hand in hand with the Clinton campaign for months.
"The true conservative seeks preservation of liberty-nurturing principles, and the sustenance of values that resist the control of the bureaucrats and guarantee freedom from a globalist hegemon in the form of the U.N.," Henley said
Eric Voegelin's 1975 book, "From Enlightenment to Revolution," describes with amazing prescience the "line of progress" according to the revolutionaries who drive what Henley calls the New Globalism, from the local to the global, from the individual to the mass of humanity, from nation-states to a concentrated global power.
"This is the big picture of which Habitat III and its New Urban Agenda is a part."
 http://www.wnd.com/2016/10/u-n-goes-all-in-for-unlimited-migration/#jJfgd2IQ66VXRtIG.99
The New Urban Agenda: What Our Cities Can Be
Cities for All? Migration and the New Urban Agenda
DEVELOPMENT & SOCIETY : Governance, Migration, Urban Development
The Pronk Pops Show Podcasts Portfolio
Read Full Post
|
Make a Comment
(
None so far
)